I love easy delicious chocolate granola clusters!  They are easy to make; easy to eat; and soooooo satisfying.  Meaning, you don't need to eat the whole batch.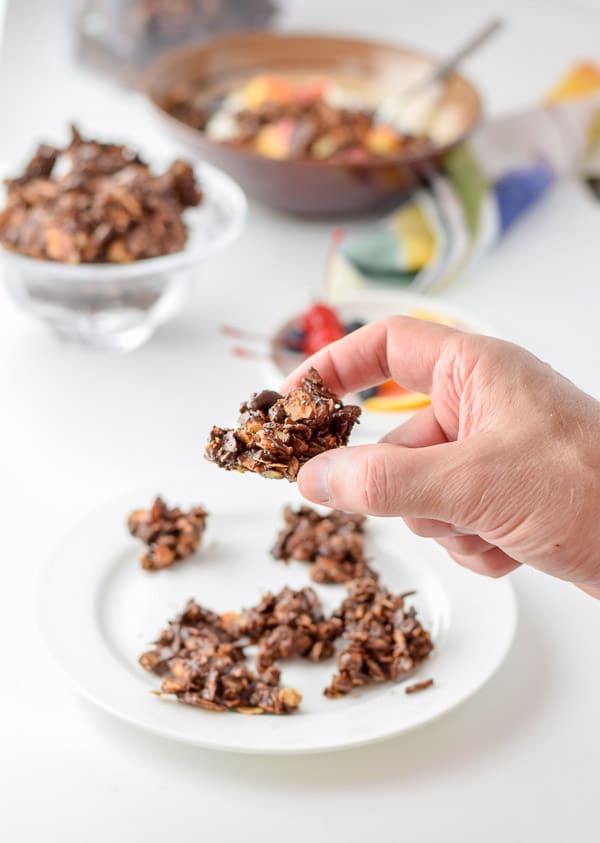 Don't get me wrong, you will want to eat the whole batch.  BUT… you won't need to!!
I got the idea for these clusters when I was in Trader Joe's one day and they were selling granola nut clusters!  I thought, 'I make nutty granola.  I love chocolate.  I could sooo get behind chocolate granola clusters!'
So my world famous clusters were born (read, world = Christopher and myself)!
No Self Control Have I
Lately, I've been taking the batch, splitting it up into smaller portions and putting it all in the freezer.  Because even though I said you don't need to eat it all.  I still can't help myself if I know it is easily accessible.  So, I bury these baggies of deliciousness behind the Brussel sprouts that I bought to make for Christopher, but have been languishing in the freezer.
You probably have better self discipline than I do, so you won't have to freeze it, but just know that it freezes well.
Other granola recipes:
On to the Easy Delicious Chocolate Granola Clusters recipe
I pre-heat the oven to 325 degrees Fahrenheit.
I grab my large stainless steel shallow mixing bowl.  I measure out 2 cups of rolled oats and add it to the bowl.
Now, let me just clarify: the quantities I use in this recipe give me extra granola.  On purpose. Because when I make granola, I don't put chocolate in all of it.  On occasion, Christopher, too, loves granola, but he eats his plain (meaning, without chocolate).
Who is this man I'm married to?
I measure out all the nuts and seeds.  I use raw cashews, slivered almonds, pecans, walnuts, pistachios, pumpkin seeds, chia seeds and flax meal!
I add them all to the bowl to meet up with the oats,
Now, I add some olive oil, maple syrup and a little salt.
Stir, stir, stir!
I line a jelly roll pan with parchment paper and spread the oat mixture in the pan.
Into the oven it goes.
Bakey, Bakey
I bake it for 20 minutes before I take it out and flip the granola over.  Then I bake it for another 20 minutes.
I take the pan out of the oven and separate some granola for Christopher's enjoyment.  Notice the pan in the background below.
Now, I gather my big, Ghirardelli, 60% cocoa chocolate chips and dump a cup of those babies on the granola.  It's important to do this right after you take the pan out of the oven.
Now, the amount of granola you use for the clusters, will determine how many cups of chocolate chips you use.  It will either be one or two cups.
I stir the granola around with my spatula allowing the heat to melt the chocolate.
Now, here's the hard part.  Yes, I know I said this recipe was easy but this part of it is hard.
It's a Waiting Game
You have to wait for the chocolate to set.
No touching until it sets!
How unfair is that?
But once it sets, it's a free for all!
You break it up, shove some in your mouth, chocolate clusters fly everywhere and smeared mouths ensue!!  How's that for family fun?!
Christopher will have some, especially with a side of fruit.
I sometimes eat this decadent granola with some yogurt!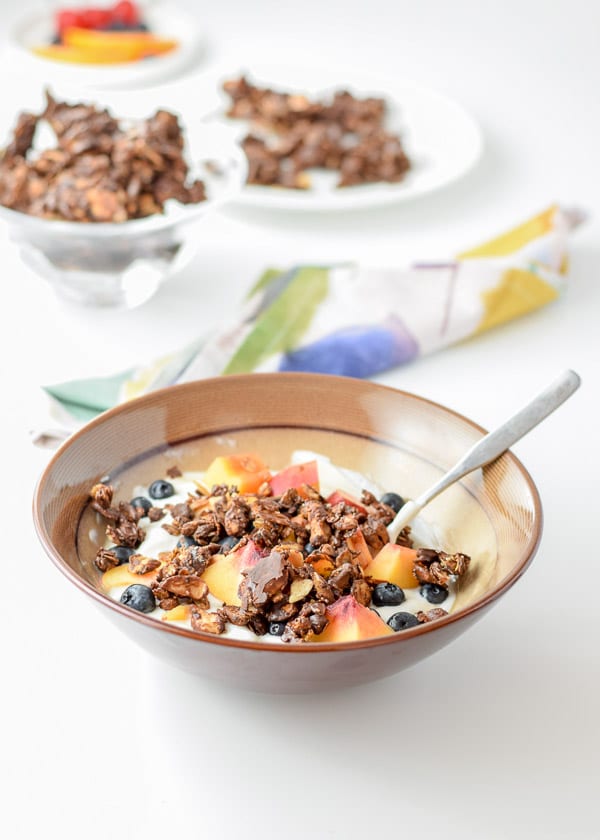 In fact, I'm going to eat some now!
I hope you enjoyed this recipe!
Please feel free to leave me a comment, Pin any photo to Pinterest and Yum the recipe to Yummly!
And as always, may all your dishes be delish!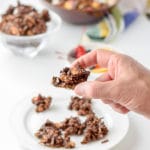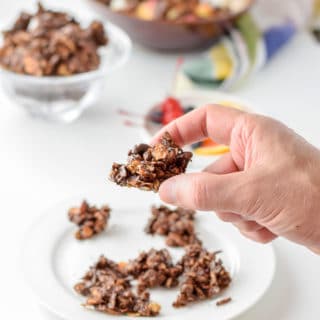 Easy Delicious Chocolate Granola Clusters
These tasty chocolate granola clusters satisfy all your cravings for crunchy!!
Keyword:
chocolate clusters, chocolate granola clusters
Ingredients
2

cups

rolled oats

1/4

cup

chia seeds

1/4

cup

flax meal

3/4

cup

slivered almonds

3/4

cup

cashews

chopped

1/2

cup

pumpkin seeds

1/2

cup

pecans

chopped

1/2

cup

pistachios

1/4

cup

olive oil

1/4

cup

maple syrup

1/2

teaspoon

salt

1 - 2

cup

chocolate chips

depending how much of the granola you use for the clusters
Instructions
Preheat oven to 325

Line a jelly roll pan with parchment paper

In a large bowl, add all the ingredients except the chocolate chips

Stir fully and spread the mixture on the jelly roll pan

Bake for 20 minutes, flip granola and bake for additional 10 minutes

Remove from oven and add the chocolate chips and flip around until the chips have melted

Let it stand until chocolate is set before breaking some apart

Pop a cluster in your mouth

Chomp

Swallow

Pop another in your mouth

Sigh

Smile
Nutrition Facts
Easy Delicious Chocolate Granola Clusters
Amount Per Serving
Calories 449
Calories from Fat 288
% Daily Value*
Total Fat 32g 49%
Sodium 151mg 6%
Potassium 445mg 13%
Total Carbohydrates 33g 11%
Protein 12g 24%
* Percent Daily Values are based on a 2000 calorie diet.