This Paleo chocolate granola recipe is nutty, delicious and fun to eat! I love putting it with a little almond milk and eating it for breakfast.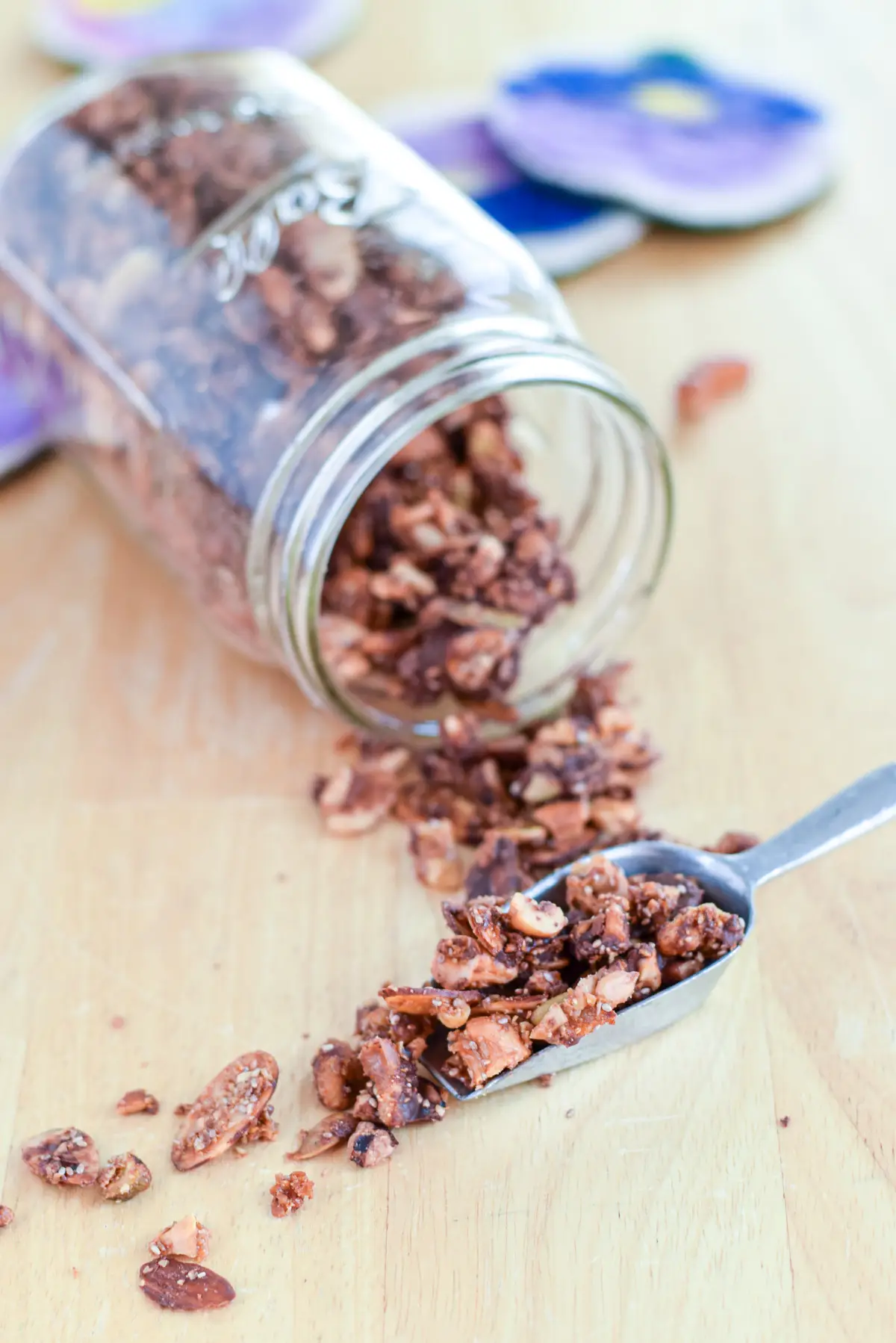 A friend asked me to make a paleo granola recipe so she could eat granola again. Since I've been toying with the idea of trying to do a paleo diet or some variation of it myself, I thought, "Why not?"
(My current plan is eat paleo 3 to 4 days a week. We shall see how that goes.)
So, I came up with this delish paleo chocolate granola recipe! Oh my, it's even more decadent than my normal granola. Who'd a thunk it? Certainly not me. I gave some to my landlords after I made it and one of them said, "That granola was to die for." Hmmm. Death is not the first thing you want people to associate with your recipes, but I took it as a compliment and moved on. 😉
You really cannot lose with these delish ingredients. I mean, you can't lose anything of value. Maybe some excess weight. Or maybe your will power. Because you are going to want to eat this stuff all the live long day. It's nuts, more nuts, even more nuts and some seeds. Along with some maple syrup, some shredded coconut, vanilla, flax meal, chia seeds and coconut oil!
Yum! Right?
All the nuts and seeds I used were raw to keep this granola paleo. From my research, the chia seeds are iffy paleo; some peeps say yes, some no, but I had to put them in. What isn't delish with chia seeds in it? I love those minuscule round balls. If they were bigger, I'd hug them. Of course, there is always the package they come in. Hmmm.
This post may contain affiliate links, which means I get a small commission, at no additional cost to you, if you click the link and buy something. You can read my disclosure here.
How to make paleo chocolate granola
I pre-heat the oven to 325 degrees Fahrenheit
Here are all the nuts and seeds that I used. I cut up the ones that are too big to put in the granola, but I do leave some bigger pieces.
Here is an arial view of these cuties. 🙂
Are you dizzy from the height?
As you can see, I use nuts, nuts and more nuts!! They look so beautiful together, don't they?
I pour them all into a bowl and add the other dry ingredients; the flax meal, shredded coconut, salt and chia seeds, once I've measured them all out. I stir everything together and it waits patiently while I gather the wet ingredients.
Time to measure out the maple syrup and coconut oil, which I put in a sauce pan and heat with some vanilla.
Next I pour this liquid into the dry mixture and stir away! Then I place it all on a parchment-paper-lined jelly roll pan. This pan sees a lot of action in my kitchen. I use it all the time!
The first photo below shows the granola before it is baked; in the bowl right after it's been stirred. The second one shows the granola spread out on the jelly roll pan.
Look at all that yummy goodness!
I pop it in the oven and let it bake for 20 minutes. I take it out, stir it around and place it back in the oven for an additional 10 minutes.
Yum, it's almost ready. I take it out and let it cool for 5 – 8 minutes. Now for my favorite part, the chocolate chips. I use Ghirardelli chocolate chips – I love them because they are really big (size does matter – call me shallow) and they are 60% cocoa.
I measure out a cup and pour it onto the still-warm granola. I take my metal spatula and flip the granola around. You'll be able to see the chocolate melting somewhat. I like waiting for the granola to cool a tad before adding the chocolate chips because I don't want them to melt too much! I want CLUMPS of chocolate. Oh, and you will too. It is soooo good!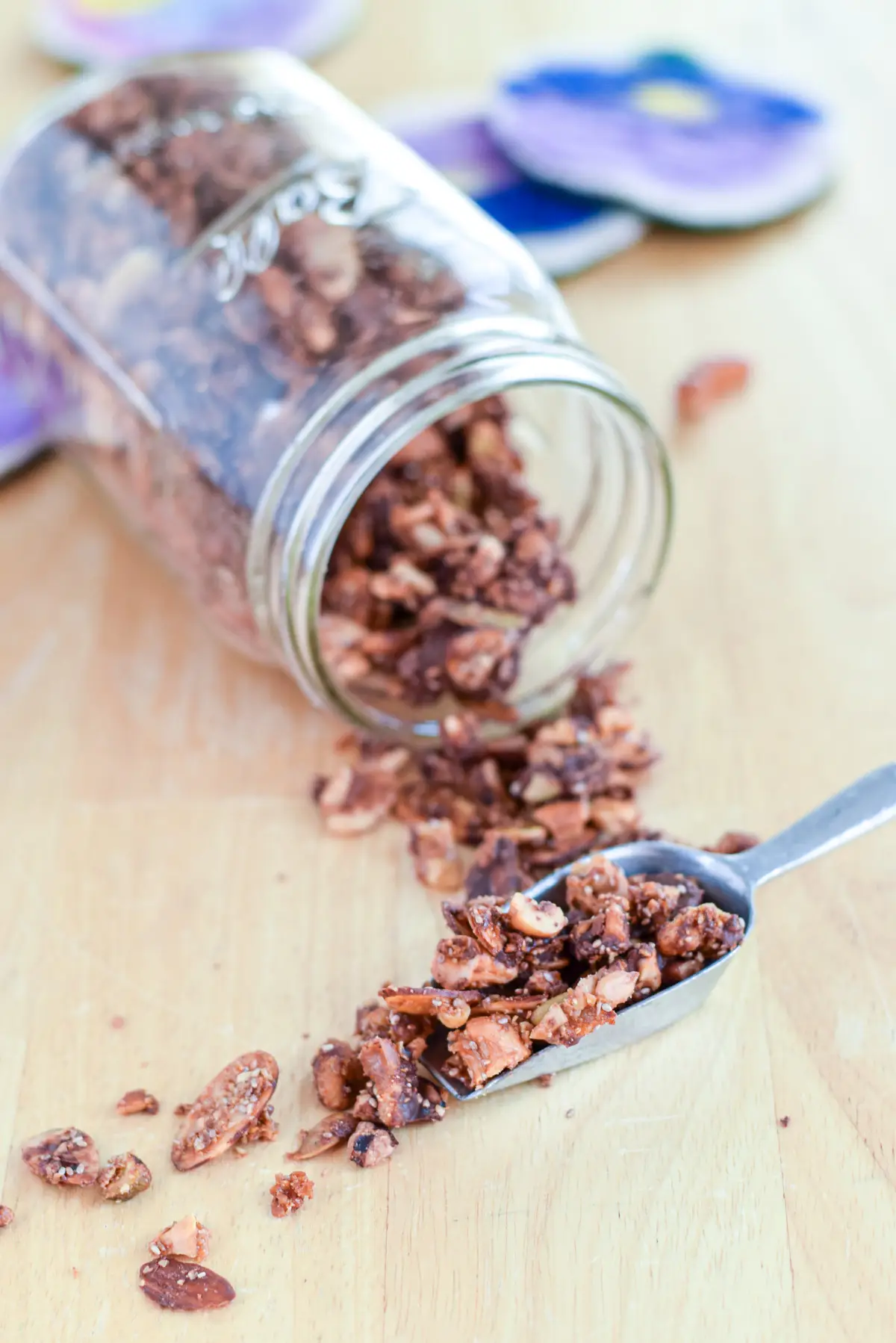 I dare say that I may like this version better than my regular granola recipe. I have experimented since this installment and will be blogging about the results soon. 🙂
I hope you enjoy this recipe. Please feel free to comment and pin any photo you like. There is also a great site called yummly that has lots of recipes. And if you belong to that, I encourage you to share my recipe by clicking on the Yum button at the top!
And as always, may all your dishes be delish!
Paleo Chocolate Granola
This nutty delicious Paleo Chocolate Granola is easy and satisfies all your crunching needs!
Print
Pin
Rate
Ingredients
1

cup

cashews

raw, chopped

1/2

cup

sunflower seeds

raw

1/2

cup

pumpkin seeds

raw

1

cup

pecans

raw, chopped

1

cup

walnuts

raw, chopped

1

cup

slivered almonds

raw

1/2

cup

pistachios

raw, chopped

1/2

cup

shredded coconut

1/2

cup

flax meal

1/4

cup

chia seeds

1/2

teaspoon

salt

1/4

cup

maple syrup

1/4

cup

coconut oil

1

teaspoon

vanilla

1

cup

chocolate chips
Instructions
Preheat oven to 325 degrees Fahrenheit

Chop in large pieces the cashews, pecans, walnuts and pistachios

Place all the nuts and seeds in a large mixing bowl

Add shredded coconut, salt, flax meal and chia seeds

In saucepan, melt coconut oil and add the vanilla and maple syrup

Pour oil and syrup in nut mixture and stir to coat

Pour on a parchment paper lined jelly roll pan and spread mixture evenly

Put in oven for 20 minutes

Stir and flip granola

Put back in oven for 10 minutes

Remove

Cool for 5 – 8 minutes

Add chocolate chips

Stir so the chips partially melt and clump with the other ingredients

Steal a taste

Smile

Let cool

Serve

Enjoy
Nutrition
Calories:
770
kcal
|
Carbohydrates:
45
g
|
Protein:
17
g
|
Fat:
61
g
|
Saturated Fat:
16
g
|
Cholesterol:
3
mg
|
Sodium:
183
mg
|
Potassium:
626
mg
|
Fiber:
11
g
|
Sugar:
25
g
|
Vitamin A:
90
IU
|
Vitamin C:
1
mg
|
Calcium:
177
mg
|
Iron:
4.8
mg
Get new recipes in your inbox!
Click here! to sign up for our newsletter
From lighting up stages with her BA in theater to crafting delightful dishes and cocktails, Elaine Benoit's journey is a testament to passion's transformative power. As the CEO of Dishes Delish, she offers a blend of healthy, comforting recipes and exquisitely crafted cocktails. Beyond the kitchen, Elaine voiced her culinary adventures on her podcast, "Dishing," and co-owns Food Blogger Help, extending her expertise to guide budding food bloggers to success. Whether it's for a heartwarming dish or insights into food blogging, Elaine's diverse experiences make her a beacon in the culinary digital landscape.