To me, the blend of ingredients is what make this refreshing Moscow Mule cocktail recipe so delish!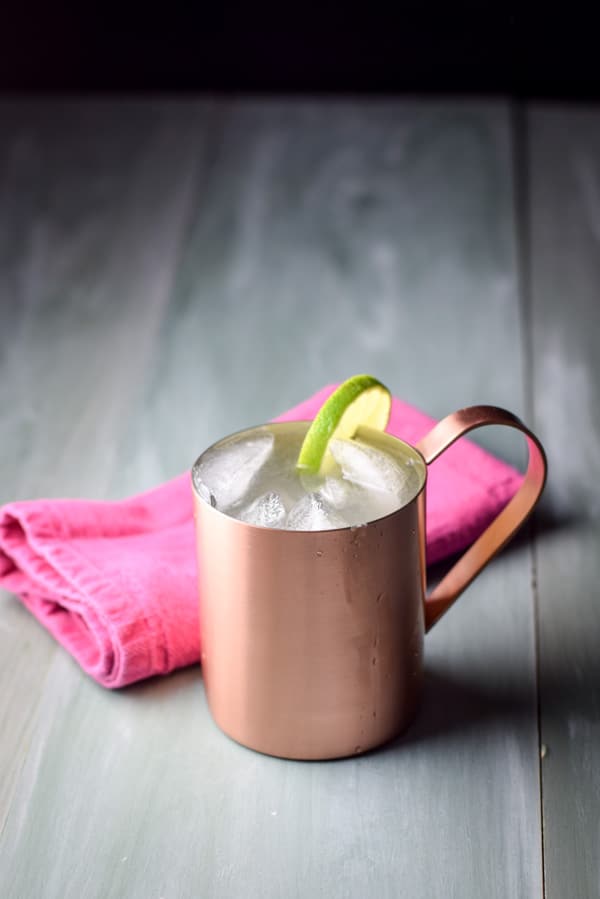 But what makes this refreshing Moscow Mule Cocktail really… cool? Why, it's that crazy copper mug, of course!
Look at that condensation! Serving it in this vessel makes people smile.
"Nice mug!" they say.
Yes, it is. I love this mug. It keeps beverages colder longer than a coffee mug or a cocktail glass does.
This post may contain affiliate links, which means I get a small commission, at no additional cost to you, if you click the link and buy something. You can read my disclosure here.
How to make the Moscow mule cocktail
We have vodka, lime juice and ginger beer.
That's it. As my brother loves to say, "Simple, yet elegant!" That's this drink in a nutshell.
I fill the mug with ice, all the way to the top.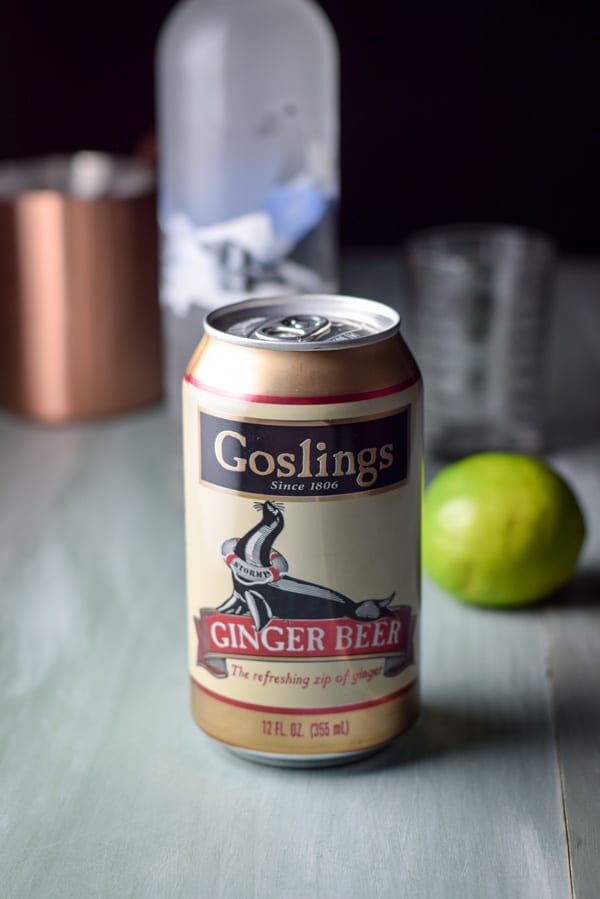 I measure out two ounces of vodka.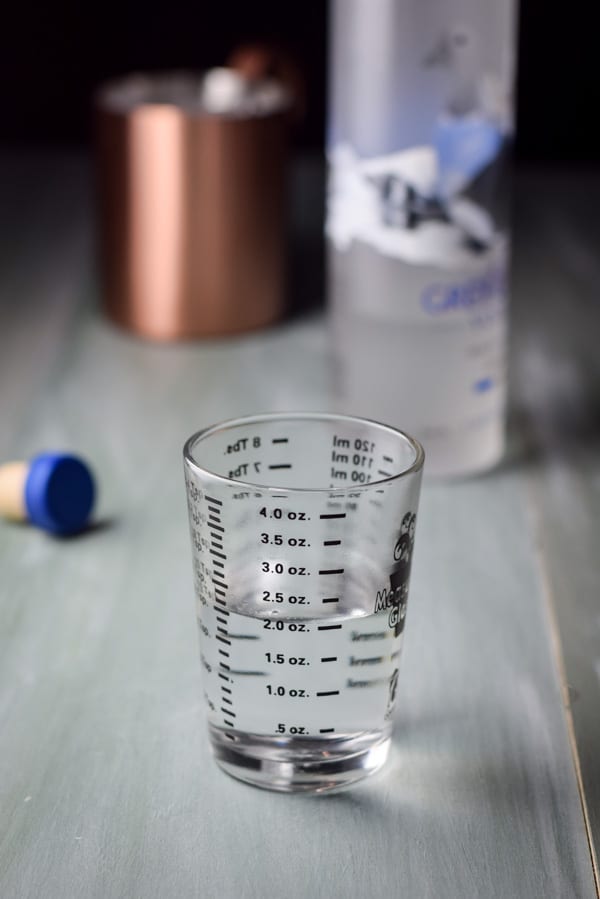 I pour the vodka into the copper mug.
Next, I cut the lime in half and squeeze one of the halves. I find that it yields anywhere between 0.5 and 1 ounce of lime juice per half. I usually use whatever amount of juice the lime yields in this lovely cocktail. I then cut a lime wheel from the other half and set it aside.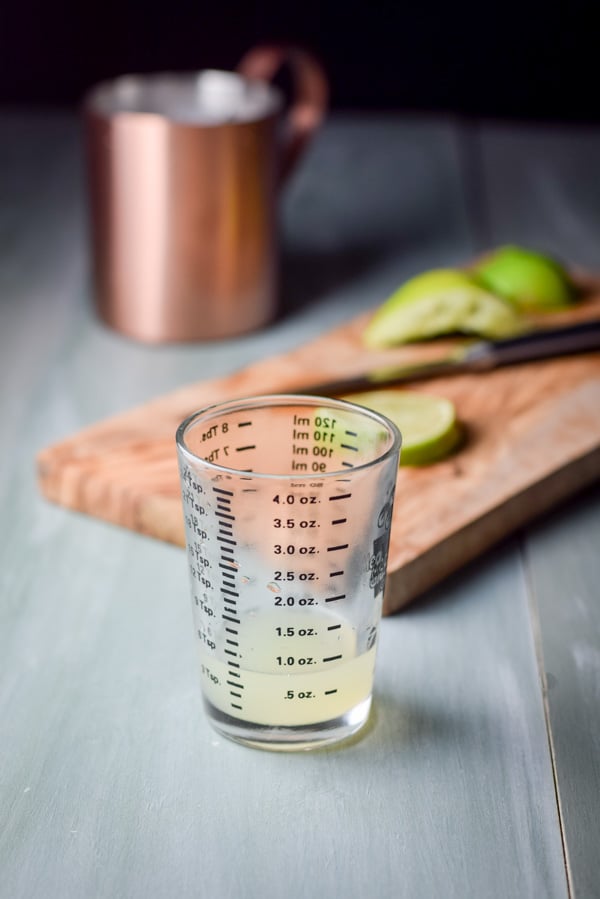 It ended up being 3/4 of an ounce of lime juice.
I pour it into the mug to join the vodka.
The show stopper
Ginger beer.
I pour it out into a shot glass so I could take a photo of it, but usually I just fill the mug to the top with the ginger beer. My copper Moscow Mule mug is 16 ounces, which is bigger than the average copper mug, so it took around 6 ounces of the ginger beer, not the 4 ounces shown.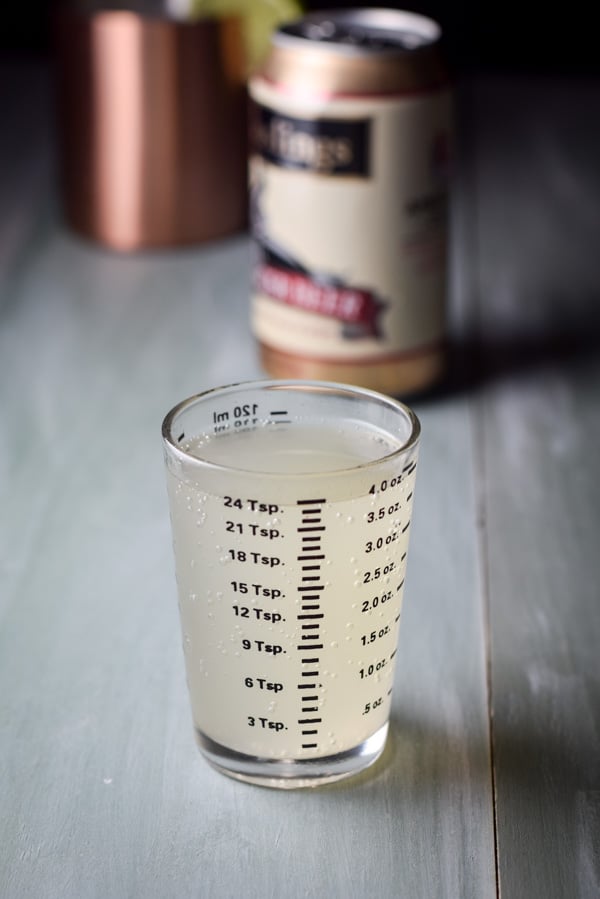 I used Goslings ginger beer, because frankly that's the only one I could find at the store. It does have high fructose corn syrup in it, which I'm not fond of consuming, but I was in the mood for a Moscow Mule, so I didn't have a choice. Goslings does have a nice spicy ginger taste to it.
Also, it's good to note that most ginger beers aren't alcoholic, they're more like a ginger soda, spicier and stronger flavored than ginger ale.
I pour the ginger beer all the way to the rim of the copper mug.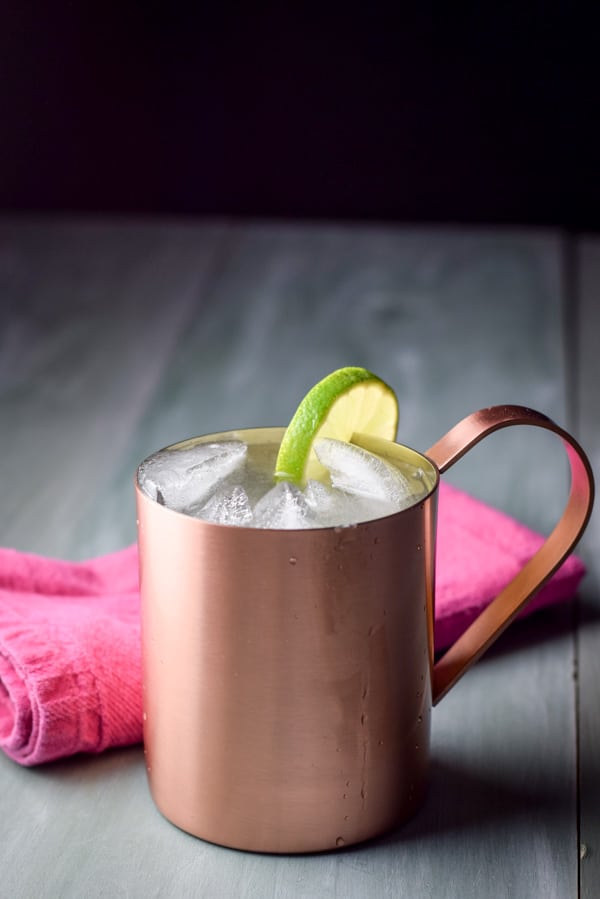 Mmmmmm-mmm-mm! It's wonderful how refreshing this drink is.
Here's an aerial view.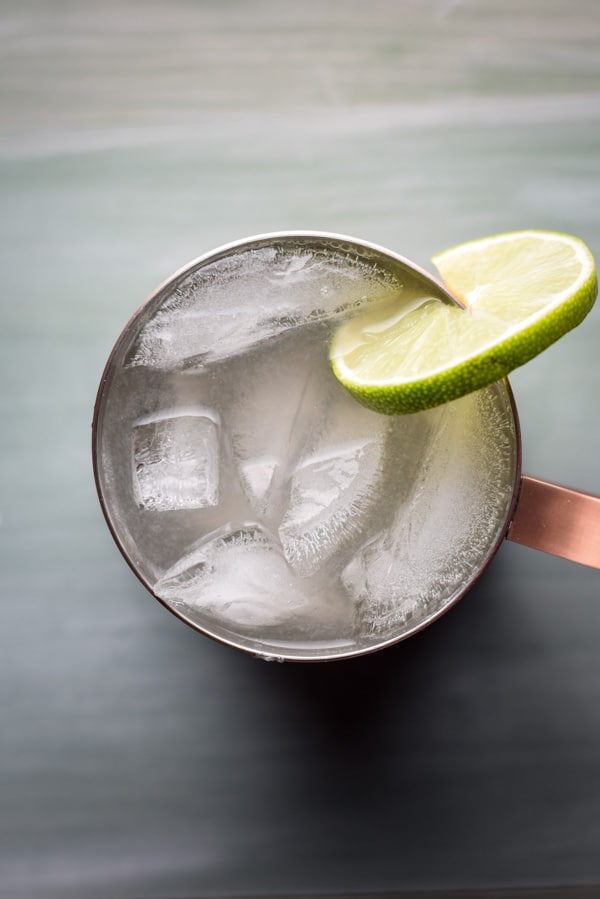 I hope you enjoyed this Moscow Mule cocktail recipe.
Let me know if you make it by leaving me a comment. What is your favorite Ginger Beer?
And feel free to pin any photo to Pinterest and Yum a photo to Yummly.
And as always, may all your dishes/drinks be delish!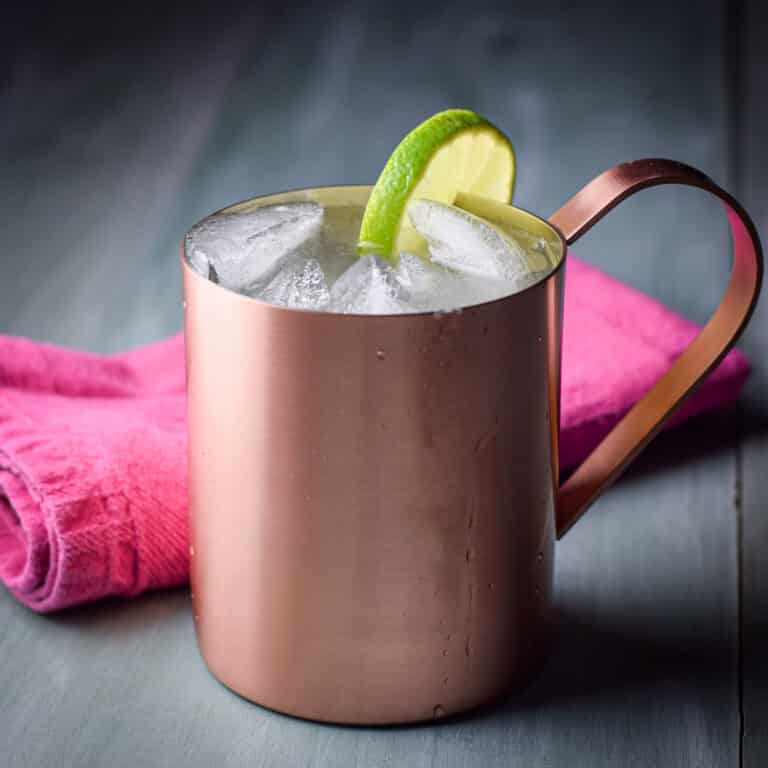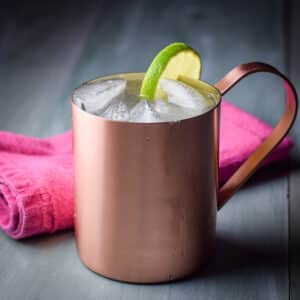 Refreshing Moscow Mule Cocktail
This Moscow Mule cocktail is so refreshing! Especially during the summer months – or any month at all! 🙂
Print
Pin
Rate
Ingredients
2

ounces

vodka

1

ounce

lime juice

anywhere between .5 and 1 ounce of juice

3

ounces

Ginger beer

or amount to fill mug
copper mug – or equivalent
Instructions
Fill mug with ice

Add 2 ounces vodka

Add lime juice (.5 – 1 ounce)

Fill mug with ginger beer

Place lime wheel on rim of mug

Sniff

Sip

Smile

Enjoy
Nutrition
Serving:
1
cocktail
|
Calories:
166
kcal
|
Carbohydrates:
9
g
|
Sodium:
7
mg
|
Sugar:
7
g
|
Vitamin C:
8.5
mg