Cheese Spread | Butter and Herbs
I admit, I'm pretty proud of this cheese spread recipe. I brought it to my sister's house for a family gathering and (as a kid would say) everyone ate it ALL UP! It's buttery and herby and so delicious!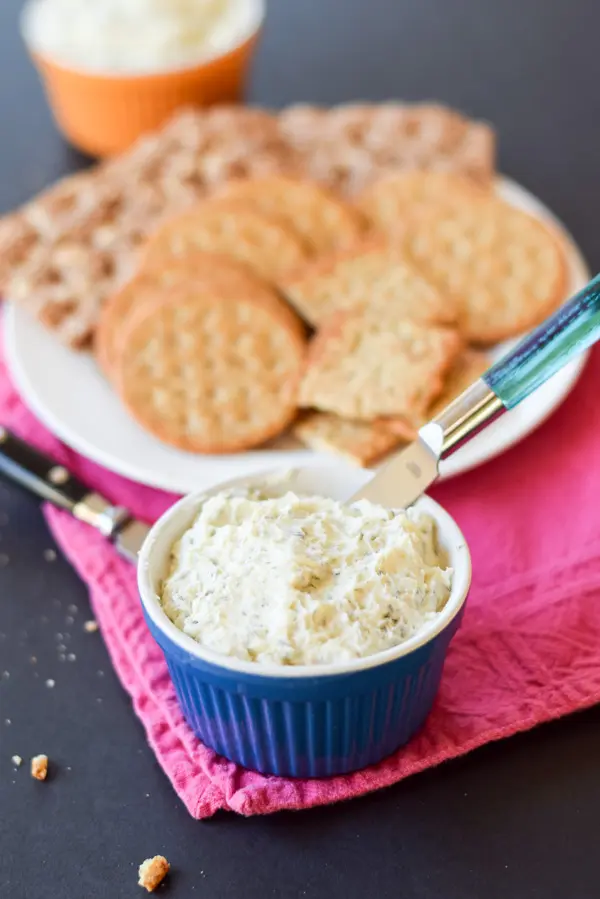 I secretly sat there watching everyone digging in to this cheese spread and thought, "I made this without looking at a recipe! I free styled it, writing it down as I went along." I imagined what was in it and went for it.
When I was younger I used to eat this type of herb cheese spread at the holidays and at family functions. I knew it had cream cheese and butter in it, along with some herbs, but I didn't know how much of everything to put into it. Well, I nailed it, if I do say so myself.
So, how did I come to want to make this boursin spread? Well, a few weekends ago, Christopher and I, along with my sister and brother-in-law, went to Christopher's sister and brother-in-law's restaurant for lunch. And we had so much fun and delicious food. What a great chef our brother-in-law is!
In fact, we all ordered something different. I got beef sliders. There were 4 mini-burgers, each one with a different topping. One had Sriracha sauce, one had bacon and cheese, one was topped with pesto and the last one had boursin cheese. *echo, echo, echo*
Um, YUM! I assumed the cheese was store-bought because it was in the shape of a cute and perfectly round little patty cake. When I later found out it was homemade, I was sold. I determined then and there I was going to figure out a way to make a cheese like boursin, but make it my own buttery cheese spread.
This post may contain affiliate links, which means I get a small commission, at no additional cost to you, if you click the link and buy something. You can read my disclosure here.
How to make herb cheese spread
Firstly, I started with the cream cheese and butter. (I included in my photo above the two ramekins that would later contain this delish cheese, just for fun!)
Next, I gathered the herbs, which consisted of oregano, basil, thyme, marjoram, dill and tarragon. By the way, do you notice me in the photo? Check out the upper spoon.
I also minced some garlic, along with some salt and got ready to put it all together.
In my stand mixer, I added the cream cheese and butter and mixed until it was creamy. I then added all the herbs along with the garlic and salt. Finally, I turned the mixer on again, integrating it all!
The only thing left was to spoon it all into the two ramekins and put it in the refrigerator. I made it the night before the gathering so all the flavors would meld. As I said, everyone enjoyed it.
It makes a perfect appetizer on crackers, especially at a Super Bowl party! In fact, if you want to eat it like I had it, dollop it onto your burgers. 🙂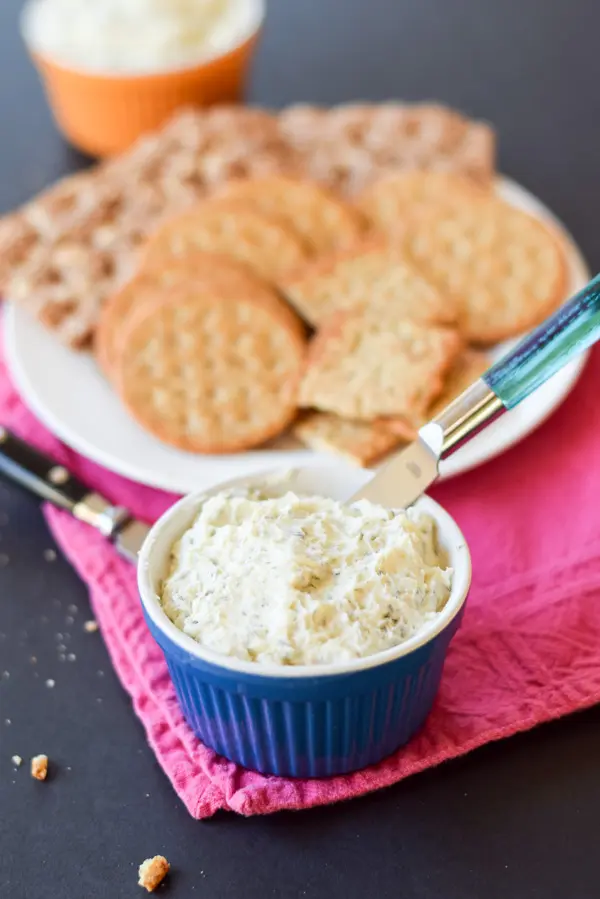 So, I hope you enjoyed this Herb Cheese Spread recipe. Leave me a comment telling me what you think. Also, feel free to Pin any photo to Pinterest or Yum the recipe to Yummly.
And as always, may all your dishes be delish!
Cheese Spread | Buttery Herbs
A delish dip recipe to serve for any party! So easy and impressive!
Print
Pin
Rate
Ingredients
Instructions
Add oregano, basil, marjoram, thyme, dill, tarragon, garlic and salt

Mix until all incorporated

Place in serving ramekins or small bowl

Refrigerate for a few hours or overnight

Add crackers to a dish

Stick a little knife in cheese

Spread on cracker or dollop it on a burger

Crunch

Munch

Enjoy
Nutrition
Calories:
795
kcal
|
Carbohydrates:
5
g
|
Protein:
7
g
|
Fat:
84
g
|
Saturated Fat:
50
g
|
Cholesterol:
246
mg
|
Sodium:
1349
mg
|
Potassium:
156
mg
|
Sugar:
3
g
|
Vitamin A:
2935
IU
|
Calcium:
133
mg
|
Iron:
0.6
mg
Get new recipes in your inbox!
Click here! to sign up for our newsletter