Tom Collins Cocktail | Tasty Classic
Mixing this totally tasty classic Tom Collins cocktail brings back many memories! It's a classic cocktail that is refreshing and delicious.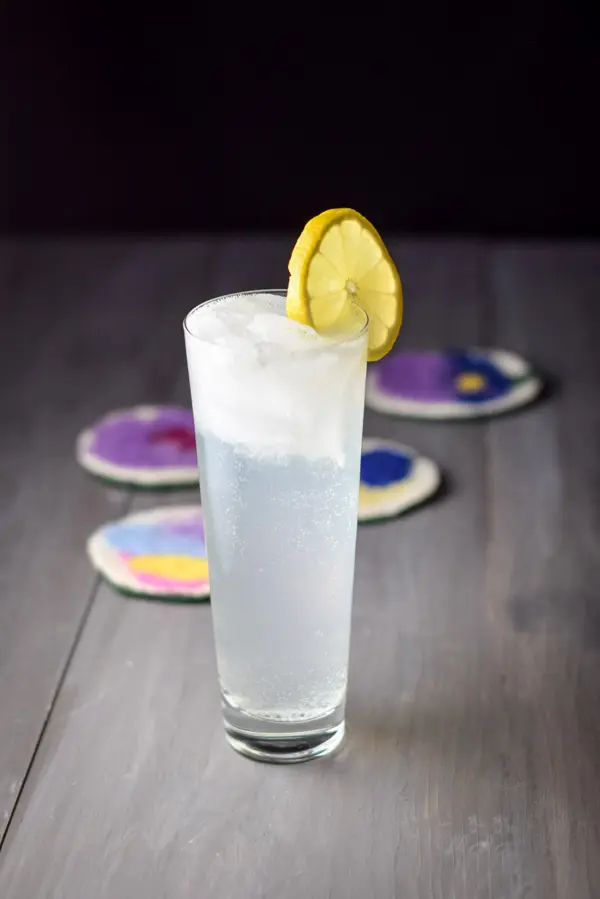 Here is one of my favorite (but by no means my only) Tom Collins cocktail memories.
When I was first dating Christopher, he took me to a restaurant near the university we attended and that was the drink I ordered. The two things I remember most about the Tom Collins cocktail are that it is delicious and that when you laugh while drinking it, you will cough and choke.
Yup, I believe it was our second date and there I was coughing and sputtering. But I did it as delicately as I could. I must have because he asked me for another date and the rest is marital history!
So, I have a love for this cocktail. It reminds me of youth, Indian summer nights and laughter!
This post may contain affiliate links, which means I get a small commission, at no additional cost to you, if you click the link and buy something. You can read my disclosure here.
How to make the Tom Collins cocktail
We have gin, freshly squeezed lemon juice, simple syrup and club soda. Ta-da! That's it.
I have to say that I was super shocked when I realized that this is a GIN drink. I remember my mother telling me and I was like, "What? Gin?! ME?"
I couldn't even tell! That's the fun part about it. And maybe the scary part. It doesn't taste like alcohol. So a person could drink one too many before realizing it. But did I? No, not that night. 🙂
Nothing like a great glass
I will lament for a minute. I love the classic Collins glass but didn't own any. So, I went on a mission to all the stores around my area that I could think of. I couldn't find one.
For this post, I ended up using a 'long' drink glass, which I felt would do in a pinch. What makes a Tom Collins so unique? It's cylindrical and tall with straight up and down sides, from the bottom of the glass to the rim. Thanks to its dimensions, lots of drinks look nice in this cocktail glass so you can use it often. The 'long' glass I used has a flare to it. But for the purists among us, I admit it's definitely not a Collins glass!
Back to the recipe.
I fill my shaker half way with ice.
I pour out 2 ounces of gin. I used Bombay Sapphire Gin, which I love!
Into the shaker it goes.
Next, I cut a lemon in half and squeeze the juice into a measuring cup. I always use one of these cups when I'm squeezing fruit with this. Wide measuring cups allow for all the juice to be caught!
I measure out 1 ounce of the squeezed juice.
I also cut a lemon wheel for the garnish.
I pour the lemon juice into the shaker to join happily with the gin.
I measure out 1 ounce of simple syrup, but did not photograph it for some weird reason. Maybe I was super excited to walk down memory lane with this cocktail in hand. Yes, that must be it!
I pour the simple syrup into the shaker as well.
Now it's time to cap the shaker.
Cap and shake
I pour all the contents including the ice into the glass that wants to be a Collins glass.
See the flare of the glass? Yes, so do I…so…do….I!
I carefully open the club soda. When I was in my teens, I was known to open one of these babies way too fast and then spend precious minutes moping up my mess.
Time to pour the club soda in the glass!
Look at that lovely foam at the top!
I top the cocktail with some more club soda and stick the lemon wheel on the rim of the glass.
I hope you enjoyed this Tom Collins cocktail recipe as much as I enjoyed jogging down memory lane!
Please feel free to Pin any photo to Pinterest and Yum the recipe to Yummly. Leave me a comment to tell me about one of your favorite date drinks!
And as always, may all your dishes/drinks be delish!
Totally Tasty Classic Tom Collins Cocktail
This refreshing and fun gin drink is an old favorite and sure to please!
Print
Pin
Rate
Ingredients
2

ounces

gin

I used Bombay Sapphire

1

ounce

lemon juice

freshly squeezed

1

ounce

simple syrup

Club soda to fill glass
Instructions
Fill a shaker half way with ice

Add gin, lemon juice, and simple syrup

2 ounces gin,

1 ounce lemon juice,

1 ounce simple syrup

Cap shaker and shake at least 10 times

Pour into Collins glass or other glass

Open club soda slowly

Pour club soda to the top of glass

Place lemon wheel on the rim of the glass

Sip

Don't laugh while drinking, may result in coughing and sputtering

Smile

Enjoy
Equipment
Notes
Some people make this with a sweet and sour mix, but I prefer to concoct my own sweet and sour with the lemon and simple syrup.
Nutrition
Serving:
1
cocktail
|
Calories:
213
kcal
|
Carbohydrates:
22
g
|
Sodium:
17
mg
|
Sugar:
21
g
|
Vitamin C:
11
mg
|
Iron:
1
mg
Get new recipes in your inbox!
Click here! to sign up for our newsletter
From lighting up stages with her BA in theater to crafting delightful dishes and cocktails, Elaine Benoit's journey is a testament to passion's transformative power. As the CEO of Dishes Delish, she offers a blend of healthy, comforting recipes and exquisitely crafted cocktails. Beyond the kitchen, Elaine voiced her culinary adventures on her podcast, "Dishing," and co-owns Food Blogger Help, extending her expertise to guide budding food bloggers to success. Whether it's for a heartwarming dish or insights into food blogging, Elaine's diverse experiences make her a beacon in the culinary digital landscape.