Everyone will gobble up this chile con queso dip! It is so cheesy and scrumptious that you will definitely have to save a little of it in your kitchen so you will get your fair share before your guests eat it all.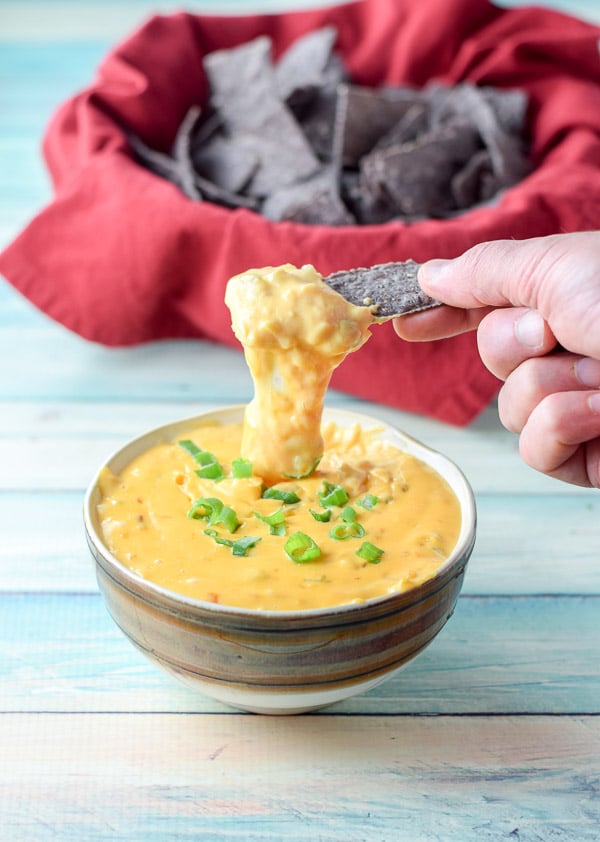 I love chile con queso. The first time I ever had it was at that Mexican restaurant where I worked many moons ago. When I first tasted it, I thought to myself, Where has this golden taste treat been my whole life?
Really! Who wouldn't love a melted cheese dip to stick her tortilla chips into? Especially when it has sautéd onion, chopped up chile peppers, and some garlic in it!
One of my guilty pleasures is the cheese I use.
If you are a food purist, shield your eyes and skip the next sentence.
I use Veleeta cheese. That cheese is one of my guilty pleasures.
Reminiscing and a red face
I have a funny story from my waitressing days at the Mexican restaurant that relates to chile con queso. (Little did I know back then that I would one day have a food blog and get so much mileage out of my experiences there!)
I was standing across from the manager who was filing in for the fry cook. The fry cook was responsible for anything that was deep fried, as well as all the appetizers.
I had a good, easy relationship with the manager, who's name is Brad.
Teasing that took a turn
I was ribbing Brad about how long the nachos were taking. I had a bowl of chile con queso on my round tray and I was urging him to get me the nachos. As a joke, he flung a plate of french fries onto the warming shelf before he turned to grab the nachos.
That plate of fries didn't stay on the shelf. No siree. It slid off and landed on my tray. The way it landed caused the tray to tip and the bowl of queso to fly up into the air … landing on my face! The bowl then fell off and landed on the floor.
When Brad saw what happened, he gasped, ran around the counter, took his hand and swiped as much of the queso off of my face as he could. Lucky for me, the queso wasn't hot, so it didn't really burn me. I actually thought the whole thing was quite funny.
I was drenched in that yellow creamy wonderfulness and had to change my shirt and apron. My face was a little red, but I was no worse for wear.
And as a perk, I did get in a few licks of the chile con queso in, before Brad jumped to the rescue.
Here's another chile con queso recipe I make, this time with beef.
How to make chile con queso dip
Step one
Get a sauté pan.
Step two
Dice a small onion and 2 cloves of garlic. (1)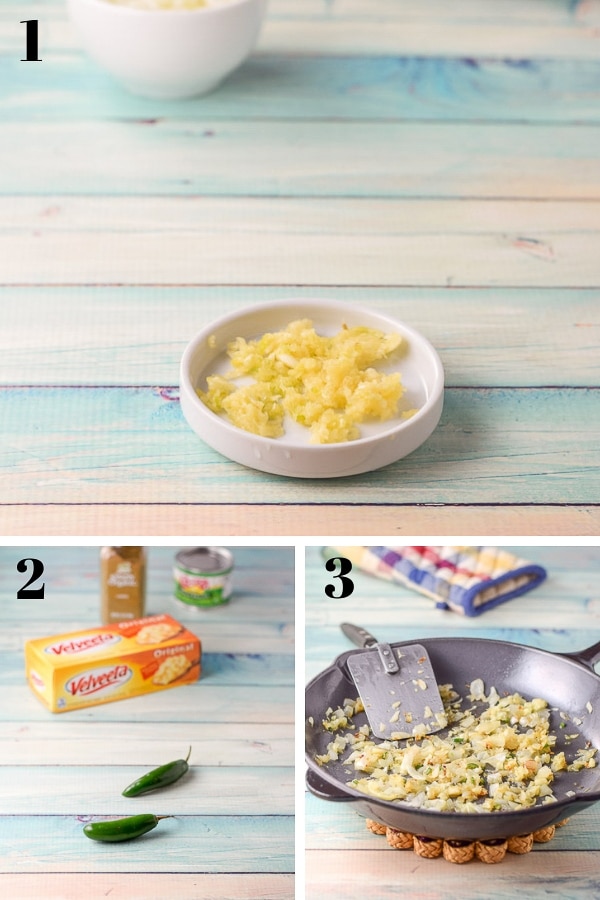 Step three
Gather the rest of the ingredients – Serrano peppers, Velveeta cheese, green chiles and cumin. (2)
Step four
Heat sauté pan on medium and add oil. Add onion and sauté for 5 minutes. Add chopped Serrano pepper and garlic and continue sautéing for 2 minutes. (3)
Step five
Add cubed Velveeta, the drained can of green chiles and cumin to the pan. The cheese doesn't take long to melt but you must stand there and stir it or it will burn.
Once it's all melted, scrape all that goodness into a serving bowl! To garnish, I cut up some scallions for color and sprinkled them over the chile con queso.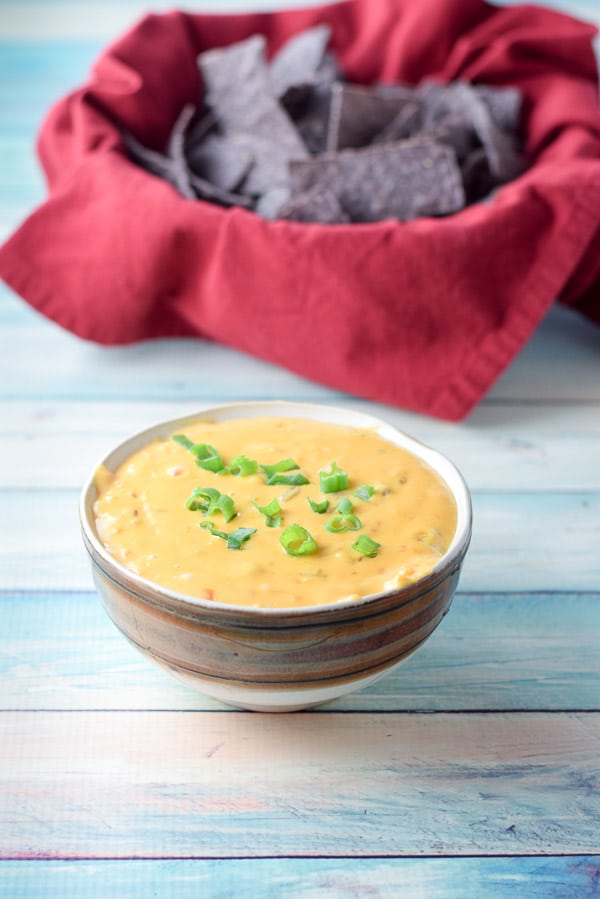 Mmmmm. Delicious! Christopher happily volunteers to help me photograph the queso.
He grabs a chip and dips it in the cheesy goodness.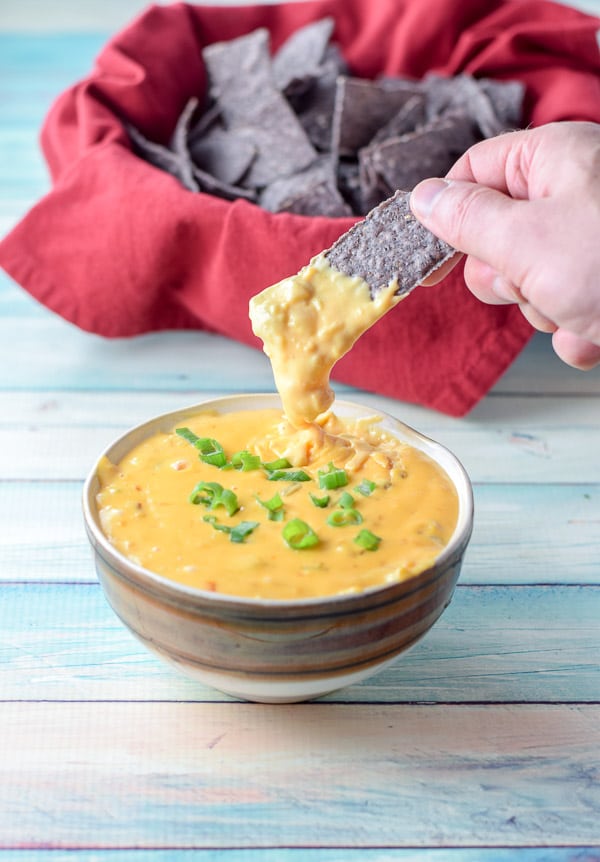 Although that's a nice shot, I ask Christopher to dig deep!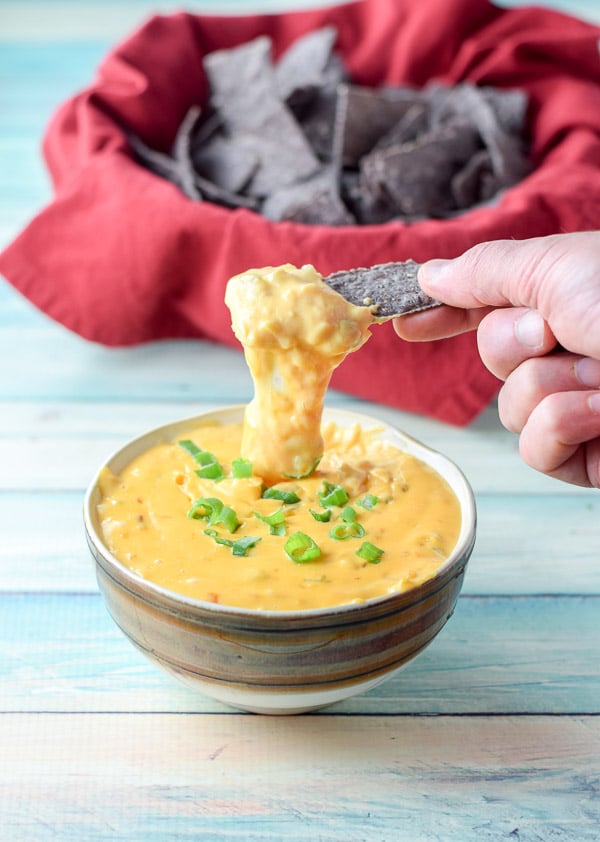 There we go! That's what I'm talking' about! Look it at how cheesy that is!
I hope you enjoyed this chile con queso recipe!
Leave me a comment and tell me what your favorite appetizer is!
Other popular appetizer recipes on Dishes Delish:
And as always, may all your dishes be delish!
If you've tried this Udon Noodle Soup recipe, I'd love the know what you thought about it in the comments below. I love hearing from you! You can also FOLLOW ME on FACEBOOK, TWITTER, INSTAGRAM and PINTEREST to see more of my delicious food and delightful cocktails!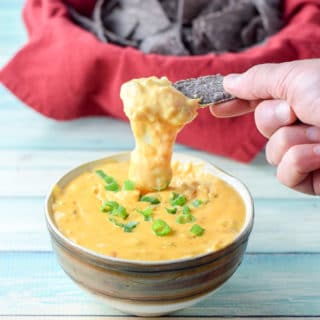 Chile Con Queso
This cheese dip is so delicious and easy to make!
Ingredients
1

tablespoon

olive oil

1

onion

small, diced

3

cloves

garlic

minced

1/4

Serrano pepper

or more if you like it spicy, diced (without seeds)

1

pound

Velveeta cheese

sliced

4

ounces

green chiles

can, drained

1/4

teaspoon

cumin
Garnish
1

tablespoon

scallion

diced
Instructions
Heat a medium sauté pan on medium heat

Add 1 tablespoon oil, heat

Add onion and sauté for 5 minutes

Add garlic and Serrano pepper and continue sautéing for 2 minutes

Add sliced Velveeta cheese, can of green chiles and cumin and stand there stirring as it melts

Scrape the queso into a bowl and sprinkle some green onion on it

Put a bunch of chips into big bowl and bring it to the table

Grab a chip

Dip the chip

Eat the chip

No double dipping

Smile

Enjoy
Nutrition Facts
Chile Con Queso
Amount Per Serving
Calories 489
Calories from Fat 216
% Daily Value*
Fat 24g37%
Cholesterol 76mg25%
Sodium 3031mg132%
Potassium 704mg20%
Carbohydrates 30g10%
Protein 36g72%
Vitamin A 1805IU36%
Vitamin C 10.3mg12%
Calcium 1058mg106%
Iron 0.5mg3%
* Percent Daily Values are based on a 2000 calorie diet.