This phyllo cream cheese lobster appetizer recipe is mouth-wateringly delicious!  Seriously, it's little bites of scrumptious, creamy lobster goodness in a flaky cup!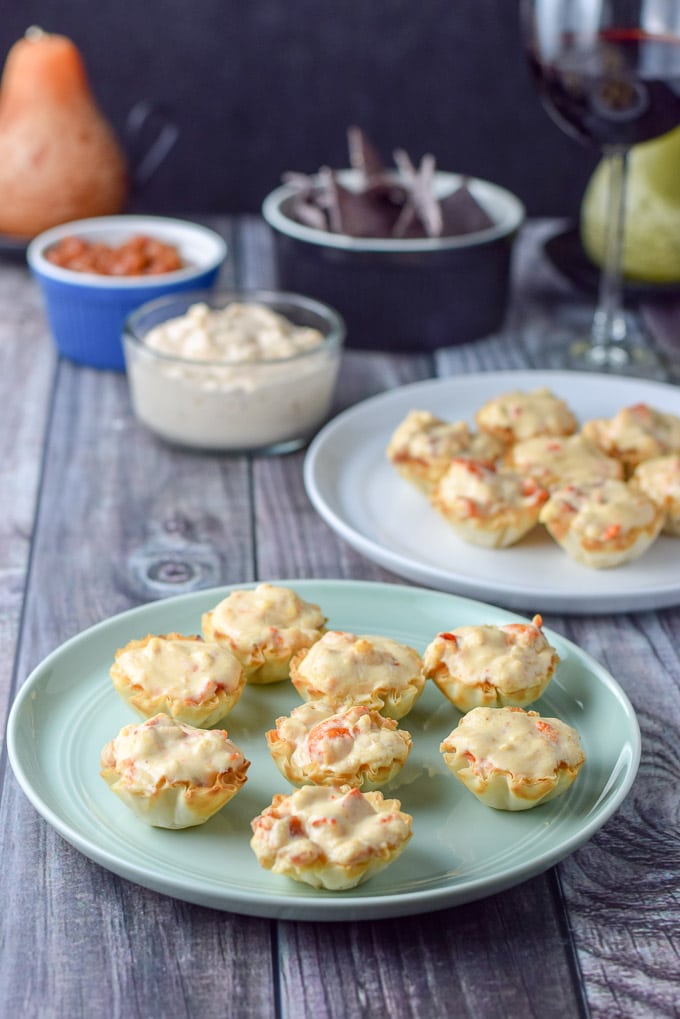 Are you an appetizer type of person?  What I mean by that is, could you make a meal out of eating only appetizers?  Or are you a person who could be satisfied eating a few bites of appetizer but who would never make a meal of them?
I'm an appetizer type of gal.  But I prefer an assortment to nosh from.
Here are some of the appetizers I could eat as my meal:
Yum.  Just thinking about them makes me start drooling.
What is your favorite appetizer to eat?  Leave me a comment as I'd love to know!
Usually I blog recipes that I've made 3 zillion times or I blog about a recipe that I test a few times before I deem it good enough to publish for my readers!
Well, this is the first time I've made this one. The reason I didn't test it before posting it is because it's based on another of my recipes that's tried and true.  I modified my warm crab dip recipe for this phyllo cream cheese lobster appetizer so that it's different and still delicious!!
Aren't I clever?!
Someday soon I'm going to republish my warm crab dip with updated photos.  It is such a delicious appetizer that it deserves better photography and more eyeballs!  Stay tuned.
On to the Phyllo Cream Cheese Lobster Appetizer Recipe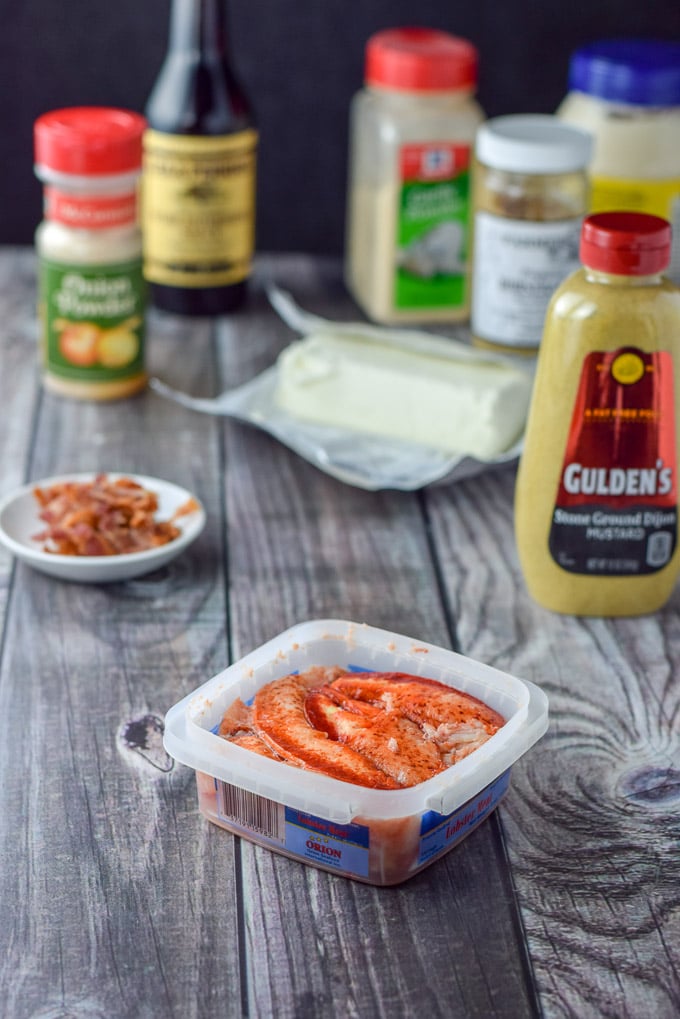 Finally, Lobster Meat
When the grocery store where I shop changed hands last year, I was suddenly not able to buy frozen lobster meat.  Until now!  Yay!!  It's finally back.
So above, we have lobster, freshly cooked bacon, cream cheese, mustard, garlic powder, onion powder, horseradish, mayo and Worcestershire sauce.
Let's get started.
I place the cream cheese and mayo in a medium saucepan and set the heat on medium/low.  I let the mixture melt while I stir in some mustard, garlic powder, onion powder, Worcestershire sauce and horseradish.  Finally, I let it cook, stirring every few minutes to help it melt.
Next, I cut up my lobster and shred some sharp cheddar and Colby cheese.  I also take out sherry and white wine.  As it turns out, I decided to only use the sherry because lobster pairs so well with it.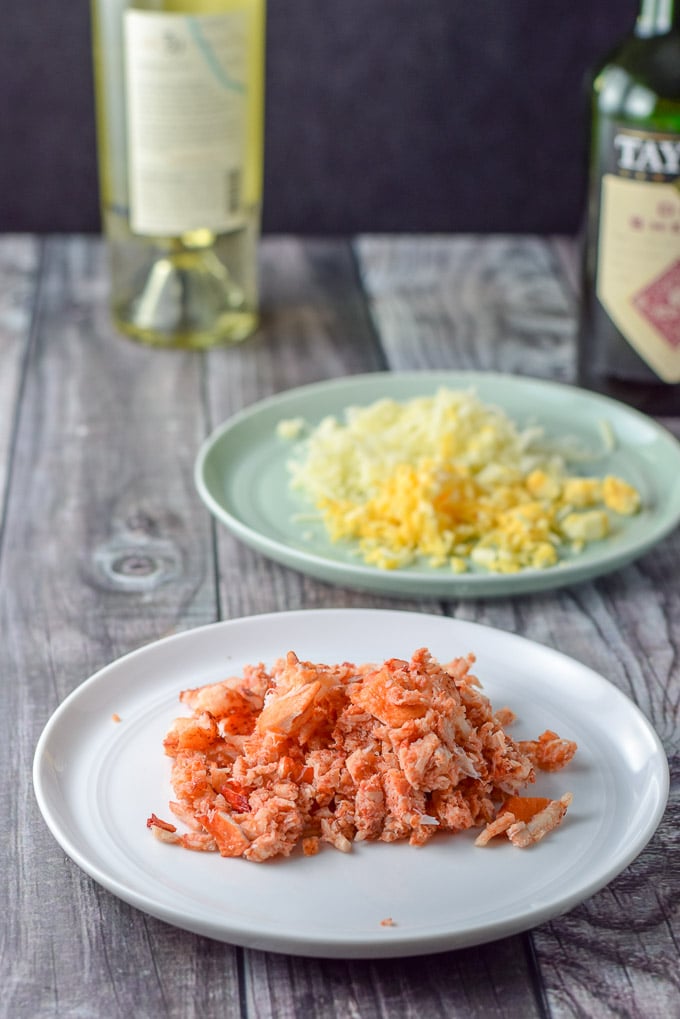 Once the cream cheese mixture has melted and combined, I place the lobster, bacon and cheese in it and stand there stirring the mixture together.
Cute Little Phyllo Cups
These phyllo cups are so awesome.  I love to use them.  They are fairly inexpensive and come in little boxes with 15 cups.  If I were having a party, I'd double this batch and buy 30 cups, but since it was just Christopher and I, one box was enough.
Here is the lobster cream cheese mixture still in the pan and the cute phyllo cups behind!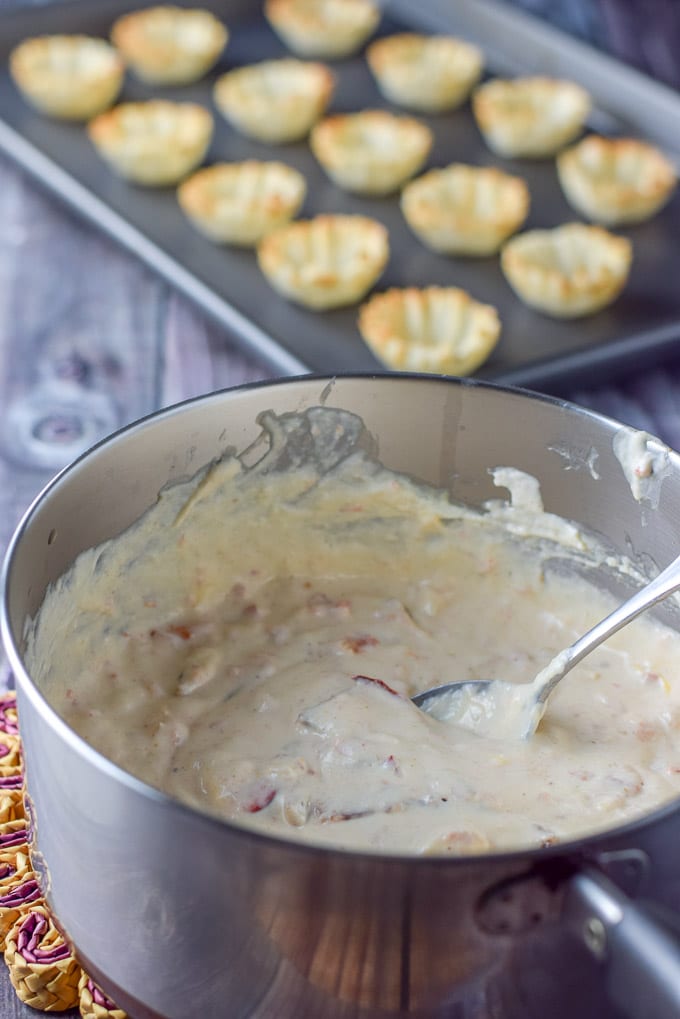 I preheat the oven to 350 degrees Fahrenheit and start to fill the phyllo cups with the lobster cream cheese mixture.  I dollop some in each cup.  You can overfill them a tad without worrying that the mixture will bubble off onto the jelly roll pan.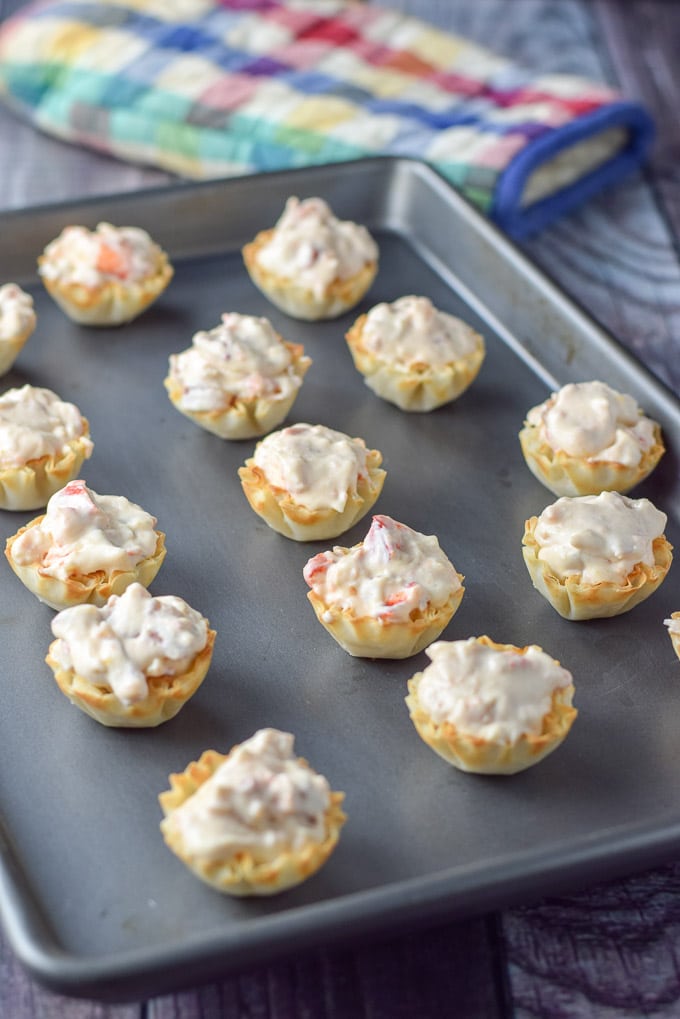 I pop the lobster appetizer in the oven and set the timer for 10 minutes.
One thing I love about phyllo cups is that they always stay crispy.  They are precooked so you can eat them straight out of the freezer if you're filling them with something you don't have to bake and as expected, they're crispy.  But even after filling them with the wet lobster cream cheese mixture and baking them, which I thought might make them soften, they stayed crispy.
They were crispy little critters.  Soooooo good.
Ding!
Phyllo Cream Cheese Lobster Appetizer is done
I plate the lobster appetizer and gather some other easy appetizers like chips and salsa and the lobster cream cheese mixture I couldn't fit in the phyllo cups.  You will notice it in the little glass bowl.
That's the beauty of this recipe: it yields extra lobster mixture that you can eat by the spoonful, dip your chips into or slather over a bagel, bread or crackers.
Yum.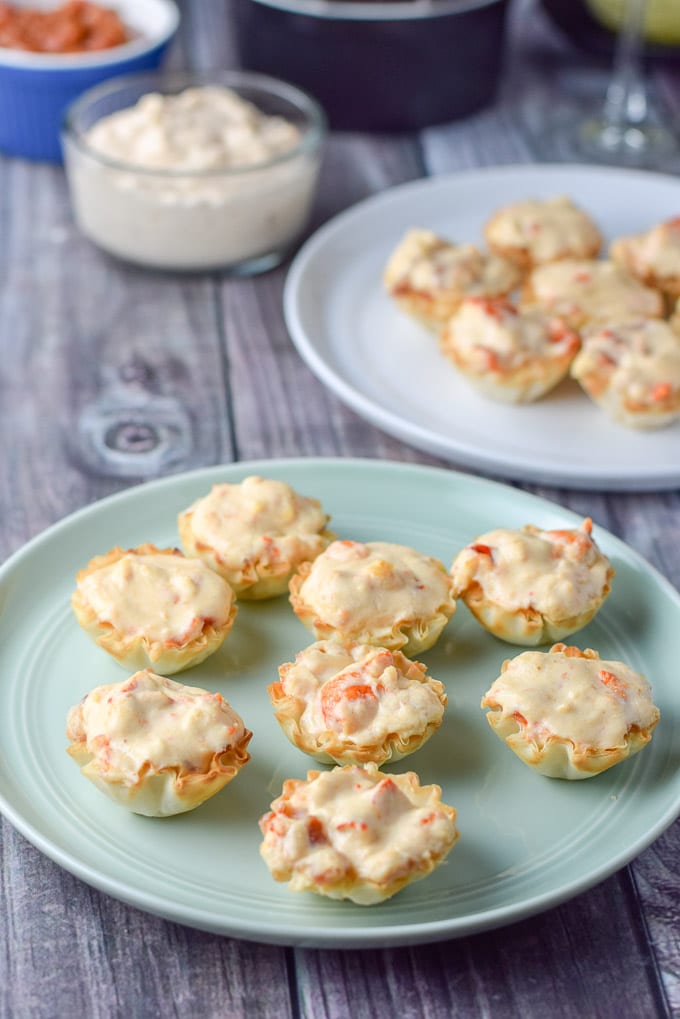 I took this next angle because I wanted you to see my spread!!  Notice the wine?
Drool.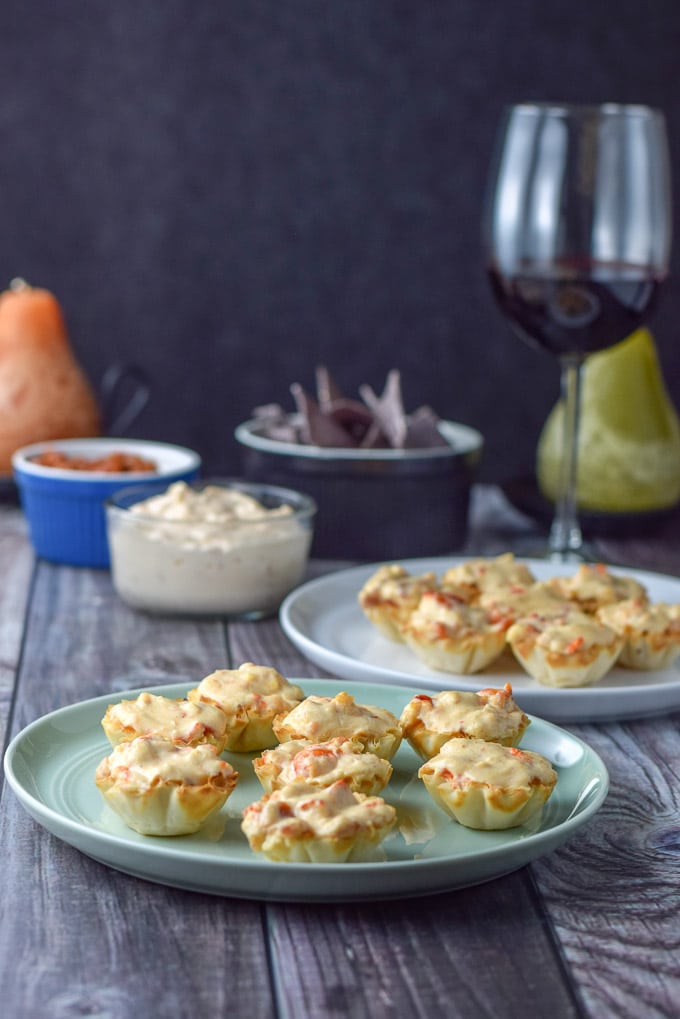 I hope you enjoyed this lobster appetizer recipe!  It's so delicious and perfect as a quick appetizer for your next dinner party!
Please feel free to Pin any Photo to Pinterest, Yum the recipe to Yummly and leave me a lobster-appetizer-loving comment.  I know you want to.
And as always, may all your dishes be delish!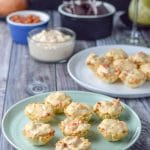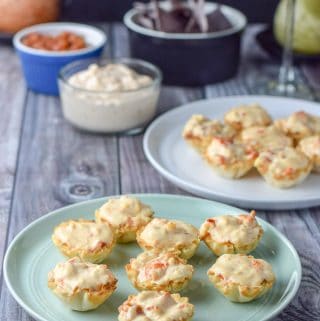 Phyllo Cream Cheese Lobster Appetizer
This appetizer is not only tasty but quick to make!!
Keyword:
lobster appetizer
Ingredients
The goodies!
8

ounces

cream cheese

1 block

1/3

cup

mayonnaise

1

teaspoon

mustard

I use Guldens

1

teaspoon

garlic powder

1

teaspoon

onion powder

1

tablespoon

Worcestershire sauce

1

teaspoon

horseradish

5

ounces

or more of lobster meat

fresh or frozen, cut up

2

tablespoons

dry sherry

1/2

cup

sharp cheddar

shredded

1/4

cup

Colby cheese

shredded

2

slices

pre-cooked bacon

cut into small pieces

15

phyllo cups

(15 count)
Instructions
Make It!
Place cream cheese and mayo in medium saucepan and turn heat under it to medium/low.

Let mixture melt a little before adding mustard, garlic powder, onion powder, Worcestershire sauce and horseradish

Stir until melted and combined

Add lobster, bacon, sherry and cheese and stir until combined

Preheat oven 350

Take phyllo cups out of freezer and fill each cup with lobster mixture (you will have extra)

Place filled phyllo cups on medium jelly roll pan and bake for 10 minutes

Plate phyllo lobster appetizers

Eat

Smile

Enjoy
Recipe Notes
I used 5 ounces of lobster meat because that is what was in the container I bought
Double it if you are having a dinner party or triple it if it is a big dinner or cocktail party
The calories listed below are for ALL of the lobster cream cheese mixture; they would be less for the 15 little phyllo cups
Nutrition Facts
Phyllo Cream Cheese Lobster Appetizer
Amount Per Serving (4 pieces)
Calories 131
Calories from Fat 108
% Daily Value*
Total Fat 12g 18%
Cholesterol 38mg 13%
Sodium 200mg 8%
Potassium 63mg 2%
Total Carbohydrates 3g 1%
Protein 4g 8%
* Percent Daily Values are based on a 2000 calorie diet.