This cranberry chocolate granola recipe is so fabulous that you are going to want to snack on it all day long.  You'll have to hide it away so you don't eat it all in one day!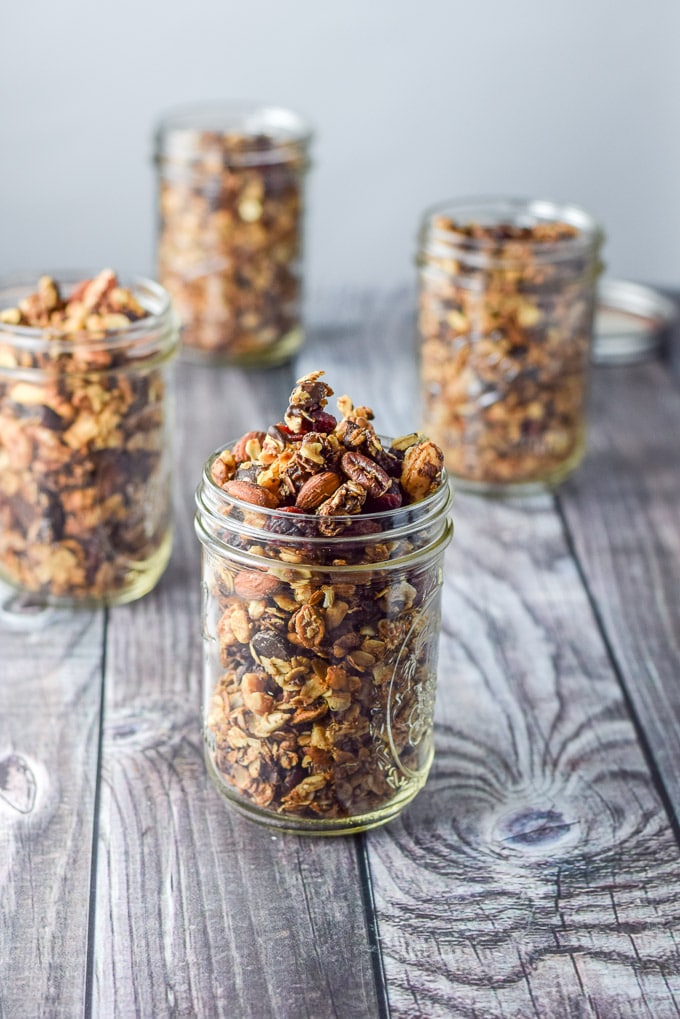 What is better than eating granola?  Maybe eating chocolate?  Or eating chocolate and granola together?  Oh my!  Double Yay!
*Puts fingers to lips and kisses them*  Mmmwwaahh!
I wish I could eat granola every day!  Oh, wait!  Lately, that is exactly what I've been doing!  If I'm not eating it by the handful, I'm putting it on my yogurt and fruit.
And why are the partially melted chocolate chips in it so deLISH!?
First, they are melted blobs and when they harden up, it is soooo fun to chomp into them.
Second, they are chocolate.
The end.
I also love the cranberries in this recipe.  They give the granola a tartness that compliments the nutty chocolatey flavor!  You have GOT to try this granola!
There, I've said it!  Now, you have to do it!
Hehe.  As I've said before, I'm bossy.
So, enough with the orders.
How to mak Cranberry Chocolate Granola
Pre-heat your oven to 325 degree Fahrenheit.
Line a jelly roll pan with parchment paper.  I usually cut it to size, just a little bigger than the pan.  Of course, you don't have to do this step.  I just prefer easy clean up.  Easy clean up = happy me!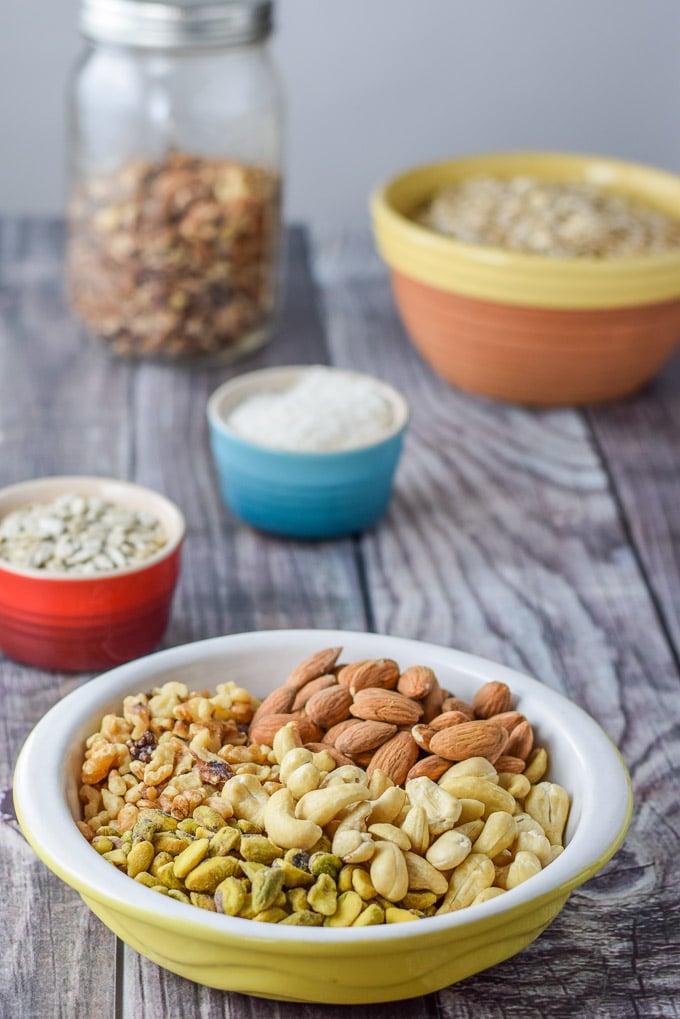 We have pistachios, cashews, almonds, walnuts, sunflower seeds, pecans, shredded coconut and oats.
I grab my large stainless steel mixing bowl and place all the above ingredients in it.
I add 1/4 cup of maple syrup, olive oil and some salt and mix it all together!
Finally, I pour the oat mixture on the jelly roll pan and spread it out evenly.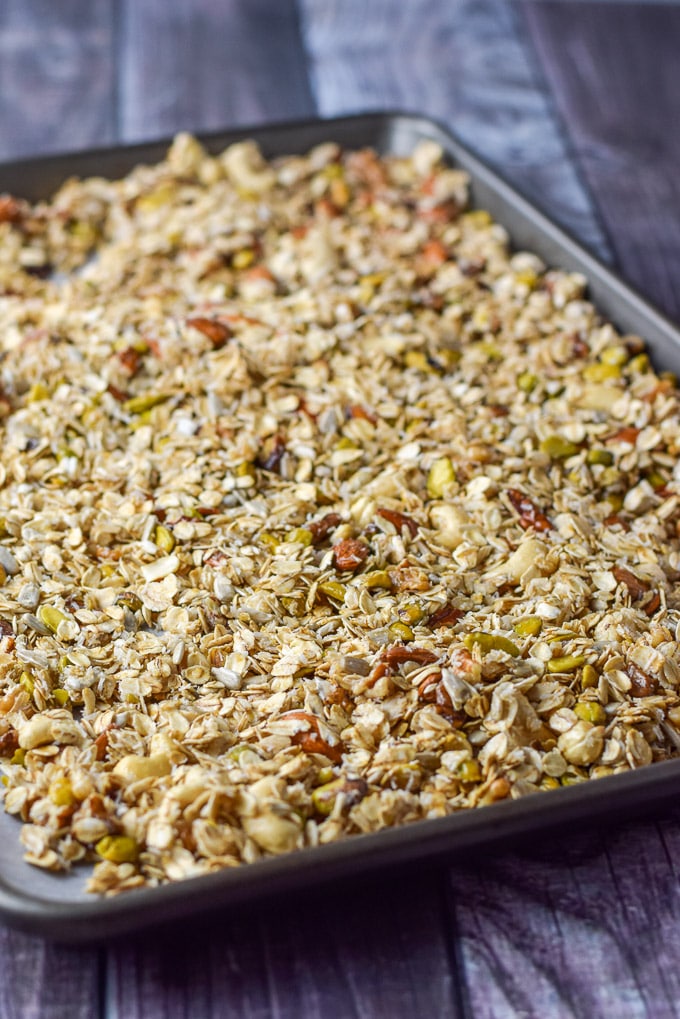 Next, I place the pan into the oven and bake the granola for 20 minutes.  I then take the pan out of the oven and flip the granola. Back in the oven it goes for 10 minutes.
In this next photo, the granola has finished baking but I haven't yet added the chocolate bits.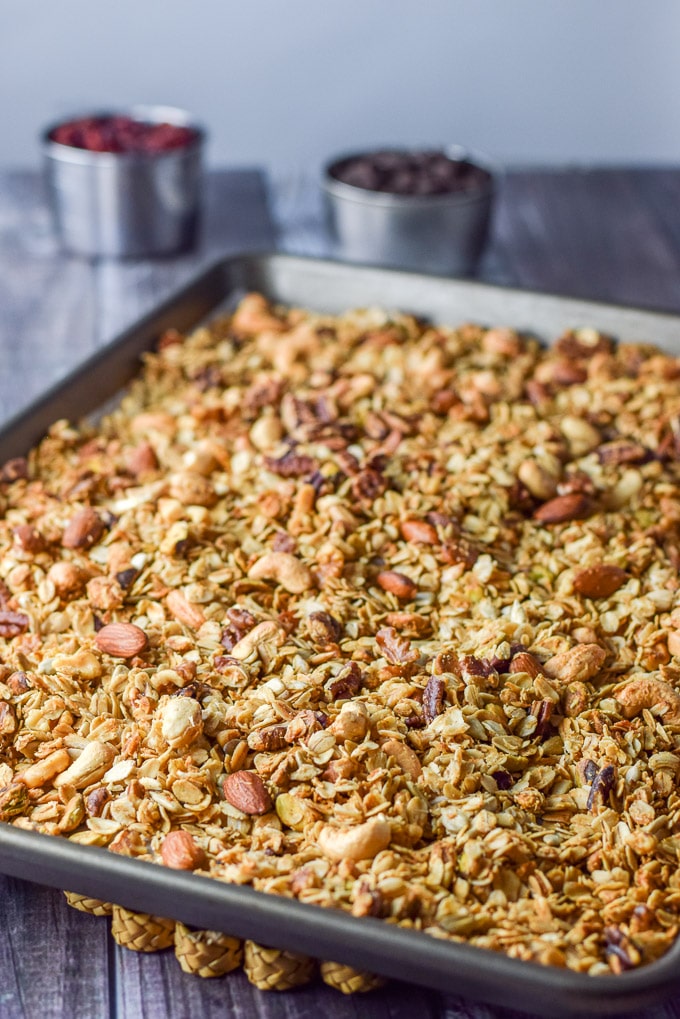 Here are the cranberries and chocolate bits.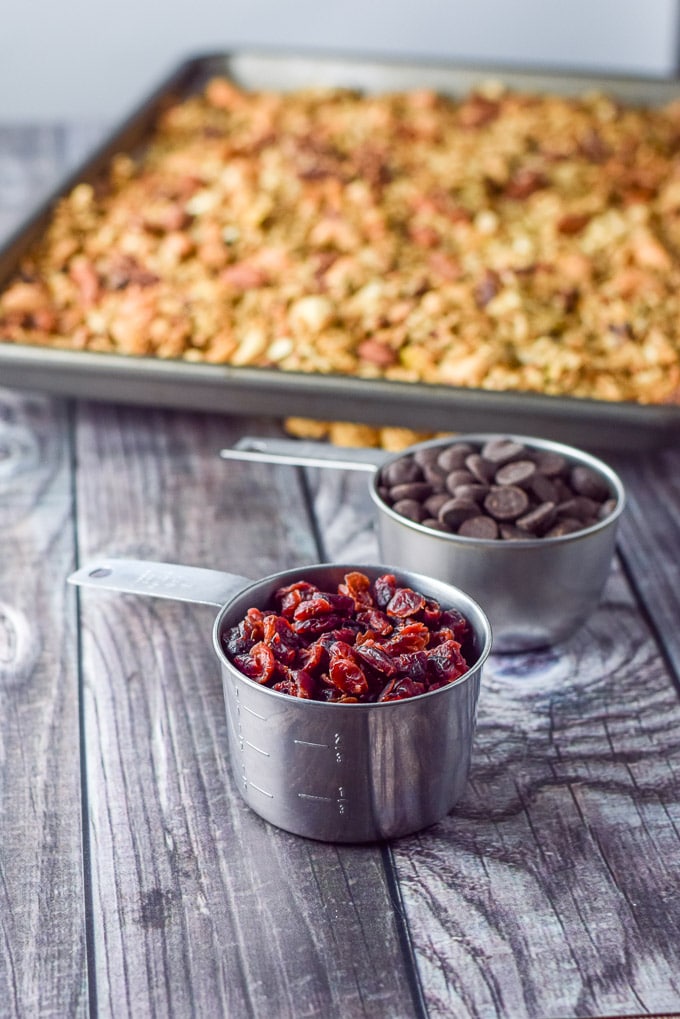 I wait a good 10 minutes before I mix the chocolate bits.  Here they are poured on the granola.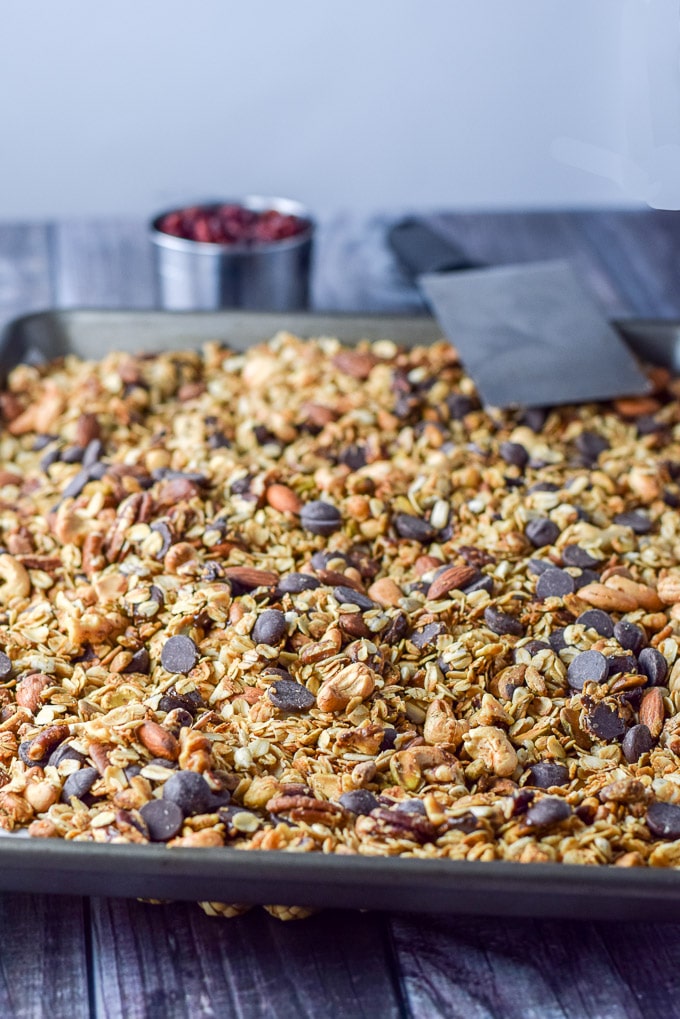 I take my spatula and mix the chocolate chips through the granola.  I want to let most of the chips melt and some of them to stay whole.
Time to add the cranberries.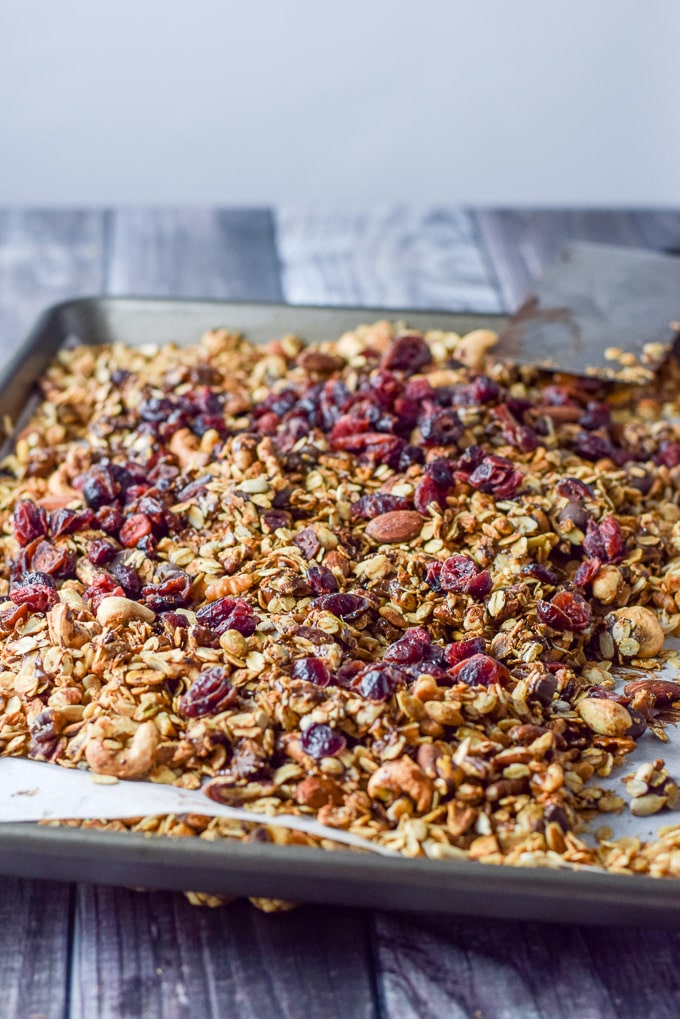 You can see the clumps of chocolate in the granola.  Doesn't it look fabulous?
Flip that Cranberry Chocolate Granola
I mix the cranberries through the granola and have to wait FOREVER for it cool and let the chocolate bits harden.  By this time, I'm a drooling mass of anticipation.  But never fear, no drool escapes these lips.  But I can't WAIT to eat it!
Christopher doesn't mind tasting the granola that hasn't quite cooled.  I stand there glaring watching him enjoy the granola.
But my time will come.
*Laughs maniacally*
Did I mention that this granola is fabulous to gift?  Just jar it up, stick a bow on it and your recipients will love you forever!!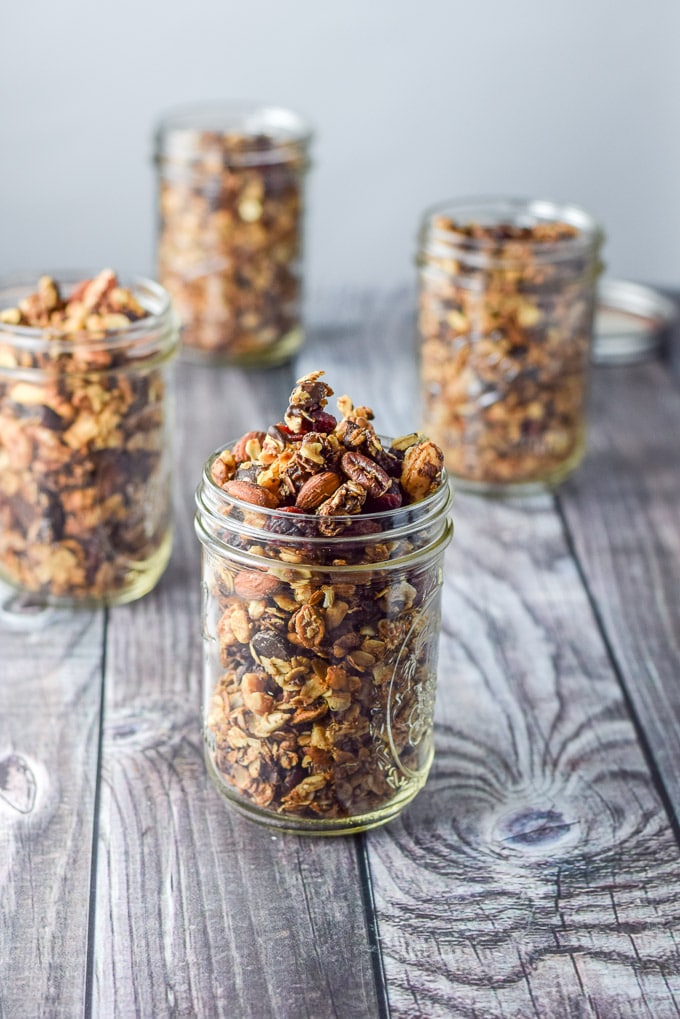 I need a closer view.
I hope you enjoy this recipe.
What kind of granola do you love to eat?  Leave me a comment as I'd love to know!
And as always, may all your dishes be delish!
If you've tried this cranberry chocolate granola or any other recipe on the blog, I'd love the hear what you thought about it in the comments below.  I love hearing from you!  You can also FOLLOW ME on FACEBOOK, TWITTER, INSTAGRAM and PINTEREST  to see more of my delicious food and delightful cocktails!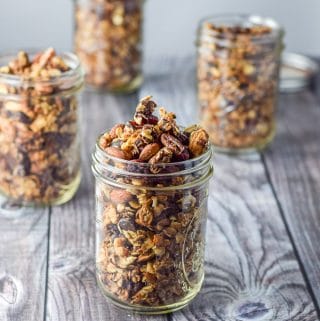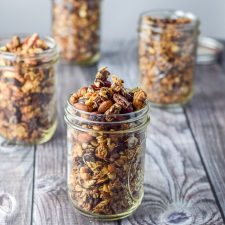 Cranberry Chocolate Granola
This cranberry chocolate granola has just the right amount of tartness and sweetness in it to make your taste buds sing!
Print
Pin
Rate
Ingredients
3

cups

oats

old fashioned

1/2

cup

shredded unsweetened coconut

1/2

cup

pistachios

1/2

cup

cashews

1/2

cup

almonds

1/2

cup

walnuts

pieces

1/2

cup

sunflower seeds

1/2

cup

pecans

pieces

1/2

teaspoon

salt

1/4

cup

olive oil

or oil of your choice

1/4

cup

maple syrup

2

teaspoons

vanilla

1

cup

dried cranberries

1

cup

chocolate chips

big, I use ghirardelli 60%
Instructions
Pre-heat oven 325 degrees Fahrenheit

Line a jelly roll pan with parchment paper

In a large bowl, mix oatmeal, coconut and salt

Put nuts in with oats and stir to combine

Pour maple syrup and olive oil on oatmeal mixture and mix with rubber spatula

Pour and spread on pan

Bake for 20 minutes

Take out and flip granola over

Bake for an additional 10 minutes

Cool for 10 minutes

Add chocolate chips and flip granola around.  Some of the chocolate will melt and others will stay whole

Add cranberries and flip around

Let cool until chocolate has hardened

Jar and gift some

Enjoy the rest

Smile
Nutrition
Calories:
420
kcal
|
Carbohydrates:
53
g
|
Protein:
11
g
|
Fat:
34
g
|
Saturated Fat:
8
g
|
Cholesterol:
2
mg
|
Sodium:
134
mg
|
Potassium:
381
mg
|
Fiber:
7
g
|
Sugar:
26
g
|
Vitamin A:
65
IU
|
Vitamin C:
0.6
mg
|
Calcium:
87
mg
|
Iron:
3.1
mg