These are truly the best chocolate chocolate chip muffins in the world. And just think: I'm sharing the recipe with you!
Best in the world?? Bold statement made by me, huh? You better believe that I've tried many chocolate chocolate chip muffins in my life and this recipe is the best I've tried thus far in my many years.
Now, the great thing about these muffins is you can have them for breakfast. "Wait a minute, wait a minute!" the purist yells out. "Don't these really fall under the category of chocolate cupcakes?"
I smile gently, "Do you see any frosting?"
Purist shakes his head.
I pat his hand, "Alright then."
You see, it's not a cupcake, it's a muffin. It has a totally different texture than a cupcake and you can have it with your coffee in the morning or as a snack, as well as a little sweet treat after dinner.
Purist: "See!? Dessert! Just like I said: a cupcake!"
Me: "Hush now!"
Of course, the purist voice is in my imagination but I felt it had to be shared!
Everyone loves these chocolate chocolate chip muffins. They are delish personified.
On the chocolate chocolate chip muffins recipe
Preheat the oven to 400 degrees Fahrenheit.
In the below photo, I included my grandmother Bena's hand crank beaters just for fun. I won't use beaters of any kind, I hand stir the ingredients.
I grab a large mixing bowl and add some spelt flour, unsweetened cocoa, brown and white sugar and baking soda.
Next up are the wet ingredients.
I use olive oil, but you can use vegetable oil if you want. I also put in one egg, some milk and some plain greek yogurt.
I just plop it all on top of the dry ingredients.
Stir the chocolate chocolate chip muffins batter
I use my rubber spatula to stir it all together until just combined.
Time for my favorite ingredient, the chocolate chips. I use a cup of the chips. I fill the measuring cup with the big chocolate chips and top it off with the regular sized ones.
I stir them into the batter and line my muffin tin. Okay, here's where it gets funny. I don't know about you, but I don't like little muffins, so I never make 12 muffins. Ever! I make 9 muffins because if I just had one of the smaller muffins, I'd be tempted to eat two. Yes, I'll admit it, I'm a little piggy. ?
I wanted to show you the two different large muffin cups I use. I prefer the white ones because they contain the muffins so nicely, but I can't always get them, so I use these
when I run out. The great thing about these is that they are made of parchment paper and peel off easily.
Time to spoon the batter into the cups. I fill the brown ones to the top. I fill the white ones 3/4 full.
Into the oven they go! I set the timer for 22 minutes and wait patiently while they bake. Or not so patiently, depending on whether or not I'm making them for my breakfast.
See? The ones in the front have a nice muffin cap and the ones in the back are contained in the paper cup.
Yum Yummity YUM!
All that is left is to let them cool for 5 minutes before you take them out of the tin and put them onto a wire rack.
Look at them! Chocolate chocolate chip muffins are great right out of the oven or totally cooled or days after you bake them. They also freeze really nicely. I usually freeze half of them so they stay fresh longer.
I always eat one of these glorious muffins the day I make them. Quality check, people!
Here are a few views of this delish muffin.
Arial view!
Now, my favorite part. Opening one up and gazing at the chocolate yumminess!
Let the eating commence!
I hope you enjoyed this chocolate chocolate chip muffins recipe. I'm SURE you will!! Feel free to pin any photo to Pinterest and yum the recipe to Yummly! And be sure to leave me a comment to tell me what you think!
And as always, may all your dishes be delish!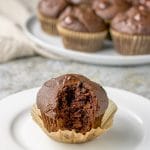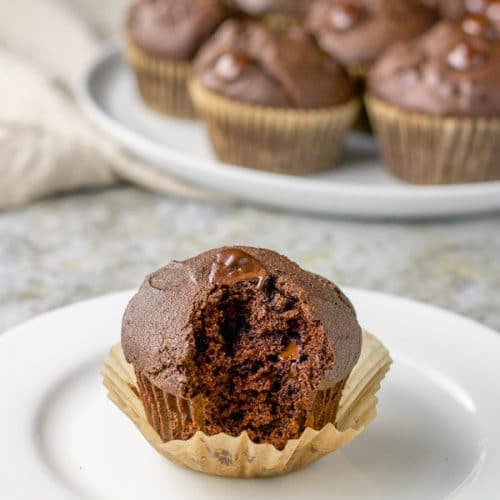 Chocolate, Chocolate Chip Muffins
These chocolate chocolate chip muffins are just what the doctor ordered when you want a chocolate fix for breakfast!
Keyword:
chocolate chocolate chip muffins, chocolate muffins
Ingredients
2

cups

spelt flour

or all purpose

1/2

cup

unsweetened cocoa powder

1/2

cup

brown sugar

not packed

1/2

cup

white sugar

1

teaspoon

baking soda

1/2

cup

olive oil

or vegetable oil

1/2

cup

milk

1/2

cup

yogurt

1

egg
Instructions
Preheat oven to 400 degrees F

Line 9 muffin tin with paper cups

In a large bowl, add dry ingredients (flour, cocoa powder, brown sugar, white sugar and baking soda)

Add oil, milk, yogurt and egg

Mix with rubber spatula until just combined

Add chocolate chips and stir to incorporate

Spoon batter into muffin cups, either fill the cup or use super big cups and fill 3/4

Bake for 22 minutes

Test and put back in if tester doesn't come out clean

Let cool in pan for 5 minutes before removing to wire rack

Split open a muffin

Smell the chocolatey goodness

Dig in

Wipe chocolate from lips and cheeks

Smile

Enjoy
Nutrition Facts
Chocolate, Chocolate Chip Muffins
Amount Per Serving (1 muffin)
Calories 433
Calories from Fat 171
% Daily Value*
Total Fat 19g 29%
Cholesterol 23mg 8%
Sodium 159mg 7%
Potassium 138mg 4%
Total Carbohydrates 60g 20%
Protein 7g 14%
* Percent Daily Values are based on a 2000 calorie diet.