Oh my!!  This is my deliciously Dutch apple pancake recipe!  I love it soooo much, I wish I could eat it every day!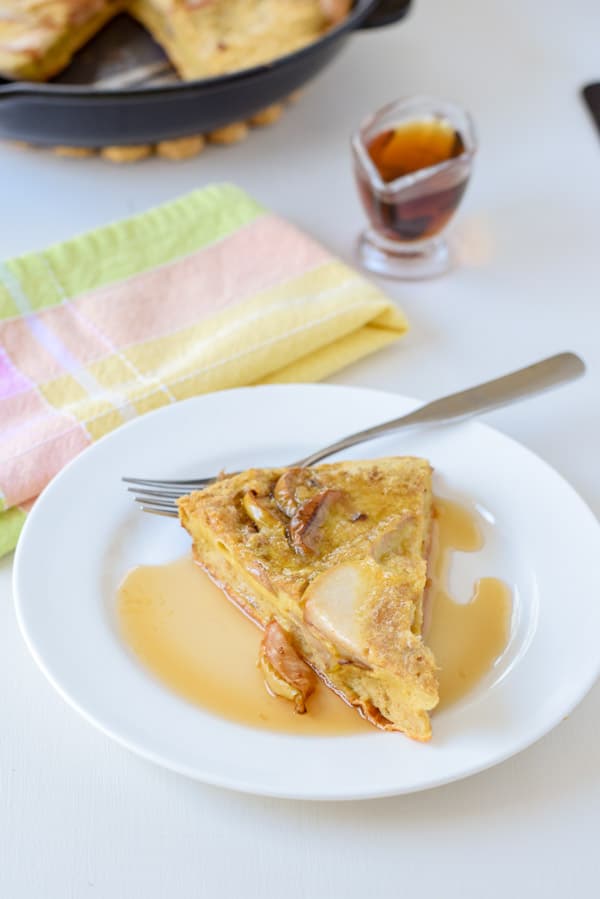 FLASHBACK
My friend Devon and I used to go to this one particular restaurant every single weekend.
Every.
Single.
Weekend.
And I would get what that restaurant called a "baby apple", which – even though they named it a "baby" apple – it wasn't small.  Don't get me wrong: I loved to eat that pancake.  But even though it was smaller than the "big" one the restaurant offered, it was still too big.
Christopher yells out, "What?  Too big?"
Okay, okay, I could have eaten it, but did I want to?  Heck yes, I did.  But should I?
No.
My thighs thanked me, even though my mouth and stomach didn't.
So, over the years I have tried to recreate that apple pancake and now, at long last, I have perfected it!
Here is my version.
Before I discuss the recipe, I want to share a great blog post that I read about apples.  Apples are so nutritious and have great health benefits!  It's a fun and insightful read.  Here's a link to that post.  Check it out, you won't be sorry.
More breakfast recipes:
On to the Dutch Apple Pancake recipe
What's different between my deliciously Dutch apple pancake and the restaurant's?  Well, for one thing, I use spelt flour, which gives the pancake a denser texture.  This is one of the reasons I like spelt flour.  For another thing, I use less sugar.  I pretty much always use less sugar than everyone else.
Preheat the oven to 450 degrees Fahrenheit.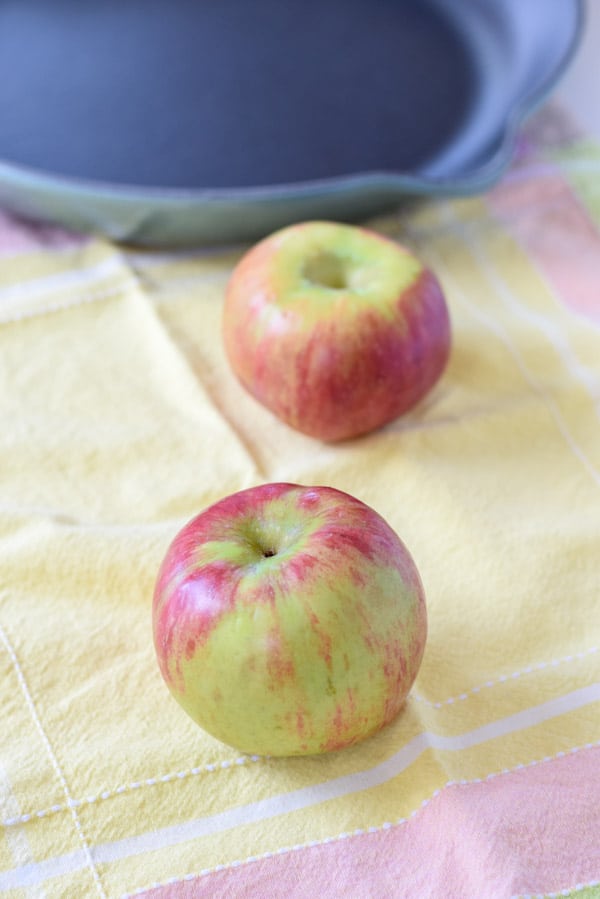 I start with the apple.  You can use 2 apples if you want and I often do, but for this recipe, I wanted to use just one.  I use McIntosh apples here.  Leaving the skin on, I cut the apple in half, core it and cut it into thin slices.
I grab my heavy cast iron sauté pan and heat it up.  I add 2 tablespoons of butter and once it's melted, I add the apple slices.  I sauté them for approximately 10 minutes.  Now, I said I use McIntosh apples, but these aren't New England Macs.  They come from the west coast, so they are harder than my New England ones.
That's why I sauté them for 10 minutes.  If I use NE Macs, they would be done between 5 – 10 minutes.
You want them to be softened but not totally cooked through.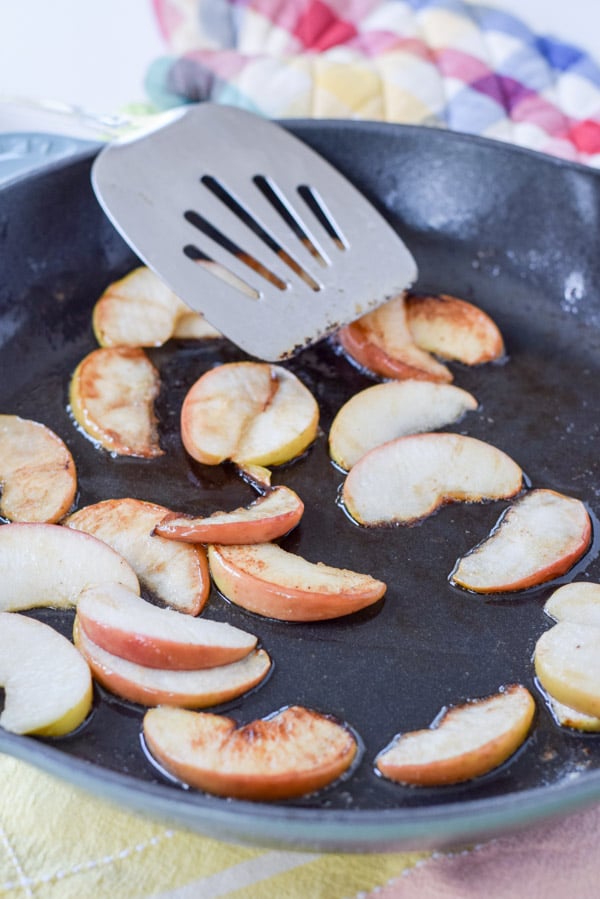 Time to prepare the egg portion of the recipe.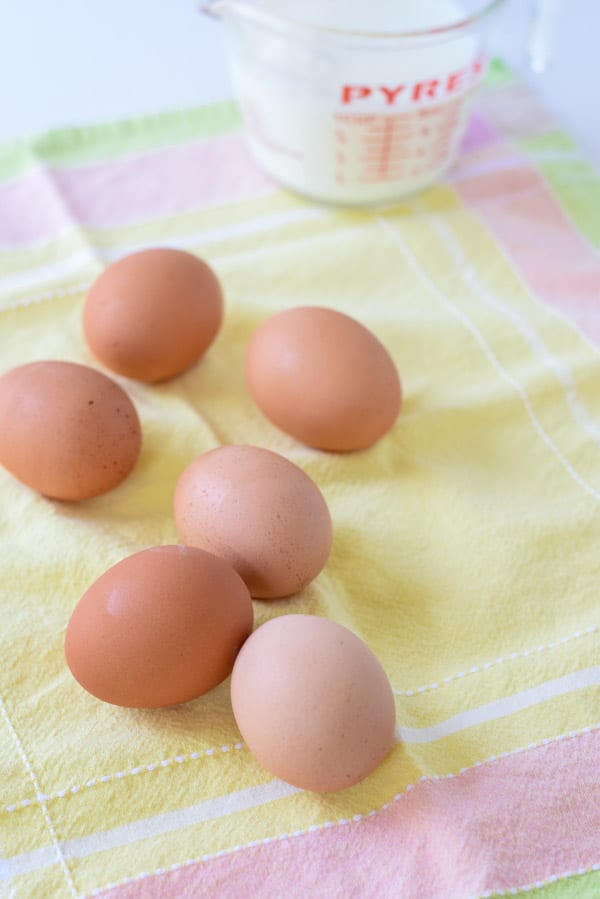 I grab my trusty stainless steel mixing bowl, crack in the eggs, and add some milk, flour, vanilla, salt and nutmeg.
Then I take my whisk and whiskity, whisk, whisk, whisk.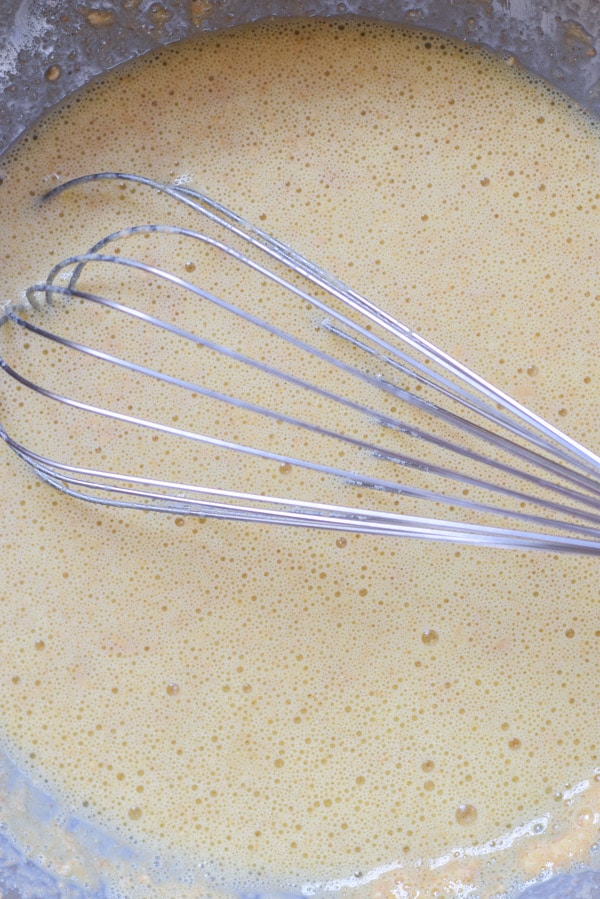 Time to put my 10 inch cast iron pan into the oven.  I let it heat for 5 minutes, then I put 2 tablespoons of butter into it and stand there until it melts.
Be careful not to let the butter brown.
I take the pan out and put the apples and batter in.  Back into the oven the pan goes.  I let it bake for 15 minutes.  It will rise a lot in the pan.  I take it out and test it with a cake tester.
D-O-N-E!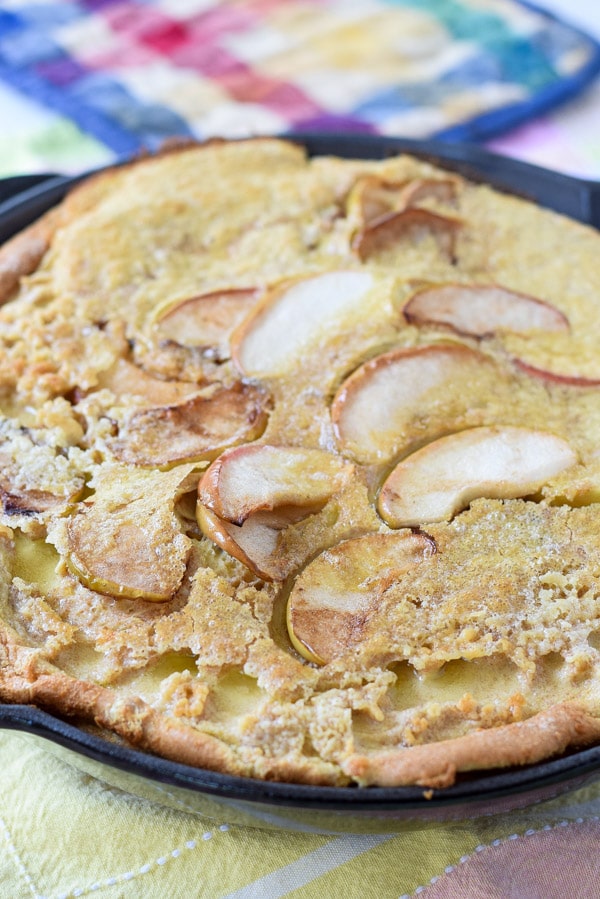 All puffy and delicious looking.  It will deflate in a few minutes!
Time to cut it, add some more butter, because, why not?  Huh?  Why the heck not!?
And of course, some maple syrup.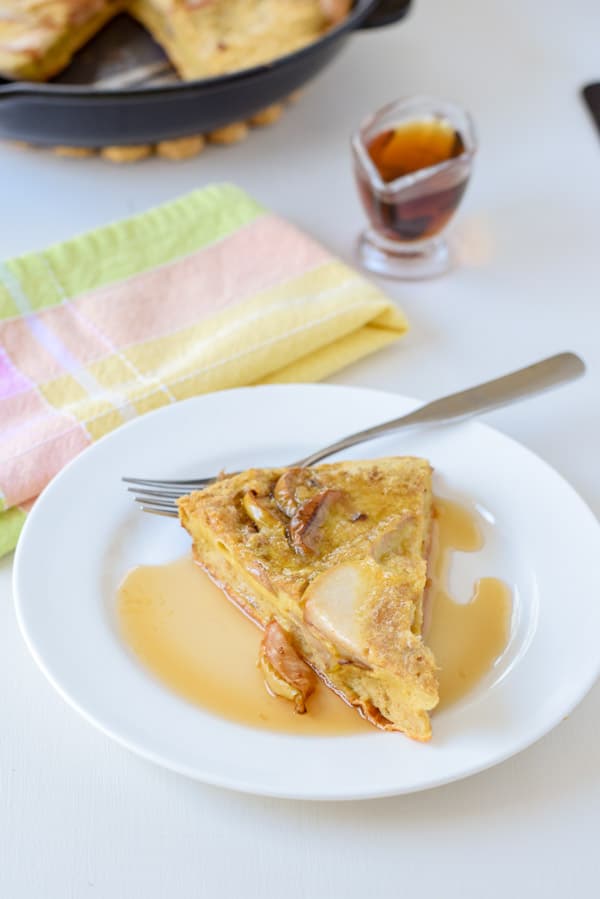 OOO-la-la-la-la!!
Time to eat it.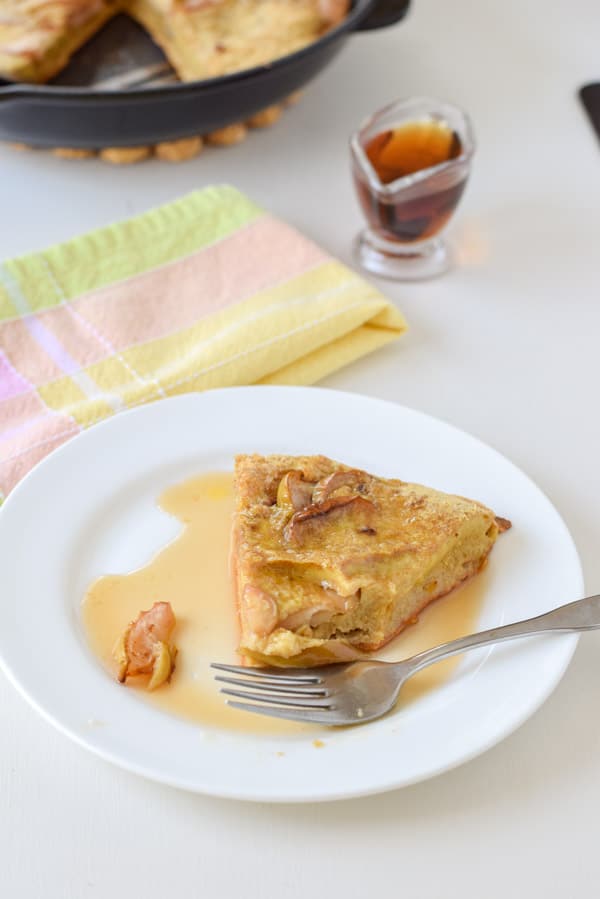 I hope you enjoyed this recipe!
Please feel free to Pin any photo to Pinterest and Yum the recipe to Yummly.  And you could leave me a comment to tell me what you think.
And as always, may all your dishes be delish!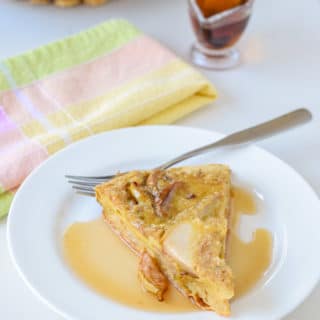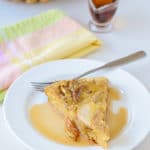 Dutch Apple Pancake
This delicious slightly custardy apple German pancake is delicious. The end!
Keyword:
dutch apple pancake, dutch pancake
Ingredients
2

apples

large cooking apples, sliced thinly

1/4

cup

butter

divided

6

eggs

1

cup

spelt flour

1

cup

milk

1 1/2

teaspoons

vanilla

1/2

teaspoon

salt

1/4

teaspoon

nutmeg
Instructions
Preheat the oven to 450 F

Heat a large sauté pan on medium heat

Add 2 tablespoons butter

Add sliced apples and sauté them from 5 - 10 minutes. They should be softened, not cooked all the way through

In a large mixing bowl, crack in all the eggs, add the flour, milk, vanilla, salt and nutmeg

Whisk them all together until mixed

Place 10 inch sauté pan into the oven to heat up

Add 2 tablespoons butter into the pan and let it melt but not brown

Take pan out and add the apples first, then the batter

Return to the oven and bake for 15 minutes

It will become puffy. Test it with a cake tester

Once it is done and you take it out of the oven, it will deflate after a few minutes

Cut a piece

Plate it

Add more butter and some maple syrup

Eat

Cut another piece

Eat

Smile
Nutrition Facts
Dutch Apple Pancake
Amount Per Serving (1 serving)
Calories 389
Calories from Fat 171
% Daily Value*
Fat 19g29%
Cholesterol 277mg92%
Sodium 513mg22%
Potassium 284mg8%
Carbohydrates 38g13%
Protein 14g28%
Vitamin A 885IU18%
Vitamin C 4.2mg5%
Calcium 121mg12%
Iron 2.7mg15%
* Percent Daily Values are based on a 2000 calorie diet.