This ham and asparagus quiche recipe is delicious, easy to make and perfect for brunch!  How about making it for your next party!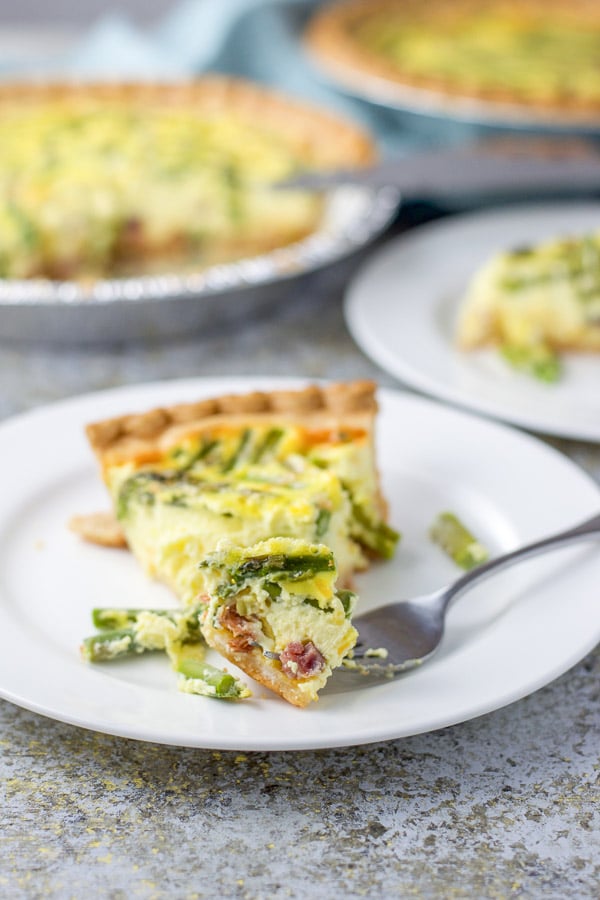 My sister gave me this recipe.  It actually calls for broccoli but I forgot to pick some up when I was at the store and didn't feel like running back out to get some.  Fortunately, I had asparagus in the fridge!
Mix and Match
The fun part about quiche is you can substitute all kinds of good stuff for the ham and asparagus!  Like broccoli and onions, or Swiss cheese instead of the cheddar cheese that I used.  Just as long as you keep the egg to cream ratio the same, you are good to go.
What is your favorite quiche to make or eat?
I have to say this is probably my favorite combination!  Why?  Because I love smoked shoulder and asparagus is one of my favorite vegetables.  Put them together with eggs and cream and I'm in heaven.  Absolute heaven!!
Do you have to make your own pie crust to make this quiche?
No, absolutely not.  You can if you want to but I used store bought, frozen, 9 inch pie crusts.
Do you like making pie crust?  I have only made one pie crust in my life.
Bold Statement
My grandmother made the best, flakiest crust in the world.  Okay, I know.  I haven't been all over the world bursting into people's houses and asking to sample their pie crusts.  But, if you asked me to choose one thing my grandmother used to make that I'd like to eat again, I would pick her apple pie because of her delicious flaky crust!
Christopher used to make really good pie crust but he hasn't in a while.  I'll have to ask him to make some soon, to see if he still has the touch!
On to the Ham and Asparagus Quiche Recipe
I preheat the oven to 425 degrees Fahrenheit and place some foil on a large jellyroll pan.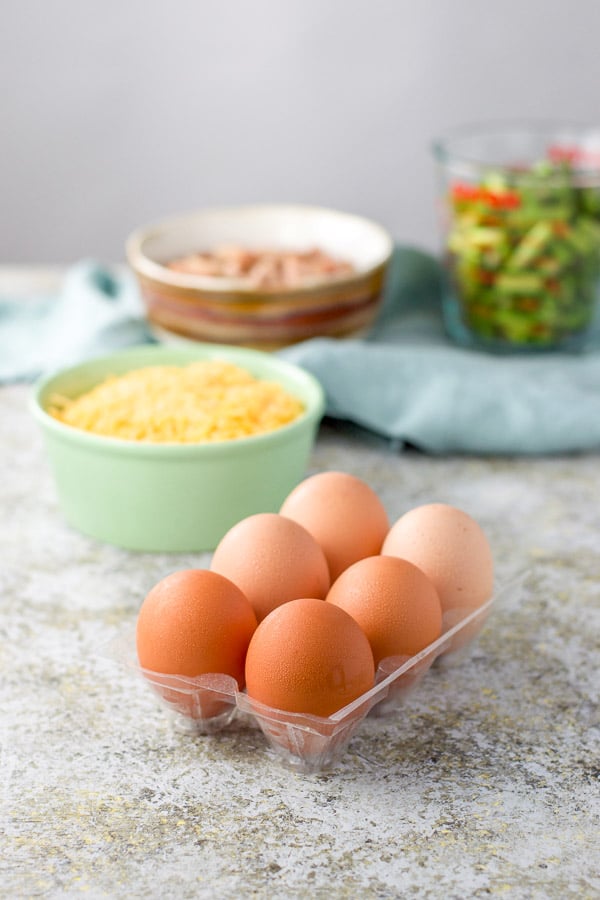 We have 6 eggs, some shredded cheddar cheese, leftover smoked shoulder and chopped asparagus!
I take out my huge stainless steel mixing bowl, crack the eggs in it and add the light cream.  I take my whisk and mix the eggs and cream together until they are combined.
I add the cheese, ham and asparagus and mix with my rubber spatula until they are just combined.
I pull out the frozen pie crusts, place them on the foil lined jelly roll pan and divide the ham and asparagus quiche batter equally between the crusts.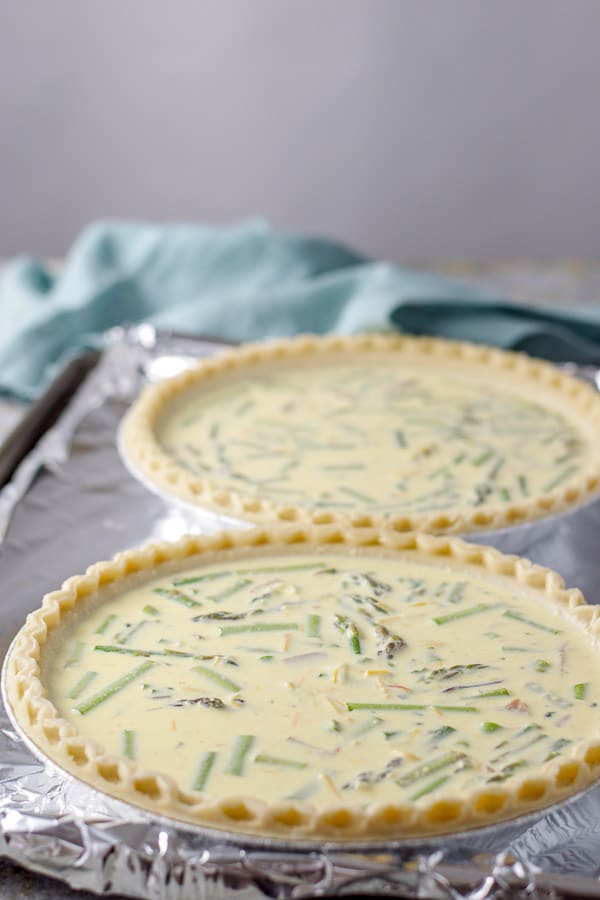 Time to place the ham and asparagus quiche in the oven.  I bake them for 15 minutes.
Lower the Temperature
Once the timer dings, I lower the oven's temperature to 350 degrees Fahrenheit and set the timer for 25 minutes.
You will know it's done when you insert a butter knife in the ham and asparagus quiche and it comes out clean.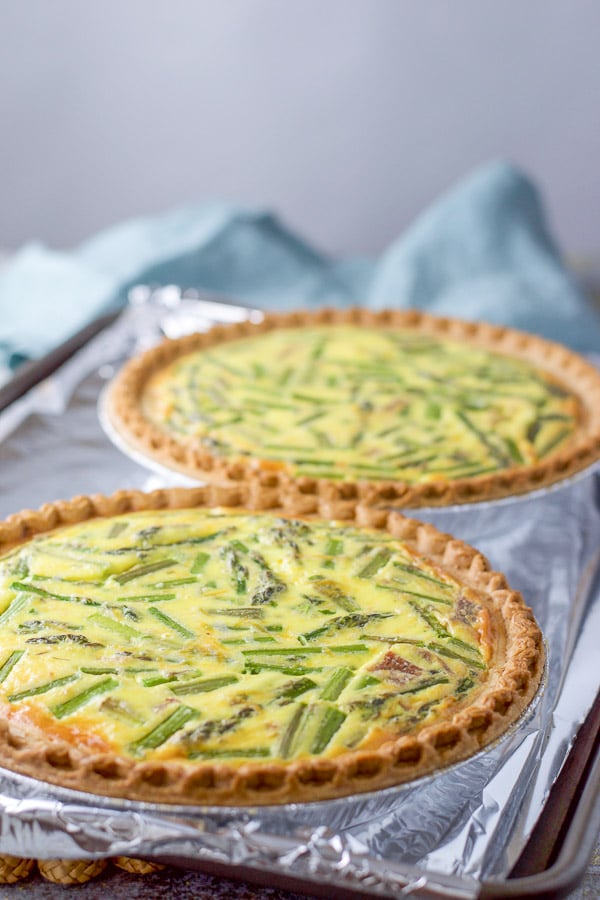 I let the two quiches cool for 15 minutes before I cut into them.
Plate the Ham and Asparagus Quiche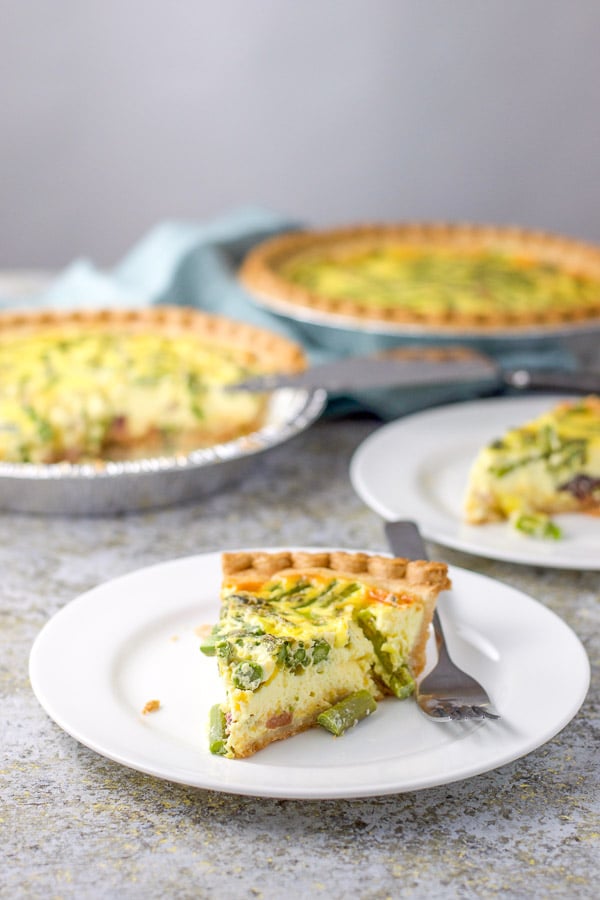 It's creamy and delicious!
Let's get a closer view.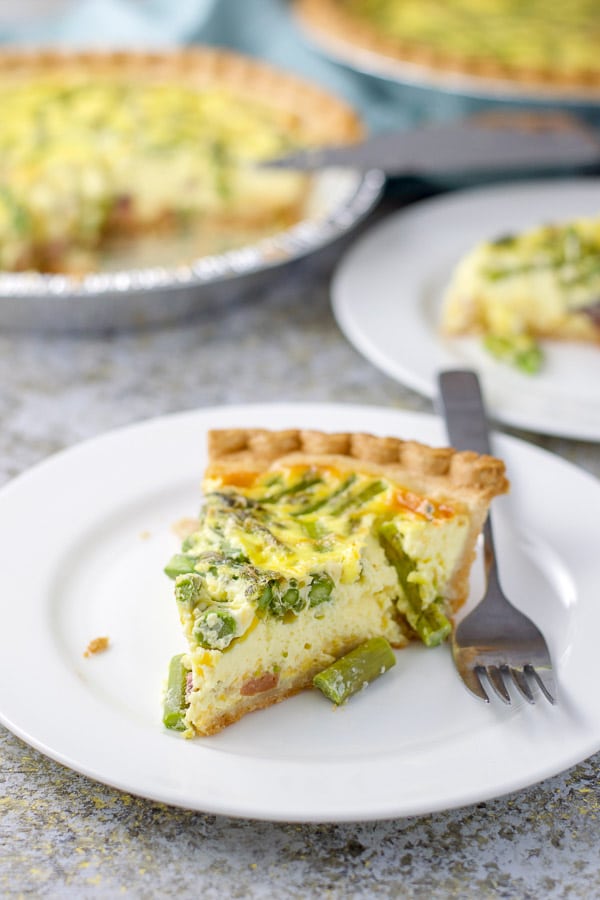 Now to take a forkful of this scrumptious quiche.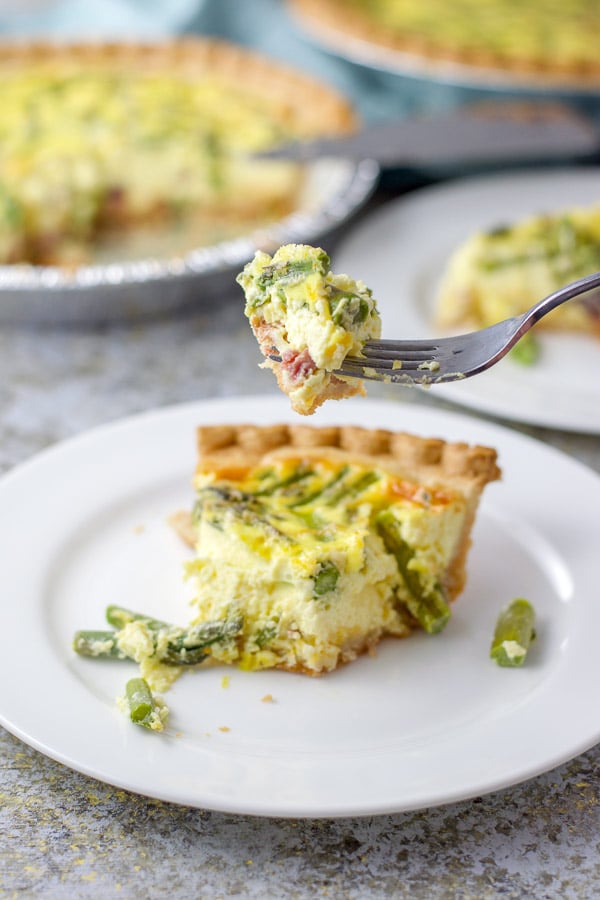 Another popular asparagus recipe on Dishes Delish:
I hope you enjoyed this ham and asparagus quiche recipe!
Please feel free to Pin to Pinterest and Yum the recipe to Yummly or share it any way you see fit.  I thank you in advance!  You can also leave me a comment.  What is your favorite quiche to eat?
And as always, may all your dishes be delish!
If you've tried this ham and asparagus quiche or any other recipe on the blog, I'd love the hear what you thought about it in the comments below.  I love hearing from you!  You can also FOLLOW ME on FACEBOOK, TWITTER, INSTAGRAM and PINTEREST to see more of my delicious food and delightful cocktails!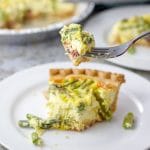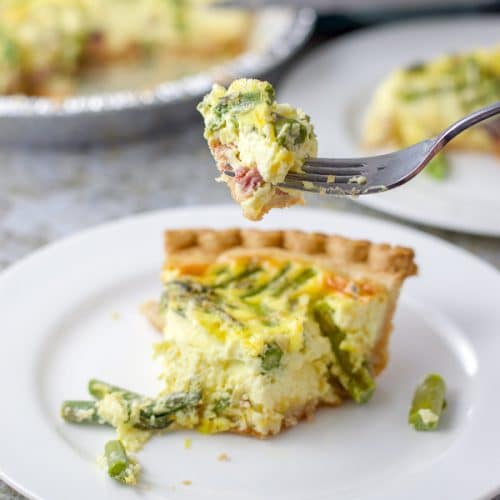 Ham and Asparagus Quiche
This quiche is so delicious that you're going to make it for every brunch you host!
Keyword:
ham and asparagus quiche
Ingredients
6

large

eggs

2

cups

light cream

1/2

pound

asparagus

cut into 1 inch pieces

2

cups

smoked shoulder

chopped

8

ounces

shredded cheddar cheese

or Swiss

2

9 inch

pie crust

frozen or fresh
Large jelly roll pan covered in foil
Instructions
Preheat oven to 450 F and
Crack the eggs into a large mixing bowl. Add light cream and whisk until combined

Stir in the ham, asparagus and cheese

Place pie crusts on the foil lined jelly roll pan and pour the ham and asparagus quiche evenly between the two crusts
Lower the oven temperature to 350 F
Bake for 25 minutes or until a butter knife comes out clean when you stick it in the quiche

Cool for 15 minutes before you cut into the quiche
Nutrition Facts
Ham and Asparagus Quiche
Amount Per Serving (1 slice)
Calories 279
Calories from Fat 144
% Daily Value*
Total Fat 16g 25%
Cholesterol 125mg 42%
Sodium 311mg 13%
Potassium 97mg 3%
Total Carbohydrates 2g 1%
Protein 9g 18%
* Percent Daily Values are based on a 2000 calorie diet.