These are healthy and delicious cinnamon rolls.  They are delicious because of the combination of all the ingredients, but what makes them healthy?  The sprouted spelt flour!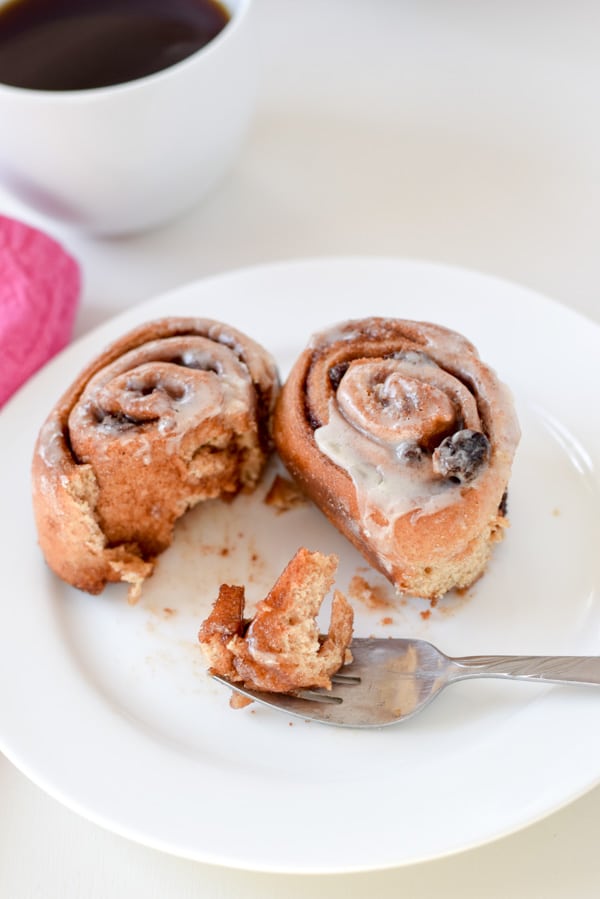 Yay for sprouted flour!
I don't want to get into why sprouted is much better than regular flour in this post because that's a long explanation and I'm not sure I would do it justice.  Here is a website to go to if you would like to read up on it.  I use sprouted flour more than any other flour and am glad that I do.
Are these cinnamon rolls as gooey and soft as ones made with white flour?  No (though they are gooey and soft).  Are they just as yummy?  Yes.  And I know I feel better eating them as opposed to the white flour version. Not just better, I feel, dare I say, virtuous eating them.  So, that means I should eat them, a lot.  It's the right thing to do.  Don't you agree?
Christopher does because he LOVES them.  Loves!!
It's so gratifying that he loves my cooking and baking.  *Tear rolls down my plump cheek and plops on my chest.*
This post may contain affiliate links, which means I get a small commission, at no additional cost to you, if you click the link and buy something. You can read my disclosure here.
How to make healthy cinnamon rolls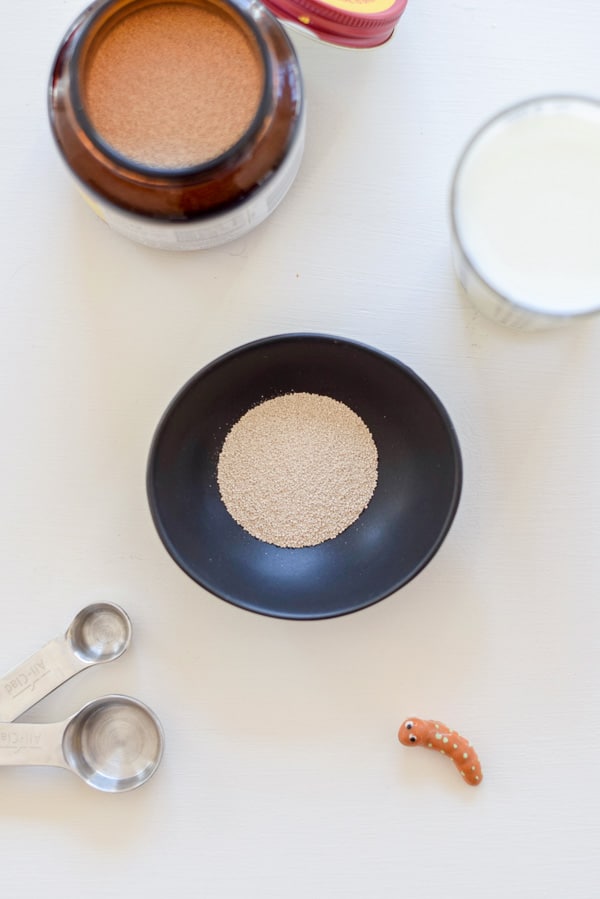 Squirmy the wormy, is so happy that I'm making cinnamon rolls, so I had to put him into this photo.
I get out my yeast and my milk.  I put the milk in a pan and plop it on the stove to warm it up.  I grab my candy thermometer and check the milk's temperature.  Once it hits 110 degrees Fahrenheit, I take it off the stove.  I pour it into a receptacle like a glass measuring cup and let it rest for a few minutes.  I make sure the temperature is between 105 to 110 degrees before I put the yeast in.  I also stir in 1 tablespoon of honey for the yeast to react to.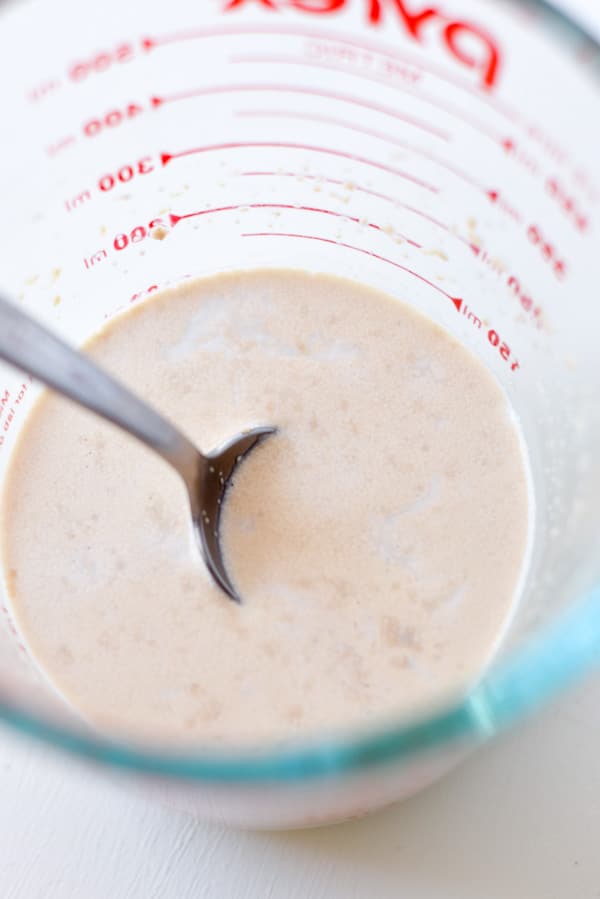 I let it sit for 10 minutes so the yeast has time to bubble up.
I stirred the yeast before I took this next photo, but you can see it's still bubbly.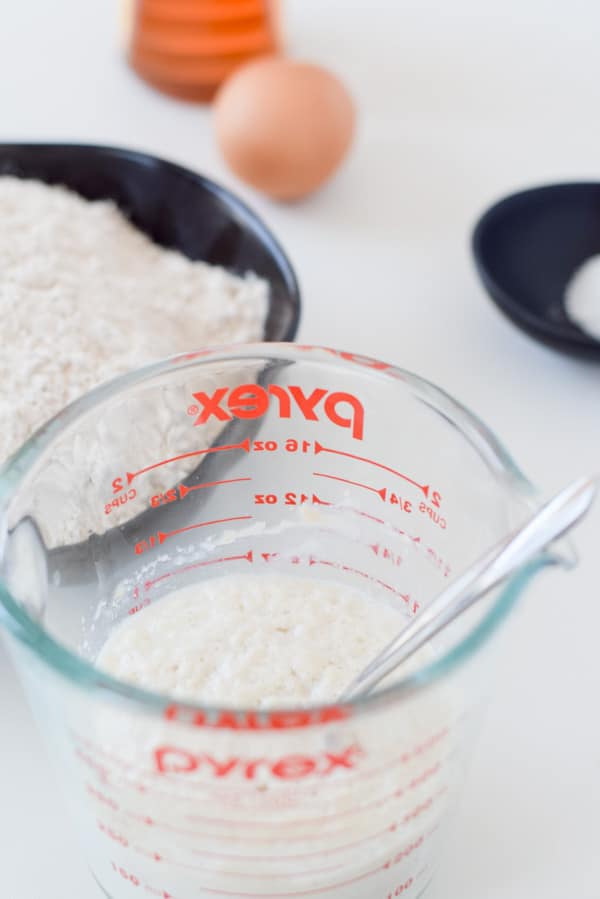 I gather the other ingredients, which you can see in the above photo.
There is the spelt flour, an egg, honey, some salt and melted butter.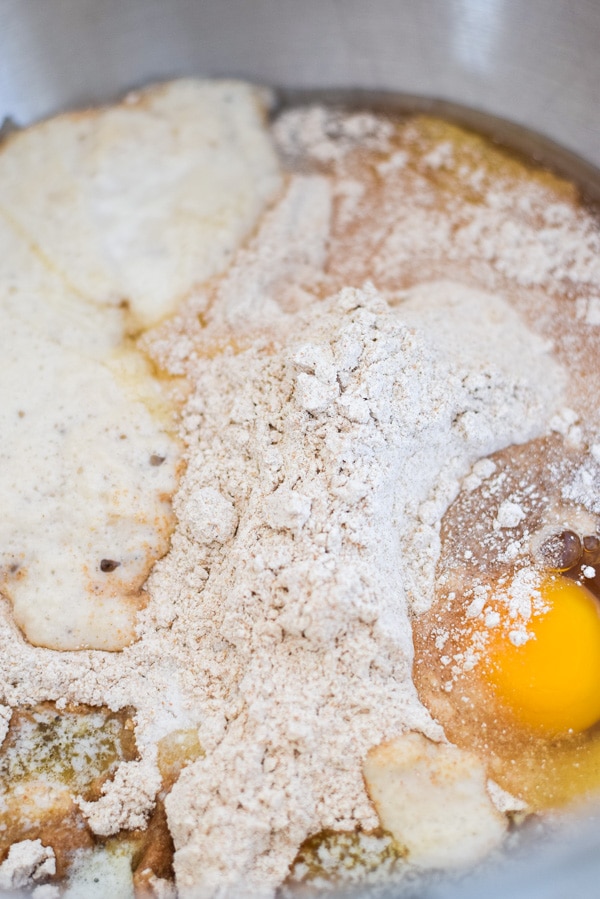 I put it all in my stand mixer.  I insert the paddle attachment and turn the mixer on until everything is just mixed.  I then take the paddle off and replace it with the hook attachment so my machine can do the kneading.
It takes around 5 minutes for the dough to become smooth.  I take some butter and grease the bowl.
In goes the dough.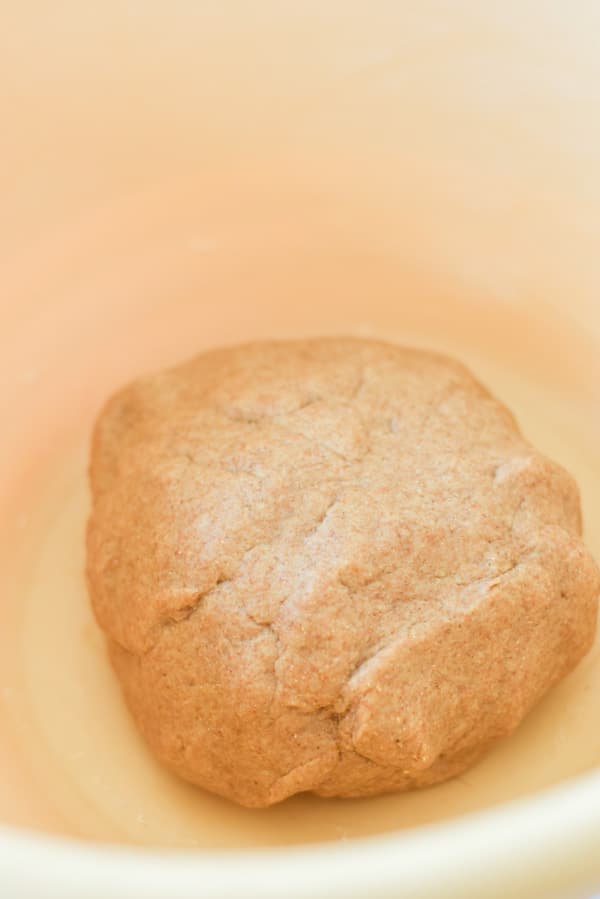 I cover it with some plastic wrap and place a dishtowel over that.
My house isn't the warmest for raising dough, but I put it in the most optimal spot in the house. It took an hour for the dough to double in size.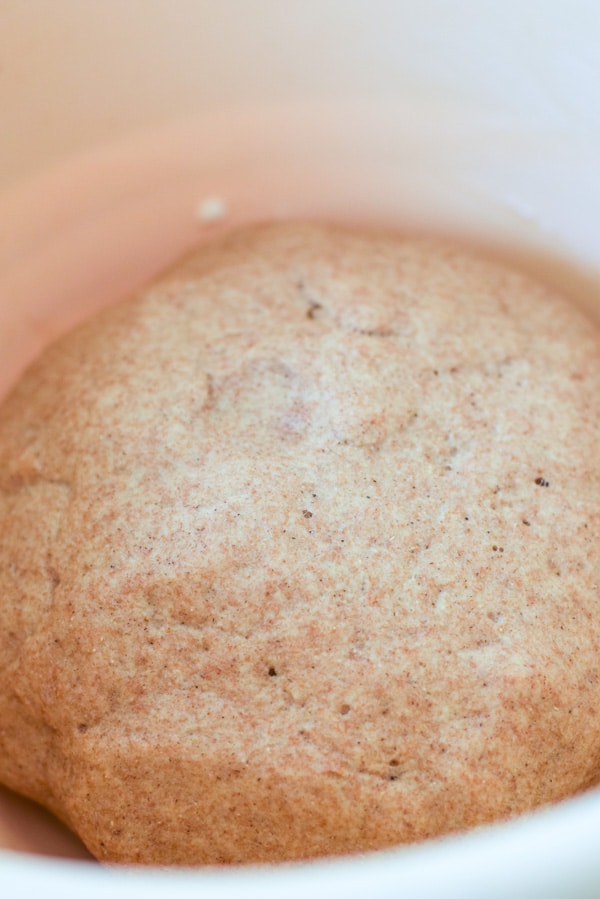 YAY!
While waiting for the dough to rise, I gather the filling.
Brown sugar, ground cinnamon and some raisins.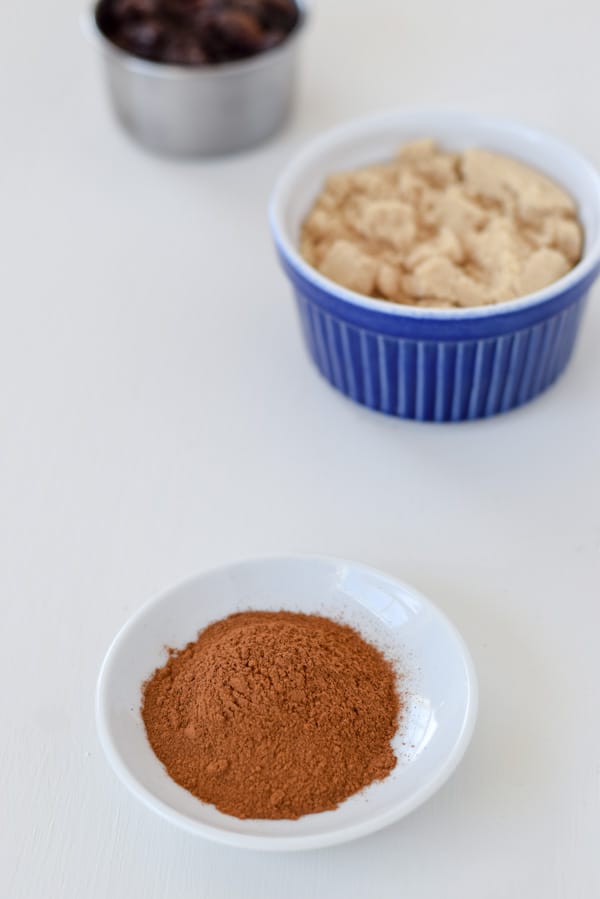 I put the sugar and cinnamon in a bowl and mix them together.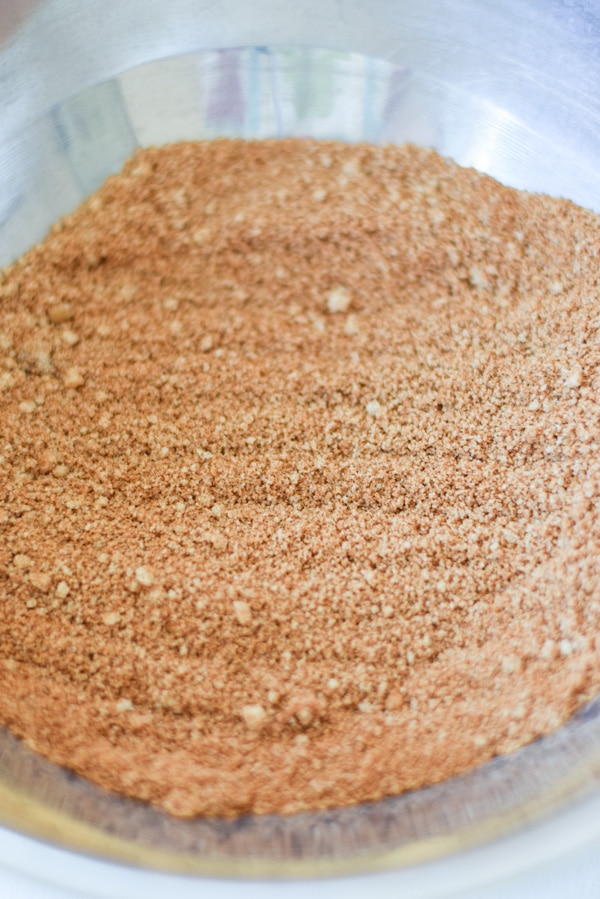 Now, for the fun part: Rolling out the dough.
(Not to be confused with rolling in the dough, which, as we all know, is even more fun!)
I use one of my favorite purchases (my kitchen island) for the next step.
I chose to keep the island in the kitchen rather than move it into the dining room, which is where I usually photograph my creations because there's so much natural light in there.  The lighting in the kitchen is not optimal for food photography.  There is a window, but it never gets direct sunlight and the only light we do get, is bounced off the siding of the house next door.
I flour the top of the island.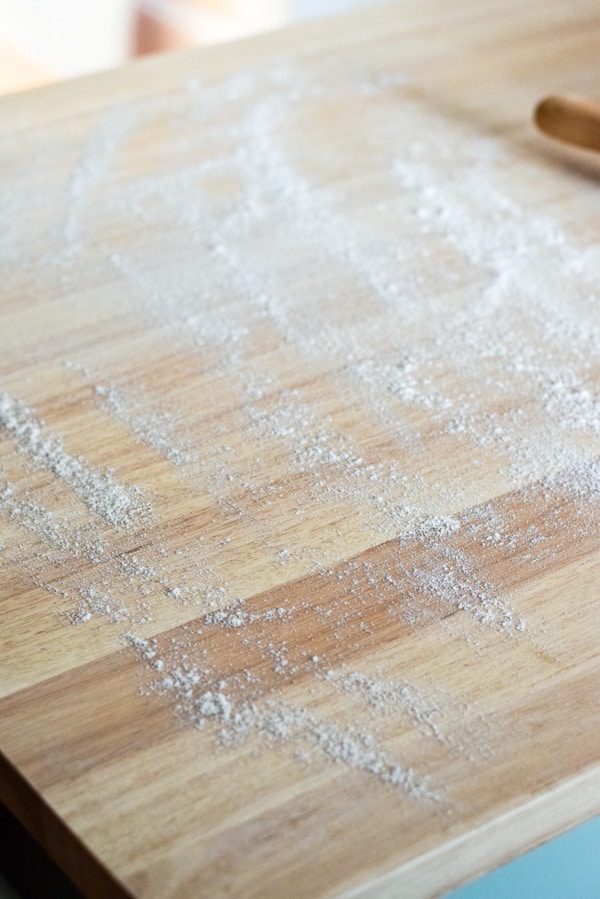 Next, I roll out the dough to approximately 1/4 of an inch thick.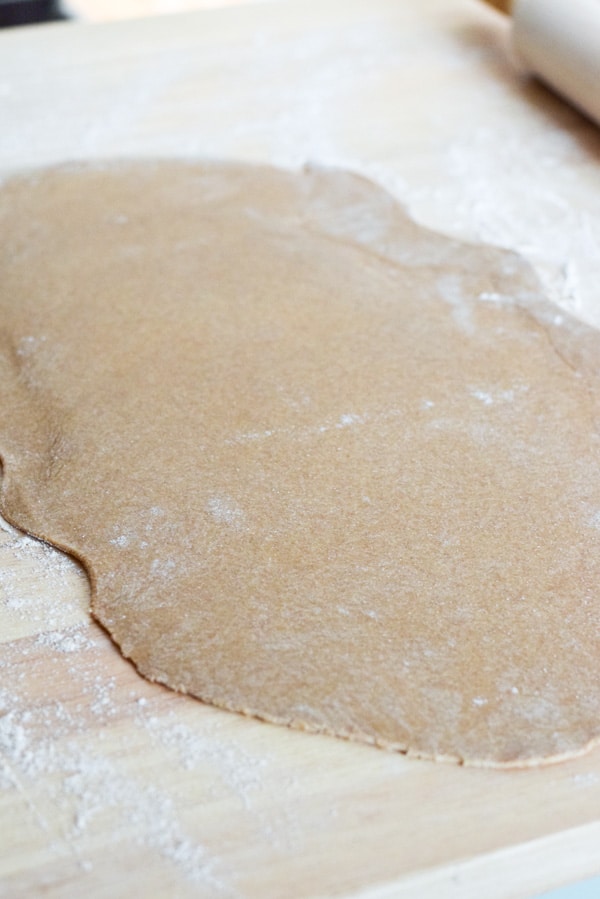 Then, I take room temperature butter and spread it on the rolled out dough.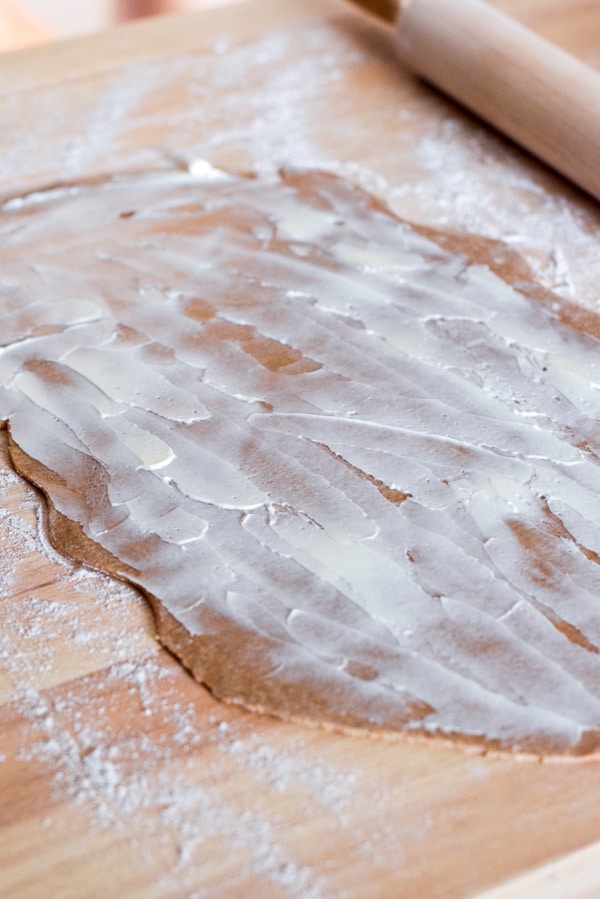 Next up is the cinnamon-sugar mix.  I sprinkle it evenly on the buttered dough.  I also sprinkle some raisins on top of it all.
See the shadows in the photo below?  They're from the reflection of the house next door.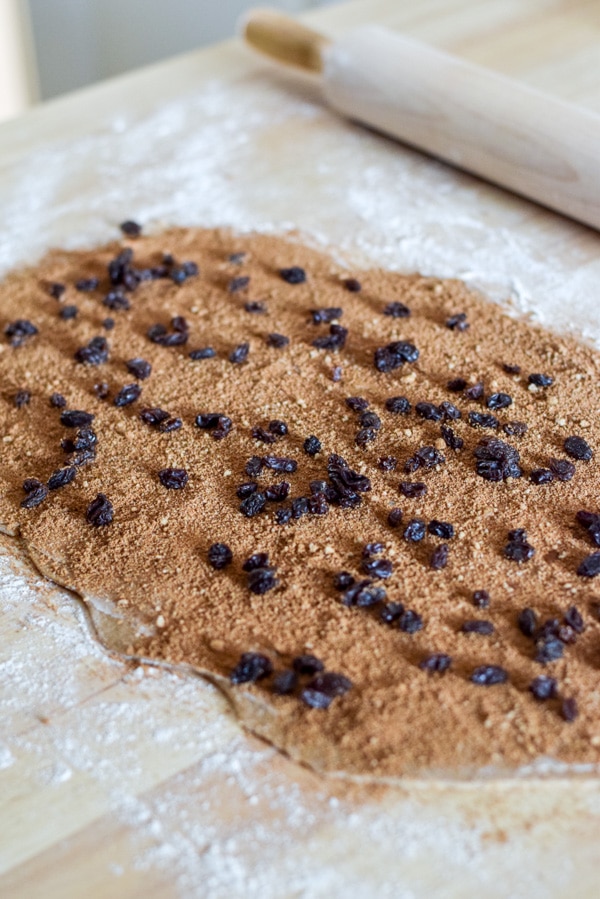 It's time to roll, roll, roll your dough!!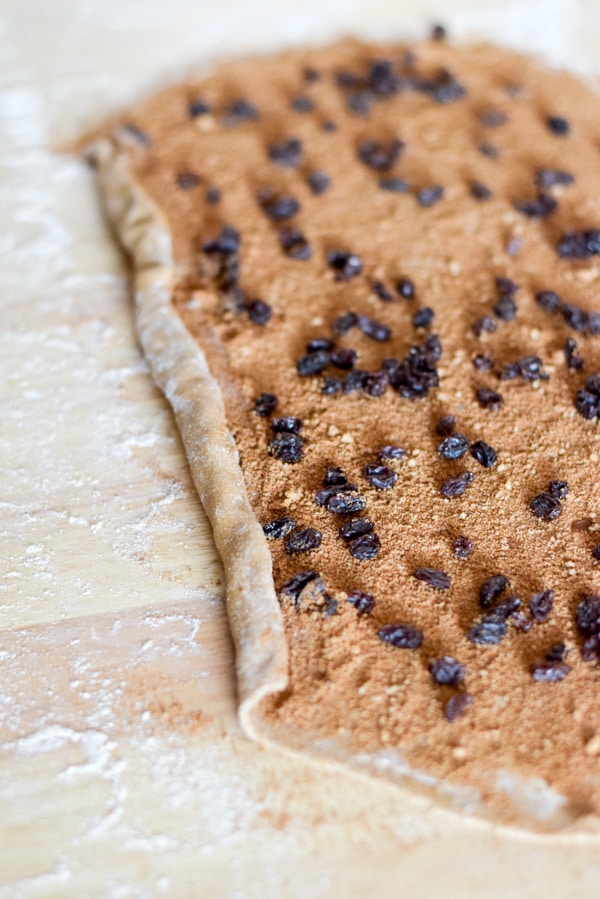 I try to get it as tight as I can.
All rolled up and ready to cut.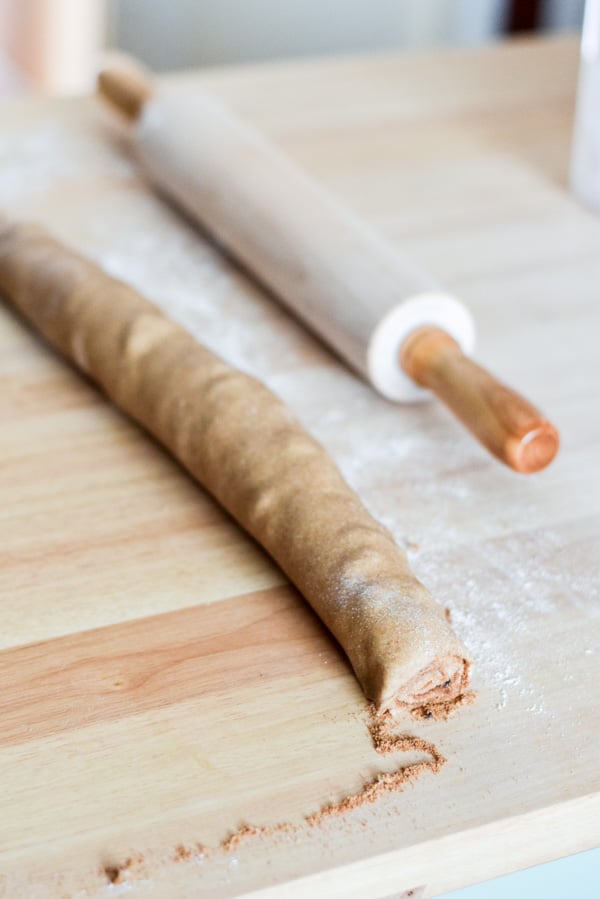 I get my 8 x 8 glass baking dish and my trusty knife.  Some people use dental floss to cut the dough, but I try to give equal time to all my kitchen utensils, so I chose the knife.  That and I was too lazy to run upstairs for the dental floss.
I cut the dough into 1 inch thick pieces and place them in my baking dish.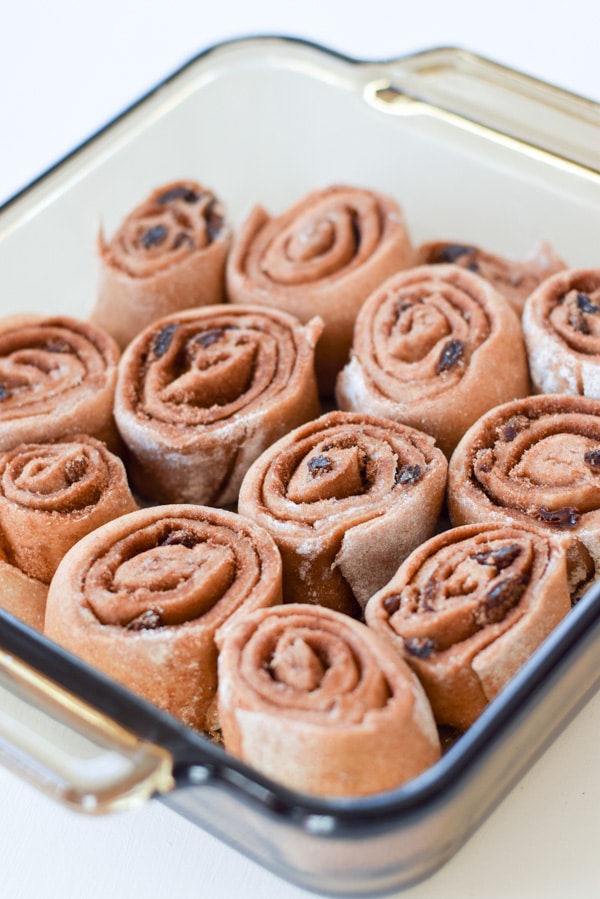 They need to raise a little more, so I cover them lightly with a dish towel and set them in a warm spot.  Let them raise for 15 – 30 minutes.  Check them at 15 to see how they are doing, if they are nice and puffy, they are ready to be baked.  My cinnamon rolls took the full 30 minutes.
Before the rolls are finished rising, I preheat the oven to 400 degrees Fahrenheit.
Time to pop them in the oven for 15 minutes.
DING! ⏲
All done.  They should be lightly browned.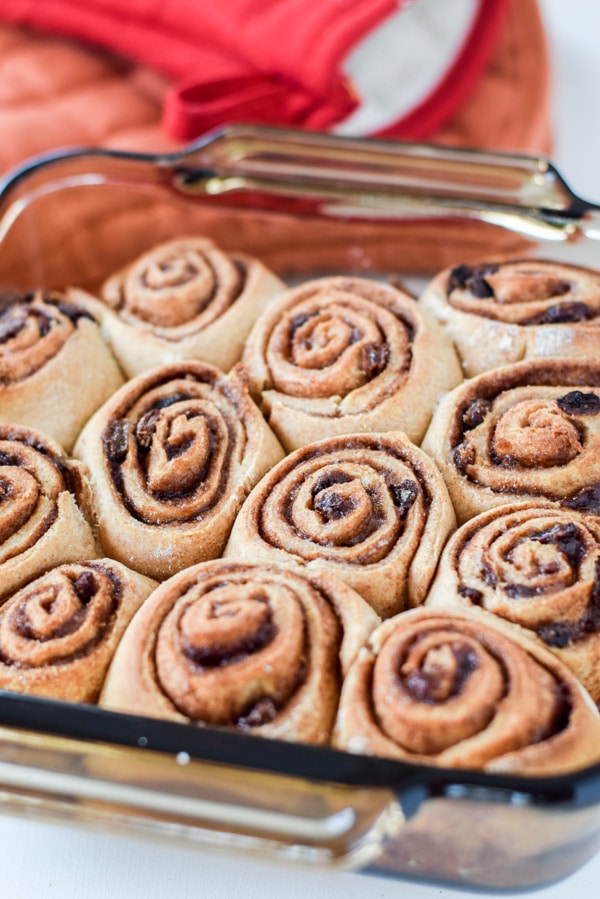 Time to make the icing.  See recipe below.
By the time the icing is ready, you can spread it on the still warm cinnamon rolls.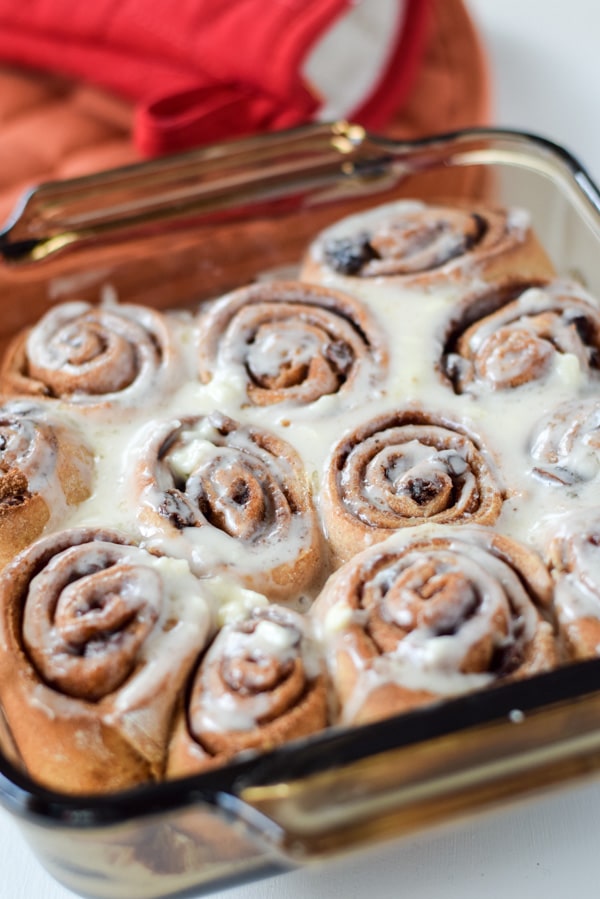 Yummity, yum, yum yum!!
Now, all that's left is to serve these darlings to your hungry hubby and enjoy a couple of rolls yourself.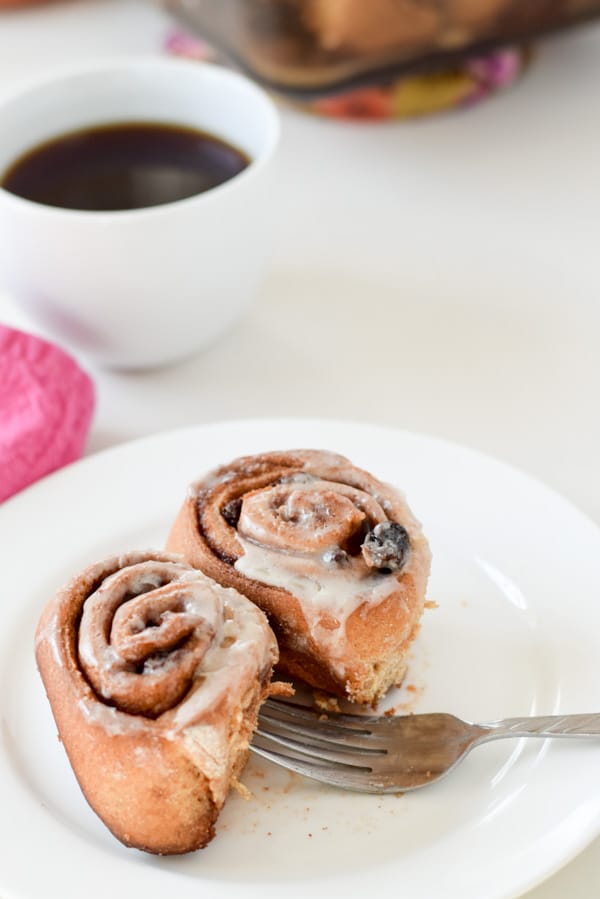 Here's another photo because one can never have enough photos of delish food!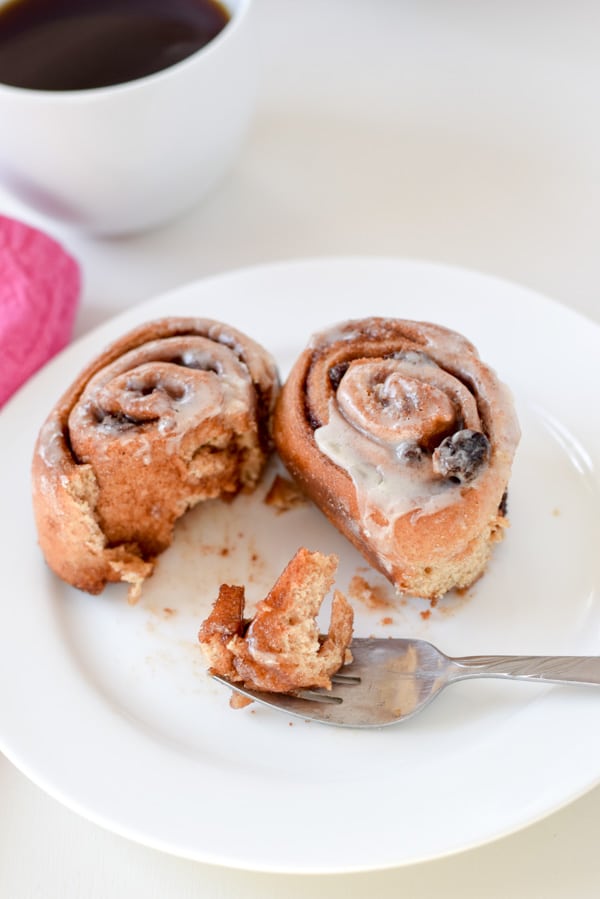 I hope you enjoyed this recipe as much as peeps love eating the fruits of it.  Feel free to Pin any photo to Pinterest or Yum the recipe to Yummly.  Leave me a comment if you feel like chatting!
And as always, may all your dishes be delish!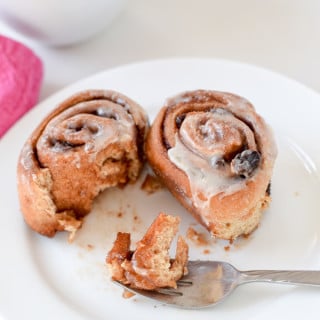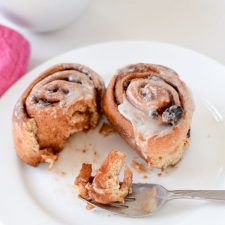 Healthy Cinnamon Rolls
These healthy cinnamon rolls are easy to make and fun to eat!
Print
Pin
Rate
Ingredients
1 1/4

teaspoon

active dry yeast

1/2

cup

milk or water

warmed to 110 F

1

tablespoon

honey

2 3/4

cups

sprouted spelt flour

or your choice of flour

1/2

teaspoon

salt

1/4

cup

honey

2

tablespoons

melted butter

1

egg

1/4

cup

butter

softened
Filling
1/2

cup

brown sugar

1

tablespoon

ground cinnamon

1/2

cup

raisins
Icing
1

cup

confectioner's sugar

1

tablespoon

butter

1

teaspoon

vanilla

1

tablespoon

milk

or more if too thick
Instructions
Proof the Yeast
Heat up milk on the stove to 110 degrees[br]I used a candy thermometer to take the temperature

Pour milk into a glass receptacle

Add 1/4 teaspoon of honey and the yeast

Stir and set aside for 10 minutes[br]It will get bubbly, which means it's proofed
To Make the Dough
Get out your stand mixer, attach paddle

Add flour, salt, egg, melted butter, honey and proofed yeast

Turn on the mixer until the ingredients are just mixed

Switch the paddle to the hook attachment

Turn mixer on for 5 minutes or until the dough gets smooth

Grease a bowl and place dough in it

Cover bowl loosely with plastic wrap and cover that with a dishtowel

Set in warm spot without any drafts

Let rise for 1 hour or until the dough doubles in size
Assemble the filling
In a small bowl, combine brown sugar and cinnamon
Rolling Out The Dough
Flour a good sized work surface

Place dough on work surface and roll the dough as thin as you can get it, approx. 1/4 inch

Spread softened butter on rolled out dough

Sprinkle sugar/cinnamon mixture, covering the dough fully

Sprinkle raisins on top of the sugar/cinnamon

Starting with the long edge of rolled out dough, roll the dough as tightly as you can

Take a knife and cut the rolled dough in 1 inch slices

Place the cut dough in an 8 x 8 baking dish

Let the raw cinnamon rolls rise for 15 - 30 minutes

Preheat oven to 400 degrees Fahrenheit

Place rolls into oven and bake for 15 minutes[br]They are done when golden brown

Let cool 5 minutes before icing
Serving
Separate rolls

Place on plates

Get your coffee or tea

Use your fork or your fingers

Taste

Smile

Enjoy
Nutrition
Serving:
1
roll
|
Calories:
301
kcal
|
Carbohydrates:
52
g
|
Protein:
5
g
|
Fat:
8
g
|
Saturated Fat:
4
g
|
Cholesterol:
31
mg
|
Sodium:
181
mg
|
Potassium:
82
mg
|
Fiber:
4
g
|
Sugar:
26
g
|
Vitamin A:
225
IU
|
Vitamin C:
0.3
mg
|
Calcium:
33
mg
|
Iron:
1.7
mg