Let us all eat this temptingly crunchy nutty granola every day! Doctor's orders!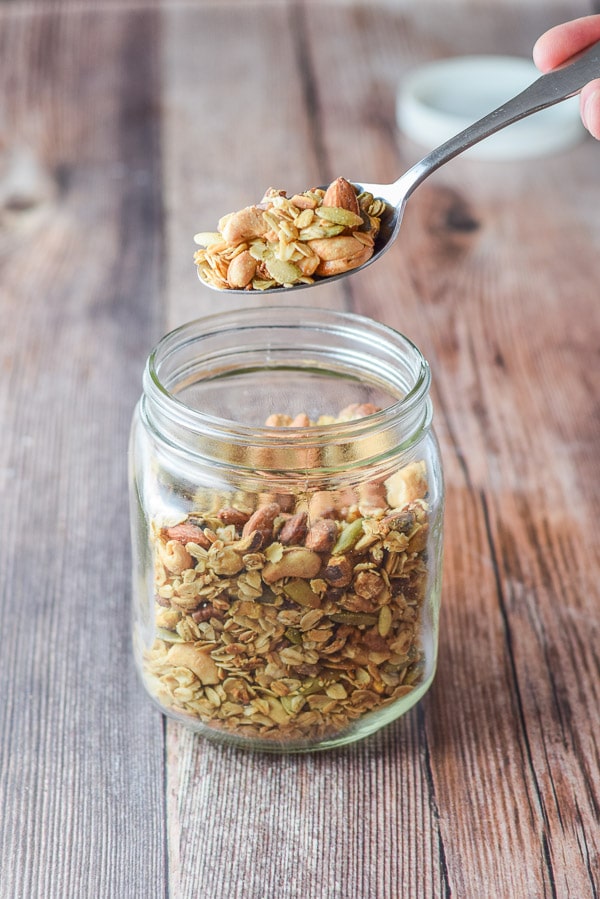 Fun Reminiscing
I have little self discipline when it comes to granola. Usually I have great self discipline. Ask Christopher! If I decide to have 'just so much' of something, I can do it without regret or breaking a sweat.
I am a person who can have one potato chip. I can dole out one chocolate and not have a second if I set my mind to it.
Sometimes, I fail miserably at denying myself this nutty granola.
I say to myself, "Just a little handful!"
I have three.
See? No self discipline. But you will understand once you make this nutty granola yourself. Oh yes. THEN you will understand.
What makes it so delicious? Everything about it. It has a great assortment of nuts, a nice amount of oats, is slightly sweet and oh, so crunchy!
On to the temptingly crunchy nutty granola
I preheat the oven to 325 degrees Fahrenheit.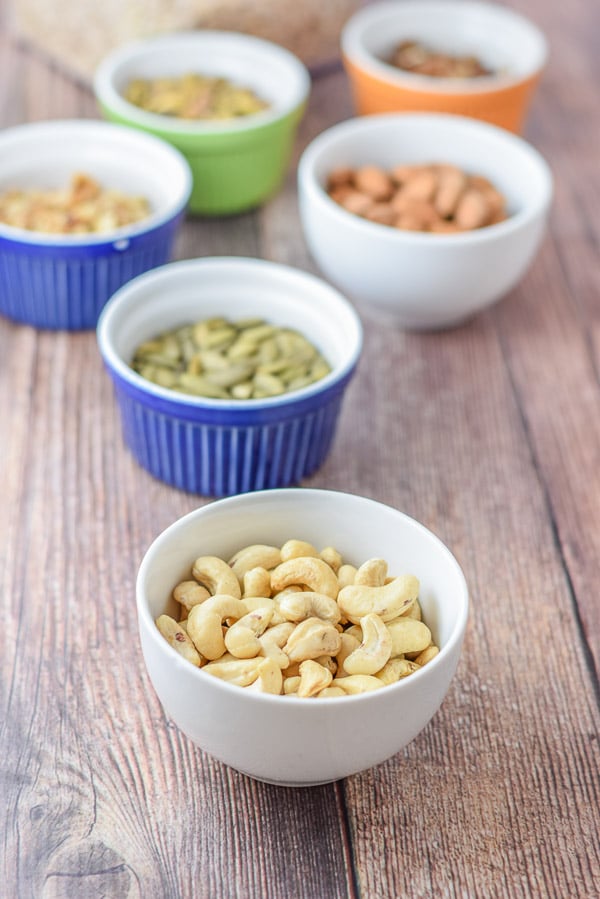 I start with the nuts. We have here cashews, pumpkin seeds, almonds, walnuts, pecans and pistachios!
I grab my large stainless steel bowl and dump all the nuts into it. I also add 2 cups of rolled oats, salt and vanilla and mix together with my rubber spatula.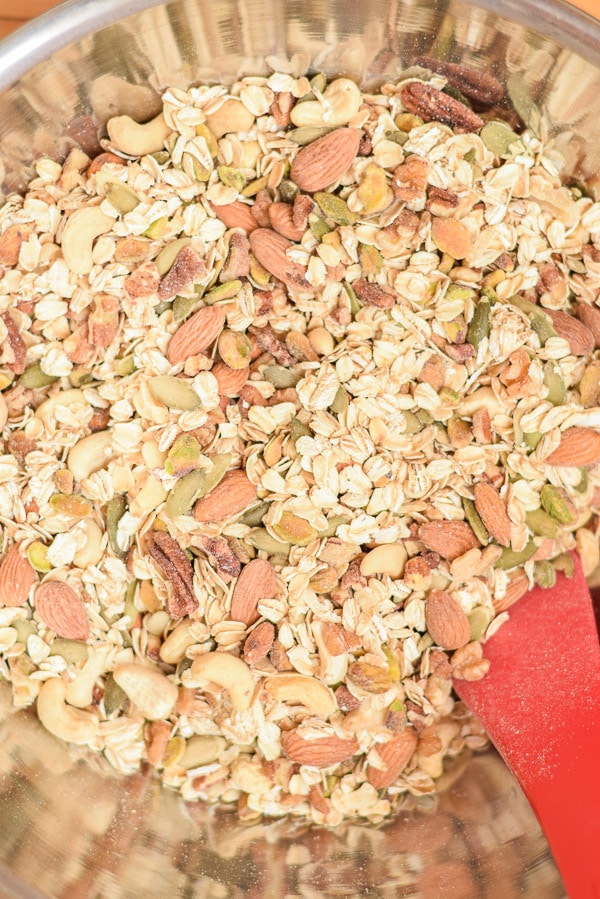 Now, I add some maple syrup, olive oil and vanilla and mix them all together.
I line a jelly roll pan with parchment paper and dump the mixed granola on it and spread it in a more or less even layer.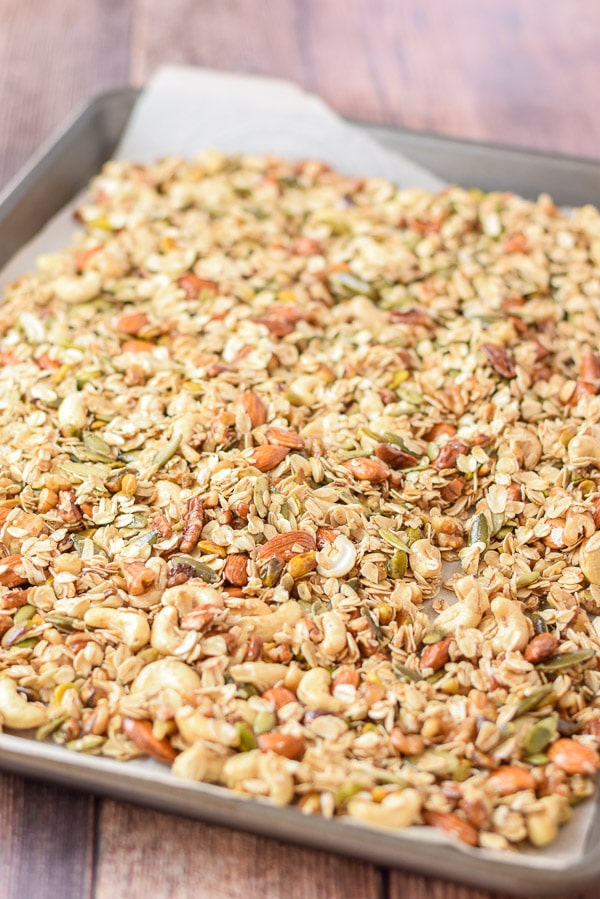 I pop it into the oven for 20 minutes.
Once the timer dings, I flip the granola and place it back into the oven for 10 minutes.
DING
⏰
All done!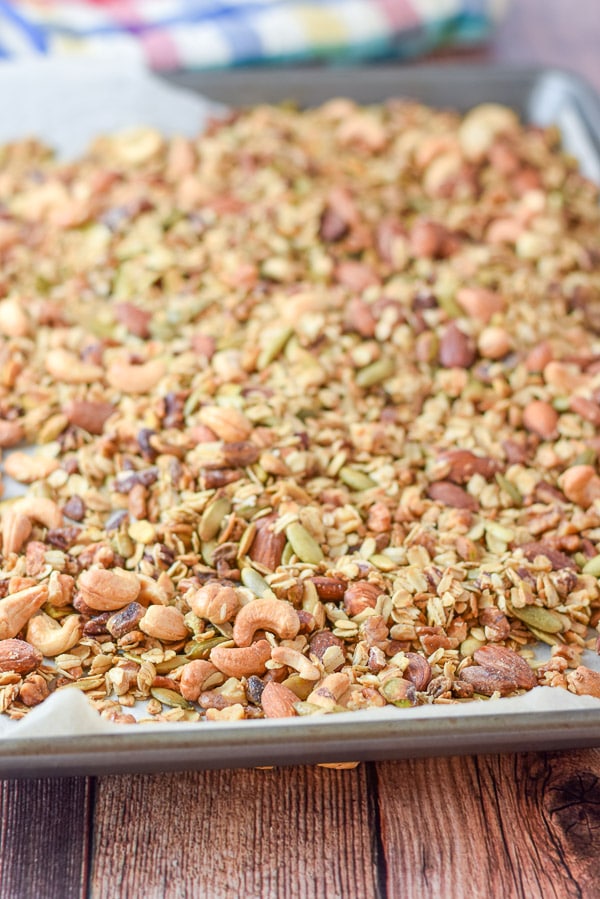 I take my glass container and once the granola has cooled, I place the nutty goodness into it.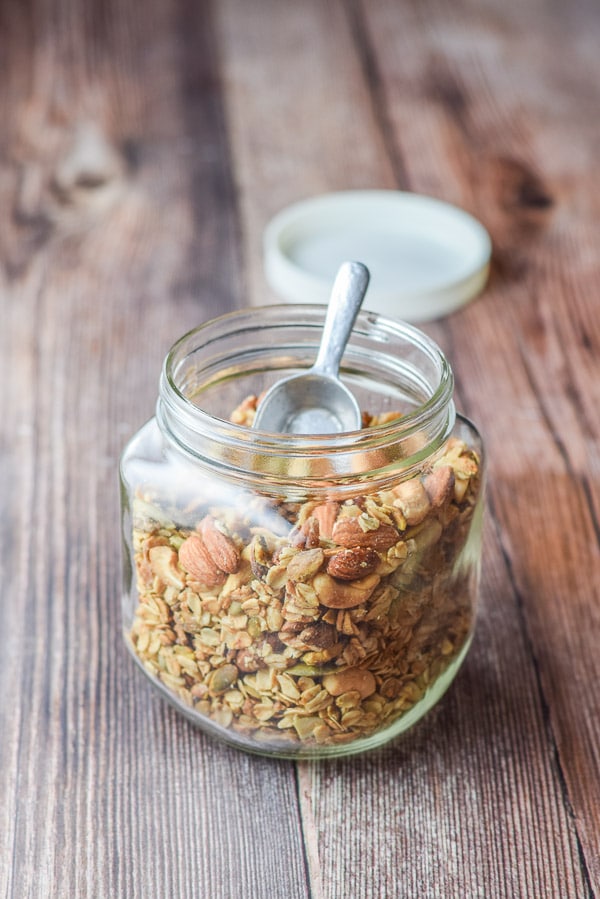 The recipe did yield more than what you see here, but after a Christopher and I enjoyed a few handfuls and I stashed a couple of cups into smaller jar for Christopher to take to work, this is what we have left.
Let's see the nutty granola in a few more different 'poses'.
A little line of granola. It is marching to my mouth. How clever!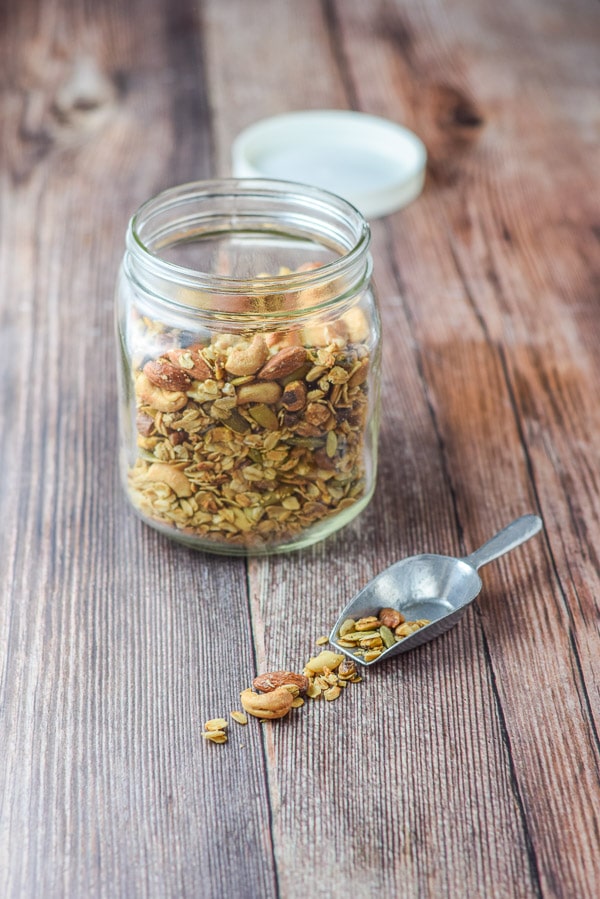 Now, a little scoop of the nutty granola.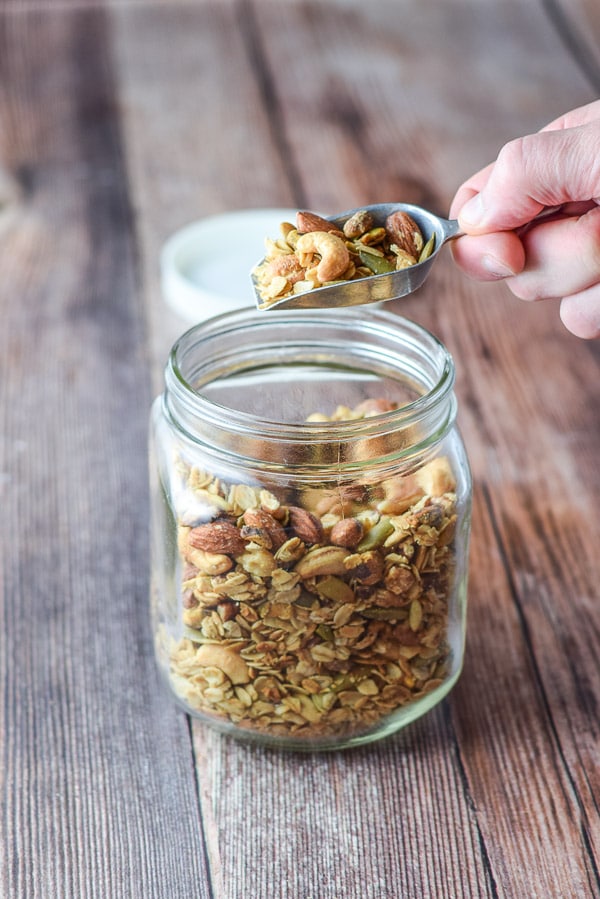 That scoop doesn't show off the granola so well. Let's see it in a spoon.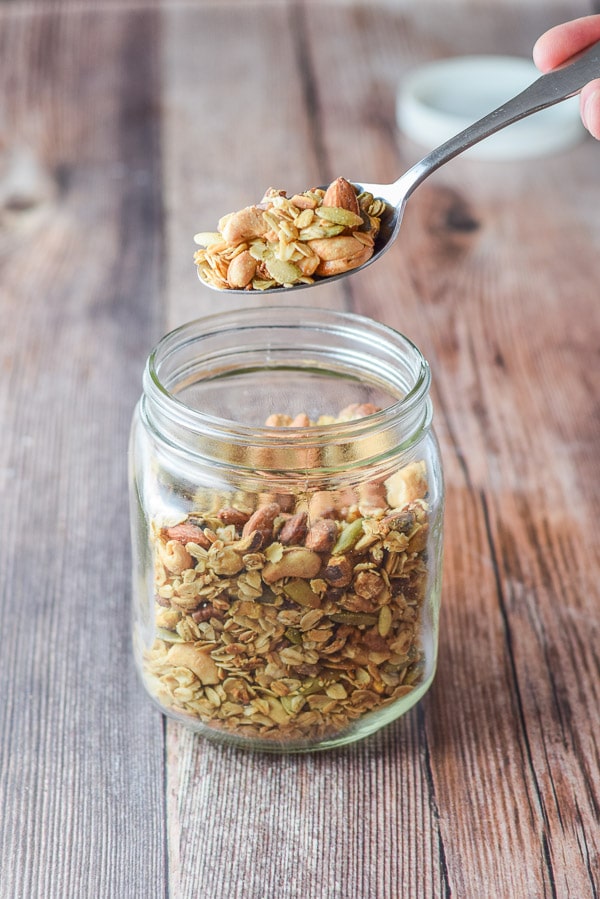 What do you think happened to that spoonful of nutty granola?
Ah-HA!
Nope, I didn't eat it. I dropped it back into the jar. I do have some self discipline. And besides, I was full.
😉
I hope you enjoyed this recipe.
And as always, may all your dishes be delish!
If you've tried this nutty granola or any other recipe on the blog, I'd love the hear what you thought about it in the comments below. I love hearing from you! You can also FOLLOW ME on FACEBOOK, TWITTER, INSTAGRAM and PINTEREST to see more of my delicious food and delightful cocktails!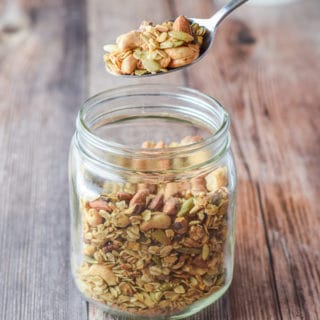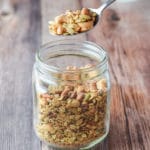 Temptingly Crunchy Nutty Granola
This nutty granola is so delicious that you will want to eat it all. But I know you have self discipline.
Keyword:
granola, nutty granola
Ingredients
3/4

cup

whole cashews

raw

1/2

cup

pumpkin seeds

raw

3/4

cups

whole almonds

raw

1/2

cup

walnuts

raw and chopped

1/2

cup

pecans

raw and chopped

1/2

cup

pistachios

2

cups

rolled oats

1/4

cup

maple syrup

1/4

cup

olive oil

1

teaspoon

vanilla

1/4

teaspoon

salt
Instructions
Preheat oven 325 degrees F

Line large jelly roll pan with parchment papper

Get a large mixing bowl and add all the above ingredients and mix until combined

Place in oven and bake for 20 minutes, flip the granola and return to oven for 10 minutes

Let cool fully

Eat a few handfuls

Place granola in a container

Eat another handful

Smile

Enjoy
Nutrition Facts
Temptingly Crunchy Nutty Granola
Amount Per Serving (0.5 cup)
Calories 450
Calories from Fat 495
% Daily Value*
Total Fat 55g 85%
Sodium 123mg 5%
Potassium 702mg 20%
Total Carbohydrates 50g 17%
Protein 19g 38%
* Percent Daily Values are based on a 2000 calorie diet.