I make this cream cheese rhubarb pastry recipe when I'm looking for a different type of sandwich to eat!  It's easy to make and oh, so yummy!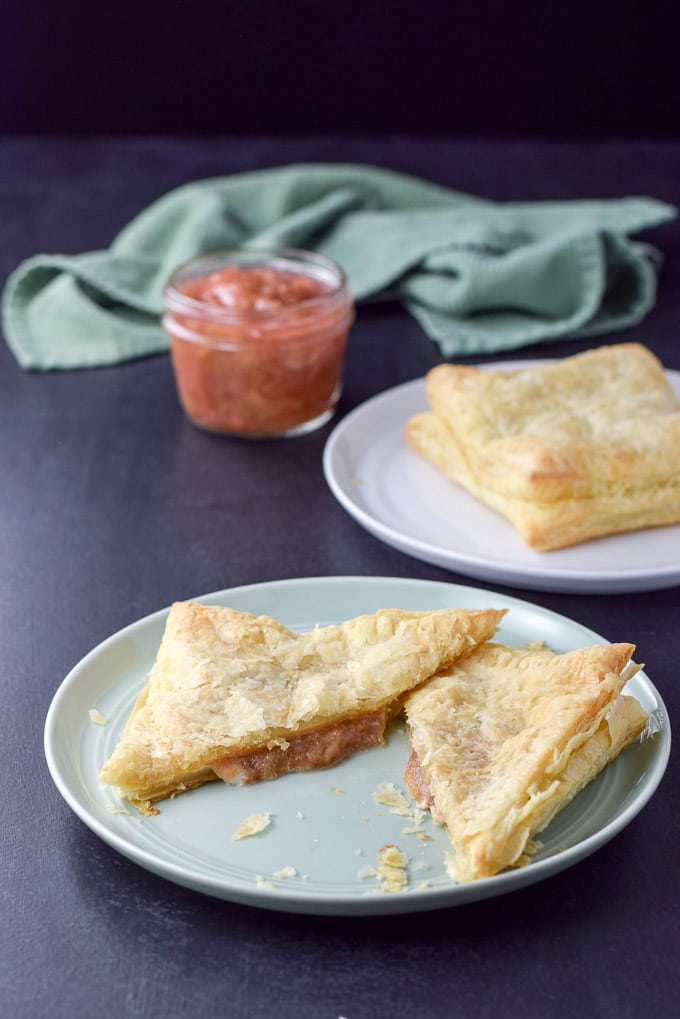 Did you eat cream cheese and jelly sandwiches as a child?  I did.  (Christopher didn't.  But he was deprived.)  If I couldn't have a peanut butter and fluff (marshmallow creme) sandwich, then my second choice would be cream cheese and jelly.
Way back in those days, they didn't have whipped cream cheese so it was always a challenge to not rip the white bread when attempting to spread the block cream cheese on it!
However, on the bright side, we'd get a thicker layer of cream cheese on that sandwich.
Want another pastry sandwich idea?  How about a almond butter and banana puff pastry recipe!
Jelly Story that has Nothing to do with rhubarb sauce
So, we ate grape jelly along with just about everyone else in that era.  I still love concord grape jelly.
Mmm.
However, I'm wondering if anyone else's mom did this?  My mom used to take an almost empty jar of jelly and fill it with milk and let us drink out of the jar.
Okay, here's the truth.  I NEVER liked it.  NEVER.
But I would pretend to because, silly me, I didn't want to hurt her feelings by rejecting it.
Now, I realize that I didn't have to pretend because she wouldn't have cared, not one bit.
Do you have anything like that?  Something you wouldn't eat/drink by yourself but you pretended to like so you didn't hurt another person's or your mother's feelings?  I'd like to hear about it, especially if you didn't need to pretend because the person wouldn't have cared if they knew!
Leave me a comment to let me know.
How to make the Rhubarb Pastry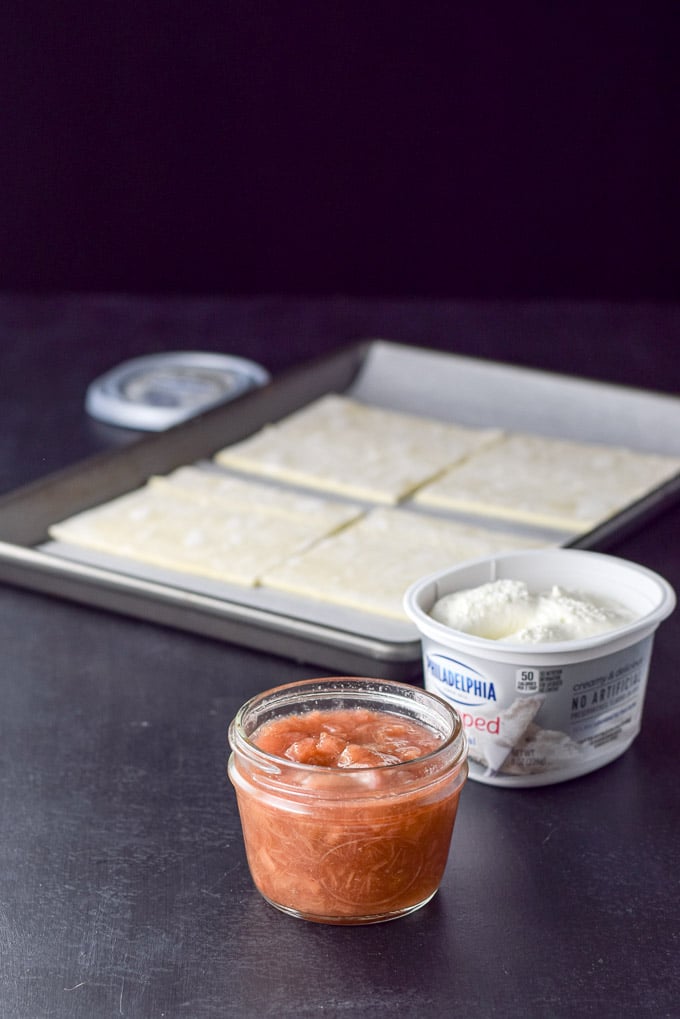 First thing I do to make these cream cheese rhubarb pastry is take one sheet of puff pastry out of the freezer and let it defrost for 40 minutes.
Next, I preheat the oven to 400 degrees Fahrenheit.
Spread It
Then, I grab my rhubarb sauce and my whipped cream cheese.
I spread some cream cheese on two of the pastry squares and add rhubarb sauce.  Don't go all the way to the edges of the puff pastry dough.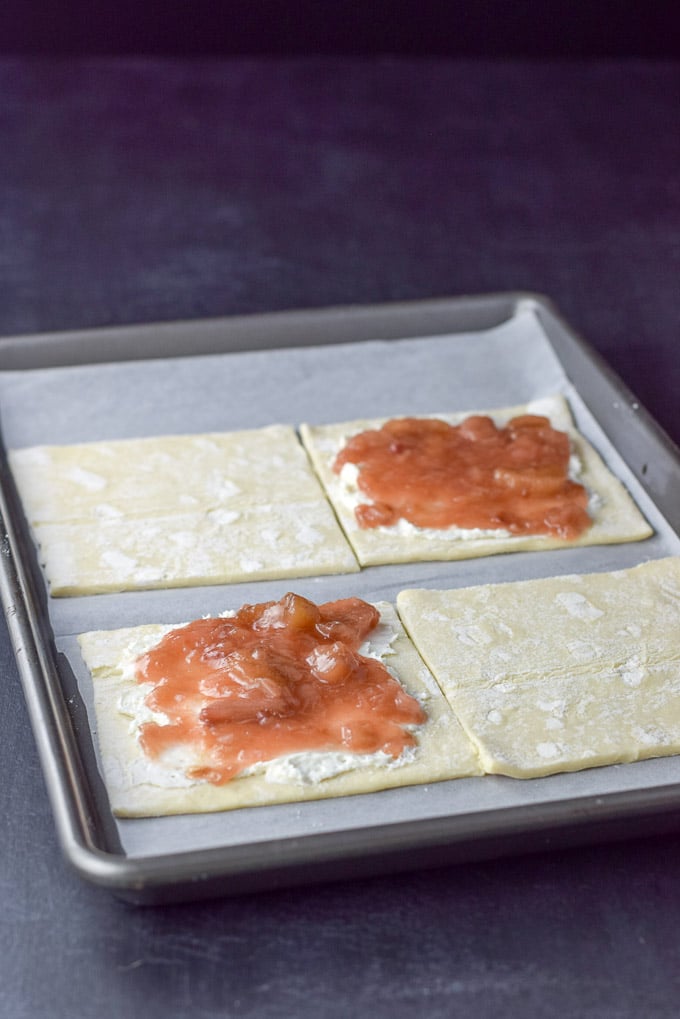 Be generous with the rhubarb sauce!
Lay it on Baby
So, I take the empty squares and place them on top of the filled ones.  Next, I press down the edges making sure that they're sealed.
Finally, I place them in the oven and bake them for 15 minutes!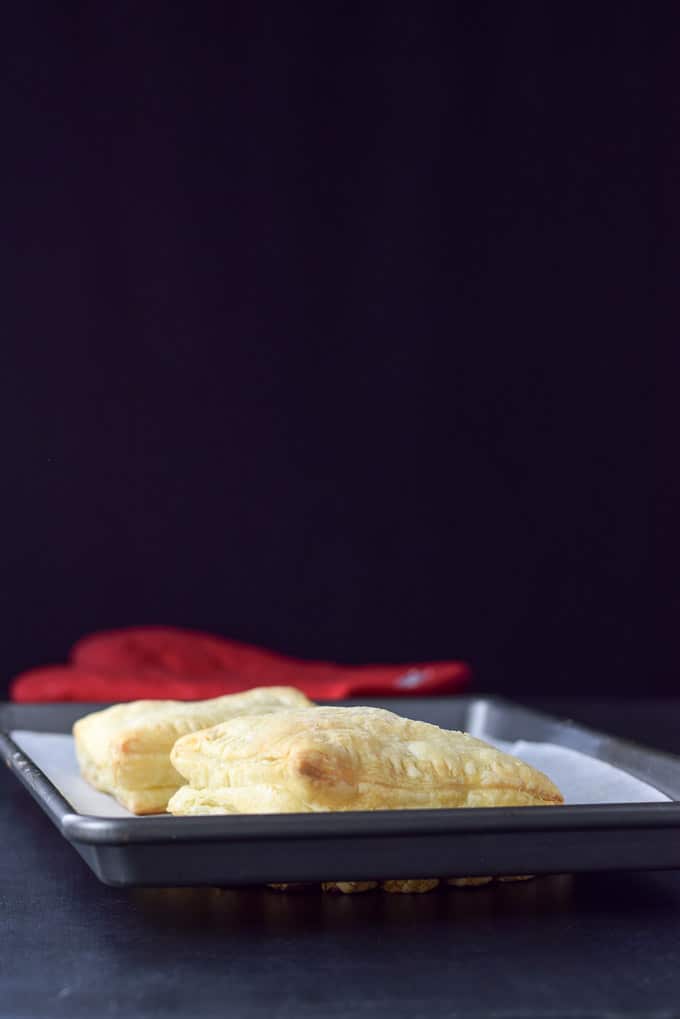 Puffy wuffy cream cheese rhubarb pastry!
Let's look at another view!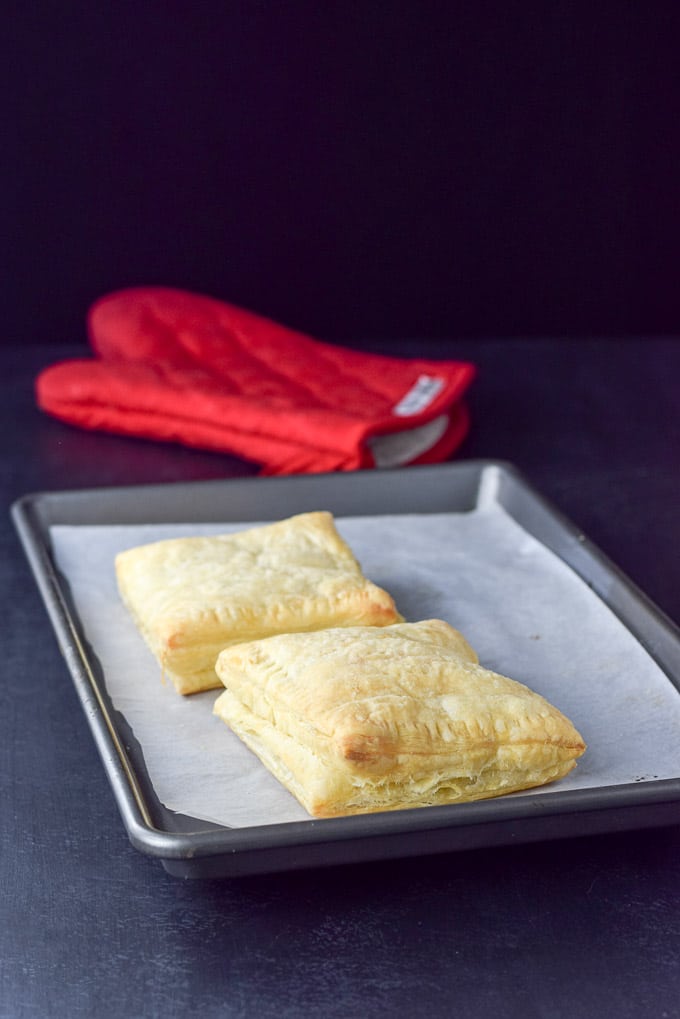 Finally, let's cut one of the cream cheese rhubarb pastry in triangles and plate them.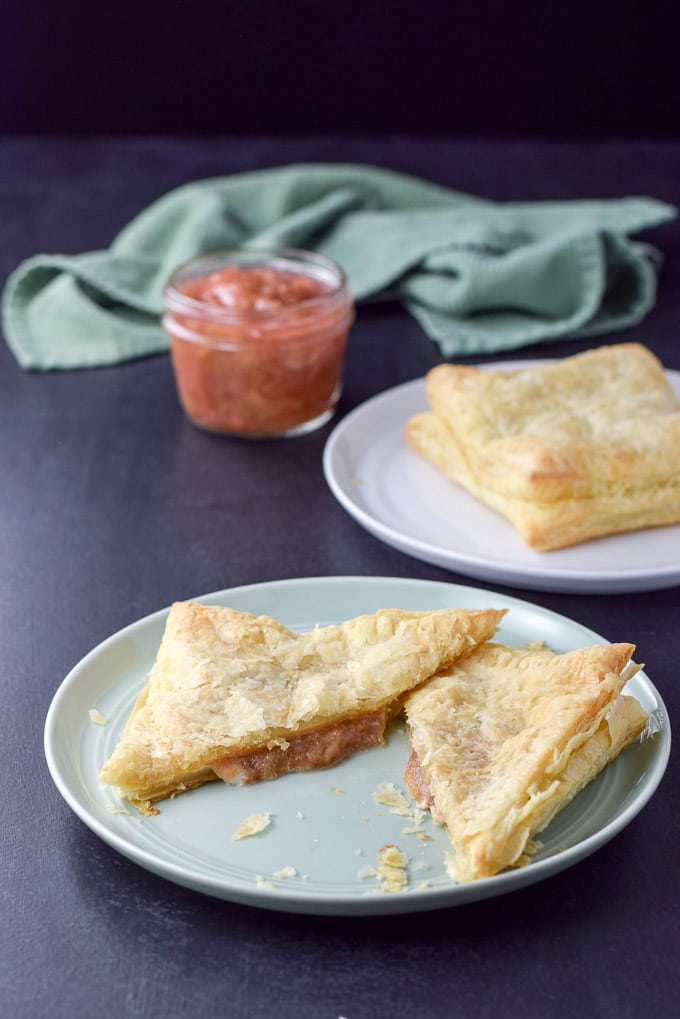 So flakey.  Yum, yum!
Now for a bite!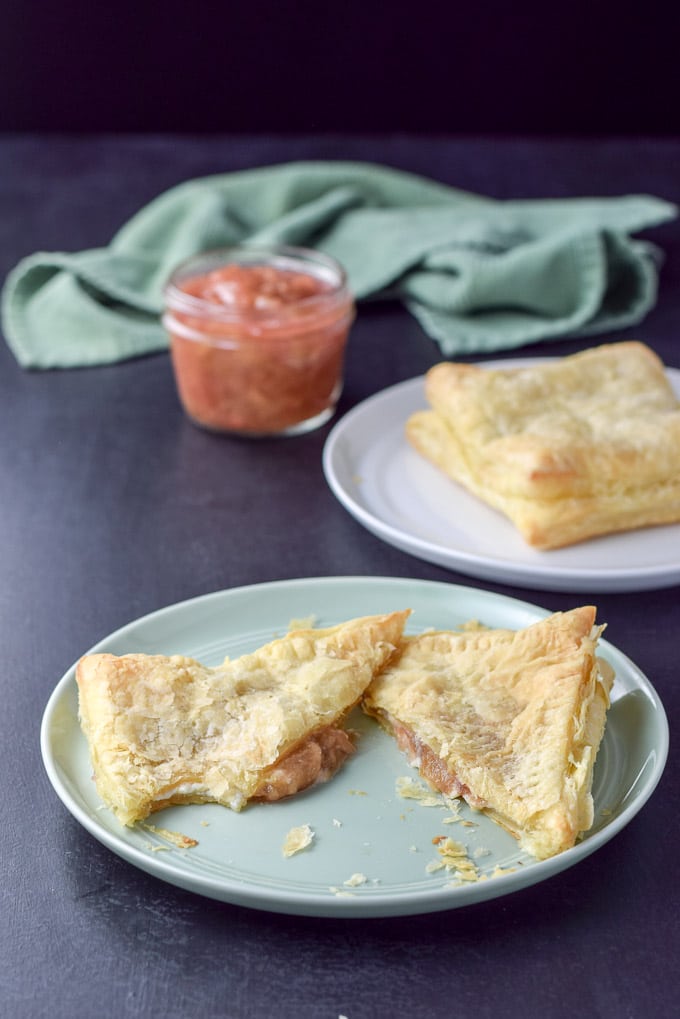 This cream cheese rhubarb pastry is so delicious.  You can use any sauce or jelly/jam, but I enjoyed it with the rhubarb sauce!!
Please feel free to leave me a comment telling me what you pretended to like, but didn't.
And as always, may all your dishes be delish!
If you've tried this rhubarb pastry or any other recipe on the blog, I'd love the hear what you thought about it in the comments below.  I love hearing from you!  You can also FOLLOW ME on FACEBOOK, TWITTER, INSTAGRAM and PINTEREST  to see more of my delicious food and delightful cocktails!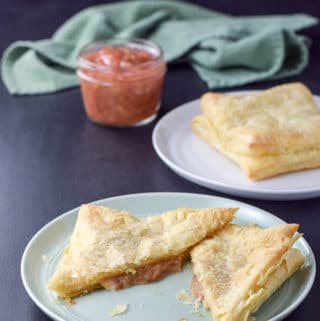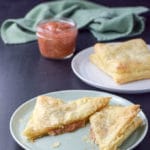 Cream Cheese Rhubarb Pastry
Slightly sweet but oh so yummy! A great alternative to a sandwich!
Ingredients
1

sheet

puff pastry

thawed and cut in 4 pieces

3

tablespoons

cream cheese

Whipped, you choose how much

2

tablespoons

Rhubarb sauce

or any jelly/jam or sauce
Instructions
Preheat oven to 400 F

Spread cream cheese on two of the squares, leaving a little border

Add rhubarb sauce or jelly - be generous

Place each empty square on top of the filled squares and press down sides to seal

Bake for 15 minutes

Revel in the puffiness

Cut at a diagonal

Plate

Eat

Smile

Enjoy
Recipe Notes
I am not going to add the time it takes for the puff pastry to thaw!  ALSO:  you can use any jelly or jam!
Nutrition Facts
Cream Cheese Rhubarb Pastry
Amount Per Serving (1 Sandwich)
Calories 804
Calories from Fat 486
% Daily Value*
Total Fat 54g 83%
Cholesterol 23mg 8%
Sodium 381mg 16%
Potassium 104mg 3%
Total Carbohydrates 69g 23%
Protein 10g 20%
* Percent Daily Values are based on a 2000 calorie diet.