This is my version of my grandmother Bena's apple pancake recipe! I grew up eating these lovely pancakes and I'm so glad I finally figured it out!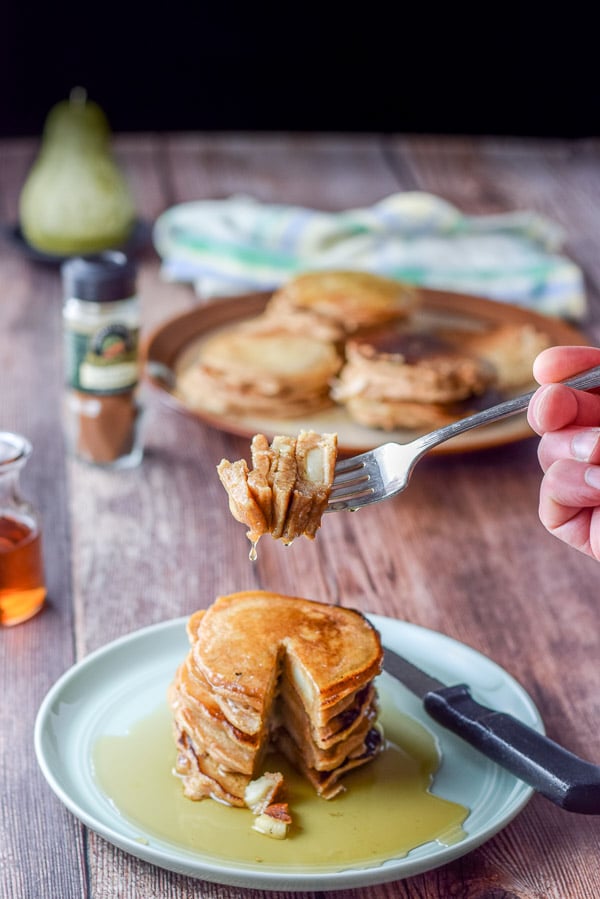 Where, oh Where?
After my grandmother died, her red, handwritten recipe book disappeared.  Our family was sad.  We lost access to a lot of great recipes.  Not all of them, thankfully.  Some of them were written down and saved elsewhere by family members.  Some of them were etched in the memories of those of us who made them fairly often.
I've written before that I love breakfast foods for dinner.  My all time favorite was Bena's pancakes.  My nana made a few different varieties: potato pancakes, plain pancakes, and the apple pancakes in today's post.
I have tried to replicate all three of these different pancakes but I have not been successful.
The thing is, I stood there numerous times watching Nana make her pancakes.  I could kick myself for not paying more attention!
My only excuse is that I was probably trying to control my breathing and not hyperventilate in anticipation of eating those pancakes.
Eureka!
Well, today I think I've done it.  I can't tell you how excited I am.  Seriously excited.
I made these pancakes and when I tasted them, I realized that I finally got it right.  I kept looking at Christopher and saying, "This is it.  These are them. This is what they tasted like."
And then I started giggling uncontrollably.
It took all my energy to resist shoving all the pancakes in my mouth.  (I held off until lunch.)
The difference between my apple pancakes and Bena's is, I use sprouted spelt flour and she used all purpose white flour.  So my apple pancakes are denser.  But these really rival her plain pancakes.  I'll save those beauties for another post.
Other pancake recipes on Dishes Delish:
How to make Apple Pancakes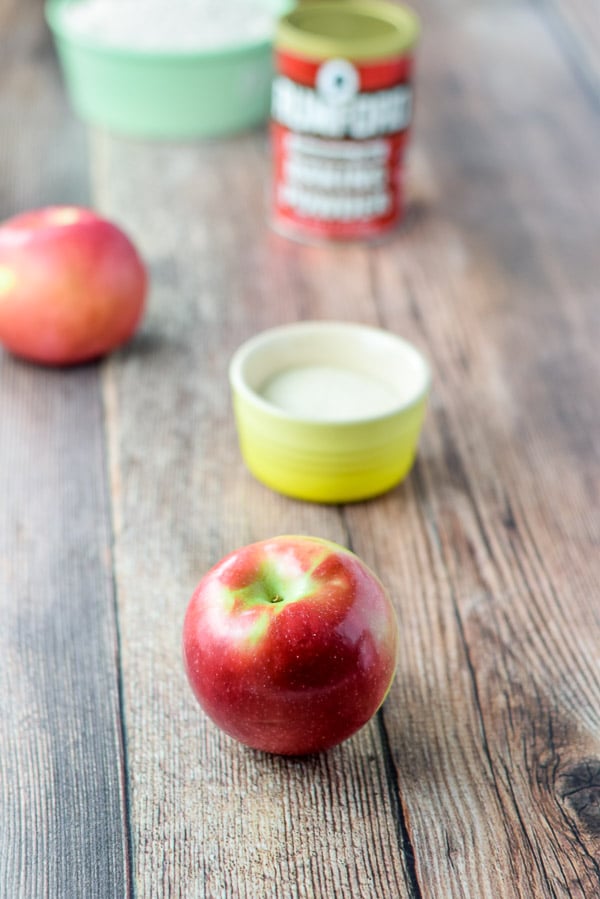 I grab my apples, spelt flour and baking powder.
I peel my apples and slice them into rings.  I then take my sharp knife and cut out the core in each apple round.  My nana used to have one of these apple corers which I didn't have but have since ordered.
I place the apple rounds on a few plates.
I microwave them for one and a half minutes.  You want them to be softened but not soggy.
Now, I gather an egg, almond milk and some olive oil.
I grab my mixing bowl and add the flour, baking powder, sugar and salt.
I use my spatula and mix the dry ingredients to combine them.  I crack in the egg, add the almond milk, water and oil.  I use my rubber spatula and mix them together until combined.
Lookie Loo
I grab my trusty cast iron sauté pan and heat it on medium.  I add a dollop of butter and once it melts, I spoon in some batter.  I take an apple ring and place it in the batter and dribble some more batter on top of it.  I do four apple pancakes at a time.
Once the bottom of the apple pancakes are browned, I flip them over and brown the other side as well.  I repeat until all the batter and apple slices are gone.
Here they are all buttered up and ready to be doled out!  I take the time to gather some maple syrup, cinnamon and more butter if the desire to add more hits me.
You can sprinkle cinnamon on the pancakes, so it's on the table.  Cinnamon goes really well with these delish apple pancakes.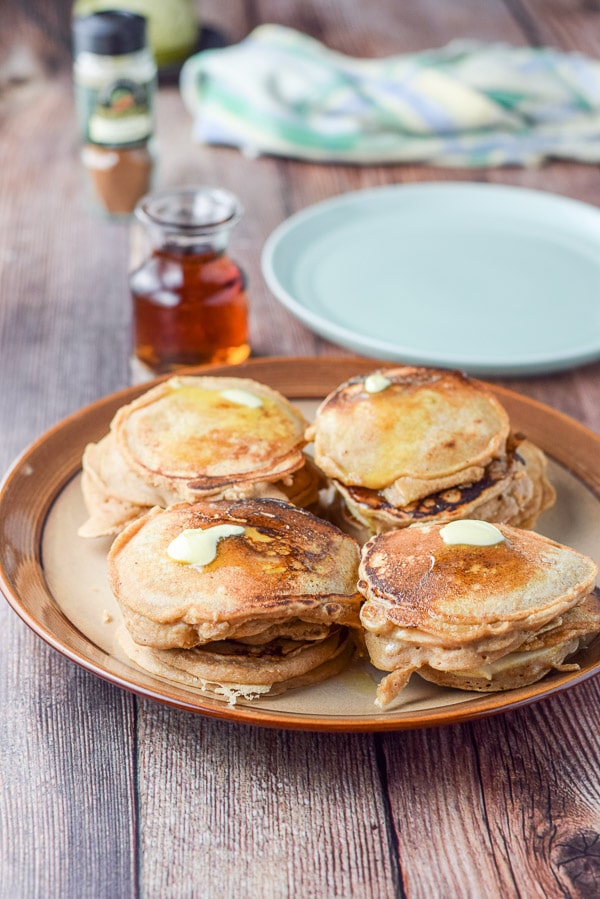 Time to stack some on a plate.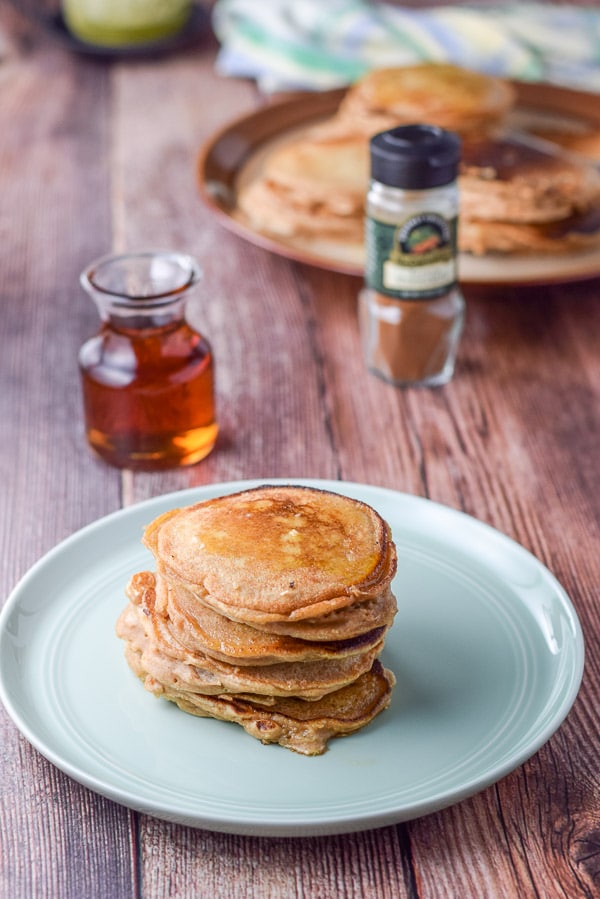 Christopher, you are needed STAT!
He comes running and snatches up the maple syrup and starts to pour.  I have to say, I did hear a few giggles escape his mouth.
And of course, I giggled back.  We are in for a feast.
That's only the beginning.  We need more syrup.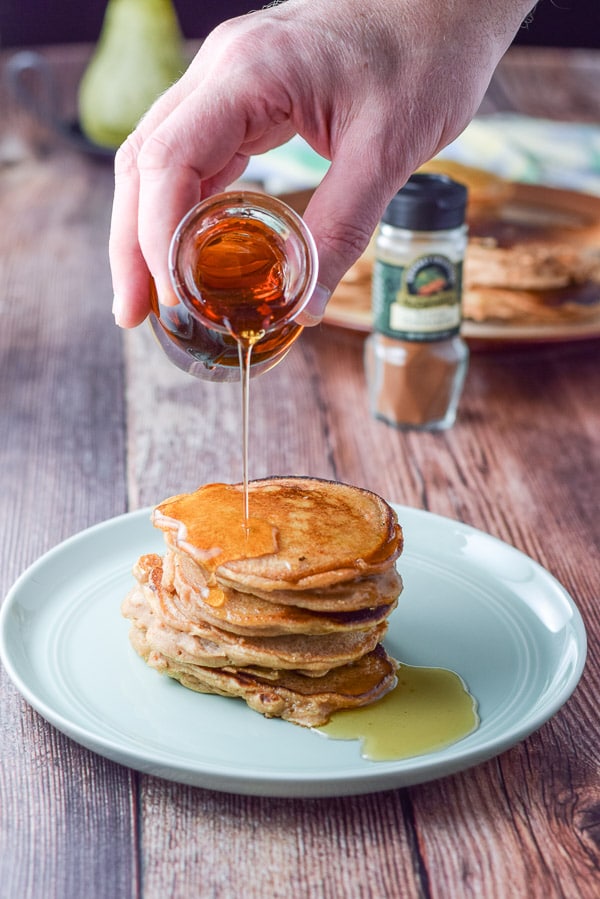 Look at it dripping lazily down the side.
"MORE", I screech at Christopher.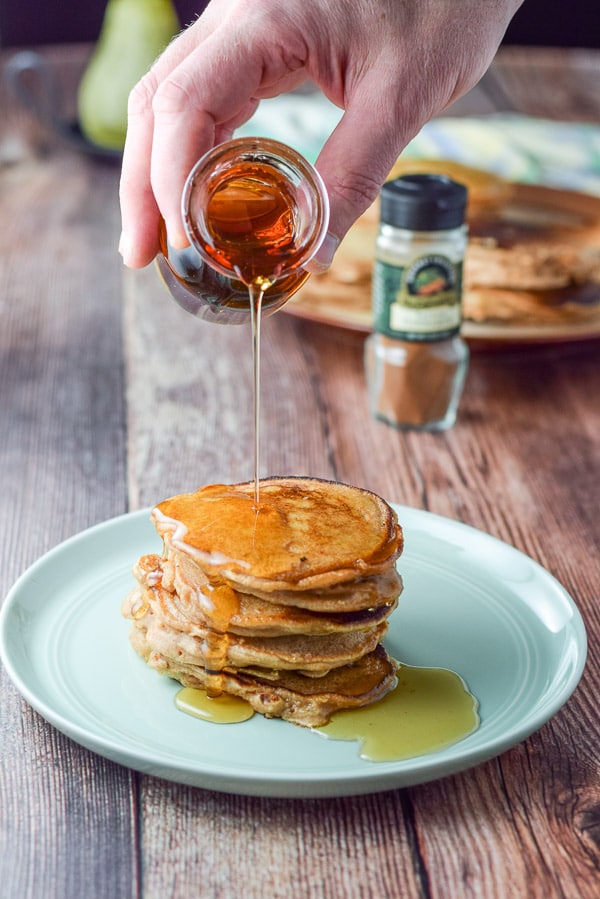 Let's cut into the stack, shall we?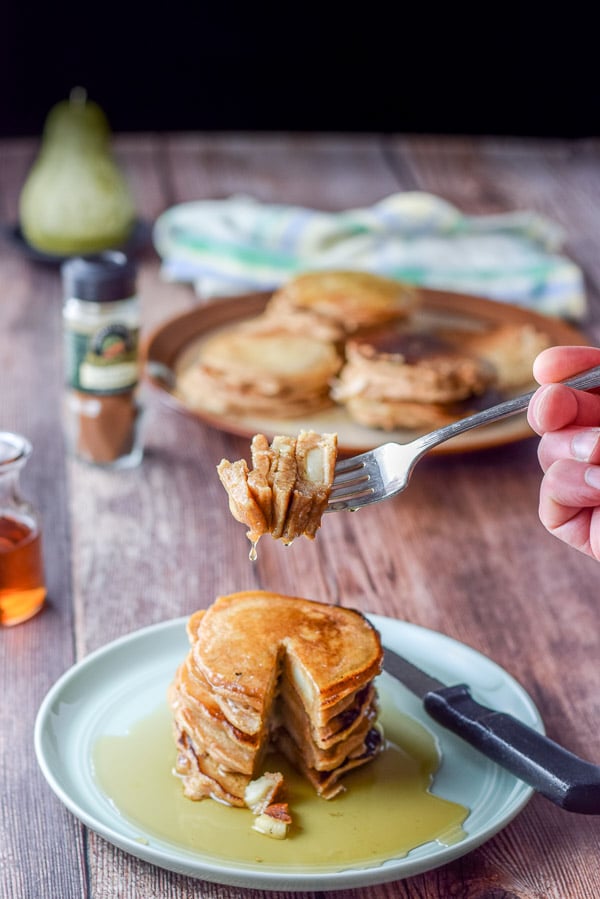 Mmmmmm.
Bigger slice, Christopher, if you will.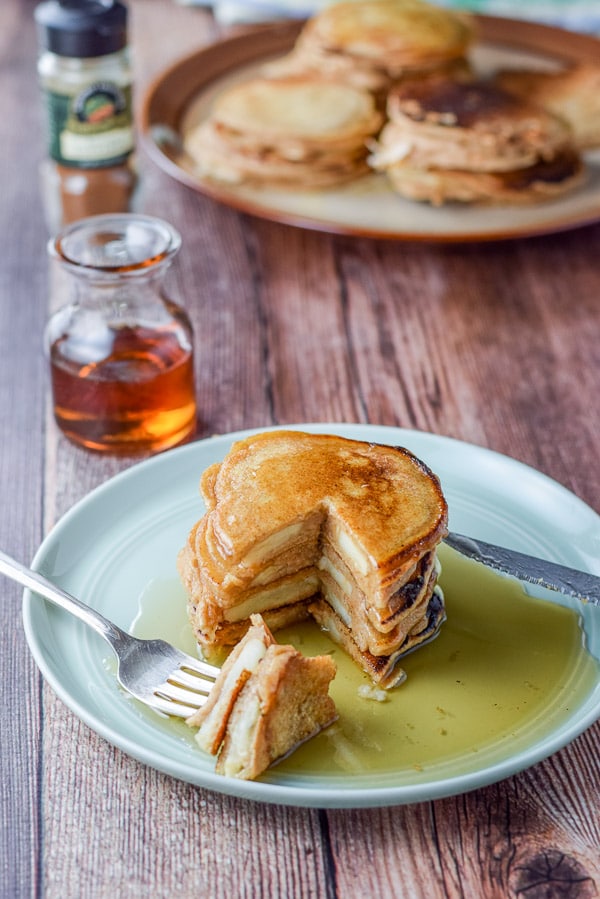 Look at the apple nestled cosily in each pancake!
Both Christopher and I were happy campers!  We ate them all up.
They store well too.  We usually place parchment paper between each pancake and wrap them up.  Without parchment, the butter hardens and tears the pancakes apart when you try to separate them cold.
I hope you enjoyed this recipe!
And as always, may all your dishes be delish!
If you've tried these apple pancakes or any other recipe on the blog, I'd love the hear what you thought about it in the comments below.  I love hearing from you!  You can also FOLLOW ME on FACEBOOK, TWITTER, INSTAGRAM and PINTEREST  to see more of my delicious food and delightful cocktails!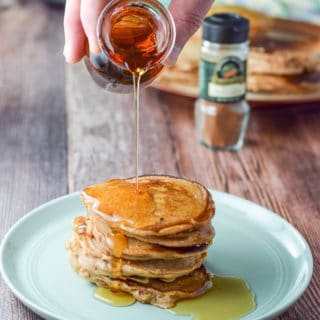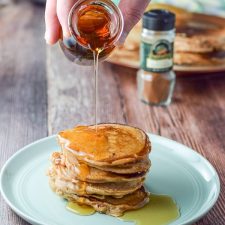 Bena's Apple Pancakes
These apple pancakes are so delicious, you'll be wanting to eat them every weekend!
Print
Pin
Rate
Ingredients
3

apples

2 - 3 apples, peeled, sliced in rings and cored

2

cups

spelt flour

(or whatever flour you prefer

3/4

teaspoon

baking powder

1/2

teaspoon

salt

1/4

cup

sugar

1

egg

1 1/2

cup

almond milk

or milk of choice

1/2

cup

water

1/4 - 1/2 cups to thin out the batter - use 1/4 cup first

2

tablespoons

olive oil

1

tablespoon

Butter for pan
Instructions
Microwave apple rings for 1 - 2 minutes. Soften the apples but don't make them soggy

In a mixing bowl, add flour, baking powder, sugar and salt. Mix until combined

Add egg, milk, water and oil. Mix with spatula until combined

Heat large sauté pan on medium, add butter and melt

Spoon batter in pan (you want it to be slightly bigger than the apple rounds)

Press apple in each batter round and dribble more batter on the apple

Let pancake brown and flip to brown other side

Butter each pancake and stack until all the batter and apple slices are gone

Stack at least 4 on your plate

Pour maple syrup on pancakes

Add cinnamon if you want

Cut into pancakes

Eat pancakes

Smile

Enjoy
Nutrition
Serving:
4
pancakes
|
Calories:
298
kcal
|
Carbohydrates:
19
g
|
Protein:
2
g
|
Fat:
3
g
|
Cholesterol:
12
mg
|
Sodium:
114
mg
|
Potassium:
59
mg
|
Fiber:
2
g
|
Sugar:
6
g
|
Vitamin A:
55
IU
|
Vitamin C:
1.6
mg
|
Calcium:
40
mg
|
Iron:
0.8
mg