Here is my rousing raisin oat bran muffin recipe.  I named it "rousing" because you will want to rouse yourself to eat these luscious muffins!
I love bran muffins.  Not more than chocolate muffins but that's just because I'm a chocolate fiend.  But if I want a different muffin, I will always pick this one!  Christopher requests these muffins and I always comply.
Years ago, when I would head off to work a day shift at the restaurant, I would stop at a well known coffee/donut place before my shift.  I would mostly get a bran muffin, but sometimes I would get a chocolate chip muffin.
Until they started putting less than four chocolate chips in each muffin.
Then, I only got the bran muffin.
For old time sake, I sometimes go to that chain to get a muffin and recently I noticed that they stopped selling the bran muffin!
Say what?  Seriously?
That was the only halfway healthy item in the whole darn place.
Let's just say, I don't go there any more.  I just make my own!  Which is great because I can control what goes in them.  That's a good thing.
This post may contain affiliate links, which means I get a small commission, at no additional cost to you, if you click the link and buy something. You can read my disclosure here.
How to make the oat bran muffins
Preheat the oven to 400 degrees Fahrenheit.
Front and center is oat bran.  Naturally.  Because they are oat bran muffins!!
The back up singers are sprouted spelt flour, almond flour, sugar, flax meal and some baking soda!
I place all the dry ingredients in a mixing bowl.
Now to gather the wet ingredients.
We have an egg, molasses, vanilla, almond milk and oil.
I add all of the above into the mixing bowl to join up with the dry ingredients.
I mix it all with my rubber spatula!
Best spatula EVAH!
I add 1 cup of raisins and mix until just combined.
I place muffin cups into my pan.
Confession time
It has been years, literally YEARS, since I've made a 12 muffin batch.  It's usually 9, occasionally 10.  But I wanted to see how normal people live.
So this time, I made 12 muffins.
The outcome?  I missed my bigger muffins.  It was a fun experiment but I decided (again) that I don't want to be normal.  I'll be making my usual small-count-big-muffin batches in the future.
I spoon the oat bran muffin batter into the pan.
I place the pan into the oven and set the timer for 20 minutes.
DING!
The oat bran muffins are straight out of the oven.  Warm and delicious.
Mmmmm.
Let's pile them up, shall we?
Looking at them from a different angle.
Doesn't it make you want to rouse out of bed to eat one?  Or two, since they are small?
🙂
Time to plate a bran muffin and cut it open.
Yum, yum, yum.
These oat bran muffins freeze well, which is what we usually do with half of the batch.
I hope you enjoyed this recipe!
And as always, may all your dishes be delish!
If you've tried this oat bran muffins or any other recipe on the blog, I'd love the hear what you thought about it in the comments below.  I love hearing from you!  You can also FOLLOW ME on FACEBOOK, TWITTER, INSTAGRAM and PINTEREST  to see more of my delicious food and delightful cocktails!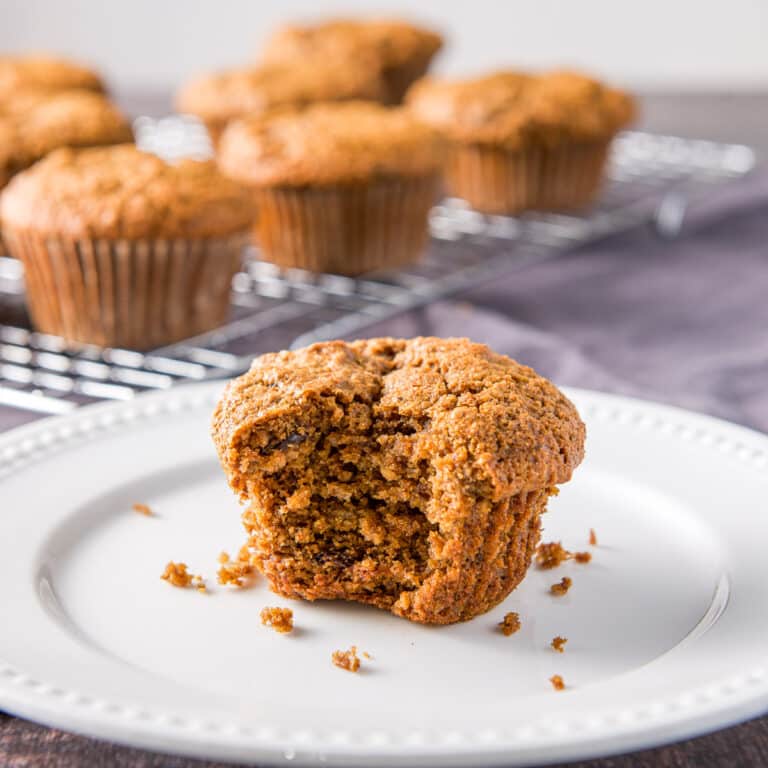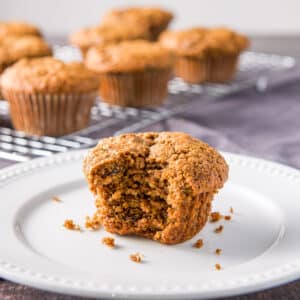 Oat Bran Muffins
Delicious and healthy bran muffins that will make you want to wake up!
Print
Pin
Rate
Ingredients
1

cup

spelt flour

or flour of choice

1/2

cup

almond flour

or flour of choice

3/4

cup

brown sugar

1

teaspoon

baking soda

1/2

teaspoon

salt

1/2

cup

flax meal

1

cup

oat bran

1

egg

3/4

cup

almond milk

or milk of choice

1/4

cup

molassas

1

teaspoon

vanilla

1/2

cup

olive oil

1

cup

raisins
Instructions
Preheat oven to 400 F

Put all your dry ingredients in a mixing bowl

Add wet ingredients and stir until combined

Add raisins and stir until combined - do not over mix

Line muffin pan with cups and spoon batter into each cup - fill 9 cups for bigger muffins

Bake for 22 minutes or until done

Plate a muffin

Smile

Enjoy
Notes
Helpful tips
I prefer the taste of oat bran, but if you can't find it, wheat bran will also work.
Be careful not to over mix the batter or the muffins won't rise as well.
These muffins freeze well when stored in an airtight container.
After they've baked, if your cake tester comes out clean, the muffins are done but know that they may sink somewhat.
Nutrition
Serving:
1
muffin
|
Calories:
328
kcal
|
Carbohydrates:
40
g
|
Protein:
7
g
|
Fat:
18
g
|
Saturated Fat:
2
g
|
Cholesterol:
13
mg
|
Sodium:
223
mg
|
Potassium:
233
mg
|
Fiber:
6
g
|
Sugar:
13
g
|
Vitamin A:
20
IU
|
Vitamin C:
0.7
mg
|
Calcium:
78
mg
|
Iron:
2.3
mg