My favorite meat is smoked pork shoulder. The end. That is all. I confessed. I feel better.  This smoked pork shoulder recipe is slow cooked to perfection which makes the meat tender and delicious!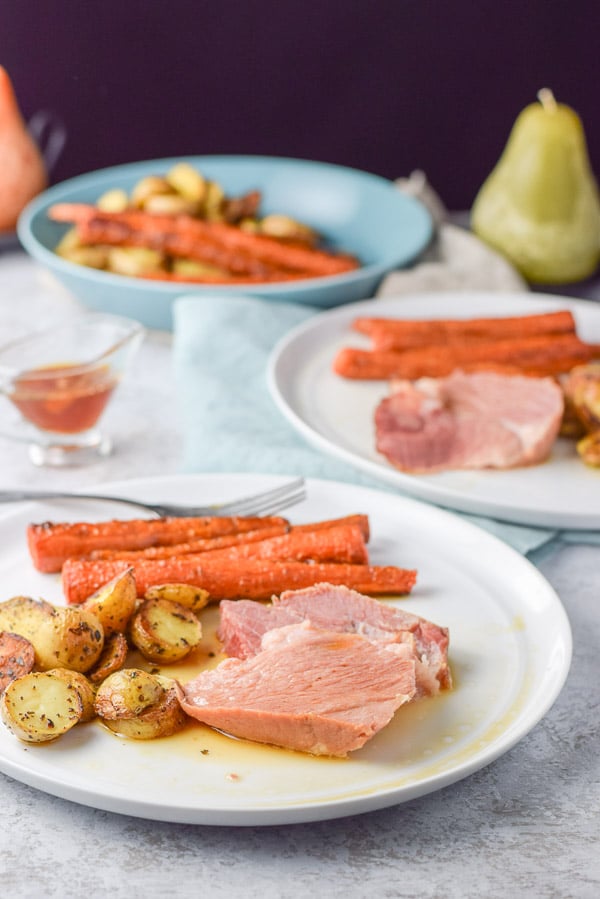 Wait…!
Why do I have to confess that my favorite meat is smoked pork shoulder?  There is no one breathing down my neck demanding to know my favorite meat.  And Christopher knows very well that it is my favorite.  Ask him, he will tell you that I say it every time I eat this glorious food.
I should probably stop doing that.
Probably.
I wonder if that will really happen?
Probably not.
Sorry Christopher.
On to the Smoked Pork Shoulder recipe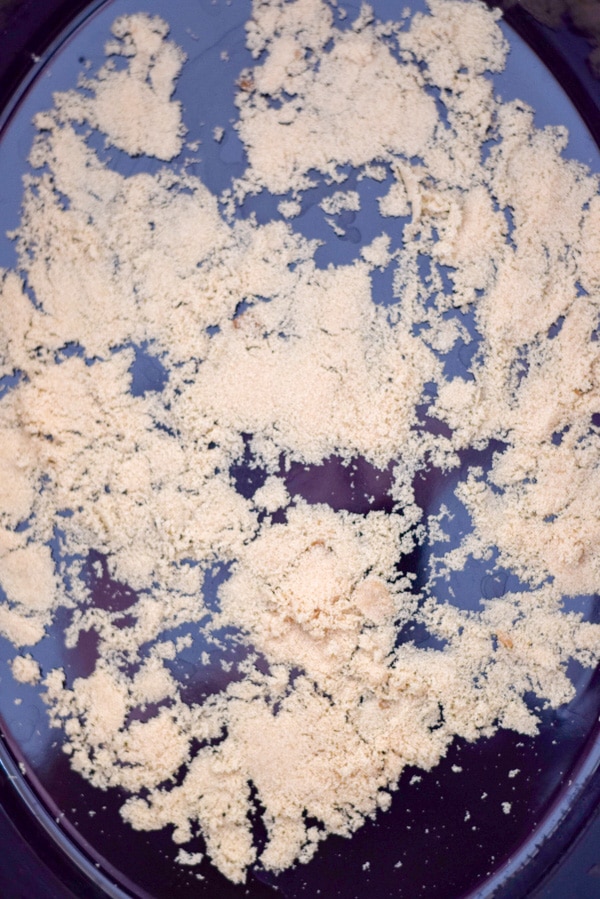 I grab my trusty crockpot
and put some brown sugar on the bottom of the ceramic insert.  I press it down and smile as I am doing it because – anticipation, my dear friends, anticipation! I save a little of the sugar for the top of the meat.
*I do the smoked pork shoulder shuffle, which resembles the hustle, but in a very small space.*
Next, comes the smoked pork shoulder picnic cut.  The one I bought (pictured below) is 6 pounds. I'm so glad the store sells smoked shoulder in a smaller size.  My sister cooks a HUGE shoulder. Hers is usually 9 – 10 pounds.  But, since it's just C and I, 6 pounds will do, nicely.  And the fun thing is I'll have enough leftovers to make a pea soup.
I take my shoulder out of its packaging and plop it right on top of the brown sugar.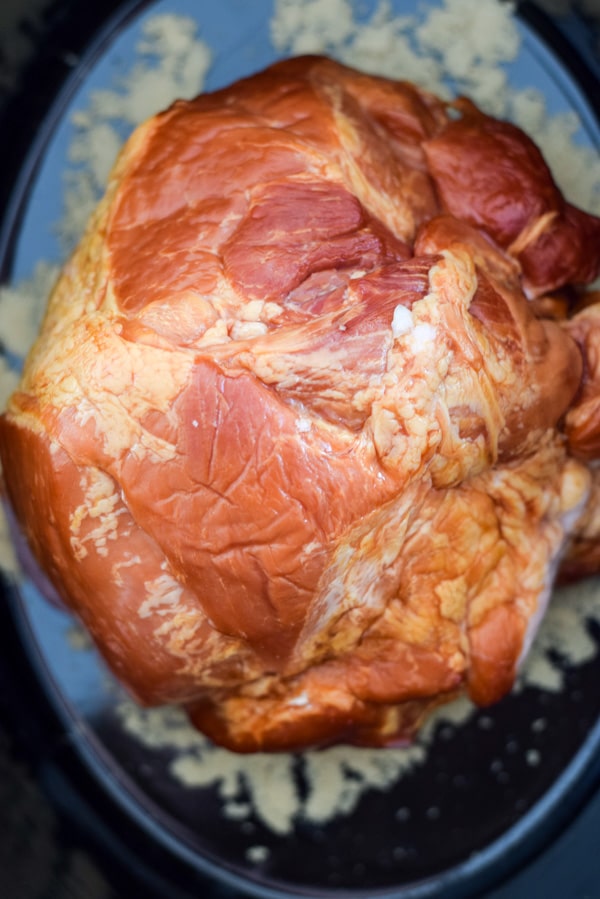 Peek a boo!  Getting closer.  Yah and a big HOO!
The smoked pork shoulder is screaming, "Give me some sugar, baby!  Some shu-gah!"
Soooo, I take the rest of the brown sugar and play patty cake with the top of the smoked pork shoulder.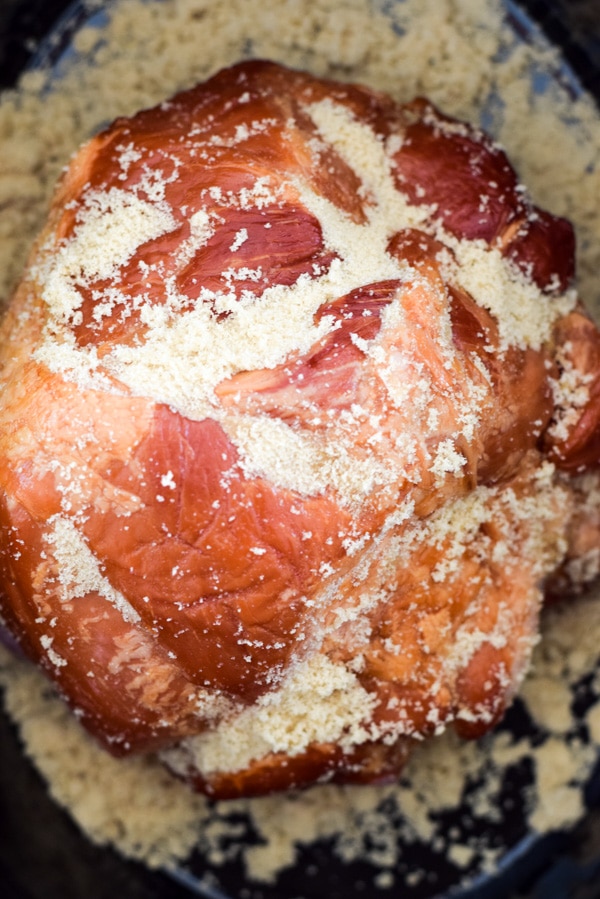 Now, I cover the crockpot and set the temperature to high and the timer to 4.5 hours.
Anticipation of Smoked Pork Shoulder
I grab a chair, drag it over to the crockpot and sit and stare at the timer.  It's mesmerizing. Actually it's boring, so, I get up and go about my day.  That's not to say that I don't take sneak peeks at the timer, because I do.
It takes at least 2 hours for the brown sugar to melt, so don't get nervous.  There isn't any need to baste the smoked pork shoulder, so leave it covered!
Two more hours pass and DING!  My favorite sound in the whole wide world.
I gallop to the crockpot and whip the cover off, spraying the condensation that accrued on the cover in a pretty arc.
I grab my big forks and stab the shoulder, lift it out of the crockpot and place it on a platter. The smoked pork shoulder has to rest at least 15 minutes before I can cut into it.
How unfair is that?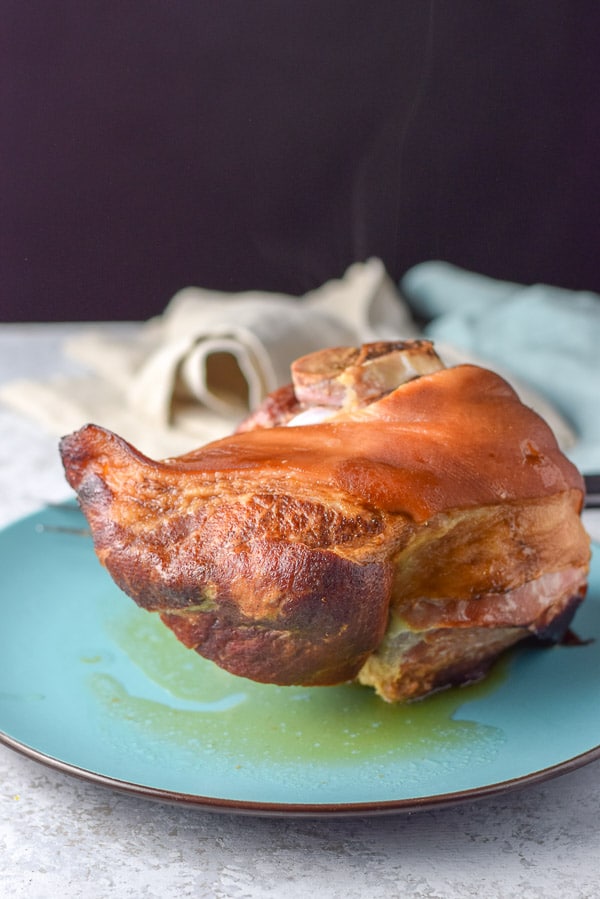 Look at that juice, PEOPLE!!  Is anyone else as happy as I am this very minute?  I think not, I think not!
So, 15 minutes drags on and on and on and on but I persevere and can finally cut into the shoulder.  Now  it is ready to eat.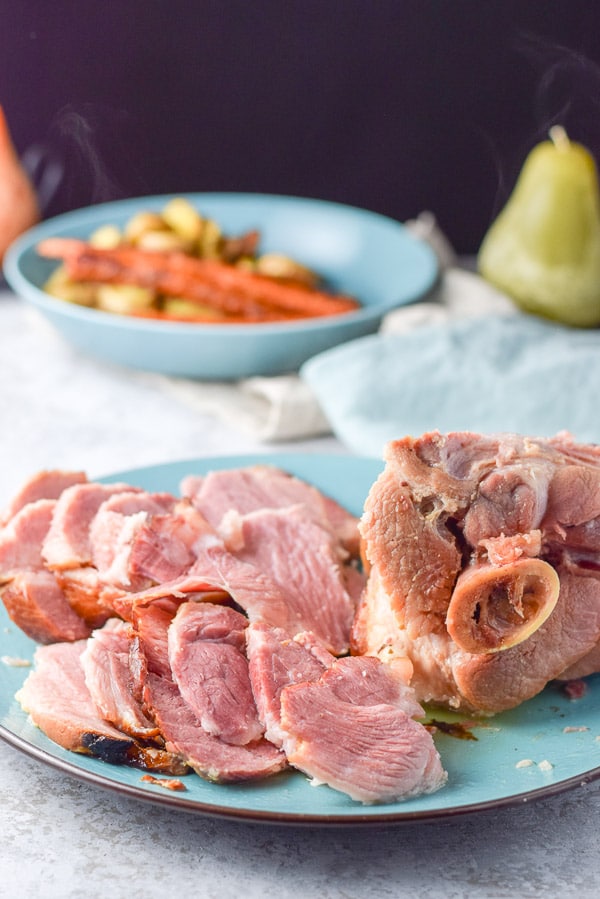 I pour the juice from the bottom of the crockpot into a little gravy boat.  Then I plate the meat with some roasted carrots and potatoes and scream for Christopher.  He comes thundering down the stairs and skids to a stop right behind his chair.  He sits, grinning in anticipation.
I place his plate in front of him, take off my apron and sit in front of my plate.
I look happily at Christoper and we both dig in.  The rest is history.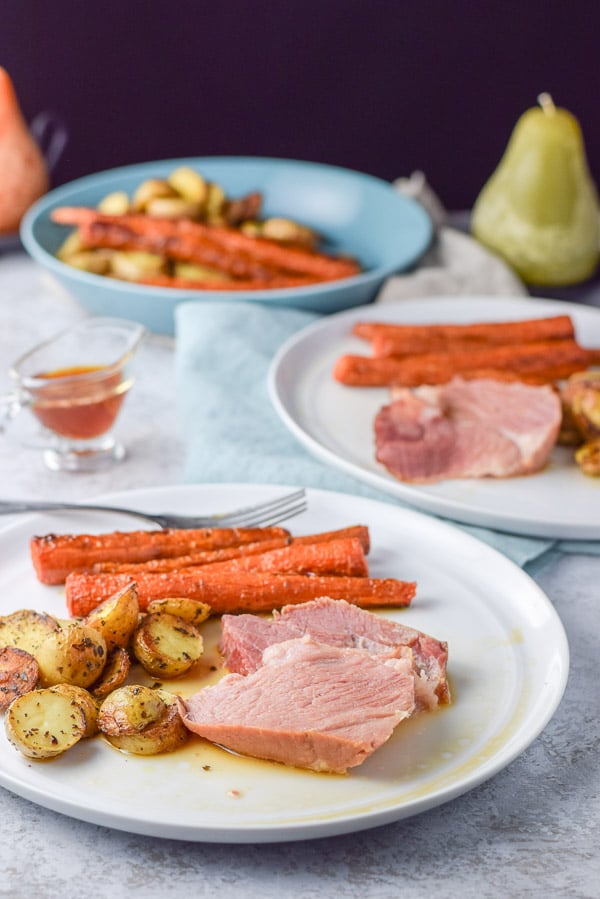 Other popular crock pot recipes on Dishes Delish:
I hope you enjoy this smoked pork shoulder recipe as much as I do!  And please leave me a comment if you are so inclined as I'd love to hear from you.  Tell me what your favorite meat is!
Feel free to Pin any photo to Pinterest or Yum the recipe to Yummly.
And as always, may all your dishes be delish!
If you've tried this smoked pork shoulder or any other recipe on the blog, I'd love the hear what you thought about it in the comments below.  I love hearing from you!  You can also FOLLOW ME on FACEBOOK, TWITTER, INSTAGRAM and PINTEREST to see more of my delicious food and delightful cocktails!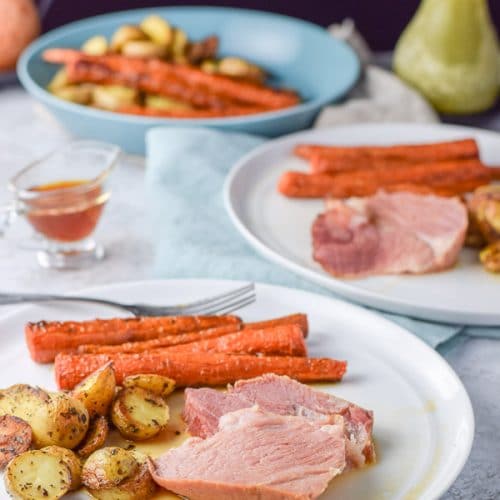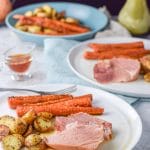 Smoked Pork Shoulder
Smoked pork shoulder is my very favorite meat and I love it prepared this way!
Keyword:
smoked pork shoulder
Ingredients
3.5

pound

smoked pork shoulder picnic

1/4

cup

brown sugar
Instructions
In the bottom of your crockpot, pat down most of the brown sugar

Place unwrapped smoked shoulder on top of the brown sugar

Pat the rest of the brown sugar on the smoked shoulder

Cover crockpot and set the timer for 4 hours on high

Wait patiently

Once the timer dings, take the shoulder out and place on a platter

Let sit for 15 minutes

Slice

Plate

Do a happy dance

Eat

Enjoy
Nutrition Facts
Smoked Pork Shoulder
Amount Per Serving (2 slices)
Calories 150
Calories from Fat 27
% Daily Value*
Fat 3g5%
Cholesterol 36mg12%
Sodium 41mg2%
Potassium 187mg5%
Carbohydrates 2g1%
Protein 10g20%
Vitamin A 5IU0%
Vitamin C 0.4mg0%
Calcium 10mg1%
Iron 0.7mg4%
* Percent Daily Values are based on a 2000 calorie diet.