This udon noodle soup recipe is easy and delicious!  The broth is scrumptious and the addition of the noodles and egg makes for a splendid taste treat.
I love everything about this soup.  The thick noodles with the veggies and delicious broth make me think comfort food.  I add the egg because, well, why not?  Also, I love how they look in the soups I have seen while eating out.
Let me talk about the stone bowl and why I bought TWO.  Our niece wanted Christopher and I to try a new Korean fusion place near her home.  That is where I had my first Bibimbap (aka BBB).
I loved bibimbap so much that I had to buy a stone bowl so I could make that delicious dish and experience it as I did at the restaurant.  Since then, I realized that I needed two bowls because what if I wanted to serve BBB to my guests?  Right?
I have made BBB every single weekend since, only deviating over the holidays.  I'll blog about that recipe soon.  It's so good!
But now I want to make other recipes in my stone bowl.
I wanted to make udon noodle soup.  I make this soup not only because it's delicious, but because I can have a soft boiled egg in the soup.  The egg is crucial in this dish, so do not skip it.  You have been warned. 🙂
Helpful tips
You can prepare the eggs a day before making the soup if you want to.  Once they are cooked, just seal them in a Ziploc bag and place them in the fridge.  When you are ready to make the soup, place the sliced egg in the finished soup to warm it up
If you are going to cook the eggs the same day, as I do, boil them when starting the onions.  I let the eggs sit in the water bath for 10 minutes and then peel them right away
To make a water bath: right before the eggs are done, fill a bowl with cold water and add a bunch of ice cubes to the bowl
You don't have to serve this soup in a stone bowl, but if you do, place the stone bowl in the oven and preheat the oven to 425 degrees Fahrenheit.  Once the oven comes to temperature, set your timer for 10 minutes.  Once the timer beeps, turn the oven off but keep the bowl in the oven for another 10 minutes – now it's nice and hot and ready for your soup to be added
Time the noodles to be done slightly before the soup is completely done.  I love to save time while I cook, so I let the recipe steps overlap a bit, rather than taking them strictly one after another.
This post may contain affiliate links, which means I get a small commission, at no additional cost to you, if you click the link and buy something. You can read my disclosure here.
How to make the udon noodle soup
Step one
As stated in the tips, I start the eggs at the same time as the onions.  In a small saucepan, bring enough water to submerge 2 eggs to a boil.  Once it comes to a boil, add two eggs to the water and set the timer for 7 minutes.
Step two
Once the eggs are done, take them out of the boiling water and place them directly in an ice bath (see tips).  Leave them in the bath for at least ten minutes.  After that you can peel the eggs and set aside.
Step three
Gather the ingredients for the soup – onion, mushrooms, bok choy and ginger. (A)
Step four
Chop the onion in medium sized pieces, slice the mushrooms and chop the bok choy. (B)
Step five
Gather the ingredients for the broth and the noodles – soy sauce, fish sauce, rice vinegar, chicken broth and udon noodles. (C)
Step six
Heat up Dutch oven on medium.  Add 2 tablespoon oil and once it heats up, add onions and sauté for 10 minutes.
Step seven
Add mushrooms and sauté for 4 minutes.
Step eight
Add garlic and ginger and sauté for 1 minute. (D)
Step seven
Add broth, soy sauce, vinegar and fish sauce and bring to a simmer. (E)
Cook the Noodles
Step eight
Make the udon noodles according to the package.  I found my noodles in the produce section in the grocery store. The brand that I bought is Nasoya and they were soft and look like this.  I brought water to a boil, added the noodles and stirred to separate them.  I bring the water to a boil again and cook for 10 minutes.  Drain and set aside.
Step nine
Add bok choy to the broth and simmer for 3 minutes.  Remove from heat.
Step ten
Add noodles to your serving bowl, be generous.  Ladle some soup and veggies on the noodles, cut the egg in half vertically and place it in your bowl.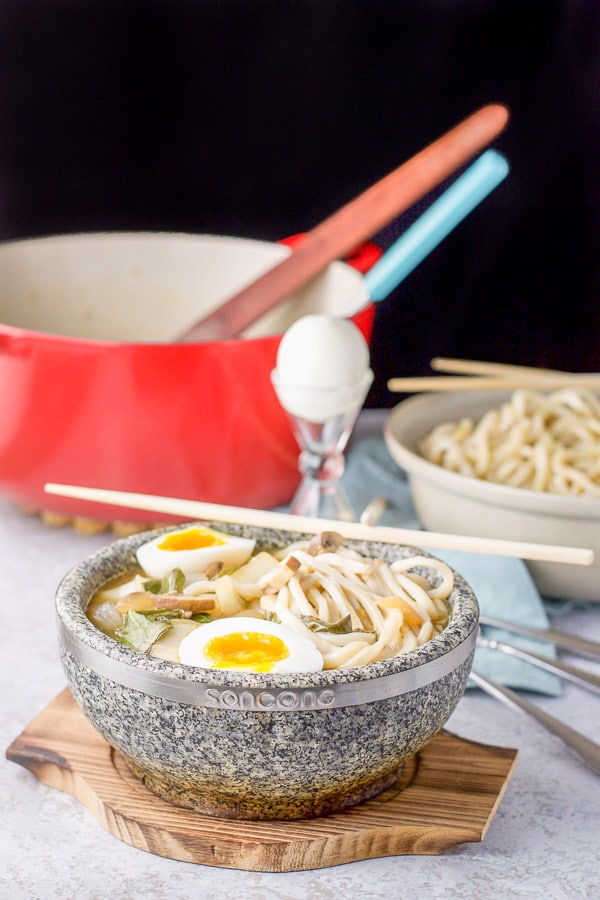 Let's look at a closeup of this delicious udon noodle soup.
Doesn't that egg look perfect?
And now for an overhead shot.
All that's left to do is pick up your chopsticks and spoon and dig in!
I hope you enjoyed this udon noodle soup recipe.  It is scrumptious and fun to eat.
Other popular soup recipes
What is your favorite soup to eat?  Leave me a comment as I'd love to know.
And as always, may all your dishes be delish!
If you've tried this Udon Noodle Soup recipe, I'd love the know what you thought about it in the comments below.  I love hearing from you!  You can also FOLLOW ME on FACEBOOK, TWITTER, INSTAGRAM and PINTEREST to see more of my delicious food and delightful cocktails!
Udon Noodle Soup
This soup is fun and delicious! And don't forget the egg, it makes the soup!
Print
Pin
Rate
Ingredients
2

tablespoons

olive oil

(extra virgin)

1

medium

onion

(chopped)

8

ounces

mushrooms

(8 - 10 ounces - depending on the package - sliced)

3

teaspoons

garlic paste

(or 3 cloves, crushed)

2

teaspoons

ginger

(grated)

1.5

tablespoons

fish sauce

.25

cup

soy sauce

.25

cup

rice vinegar

32

ounces

chicken broth

(4 cups)

2

small

bok choy

(chopped - or one large head)

18

ounces

udon noodles

(2 packages - 9 ounces each)

2

eggs
Instructions
Eggs
Fill small saucepan with enough water to cover 2 eggs. Bring to a boil and add the eggs and set the timer for 7 minutes

Fill a bowl with cold water and add ice. As soon as the eggs are done, fish out of boiling water and add to ice water for 10 minutes. When timer dings, peel eggs and set aside
Noodles
Start water for noodles. Bring to a boil. Once it boils, add noodles and bring to another boil. Cook for 10 minutes. Drain noodles and set aside
At the same time as the eggs and noodles
Heat Dutch oven on medium heat, once it heats up, add oil and let that heat up. Add onion and sauté for 10 minutes

Add mushrooms and sauté for 4 minutes

Add garlic and ginger and sauté for 1 minute

Add broth, soy sauce, vinegar and fish sauce and bring to a simmer

Add bok choy to broth and stir, cook for 3 minutes. Remove from heat and set aside

If you are using a stone bowl see notes below on how to heat it up

Add noodles to serving bowl, be generous. Ladle soup over noodles and cut an egg vertically and place in soup
Notes
Tips for the soup:
You can prepare the eggs a day before making the soup if you want to.  Once they are cooked, just seal them in a ziploc bag and place them in the fridge.  When you are ready to make the soup, placing the egg in the finished soup will help it warm up
If you are going to cook the eggs the same day, like I do, boil them when starting on the onions.  I let the eggs sit in the water bath for 10 minutes but will peel them after the 10 minutes
What you do for the water bath is right before the eggs are done, fill a bowl with cold water and add a bunch of ice cubes to the bowl
You don't have to serve this soup in a stone bowl, but if you do, place stone bowl in the oven and preheat the oven to 425 degrees Fahrenheit.  Once the oven comes to temperature, set your timer for 10 minutes.  Once the timer beeps, turn the oven off but keep the bowl in the oven for another 10 minutes - now it's nice and hot and ready for your soup to be added
I time the noodles to be done slightly before the soup is completely done.  It helps to save time and not have to wait for each step to be finished before starting the next step
Nutrition
Serving:
1
cup
|
Calories:
371
kcal
|
Carbohydrates:
62
g
|
Protein:
18
g
|
Fat:
6
g
|
Cholesterol:
54
mg
|
Sodium:
2491
mg
|
Potassium:
331
mg
|
Fiber:
5
g
|
Sugar:
9
g
|
Vitamin A:
95
IU
|
Vitamin C:
13.7
mg
|
Calcium:
30
mg
|
Iron:
1.1
mg