This baked coconut shrimp with apricot dipping sauce recipe is so delicious that you are going to swoon when you taste it.  It's also healthier than fried coconut shrimp, which makes it the perfect appetizer!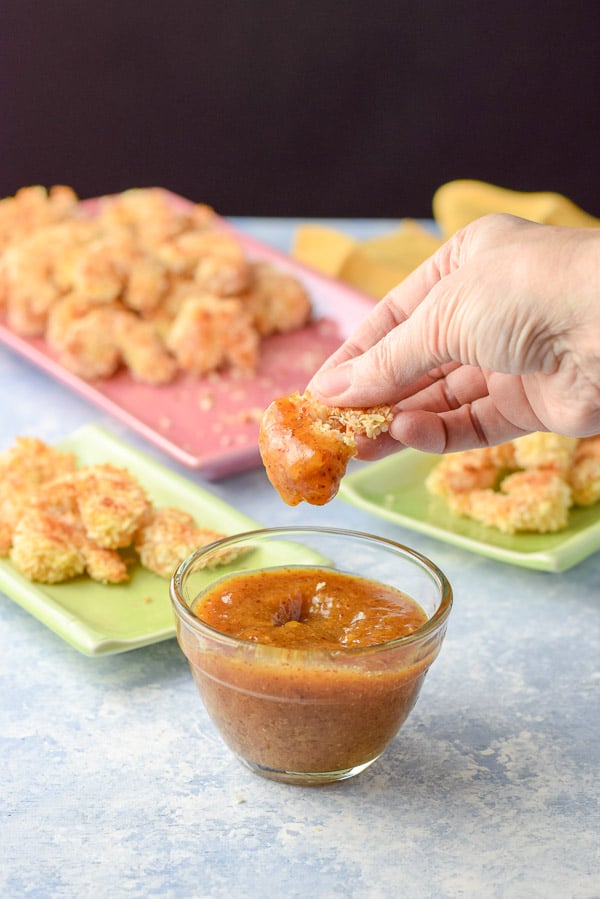 Are you an appetizer person?  Can you make a meal of appetizers like I can?  Not that I don't enjoy eating a full meal but sometimes I crave to eat just appetizers.  I blame it on pupu platters.
If only the pupu platter included this baked coconut shrimp, then it really would be perfect.  The perfect pupu that no one could pooh pooh!
Seafood Cravings
I crave and eat this baked coconut shrimp at least once a month.  Why?  Because it's not only delicious but it's easy and fun.  I love biting into a crispy shrimp after I've dipped it into this sweet and spicy apricot sauce.  Absolutely glorious!
But don't take my word for it, you need to make it for yourself to see just how right I am!
On to the Baked Coconut Shrimp Recipe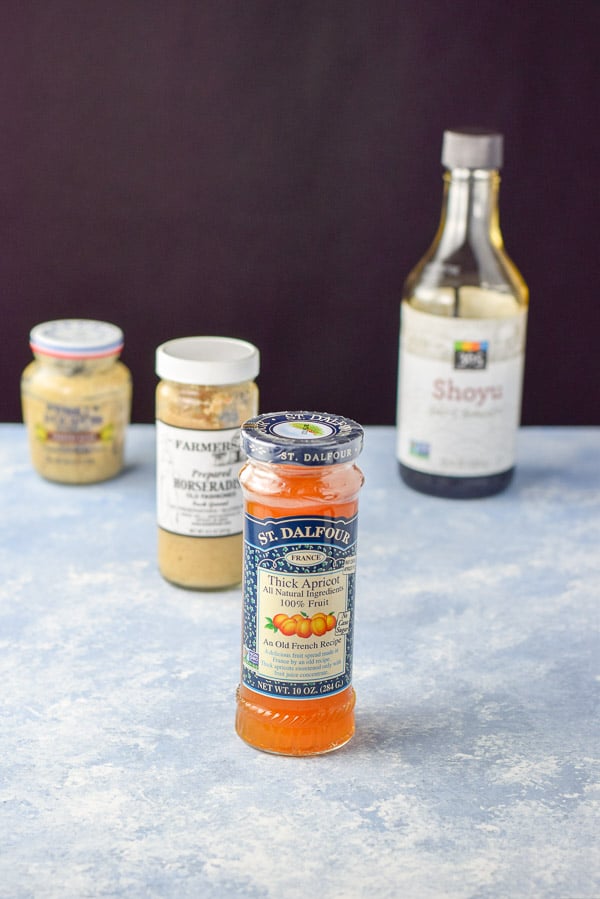 First thing I do is take a pound of shrimp from the freezer and place it in my colander.  I run some cold water over it to hasten thawing.
As I'm waiting for the shrimp to thaw, I start on the apricot sauce.  I grab my medium shallow metal mixing bowl and add 1/2 cup apricot jam, 2 heaping teaspoons dijon mustard, 1 1/2 teaspoons soy sauce and a heaping teaspoon of horseradish!  I take my trusty whisk and whisk it all together until it's combined.
I scoop out the apricot sauce and place it in a small glass bowl.
By now the shrimp has thawed so I remove all of the shells from the shrimp.  I also remove the tails.
I preheat the oven to 400 degrees Fahrenheit and line a jelly roll pan with parchment paper.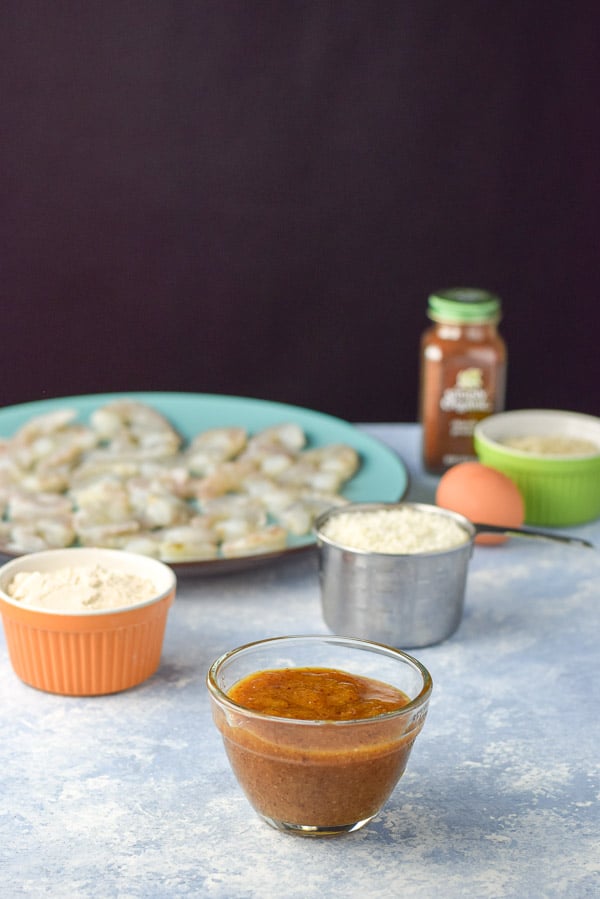 I gather shredded flour, coconut, panko bread crumbs, a little salt, some chipotle powder, one egg and two shallow bowls.
I put the flour in the first bowl.  I put the coconut, panko bread crumbs, salt and chipotle in the other.  I beat the egg in a third, smaller bowl.
These three bowls form my baked coconut shrimp production line!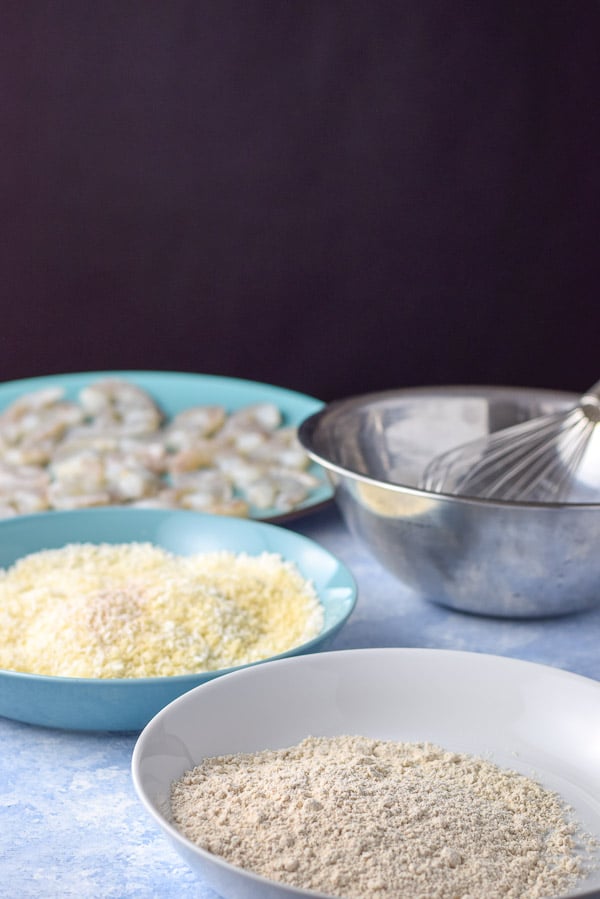 I take the shrimp, five at a time and dip them into the flour, coating them on both sides.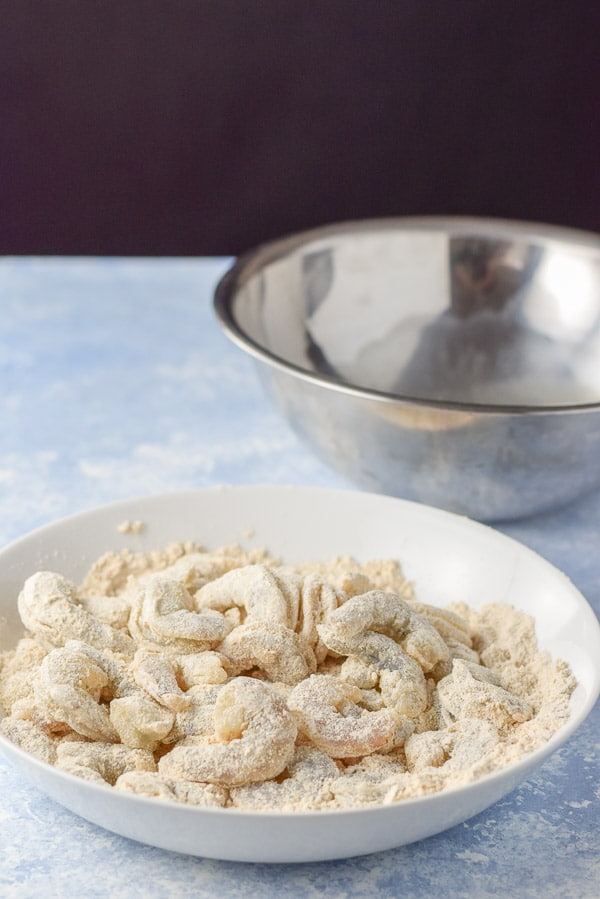 Next, I dip each piece of shrimp into the egg and then into the panko/coconut mixture.  I place each coated shrimp on the parchment-lined jelly roll pan.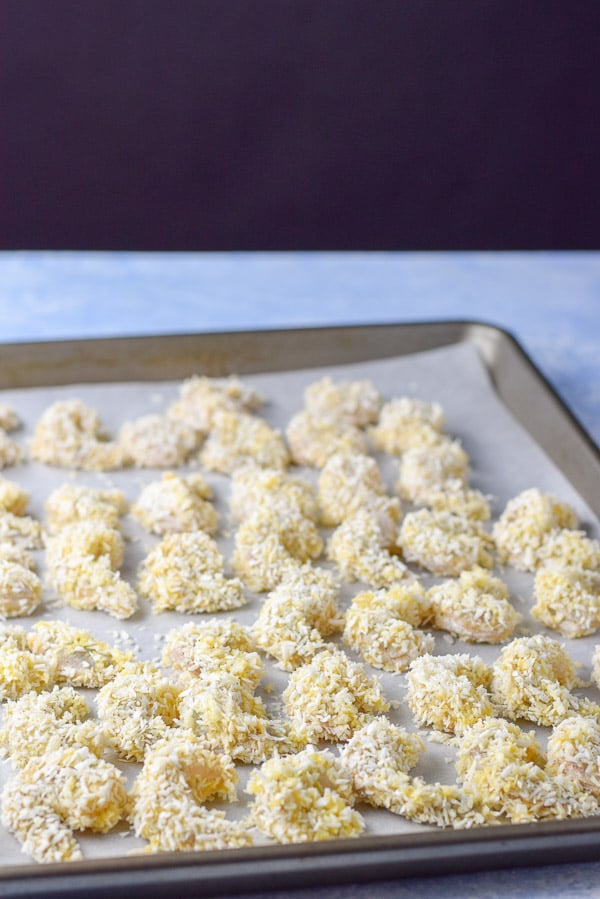 Oven Time
I take my olive oil mister and spray a light mist over the shrimp.  I then pop the shrimp into the oven and giggle a little.
Oh, and I do set the timer for 8 minutes.
⏲
Once it dings, I flip the baked coconut shrimp over and put them in for another 2 minutes.
Time to arrange the baked coconut shrimp on a serving dish, grab the sauce and get ready to partake in this delicious appetizer.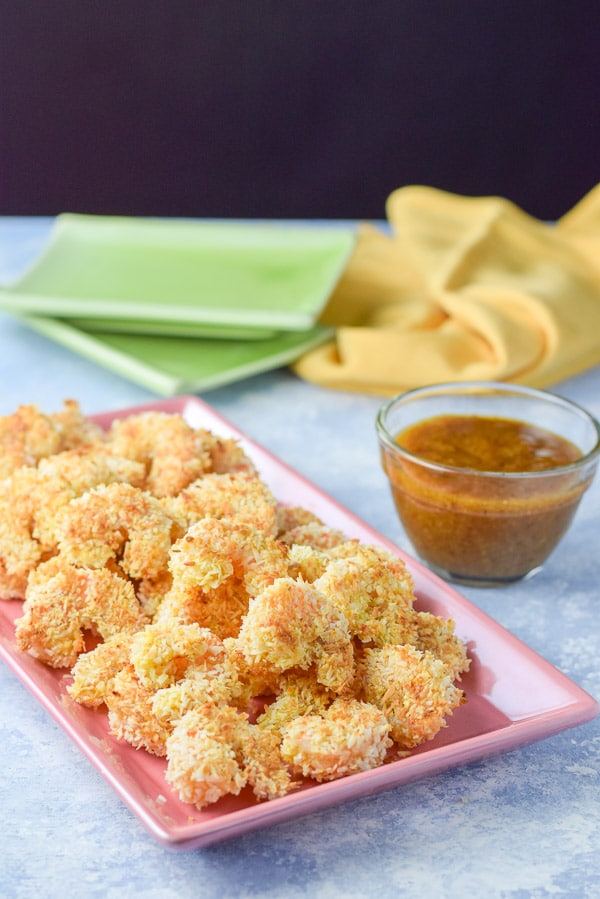 I'm drooling.  Time to plate a few baked coconut shrimp on our cute little plates.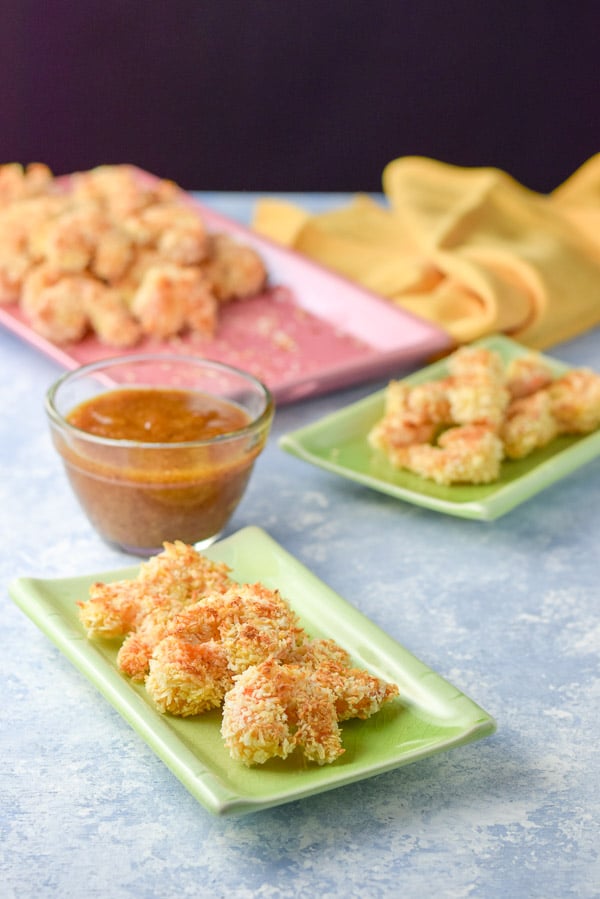 Let's do some dippy dippy do of the baked coconut shrimp.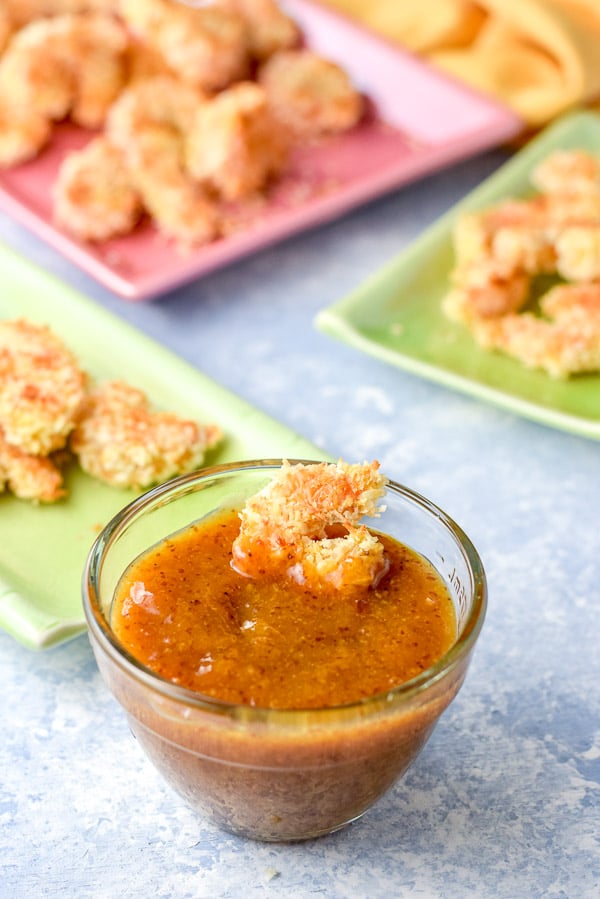 And some lifting of the baked coconut shrimp out of the delicious apricot sauce.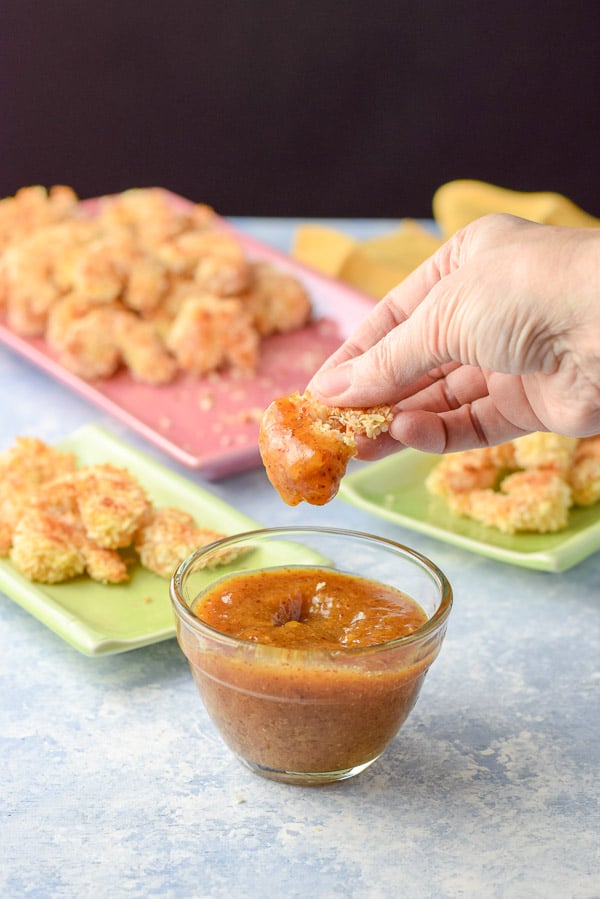 Crunch!
So delicious!
I hope you enjoyed the baked coconut shrimp recipe!
Please feel free to leave me a comment, do you sometimes eat appetizers as your main meal?  You can also Pin any photo to Pinterest and Yum the recipe to Yummly.
And as always, may all your dishes be delish.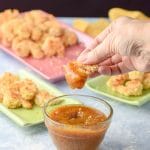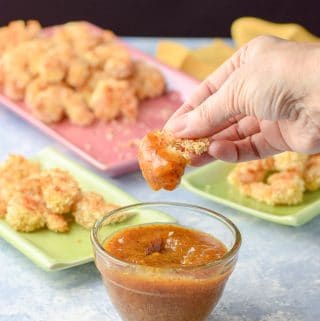 Baked Coconut Shrimp
This appetizer of baked coconut shrimp is a fun, crunchy and delicious!
Keyword:
baked coconut shrimp
Ingredients
Apricot Sauce
1/2

cup

apricot jam

2

teaspoons

dijon mustard

heaping

1 1/2

teaspoons

soy sauce

1

teaspoon

horseradish

prepared, heaping
Shrimp Coating
1

cup

coconut

shredded

1/2

cup

flour

1/4

teaspoon

salt

1/2

cup

Panko bread crumbs

1/16

teaspoon

chipotle powder

a pinch
The Main Event
1

pound

shrimp

frozen or fresh, thawed, peeled and deveined

olive oil

misted on the shrimp to help brown them (or some other mister like PAM
parchment paper covered jelly roll pan
Instructions
Start on the Sauce
Add apricot jam, mustard, soy sauce and horseradish in a mixing bowl and whisk until combined. Transfer apricot sauce to a small bowl and set aside

Preheat oven to 400 F and line a jelly roll pan with parchment paper

In a shallow bowl, add shredded coconut, panko bread crumbs, salt and chipotle powder

In another shallow bowl, add flour

Crack the egg in a bowl and whisk until combined

Place shrimp in the flour and coat both sides of each shrimp. I usually keep the shrimp in the bowl after they are floured until all of them are done

Dip each piece of shrimp in the egg and dredge them into the panko/coconut mixture, making sure both sides of the shrimp are coated. Place each shrimp on the pan

Spritze the shrimp lightly with an oil mister

Place pan in the oven and set timer for 8 minutes

Flip shrimp and bake for 2 more minutes

Place baked coconut shrimp on a platter

Pick up a shrimp, dip in the apricot sauce and eat
Nutrition Facts
Baked Coconut Shrimp
Amount Per Serving (5 shrimp)
Calories 120
% Daily Value*
Cholesterol 29mg 10%
Sodium 127mg 5%
Potassium 18mg 1%
Total Carbohydrates 2g 1%
Protein 2g 4%
* Percent Daily Values are based on a 2000 calorie diet.