This baked coconut shrimp with apricot dipping sauce recipe is so delicious that you are going to swoon when you taste it.  It's also healthier than fried coconut shrimp, which makes it the perfect appetizer!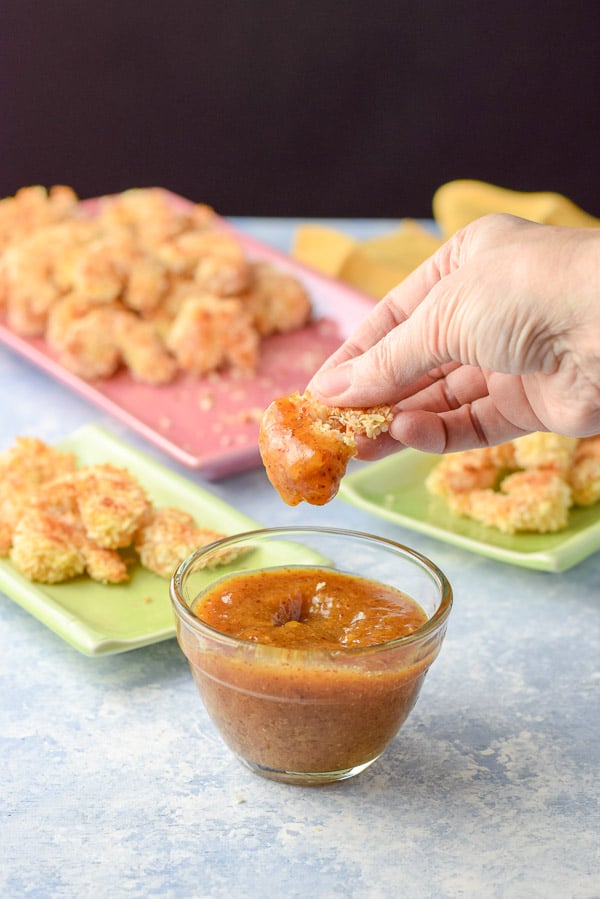 Are you an appetizer person?  Can you make a meal of appetizers like I can?  Not that I don't enjoy eating a full meal but sometimes I crave to eat just appetizers.  I blame it on pupu platters.
If only the pupu platter included this baked coconut shrimp, then it really would be perfect.  The perfect pupu that no one could pooh pooh!
I crave and eat this baked coconut shrimp at least once a month.  Why?  Because it's not only delicious but it's easy and fun.  I love biting into a crispy shrimp after I've dipped it into this sweet and spicy apricot sauce.  Absolutely glorious!
But don't take my word for it, you need to make it for yourself to see just how right I am!
Helpful tips
Make the apricot sauce first and leave it on the counter so it stays at room temperature
You can use large fresh shrimp or frozen, for some reason I prefer frozen
If you use frozen shrimp, you can run cold water over it to hasten the thawing process
Make sure to remove the shells as well as the tails and devein the shrimp
This post may contain affiliate links, which means I get a small commission, at no additional cost to you, if you click the link and buy something. You can read my disclosure here.
How to make baked coconut shrimp
Step one
Place a colander in the sink and dump the frozen shrimp in it.  Run cold water over the shrimp to hasten the thawing process.  It takes about 10 minutes to fully thaw the shrimp.  While I'm waiting, I make the apricot sauce.
Step two
Gather the ingredients for the dipping sauce – apricot jam, horseradish, mustard and soy sauce.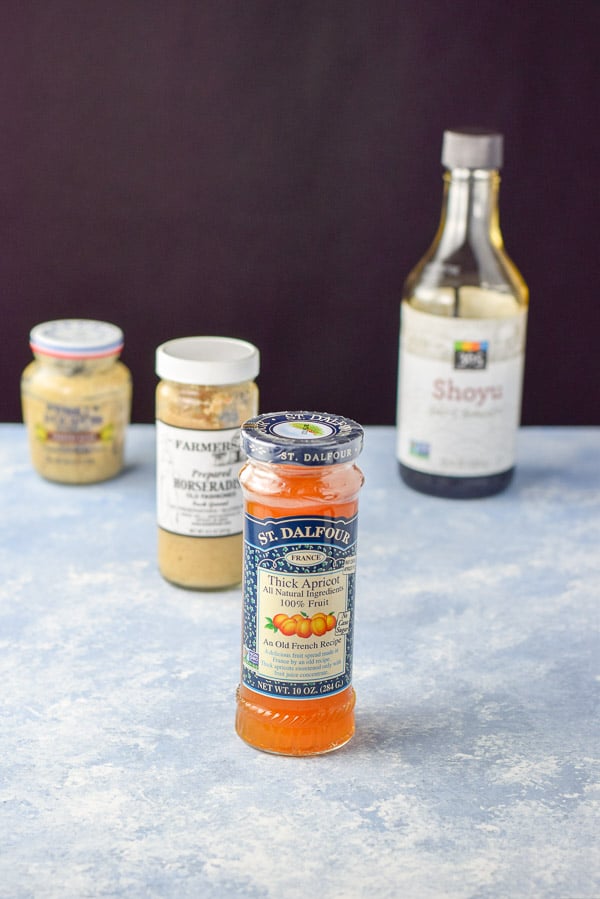 Step three
Grab a medium shallow metal mixing bowl and add the apricot jam, dijon mustard, soy sauce and horseradish!   Whisk until combined.
Transfer apricot sauce to a small glass bowl. (1 – below)
Step four
By now the shrimp has thawed so remove the shells and tails and make sure it's deveined.
Preheat the oven to 400 degrees Fahrenheit and line a jelly roll pan with parchment paper.
Step five
Gather the breading ingredients for the shrimp – shredded coconut, flour, Panko bread crumbs, chipotle powder and one egg. (2)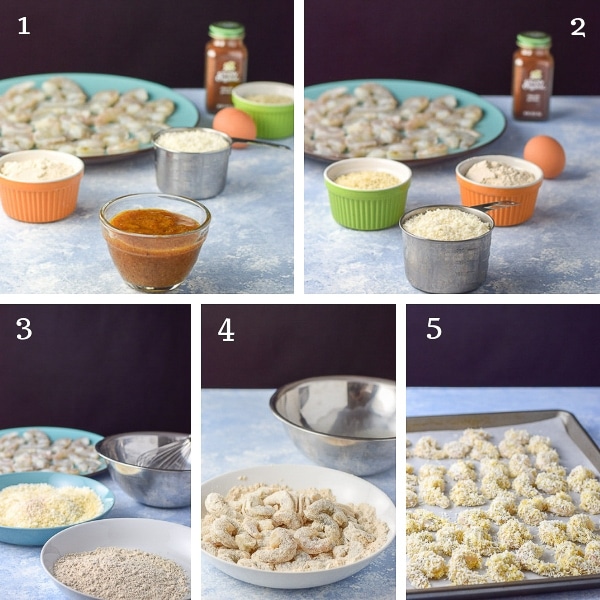 Step six
Place flour in a one shallow bowl and bread crumbs, chipotle powder, coconut and salt in the other bowl. Crack an egg in another bowl and whisk until combined. (3)
Step seven
Dip shrimp first in the flour, then the egg, then the breadcrumbs. (4)
Step eight
Place coated shrimp on the parchment paper lined jellyroll pan. (5)
Step nine
Take an olive oil mister and spray a light mist over the shrimp 0r just dribble a small amount of olive oil over it.  Place the shrimp into the oven and set the timer for 8 minutes.
Step ten
Once it dings, I flip the baked coconut shrimp over and put them in for another 2 minutes.
Step eleven
Arrange the baked coconut shrimp on a serving dish, grab the sauce and get ready to partake in this delicious appetizer.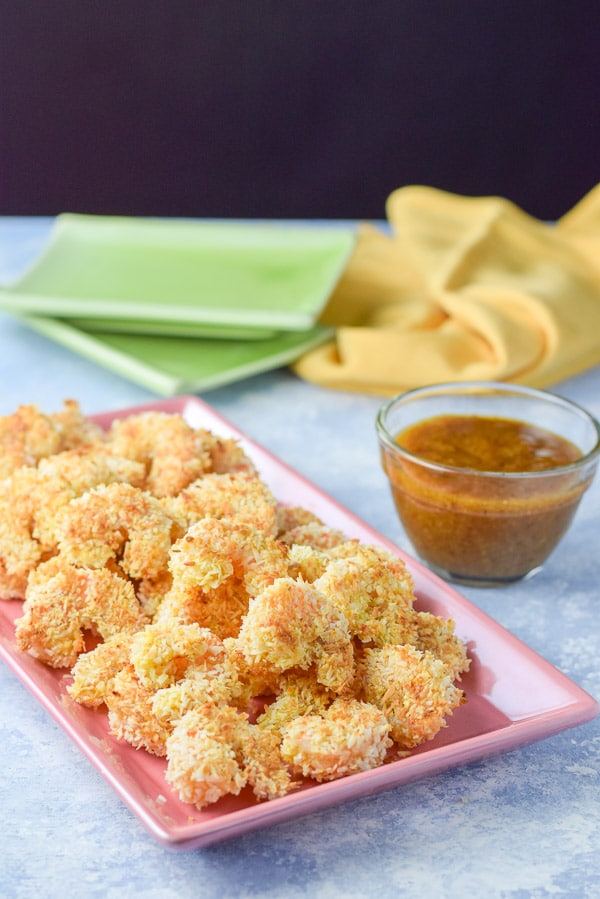 I'm drooling.  Time to plate a few baked coconut shrimp on our cute little plates.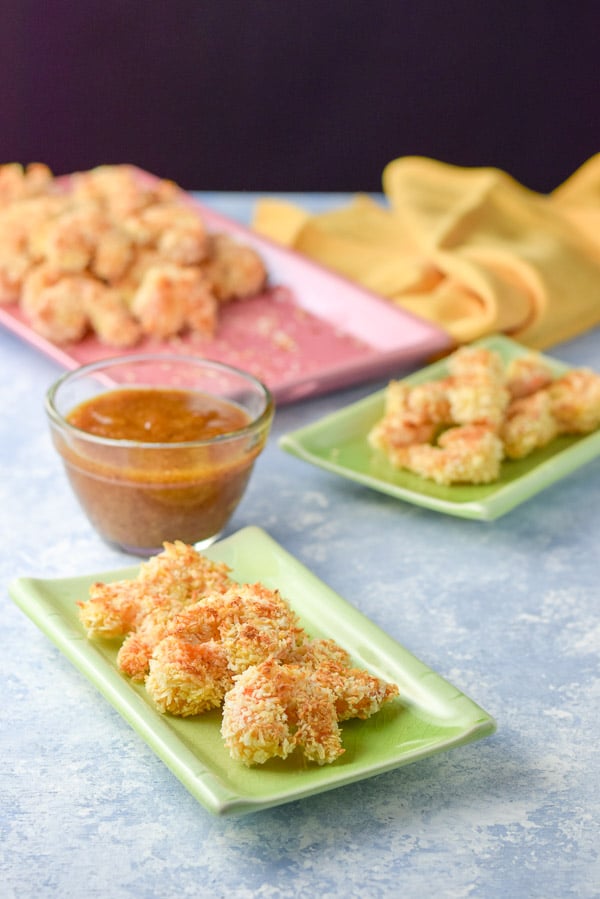 I dip one of the shrimp in the avocado sauce.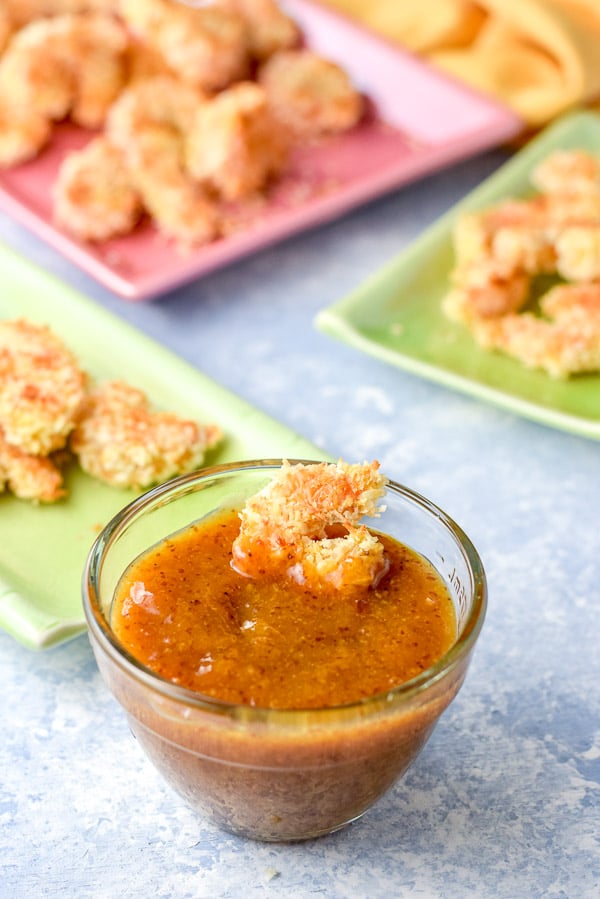 Yum.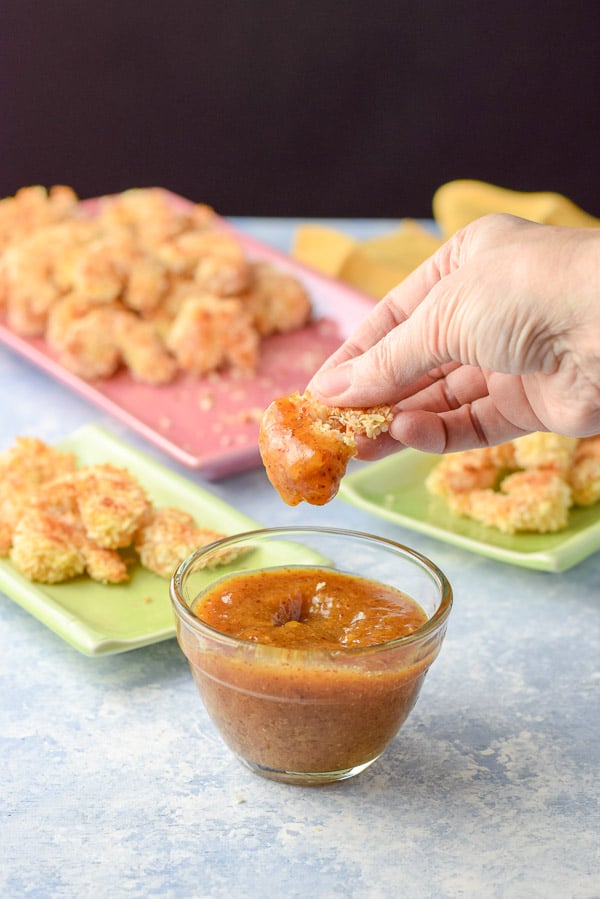 Crunch!
So delicious!
Other popular seafood recipes
I hope you enjoyed the baked coconut shrimp recipe!
Please feel free to leave me a comment, do you sometimes eat appetizers as your main meal?
And as always, may all your dishes be delish.
If you've tried this baked coconut shrimp or any other recipe on the blog, I'd love the hear what you thought about it in the comments below.  I love hearing from you!  You can also FOLLOW ME on FACEBOOK, TWITTER, INSTAGRAM and PINTEREST to see more of my delicious food and delightful cocktails!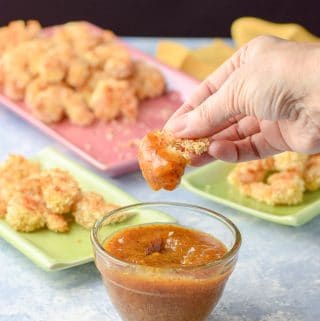 Baked Coconut Shrimp
This appetizer of baked coconut shrimp is a fun, crunchy and delicious!
Print
Pin
Rate
Ingredients
Apricot Sauce
1/2

cup

apricot jam

2

teaspoons

dijon mustard

heaping

1 1/2

teaspoons

soy sauce

1

teaspoon

horseradish

prepared, heaping
Shrimp Coating
1

cup

coconut

shredded

1/2

cup

flour

1/4

teaspoon

salt

1/2

cup

Panko bread crumbs

1/16

teaspoon

chipotle powder

a pinch
The Main Event
1

pound

shrimp

frozen or fresh, thawed, peeled and deveined

olive oil

misted on the shrimp to help brown them (or some other mister like PAM
Instructions
Start on the Sauce
Add apricot jam, mustard, soy sauce and horseradish in a mixing bowl and whisk until combined. Transfer apricot sauce to a small bowl and set aside

Preheat oven to 400 F and line a jelly roll pan with parchment paper

In a shallow bowl, add shredded coconut, panko bread crumbs, salt and chipotle powder

In another shallow bowl, add flour

Crack the egg in a bowl and whisk until combined

Place shrimp in the flour and coat both sides of each shrimp. I usually keep the shrimp in the bowl after they are floured until all of them are done

Dip each piece of shrimp in the egg and dredge them into the panko/coconut mixture, making sure both sides of the shrimp are coated. Place each shrimp on the pan

Spritze the shrimp lightly with an oil mister

Place pan in the oven and set timer for 8 minutes

Flip shrimp and bake for 2 more minutes

Place baked coconut shrimp on a platter

Pick up a shrimp, dip in the apricot sauce and eat
Notes
Helpful tips
Make the apricot sauce first and leave it on the counter so it stays at room temperature
You can use large fresh shrimp or frozen, for some reason I prefer frozen
If you use frozen shrimp, you can run cold water over it to hasten the thawing process
Make sure to remove the shells as well as the tails and devein it
Nutrition
Serving:
5
shrimp
|
Calories:
120
kcal
|
Carbohydrates:
2
g
|
Protein:
2
g
|
Cholesterol:
29
mg
|
Sodium:
127
mg
|
Potassium:
18
mg
|
Vitamin A:
5
IU
|
Vitamin C:
0.5
mg
|
Calcium:
17
mg
|
Iron:
0.4
mg