This tasty breast of duck curry recipe is easy because it calls for duck you've already cooked.  You can put it together in under 30 minutes.  You could also substitute chicken breasts if you don't have some leftover duck on hand!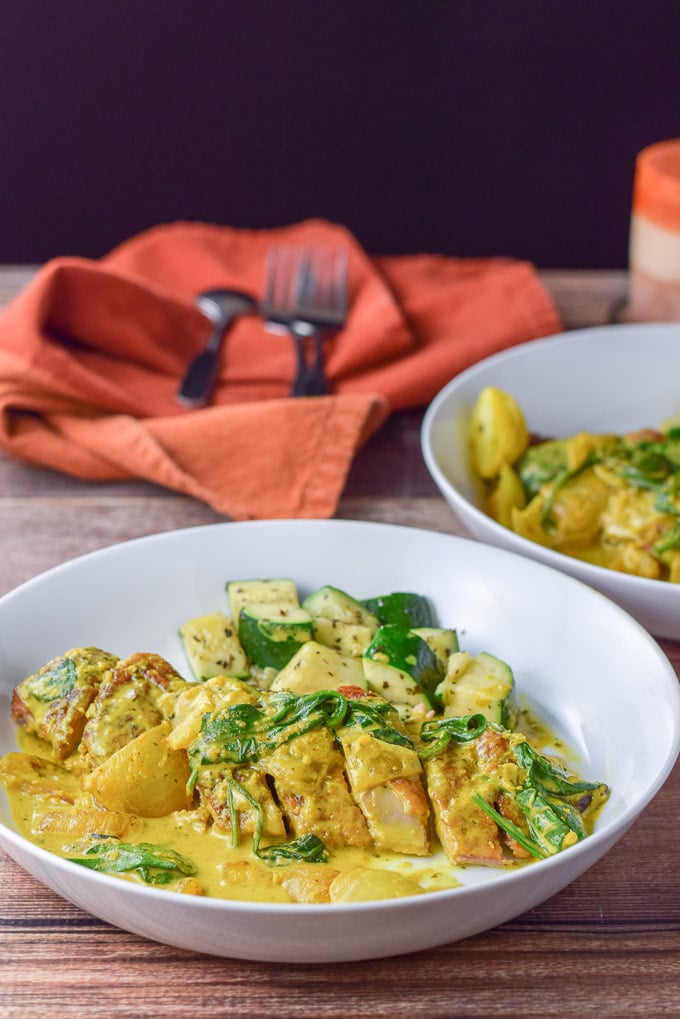 Did you have duck as a kid?  Not me.  I didn't have duck until I was well into my forties!  But jeepers, I sure didn't know what I was missing!  Why didn't I have duck before?  Probably because I think of duck as a cute, little water bird.  I never thought of it as food.
But, I'm over that now and have been for a while!  I make roasted duck and Christopher and I enjoy it immensely!
My first Curry Duck
I've written before about the restaurant we used to go to that changed my opinion about eating duck.  Why do I say "used to"?  Well, similar restaurants opened up right on the same block.  I hate when that happens.  The one I loved closed down after many years of being in business.
But back to the curry duck.  During one of our forays at the restaurant, Christopher's sister Sue suggested getting the duck curry.  We usually order a few dishes and share them.
I'm like, "DUCK?  I'm not sure."
And she's like, "It's delicious."
And since I do love poultry, I decided to take a chance.
They brought the curry duck on this platter with a duck shaped cover.  We lifted the lid and there it was.  I placed a few pieces on my plate and before I piled more food on my plate, I decided to take a bite of the curry duck.
My eyes opened wide and a grin surfaced on my face.
"I like duck!" I stated.
Sue said, "I thought you would!"
On to the Tasty Breast of Duck Curry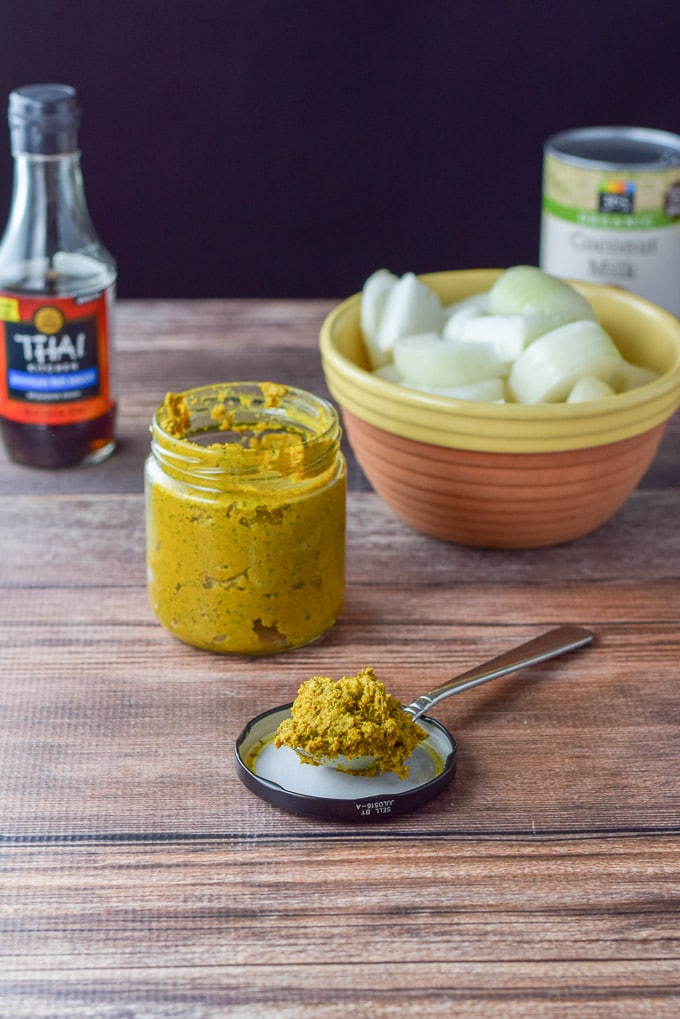 Let's get this party started!
We have some delicious yellow curry paste which is Pinch of Yum's recipe.  I also have some chopped onions, coconut milk, fish sauce and some garlic paste.
I heat up my medium Dutch Oven and medium heat, add 2 tablespoons olive oil and throw in the onions.  I let them sauté for 10 minutes before adding the garlic paste.  I continue sautéing the onions for 2 minutes.
I add a heaping 1/2 cup of yellow curry paste.
This photo is from my shrimp curry noodle recipe because Lainey forgot to take a process photo of just the onion and curry paste, but it's basically the same as what you see here.
I add the whole can of coconut milk, the chicken broth and 2 teaspoons of fish sauce.  I stir everything around and let it come to a gentle boil.
I grab some baby spinach because I like a little green in my curry!  I add a few handfuls of spinach to the curry sauce and turn off the heat under the pan.
I turn the oven onto broil/high and as it heats up, I take out the duck breasts left over from my roasted duck recipe.  After I place them on a small, foiled-lined jelly roll pan, I put the pan under the broiler, allowing the duck to re-heat and the skin to crisp up even more.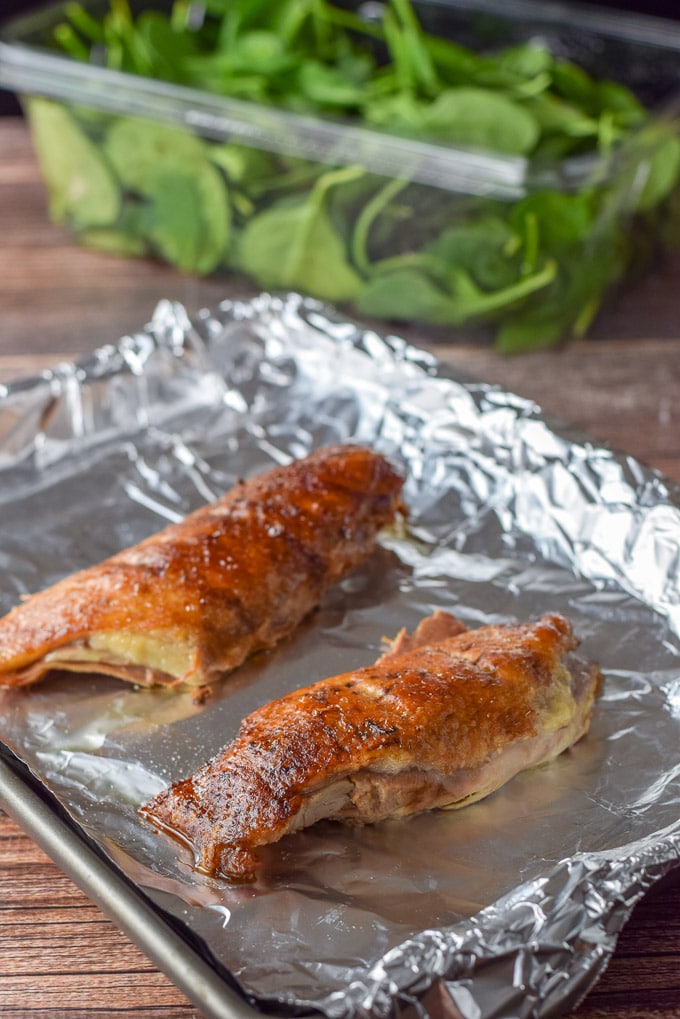 I cut the breasts of duck in slices and place them on our plates.  I add some baked zucchini and spoon  curry sauce over the duck breasts!
Yum.
See how yummy that looks?!!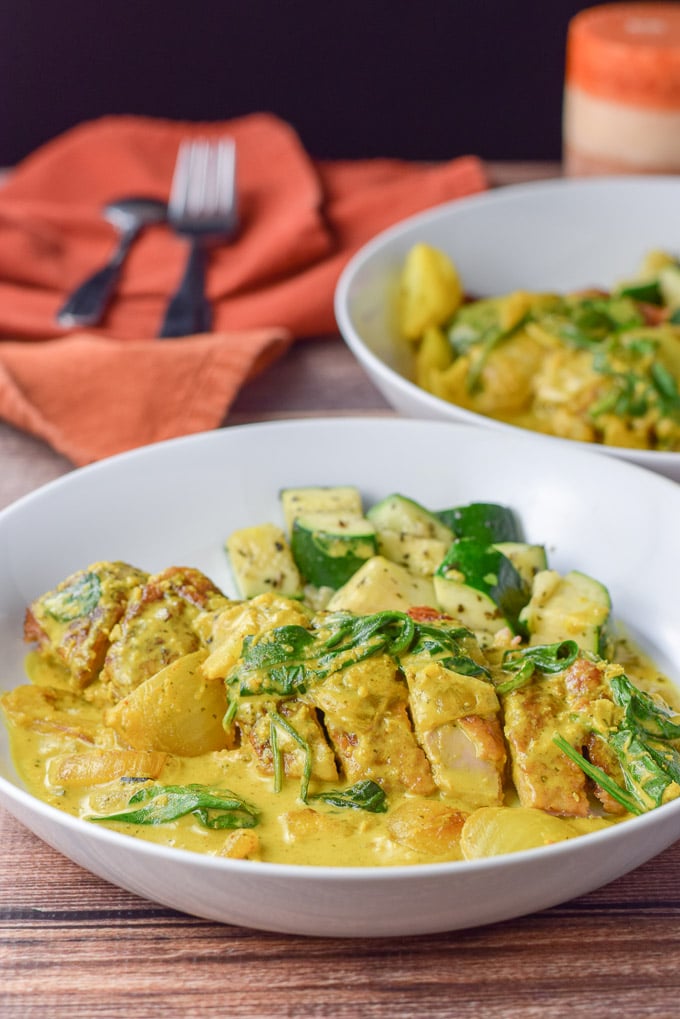 Let's see another view!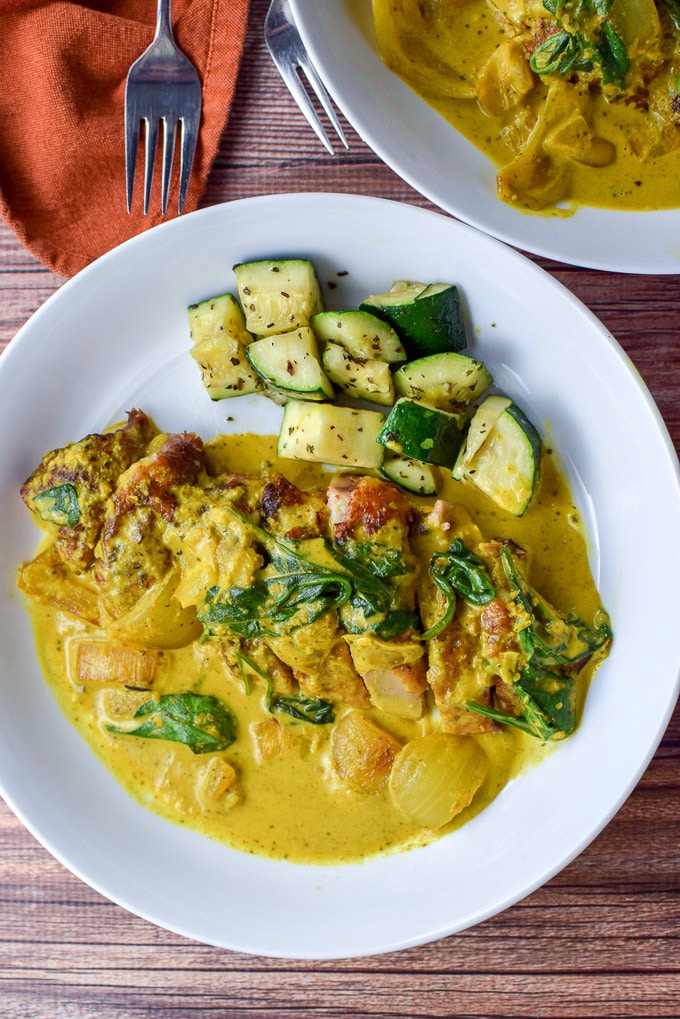 Doesn't it make you want to plant your face in the bowl?  It does me!  This dish is super delicious!
I hope you enjoyed this recipe!
Please feel free to leave me a comment, do you like duck?  I'd love to know!  You can also Pin any photo to Pinterest and Yum the recipe to Yummly!  And you can share it to Facebook!  I know you want to!
And as always, may all your dishes be delish!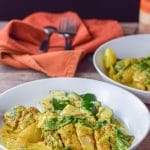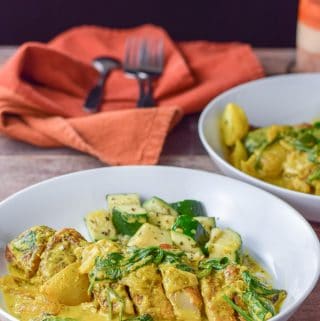 Tasty Breast of Duck Curry
It's a great way to use your leftover breast of duck!! But you can also use chicken breast!
Ingredients
2

tablespoons

olive oil

2

onions

chopped in chunks, I used 2 large onions

2

teaspoons

garlic paste

or 2 cloves crushed

1/2

cups

yellow curry paste

heaping

15

ounces

coconut milk

can

2

teaspoons

fish sauce

3/4

cup

chicken broth

2

cups

baby spinach

2

breasts of duck

or 2 chicken breasts
Instructions
Heat a deep sauté pan on medium

Add onions and sauté for 10 minutes

Add garlic and sauté for another 2 minutes

Add yellow curry paste, fish sauce, coconut milk and chicken broth and let it come to a slight boil

Add baby spinach once the curry comes to a boil, stir and take off heat

Turn broiler on high

Place breasts on jelly roll pan and broil for 2 minutes.  Stand there checking to make sure you don't burn the skin

Slice duck or chicken in slices and plate

Add a veggie

Spoon some curry sauce on the duck breasts

Eat

Sigh

Enjoy
Recipe Notes
You can either use duck breast or chicken breast, you choose!  The calorie count is off because it includes all the curry sauce but you won't use it all on the breasts!
Nutrition Facts
Tasty Breast of Duck Curry
Amount Per Serving (1 Breast)
Calories 383
Calories from Fat 189
% Daily Value*
Total Fat 21g 32%
Cholesterol 87mg 29%
Sodium 899mg 37%
Potassium 908mg 26%
Total Carbohydrates 21g 7%
Protein 28g 56%
* Percent Daily Values are based on a 2000 calorie diet.