This is such a delicious and easy baked Thai chicken satay recipe! Perfect if you don't have a grill.  The chicken is moist and delicious especially with a peanut sauce drizzled on it.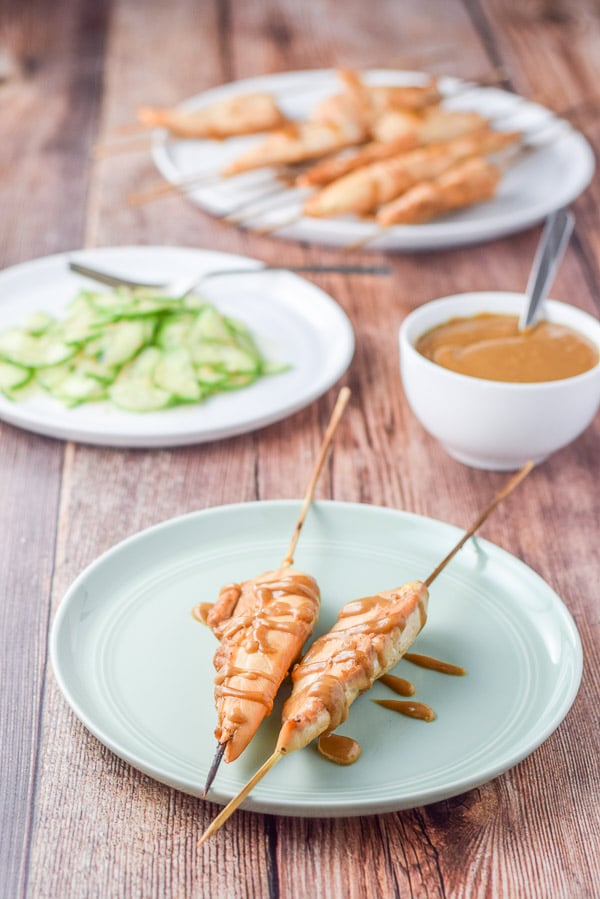 Why Baked and Not Grilled?
Frankly, it's because we don't have a grill.  There!  I said it.  No grill in the Benoit household. When we lived in California we had a grill.  But when we moved back to the East coast, that was one of the things that didn't make it into the moving truck.
Then, years later when we lived in Maine, my mom got a new gas grill and gave us her old one. It only lasted a few years before the poor thing fell part in a pile of rust.
That was our last grill.
Not because we didn't want to replace it.  Well, maybe Christopher didn't.  You'll have to ask him.  But anyway, the place we live in now can't accommodate one.
Not Nomads
I've stated that hubby and I have been sort of nomads.  We've moved numerous times.  Fourteen times since we were married.
I bring that up because when we were looking for a place to land in Massachusetts, we came upon this two family house.  We have the second and third floors of a gorgeous old home.
Part of its appeal is that it reminds us of the houses we grew up in.
I bring up the nomad comment because our landlords, who live downstairs, have only moved 2 – 3 times in their lifetimes.  And they've been in this house for over 45 years.
Egads.  I just can't imagine it!
How many times have you moved?  Inquiring minds would like to know.  Leave me a comment to tell me.
How to make Thai Chicken Satay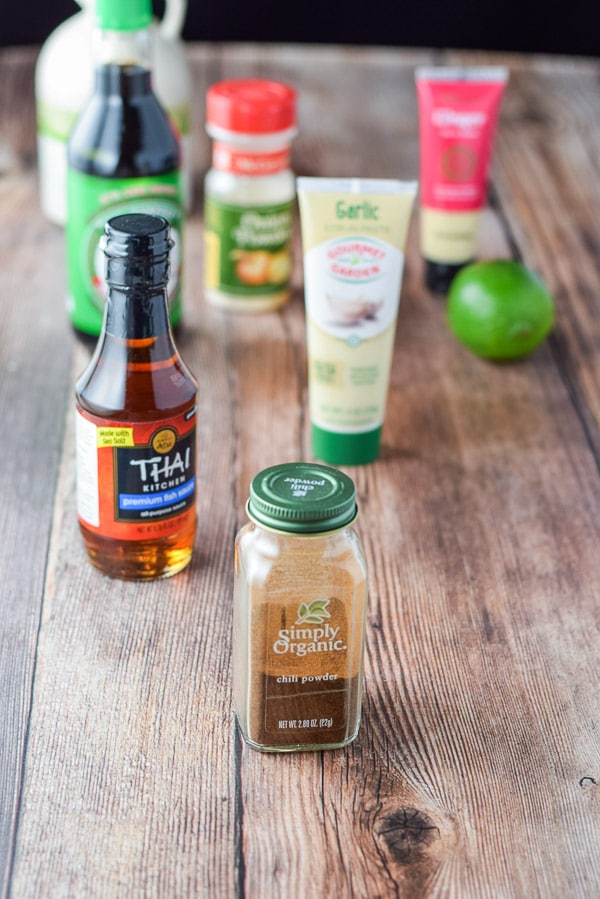 I'm going to start with the marinade because the chicken needs to marinate anywhere between 30 minutes to an hour.  You can marinate it longer but if you don't have the time, at least marinate it for 30 minutes.
Grab that mixing bowl
I add 1/4 cup of soy sauce, 1/8 cup maple syrup, 2 teaspoons lime juice, 1 teaspoon fish sauce, 1/4 teaspoon chili powder, 1/4 teaspoon garlic paste, 1/4 teaspoon ginger paste, 1/4 teaspoon onion powder, 1/4 teaspoon cumin and 1/4 teaspoon coriander.
Then I take my whisk and combine all the ingredients.  I set aside 1/4 cup of the marinade because I need to make peanut sauce for dipping the chicken.
Time to deal with the Thai chicken satay.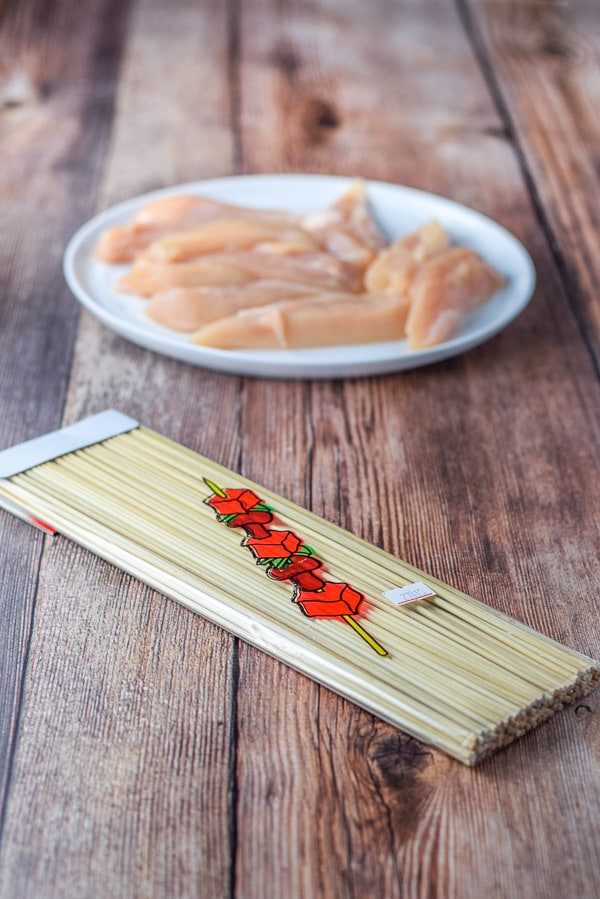 When you use wooden skewers, you need to soak the skewers for an hour.  So that works well if you marinate the chicken during that hour.
While the skewers are soaking, I put the chicken in a gallon bag and pour the marinade over it.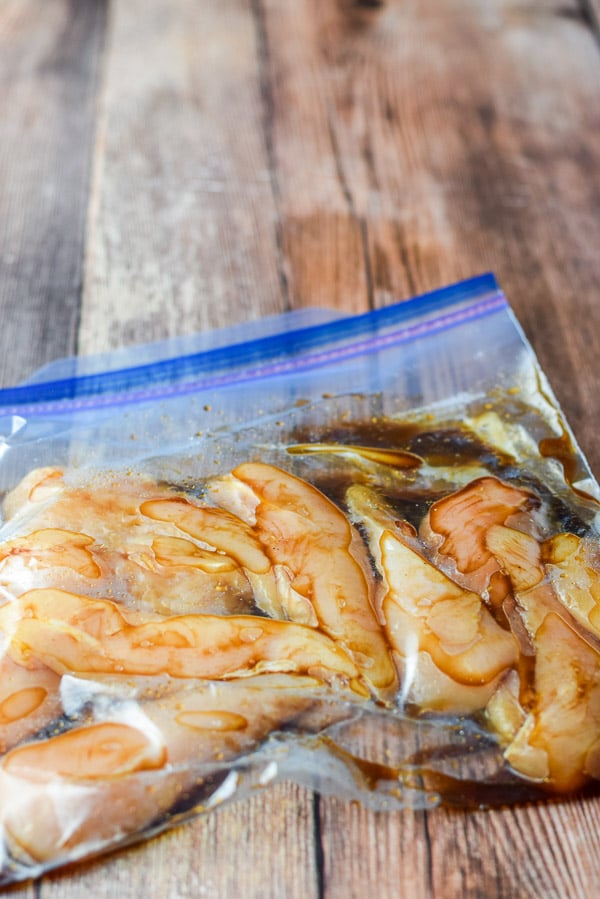 I put the bag o' chicken in the refrigerator.
Fast Forward
Before the hour is up, I preheat the oven to 350 degrees Fahrenheit.
While it's heating up, I skewer the chicken and place each tender on a foil lined jelly roll pan.  I didn't take a photo of the chicken on the pan because we've all seen enough raw chicken photos, haven't we?
I bake the Thai chicken satay for 10 – 15 minutes.  My chicken took 15 minutes.
Here's the chicken satay on a big plate together.  And I may have dribbled some peanut sauce over the Thai chicken satay.  Also in the background is a delicious cucumber salad.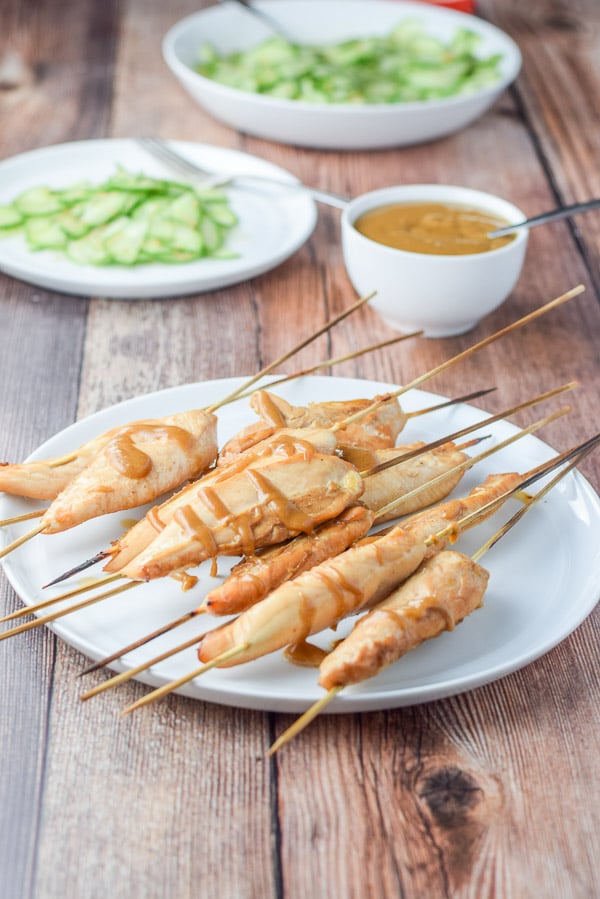 Next, I plate two skewers of Thai chicken satay.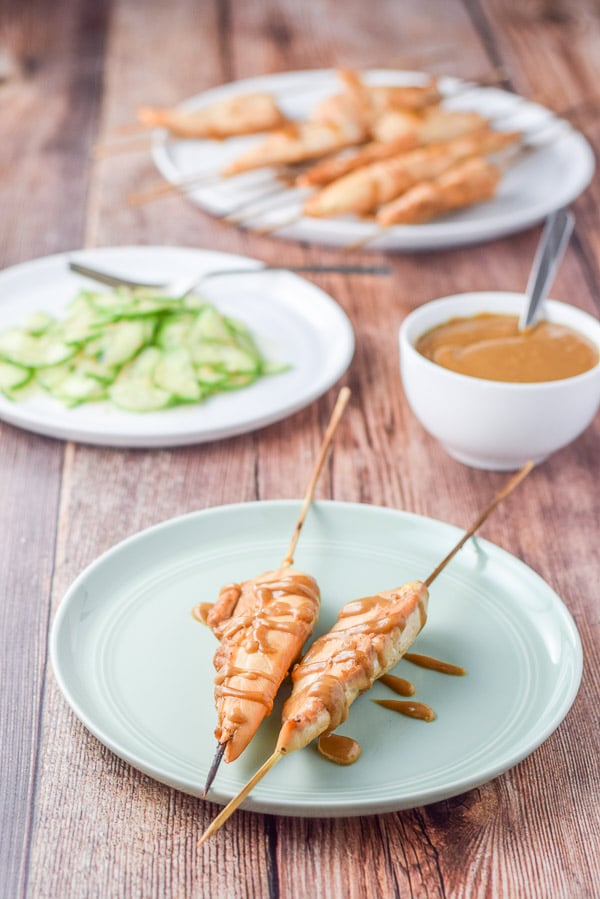 Time to dig in!  And don't think I ate only two skewers of these delicious Thai chicken satay!  You know me better than that!
I hope you enjoyed this recipe!
It is so good.
Please feel free to leave me a comment!
And as always, may all your dishes be delish!
If you've tried this Thai chicken satay or any other recipe on the blog, I'd love the hear what you thought about it in the comments below.  I love hearing from you!  You can also FOLLOW ME on FACEBOOK, TWITTER, INSTAGRAM and PINTEREST  to see more of my delicious food and delightful cocktails!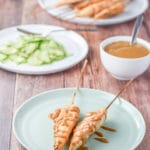 Simple Baked Chicken Satay
This easy and satisfying chicken satay is so delicious!
Keyword:
Thai chicken satay
Ingredients
Marinade
1/4

cup

soy sauce

1/8

cup

maple syrup

2

teaspoons

lime juice

freshly squeezed

1/4

teaspoon

chili powder

1

teaspoon

fish sauce

1/4

teaspoon

ginger paste

(equivalent of 1/8 teaspoon ginger powder)

1/4

teaspoon

garlic paste

(equivalent of 1/2 - 1 clove of garlic, crushed)

1/4

teaspoon

onion powder

1/4

teaspoon

cumin

1/4

teaspoon

coriander
Addons
3

tablespoons

Peanut sauce
Wooden skewers - soaked in water for an hour
Instructions
In a mixing bowl, I add all the marinade ingredients and whisk them together

Clean the chicken tenders and place them in a gallon plastic bag

Add the marinade and place in the fridge for at least a half hour, but an hour is even better

While the chicken is being marinated, soak the skewers

Preheat the oven to 350 F

5 minutes before the oven is ready, I skewer the chicken tenders and place them on a foil lined jelly roll pan

Bake them for 10 - 15 minutes

Place the chicken satay on a platter for presentation

Grab skewer

Dip chicken in peanut sauce and take a bite of the chicken

Sigh

Smile

Enjoy
Nutrition Facts
Simple Baked Chicken Satay
Amount Per Serving (2 skewers)
Calories 98
Calories from Fat 18
% Daily Value*
Total Fat 2g 3%
Cholesterol 29mg 10%
Sodium 592mg 25%
Potassium 189mg 5%
Total Carbohydrates 6g 2%
Protein 10g 20%
* Percent Daily Values are based on a 2000 calorie diet.