This prune spread is ALWAYS in our refrigerator. Always. It's perfect to eat by the spoonful and on bread, or pancakes. The possibilities are endless!
Ode to Prune spread:
*Oh, prune spread, how I do love you!!  How many different ways do I love you?  I can spread you on bread, I can sneak you at midnight by the spoonful, I can plop you in yogurt and I can dip my finger in a container of you and pop that digit in my mouth!*  End of ode. None of it rhymes but hey, I was free styling it! 😉
And who has joined me on this crazy prune loving train?  Yup, you guessed it: Christopher.  I daresay methinks he doth love this spread more than I (but not more than me).
"No!", you scream, shocked.
I nod my head slowly. Yes, I think he has surpassed me in my prune loving extravaganza!
Call me prune crazy, call me a prune loving zealot or call me a prune spread making fool! They would all be true.
Here's what I think.  Prunes get a bad rap.
They do.  Admit it.  You see someone with either prune juice or prunes in their shopping cart and you think, "Ah yes, they must have a problem".  Right?  Don't you?
WRONG!  Not everyone who has it in their cart has a problem.  Some people LOVE PRUNES.  I'm one of them, so stop looking at my cart!!  😉
Okay, I know you aren't one of those peeps who look at me and then look away, pretending not to see those purple cuties.  But I want to bring awareness to all the prune prejudiced peeps out there.  It's okay to love/like prunes.  I do and I don't have a problem. Neither does darling hub.
Okay, enough said.
On to the Prune Spread recipe
First, you chop up 4 cups of prunes.
I'm putting two photos of a plate of chopped up prunes here.  The first one has my little worm friend Squirmy in it.  Well, actually they both have Squirmy, but I wanted you to see my little precious in focus.
Let's talk about when I got Squirmy.  I've asked Christopher where we got him and I know it was when we lived in California before 2000 but we both can't remember.  I think maybe a yard sale.  Just know that he's been visible to us, either on a shelf or window sill for many years.  We change his location on occasion because Christopher and I are like that…..adventurous!
Isn't he so cute?  He is the perfect shape and he has such a cute face and I love the spots on his back.  The next photo, he's not in focus.
Can you see him peeking on the left side of the pink dish?  Hee hee.  He makes me giggle.
More on the prune spread recipe.
After you chop up the prunes, you grab a heavy sauce pan and measure out 2 1/2 cups of water.
Add the prunes to the saucepan along with the water and 1 1/2 tablespoons of maple syrup.  (This is optional – I've been making prune spread without any sweeteners for about a year now and enjoy it that way as prunes are naturally sweet.)
Here's a photo of it all in the pan!
Bring the prune mixture to a boil.  It shouldn't take long.  I hover over the pot and once it starts boiling, I lower the heat to a simmer.
Cook for 30 minutes.
Once it's done, you can easily mush it all together.  I sometimes use a fork or a pastry cutter which works wonderfully.  I do not use my processor or immersion blender, though I suppose you could.  For one thing, the mixture is gooey and I don't feel like cleaning either of those utensils.  Truth be told, I also prefer using my muscles.  Makes me feel like I really worked for my supper! Or perfect prune spread, as the case may be.
The next photo is with the prune spread on Irish soda bread.  It is such a tasty, slightly sweet spread.  I hope you try it, if you like prunes, you are going to love this recipe!
I hope you enjoyed this prune spread recipe!
Please feel free to leave me a comment, Pin any photo to Pinterest and Yum the recipe to Yummly!
And as always, may all your dishes be delish!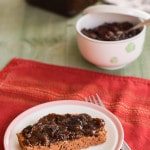 Prune Spread
This delish spread is so versatile. You can eat it by the spoonful or put it on some bread. Try it with savories like olives or feta on crackers when making appetizers!
Keyword:
prune jam, prune spread
Ingredients
4

cups

pitted prunes

chopped

2 1/2

cups

water

add more if you want a soupier consistency
Instructions
Chop prunes into little pieces (I cut each prune into 4 slices)

Measure and add water in heavy saucepan

Add prunes

Bring prune mixture to a boil (around 5 minutes)

Lower heat and simmer for 30 minutes

Mush up the prunes with a potato masher

Taste on a spoon

Swoon

Spread on bread

Eat

Enjoy
Recipe Notes
I used to add 1.5 tablespoons maple syrup but it doesn't need it.  Make it without it but if it isn't sweet enough for you, add the maple syrup and stir it around the cooked prunes!
Nutrition Facts
Prune Spread
Amount Per Serving (2 tablespoons)
Calories 29
% Daily Value*
Potassium 90mg 3%
Total Carbohydrates 7g 2%
* Percent Daily Values are based on a 2000 calorie diet.