This is an exciting cherry mint julep recipe!  It's a blend of cherries, bourbon, mint and simple syrup.  This particular blend of ingredients is super delicious!  But don't take my word for it! Make it and you will see.  Or better yet, you will taste!
'Tis the (Cherry) Season
I love cherries!  Have I ever mentioned that?  I look forward to cherry season all year and I'm always sad to see it go.  I eat them as often as I can while they're good.  This year, my first year food blogging, ever since cherry season rolled around I've been thinking, 'Where can I use cherries?'
Cherries in puff pastry?  Cheery Savory Cherry Cheese Tart!
Cherries in the sangria?  Done.
Hmmm, …Cherry margarita?  Made it.
Then I thought, 'Hey!  Cherries pair well with bourbon.  Why not add them to the mint julep?'
Light bulbs flare.  Sirens blare.  And I think, 'That sounds exciting.'
That was how the exciting cherry mint julep was born.
Are there other cherry mint juleps on the Internet?  Probably.  But I didn't Google them.  I didn't want to know.  Now I can bask in the glory of discovery, can't I!
The Ingredients and the Mix for the Exciting Cherry Mint Julep
So, I get out all the ingredients, which consist of bourbon, mint, simple syrup and drum roll please……cherries!!
I measure out 1/2 ounce of simple syrup and prepare the mint.
I take my mint julep cup out of the freezer and plop both the mint leaves and simple syrup into it.  I pick up my muddler and muddle away.  Once I can smell the mint without sticking my nose in the cup, I stop.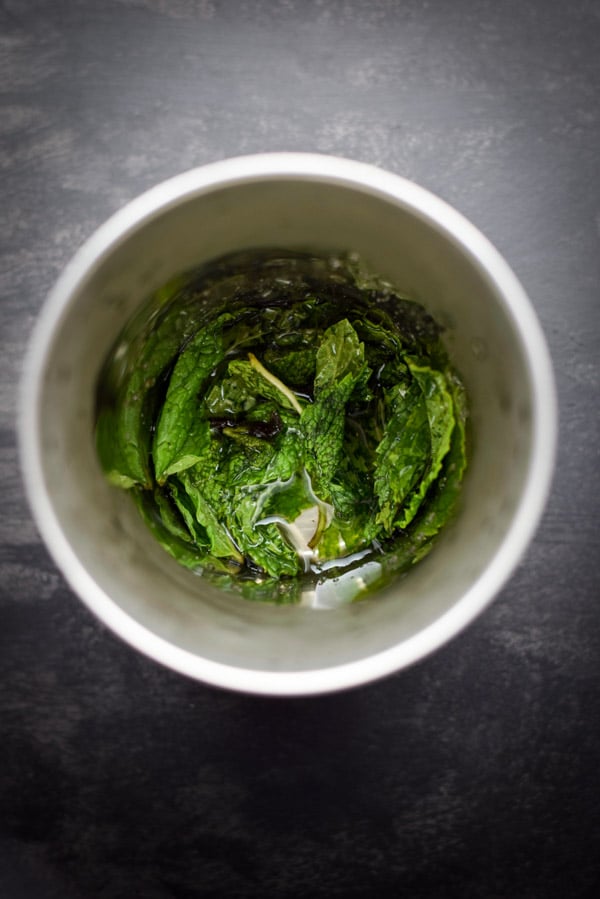 It's a thing of beauty!  But it's not finished.  Oh no sirree, Bob!
Time for the blending of the cherries.  I grab cherries I pitted earlier and place them in the blender container.  I take out some ice and place it on top.
Now, I blend up the cherries and the ice.  This makes a slushy.  The amount of slushy I made was too much for one mint julep, but never fear my friends.  I didn't let it go to waste.  I just pretended it was Italian ice and ate it all up!
I place the cherry ice in the mint julep cup.
I also measure out 2 1/2 ounces of bourbon.
Time to pour the bourbon into the cup.
See how that bourbon is marrying that cherry slush?  It's love at first sight!
Now, I take more of the cherry slush and put it on top, along with the garnish: mint leaves and more cherries!
BOTTOMS UP
YUM!
Now, the aerial view.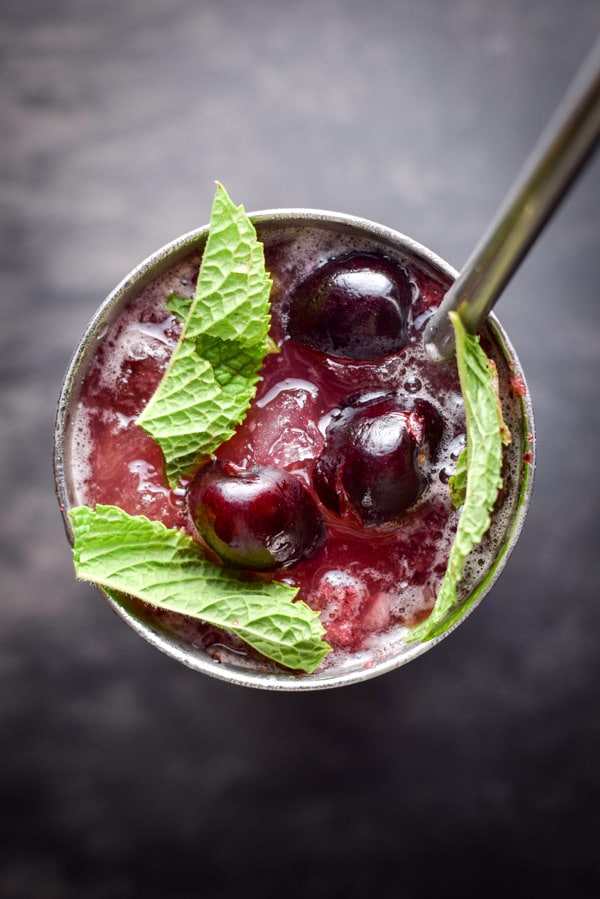 And of course the vertical view!
So, I gave Christopher a sip, as I do all of my concoctions, and he said, "I could get used to bourbon."
High praise indeed.
I hope you enjoyed this recipe!
Please feel free to Pin any photo to Pinterest, Yum the recipe to Yummly and leave me a comment as I love to read them!
And as always, may all your dishes be delish!
Cherry Mint Julep
This nicely blended cherry infused mint julep! So delicious!
Keyword:
cherry mint julep
Ingredients
8 - 10

mint leaves

1/2

teaspoon

simple syrup

3/4

cup

pitted cherries

1 1/2

cups

ice

2 1/2

ounces

bourbon

3

mint leaves

for garnish

3

cherries

for garnish
Instructions
In a mint julep cup, place mint and simple syrup. Muddle until you can smell the mint

Place the cherries and ice in a blender and blend until slushy

Fill the cup 3/4 with cherry slush

Measure bourbon and pour over the ice

Add more slush and place cherry halves on top along with some mint leaves

Bring cup to lips and sip

Exclaim "wow"

Settle on a lounge chair and...

Enjoy
Nutrition Facts
Cherry Mint Julep
Amount Per Serving (5 ounces)
Calories 255
% Daily Value*
Sodium 4mg 0%
Potassium 283mg 8%
Total Carbohydrates 23g 8%
Protein 1g 2%
* Percent Daily Values are based on a 2000 calorie diet.