This frozen cheerful cherry margarita recipe is super refreshing and so delicious! It's a party waiting to happen!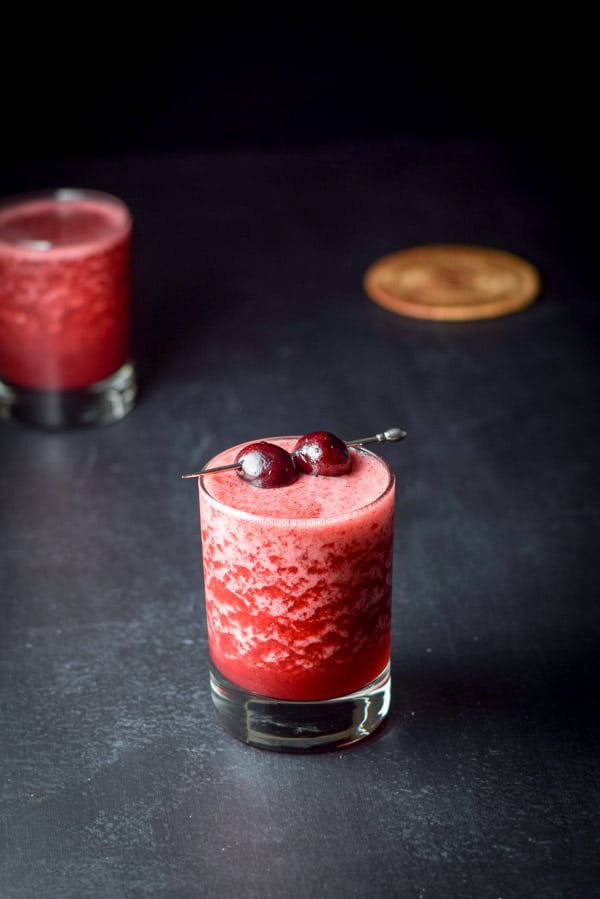 This is my frozen cheerful cherry margarita recipe!
Oooo-yeah, this is so good! It has my favorite fruit in it AND it's a margarita! How can you go wrong?
As you know, I love using premium ingredients that give my cocktails lots of flavor! I gave this one the title 'cheerful' because it makes me cheerful when I look at it, when I drink it and when I talk about it. It just makes me happy. And if you make it, you will feel cheerful too! I guarantee it!
Bold statement, I know.
Less than cheerful news
But now I have to change gears and lament for a paragraph. I know that this isn't a big deal but I'm so bummed that I forgot to take an aerial shot of this drink! It's a bummer because for some reason I've come to love my aerial shots. I love to photograph them and I love to look at them. But now I don't have one of my frozen cheerful cherry margarita. I had already poured it into a container and I didn't have the time to make another. Sob! ?
I didn't have time because Christopher and I were on our way out (with the cheerful cherry margarita – as a gift) to visit our niece and make the acquaintance of our new great nephew!
What a cutie.
Did I take a photo of him?
No.
What the heck? I guess I just wasn't on my game. First, I forgot the aerial view of this fabulous drink and second, I forgot to take a photo of my new nephew. 😳
I love that emoji. I use it with Christopher all the time. Our interpretation is: "blink, blink."
Other margaritas:
Now for the Frozen Cheerful Cherry Margarita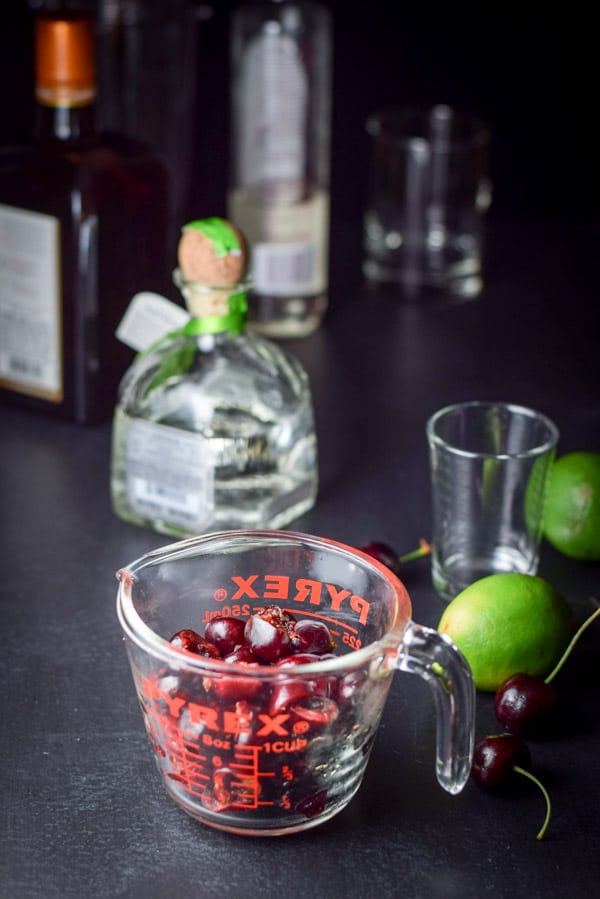 Here are the ingredients: a cup (or so) of pitted cherries, Patron Silver tequila, Cointreau, fresh lime juice and simple syrup.
I just drooled. Writing that. I drooled.
Yum to the max.
I don't use my shaker this time. I'm going to blend this cocktail. Hence, the name: frozen. Hehe.
I pour the cherries into the blender container.
Then, I measure out 2 ounces of tequila.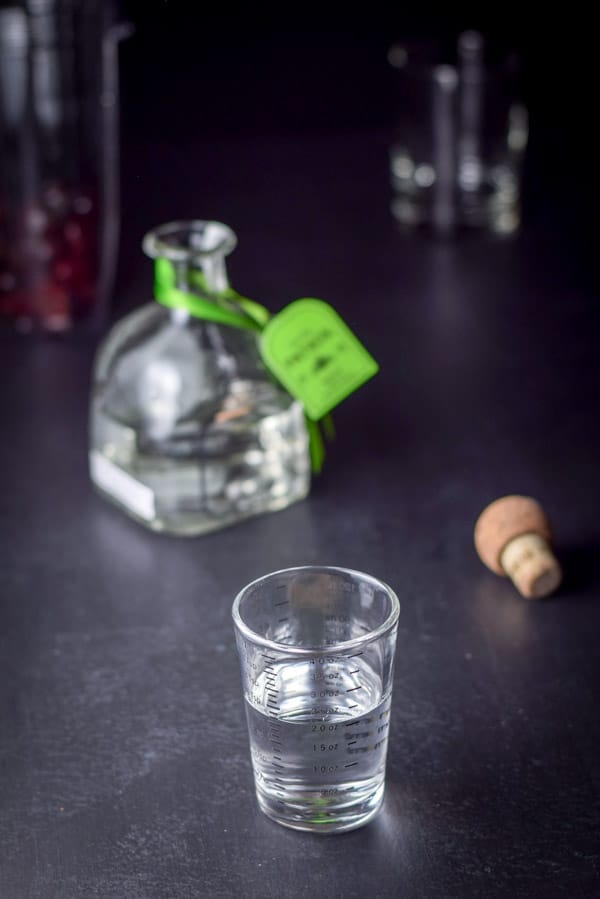 Speaking of tequila, I saw a commercial the other day for an aged tequila that I'd love to try. The brand is Hornitos and if I can find it, I'm buying it! Leave me a comment if you know and recommend Hornitos. And why!
I've had it many years ago, and more recently at our cousins house but I don't remember the taste that well.
I always think that nothing can beat the taste of Patron Silver tequila. But I like to think that I'm open minded enough to sample others and find out. 🙂
What fun I will have finding out. Hehe.
I pour the tequila into the blender container.
Next, I measure out 1 ounce of Cointreau.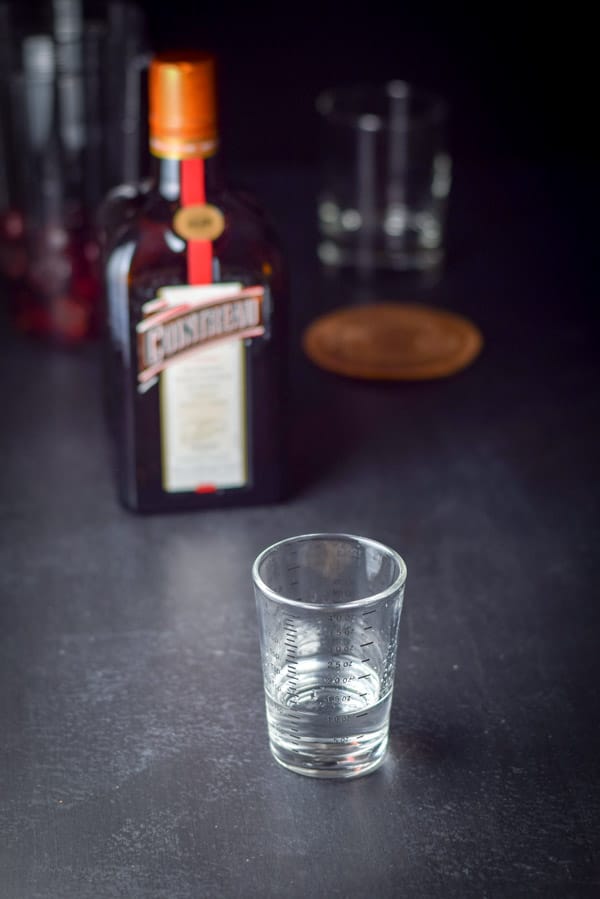 Into the blender container it goes.
Now, I measure 1 ounce of simple syrup.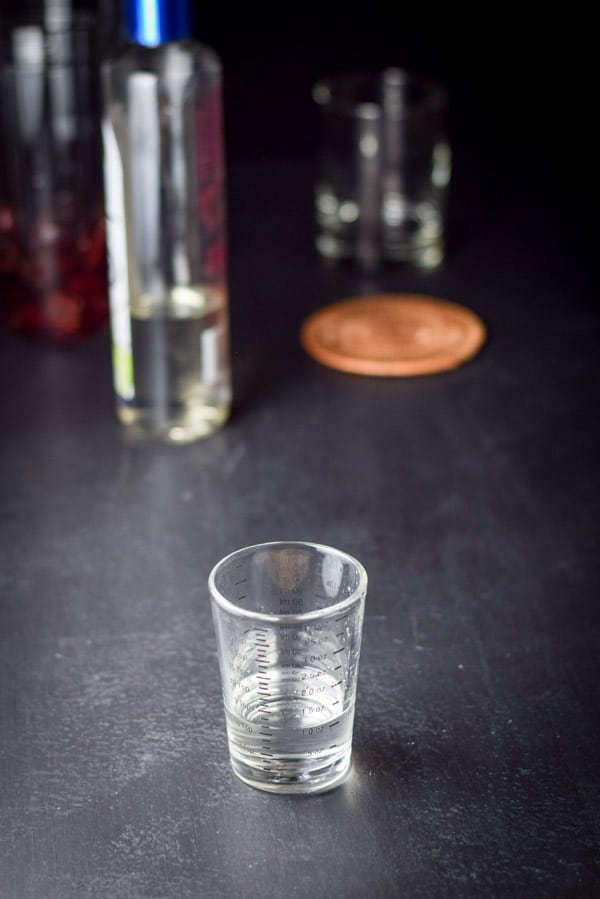 I add it to the blender container.
Now, I squeeze two limes and it yields almost 2 ounces. If you find that the juice from your limes fall short of 2 ounces, don't worry or stress, just use what it yields.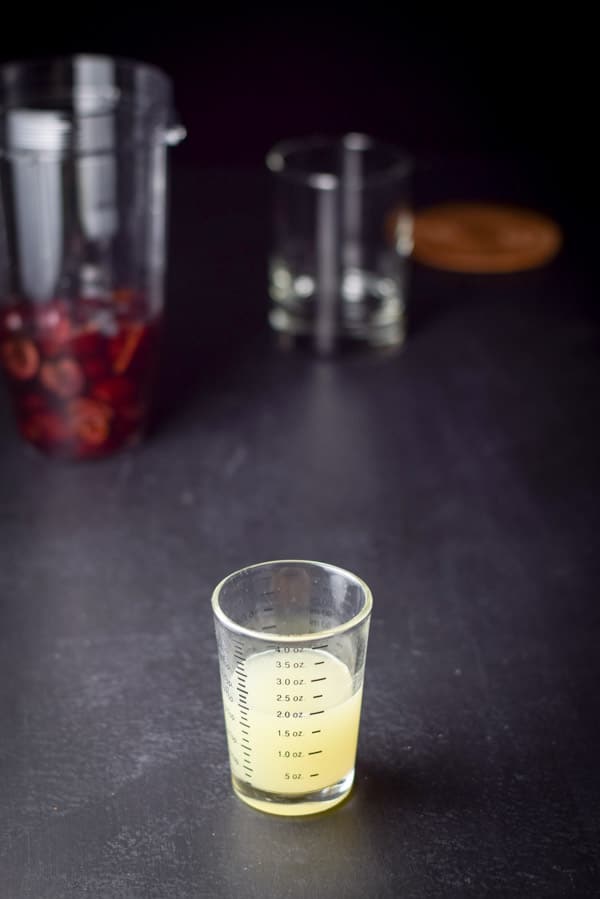 I add it to the other ingredients.
All that is left is the ice.
I use 2 cups.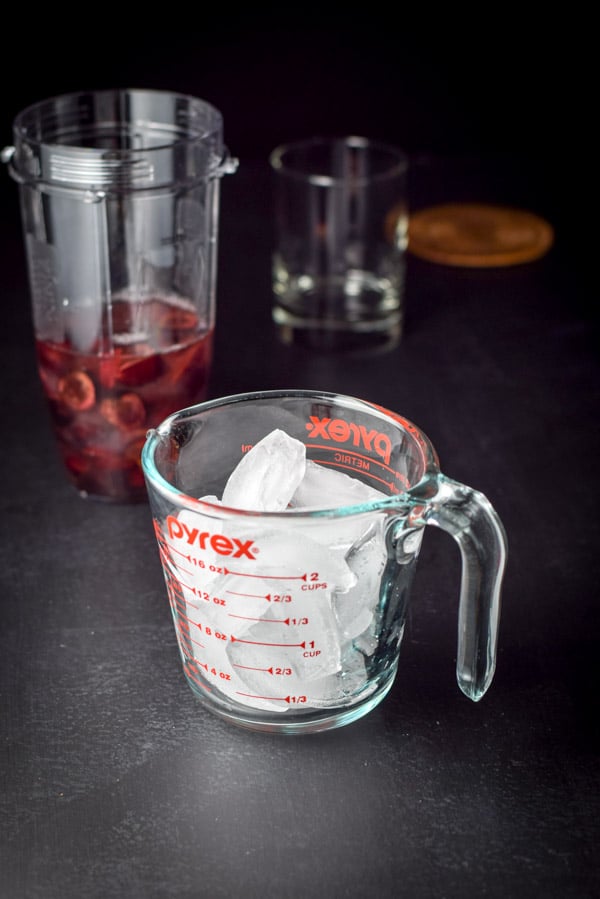 I add it to the blender container, screw on the bladed cap and fit it into the base. I have one of those NutraNinja blenders and I just push the smart blend button. It pulses and blends for 1 minute.
Woohoo. We are almost there.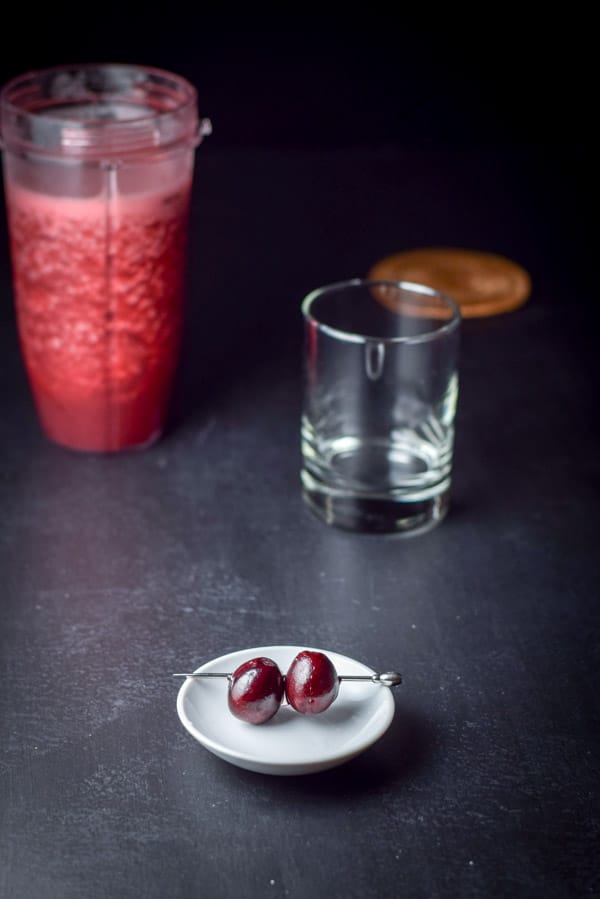 I stick my pick (I love these stainless steel picks) through two cherries to use for garnish. I then pour the contents of the blender into two glasses. Because I'm generous like that.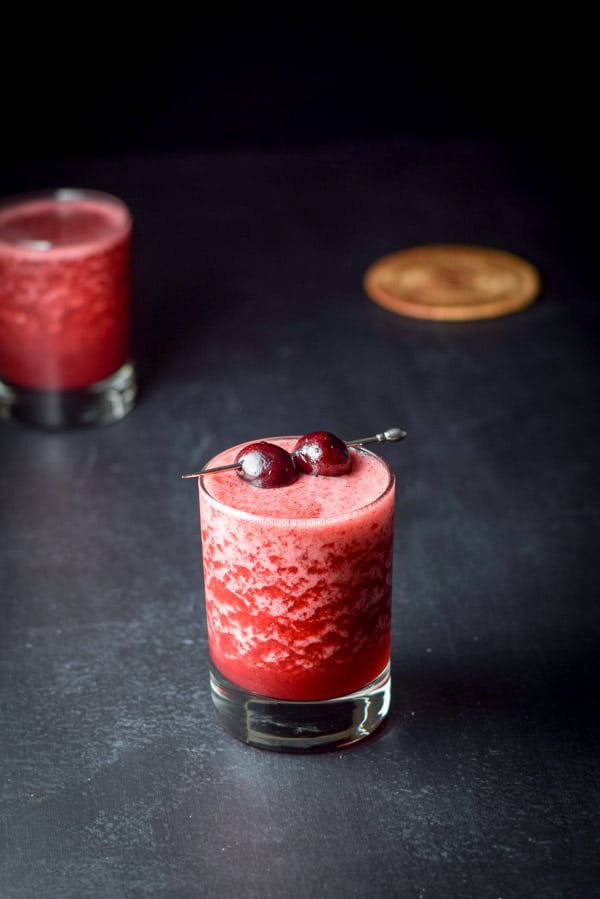 I stick the garnish on the glass and snap this photo.
I then snap a vertical view.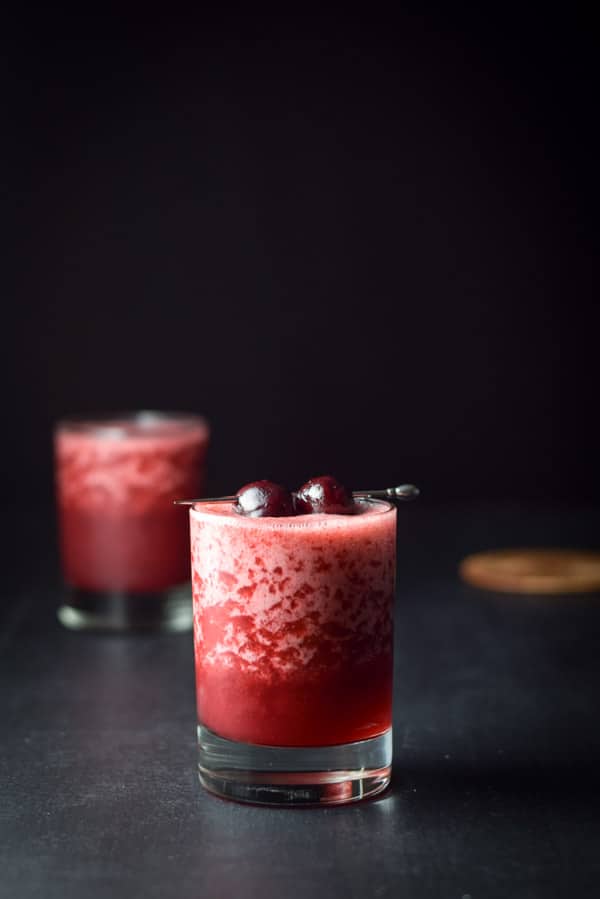 Frozen margaritas tend to separate easily. That was always an issue at the Mexican place where I worked. But they're still tasty and frosty!
This is where the aerial view would be.
🙁
But, I'm over it.
Christopher and I did taste this lovely frozen concoction before I packaged it up and boy, oh boy: super duper yummalicious!
I hope you enjoyed this recipe!
Please feel free to leave me a comment, Pin any photo to Pinterest and Yum the recipe to Yummly!
And as always, may all your dishes/drinks be delish!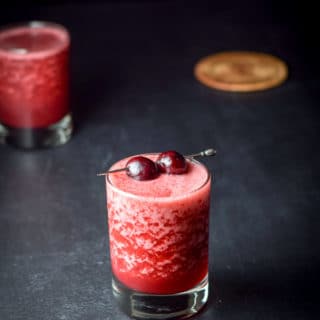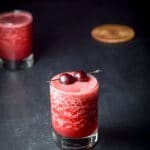 Cherry Margarita | Frozen
This tasty and refreshing cherry margarita will make you cheer because you will be so happy drinking it!
Keyword:
cherry margarita
Ingredients
1

cup

cherries

washed and pitted

2

ounces

Patron Silver tequila

1

ounce

Cointreau

1

ounce

simple syrup

2

ounces

lime juice

freshly squeezed

Ice

2

cherries

for garnish
Instructions
Grab your blender container and add the pitted cherries

Add tequila, Cointreau, simple syrup and lime juice

Add 2 cups ice (or to taste)

Blend until frosty and smooth

Pour into glass

Garnish with skewered cherries

Sip

Cheer

Feel happy

Smile

Enjoy
Recipe Notes
You can make one or two cherry margaritas with these ingredients. More ice, means more servings
Nutrition Facts
Cherry Margarita | Frozen
Amount Per Serving (10 ounces)
Calories 202
% Daily Value*
Sodium 10mg0%
Potassium 204mg6%
Carbohydrates 29g10%
Vitamin A 45IU1%
Vitamin C 13.9mg17%
Calcium 9mg1%
Iron 0.8mg4%
* Percent Daily Values are based on a 2000 calorie diet.