I love yummy appetizers and this bourbon meatballs recipe really fits the bill! The meatballs are succulent and the bourbon sauce is scrumptious and perfectly enhances this appetizer!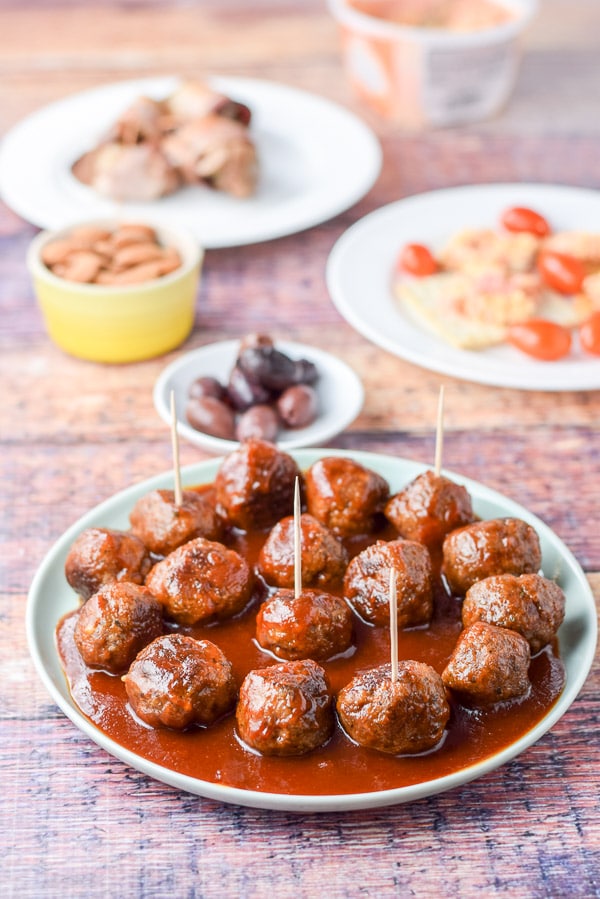 One of the things that I find hard about facing any appetizer is not eating the whole darn thing. And when it's just Christopher and I eating whatever the delish appetizer happens to be, I make a small batch so we won't be tempted.
Christopher: We?
Me: Me. Okay? Me! I'm tempted!
Perfect example of what I'm talking about is this appetizer. I made this bourbon meatballs recipe for New Years Eve for me, myself and I. Oops, I mean Christopher and I. So, since we make a two person party, I needed to make a two person sized appetizer.
Trip down Memory Lane
Even though we now spend NYE by ourselves, we used to go to the home of our cousins. They used to have a big New Years Eve party every year and Christopher and I would be invited. Being the helpful individuals we try to be, on a couple of occasions we arrived early to help with preparations.
Preparations = appetizers.
Tons of appetizers! Since this was an after-dinner party, we relied on nibbles to keep everyone happy!
Nibbles and cocktails that is, which add a whole other dimension to adult happiness. ?
I was in heaven. What other night of the year are you encouraged to eat so many different delicious appetizers? Not many!
One of the appetizers we would have that night was a baked crab and cream cheese slathered english muffin. I remember that a woman named Kathy made and brought them. But I have never been able to secure the recipe.
The good news about that tragic failure is that it forced me to come up with the warm crab dip.
It is one of my most requested and beloved appetizers today.
Well, move over crab dip! These bourbon meatballs are catching up!!
On to the Bourbon Meatballs Appetizer Recipe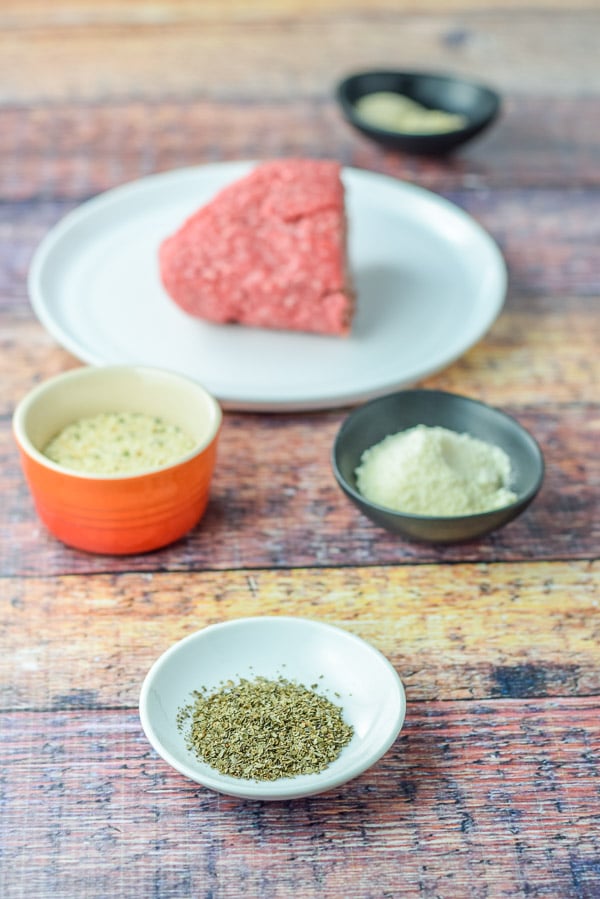 The ingredients for the bourbon meatballs: basil, parmesan cheese, bread crumbs, grass fed ground beef, an egg, garlic powder, onion powder and salt!
I grab my medium stainless steel mixing bowl and dump all the ingredients into it.
Down and dirty with meatballs
Fully prepared to get down and dirty, I roll up my sleeves and use my hands to mix the meat together with all the ingredients. I take a small amount of the mixture into my hand and roll it into medium sized meatballs.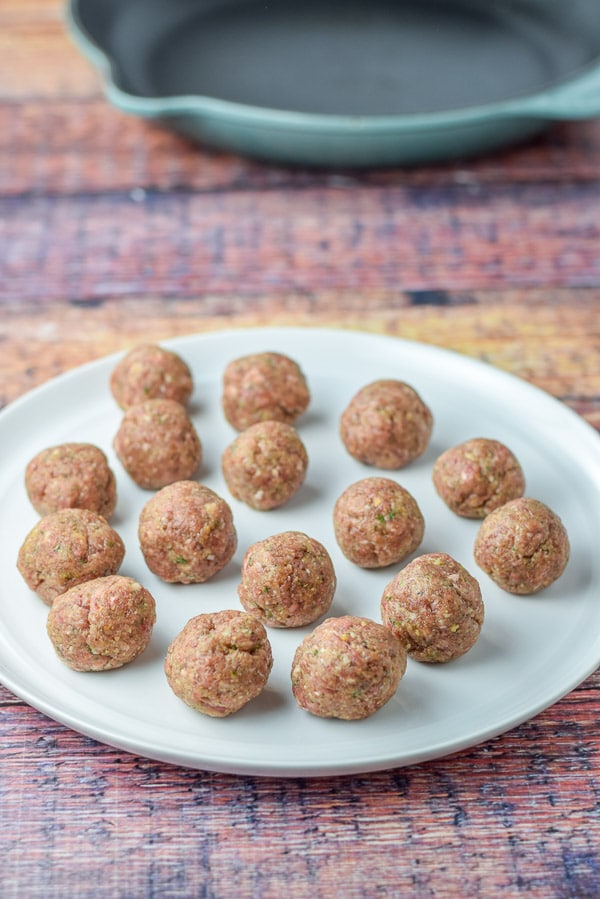 Look at those little cutie pies! Doesn't it make you want to pinch their roly poly cheeks?
I get my sauté pan and heat it up. I add 1 – 2 tablespoons olive oil and carefully place the meatballs in it and stand there while they brown, turning the roly polies every 30 seconds or so. I like my meatballs medium and find that it takes around 8 minutes to get them that way.
Here they are!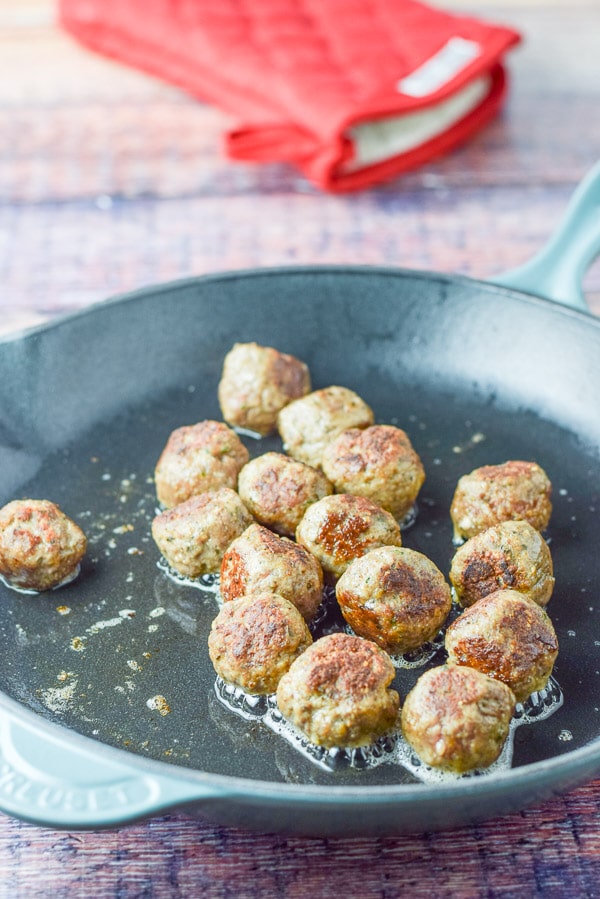 I take the meatballs out of the pan so they don't cook any longer and set them aside as I gather the ingredients for the bourbon sauce.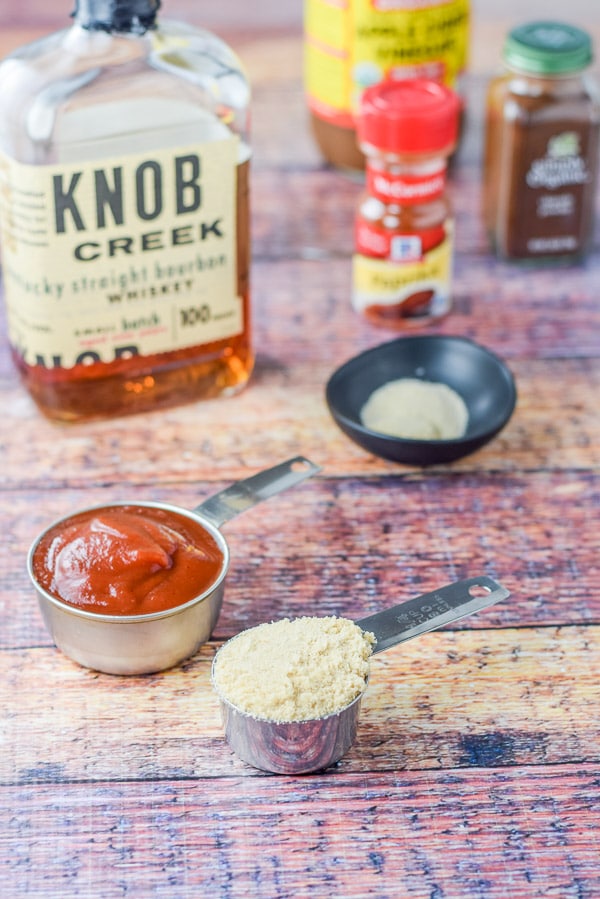 Give Me Some Booze
For the bourbon sauce we have brown sugar front and center, ketchup, bourbon, garlic powder, apple cider vinegar, salt and a few dashes of chipotle powder.
I measure out all the ingredients and place them in a sauce pan. I turn the heat on medium and bring the bourbon sauce to a bubble. I let the sauce boil for 10 minutes before lowering the heat and placing the meatballs in it.
I stir the meatballs and let them simmer for 5 minutes in this lovely, boozy sauce.
Time to plate the meatballs and get ready for the appetizer party that Christopher and I are the stars of.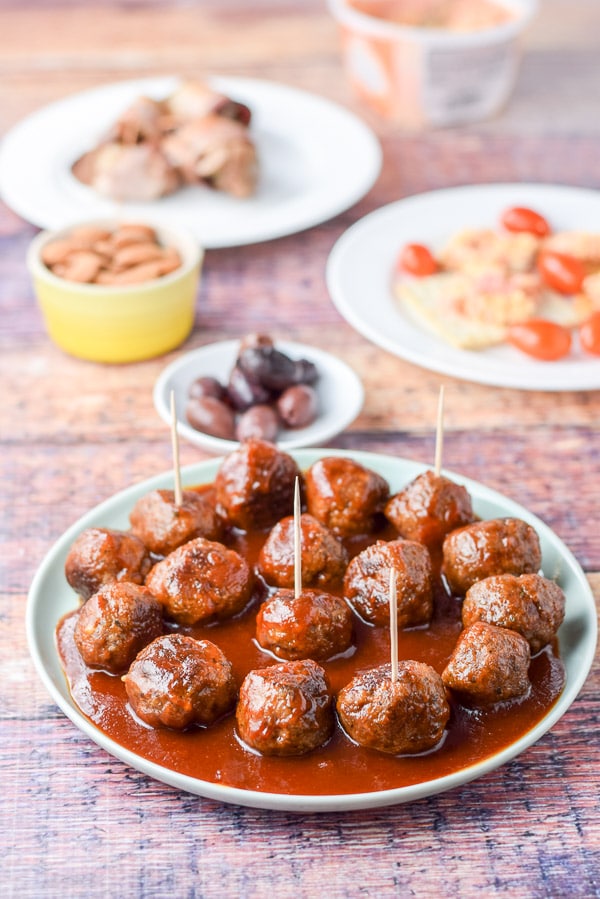 Oh, yeah!! Look at those bourbon meatballs that are brazenly staring at me, daring me to pop one in my mouth.
But you know what? I still need to take a photo, so I stick my tongue out at them and call Christopher!
He picks up one of the toothpick speared bourbon meatballs and takes a bite.
Wait a minute, why does he always get to try the food first?
Christopher: Because I'm the hand model?
Me: Oh yeah.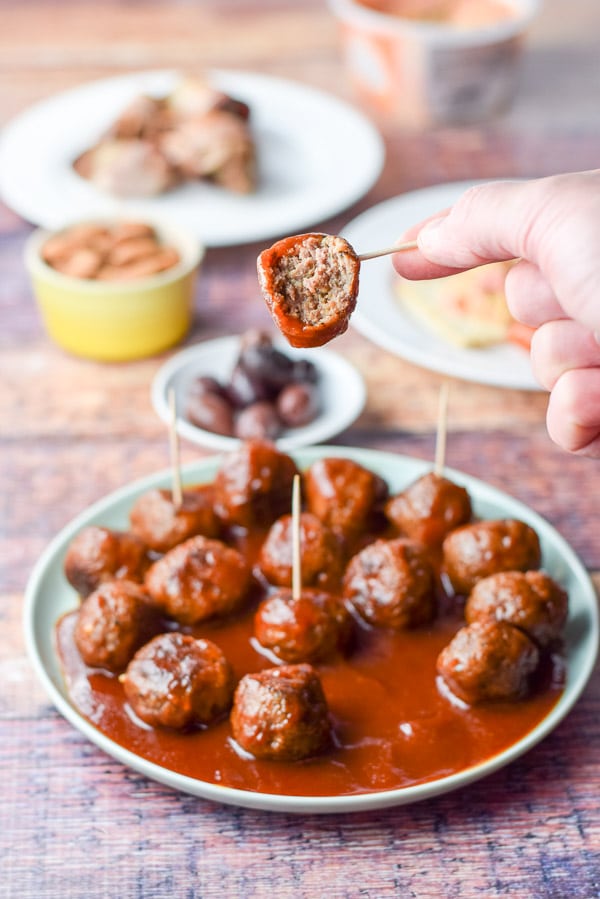 Perfect!! Wehaw! The appetizer party has begun! Here's what we ate with these bourbon meatballs: bacon wrapped chicken livers, olives, crackers and pub cheese, nuts and tomatoes!
We know how to live!
🙂
I hope you enjoyed this bourbon meatballs appetizer recipe.
Leave me a comment to tell me what your favorite appetizer is. Maybe I'll blog about it!
And as always, may all your dishes be delish!
If you've tried this bourbon meatballs or any other recipe on the blog, I'd love the hear what you thought about it in the comments below. I love hearing from you! You can also FOLLOW ME on FACEBOOK, TWITTER, INSTAGRAM and PINTEREST to see more of my delicious food and delightful cocktails!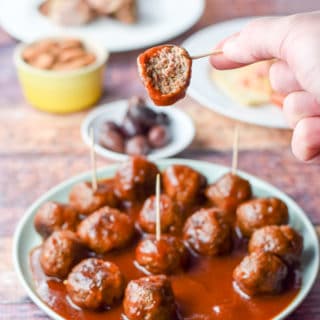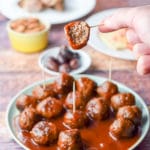 Bourbon Meatballs Appetizer
A slightly sweet boozy meatballs appetizer
Keyword:
bourbon appetizer, bourbon meatballs
Servings
:
16
Medium Meatballs
Ingredients
Meatballs
1/2

pound

ground beef

grass fed

1/4

cup

bread crumbs

1

egg

2

tablespoons

parmesan cheese

1

teaspoon

garlic powder

1

teaspoon

onion powder

1

teaspoon

basil

dried

1/4

teaspoon

salt

2

tablespoons

olive oil
Bourbon Sauce
3

ounces

bourbon

1/2

cup

ketchup

1/4

cup

brown sugar

1

tablespoon

apple cider vinegar

2

dashes

paprika

1

teaspoon

garlic powder

1

dash

chipotle powder

1/4

teaspoon

salt
Instructions
Meatballs
In a large mixing bowl, place all the meatball ingredients (except the olive oil) and mix it together with your hands

Grab a small amount of meat and roll it into a meatball (you choose the size), place each ball on a plate until all the meat is used up

Heat a sauté pan and add up to 2 tablespoons of olive oil

Add the meatballs and sauté them, turning them every 30 seconds to brown all the sides. Should take around 8 minutes total

Remove meatballs from pan and set aside
Sauce
Add all the ingredients for the sauce and bring it to a boil and cook it for 10 minutes

Lower the heat and add meatballs. Stir until the sauce covers them

Continue simmering for 5 minutes

Plate

Gather more appetizers

Eat a meatball

Smile

Enjoy
Recipe Notes
You can save some time by making the sauce while you sauté the meatballs but keep your eyes on them
Nutrition Facts
Bourbon Meatballs Appetizer
Amount Per Serving (3 meatballs)
Calories 100
Calories from Fat 45
% Daily Value*
Fat 5g8%
Cholesterol 20mg7%
Sodium 178mg8%
Potassium 80mg2%
Carbohydrates 7g2%
Protein 3g6%
Vitamin A 140IU3%
Vitamin C 0.3mg0%
Calcium 19mg2%
Iron 0.5mg3%
* Percent Daily Values are based on a 2000 calorie diet.