This vodka gimlet is such a classic cocktail that you will feel very cool drinking it. And it's so easy to make that you will wonder why it took you so long to discover it!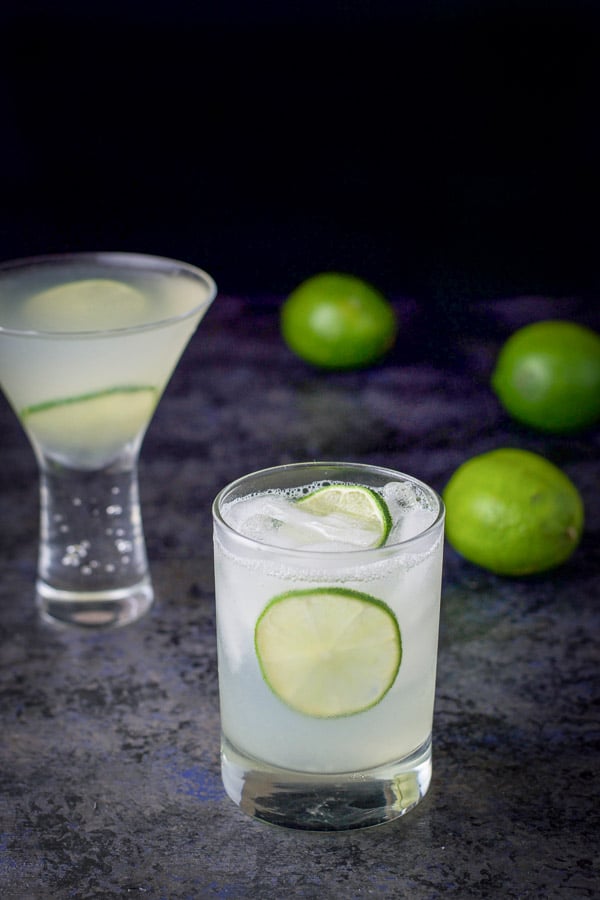 TO DE- OR NOT TO DE-(VIATE)
I have made my fair share of vodka gimlets, but I never got into drinking them.  That was mainly because the only ones I ever had were made with bottled lime juice.  For some reason, bottled lime juice is not my friend.  I've always found it too acidic.
In my early days as a bartender, I always stayed true to the recipes, never deviating from how they were written.  The reason I did this for as long as I did was because management at the Mexican restaurant where I worked was very particular about the brand's margaritas.  And rightfully so.
But I haven't worked at that restaurant in over 25 years, so I've thrown 'by the book' mixology out the window.  I just hope I didn't hit anyone walking by.
What makes this vodka gimlet recipe better than one made with bottled lime juice?
When sweet and sour is made with freshly squeezed lime juice and simple syrup, it just tastes better than bottled.  Maybe it's the lack of preservatives.  In any case, once you substitute bottled lime juice with freshly squeezed lime juice and simple syrup, you will never go back.  Believe me.
Other popular vodka recipes on Dishes Delish:
Tips for making a vodka gimlet recipe:
Stick the glasses you are going to use in the freezer at least 10 minutes before you make the gimlet as it makes the drink stay colder longer
Keep your vodka in the freezer too, for the reason stated above.  Don't worry.  It won't freeze
Use the best vodka you can afford because as with a martini, the gimlet is mostly vodka and you will be able to taste the difference
Always use fresh lime juice
Try a sour to sweet ration of 2:1.  If that's not sweet enough for you, add enough simple syrup to make it a 1:1 ratio
How to mix a vodka gimlet
Fill your cocktail shaker halfway with ice.  As you measure each ingredient below, pour it into the shaker.
Step 1:  Get your ingredients – vodka, limes and simple syrup
Step 2:  Measure 6 ounces of vodka
Step 3:  Juice two limes, which usually yields 2 ounces
Step 4:  Measure 1 ounce simple syrup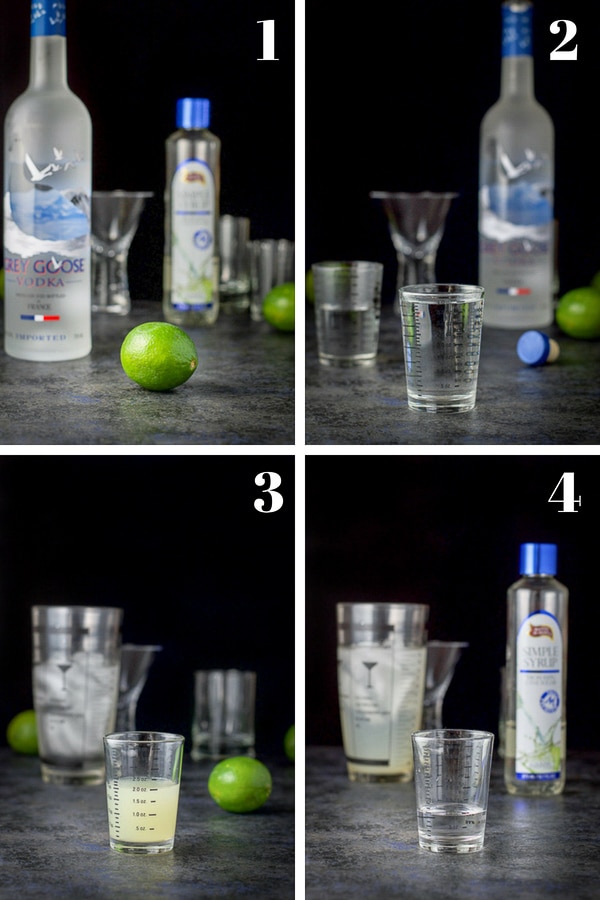 Step 5:  Cut four thin lime wheels for garnish and set them aside.  Take your martini glass out of the freezer – I also feature a double old fashioned glass in this post – and strain the contents of the shaker into it.
Float those limes
Don't neglect your garnish.  Since the lime wheels are thin, they will mostly float, which makes the drink fun and pretty!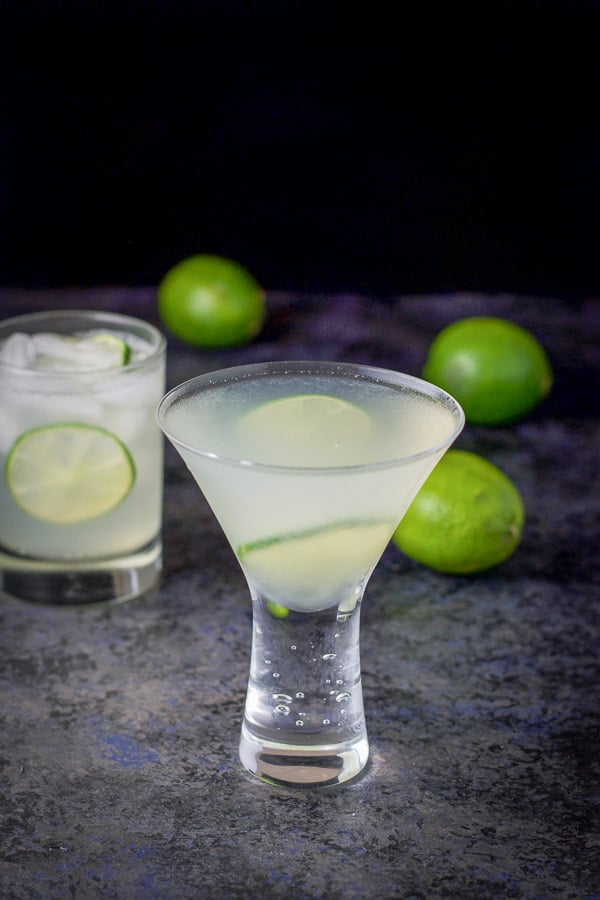 Vertical view of the vodka gimlet recipe.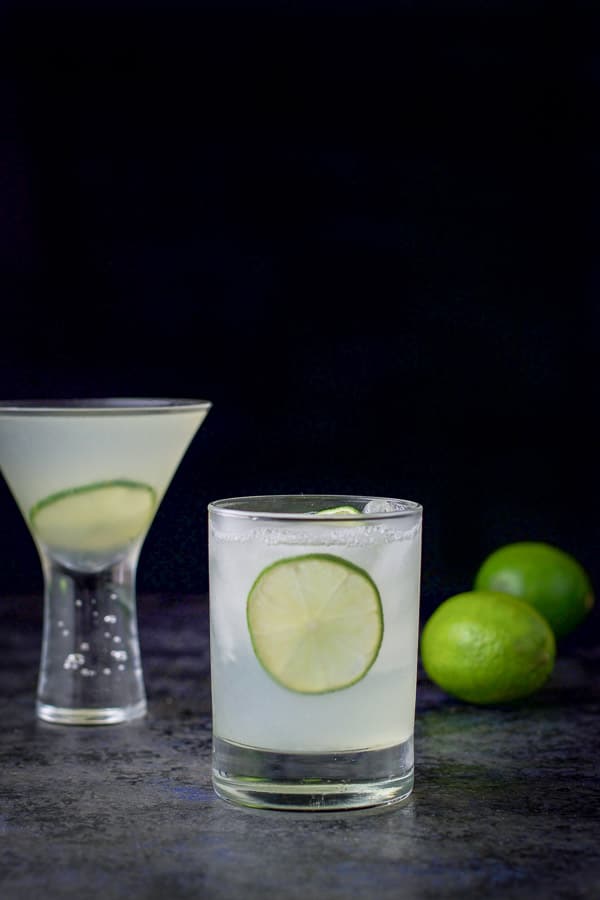 See what I mean about the pretty limes?  Now the aerial view.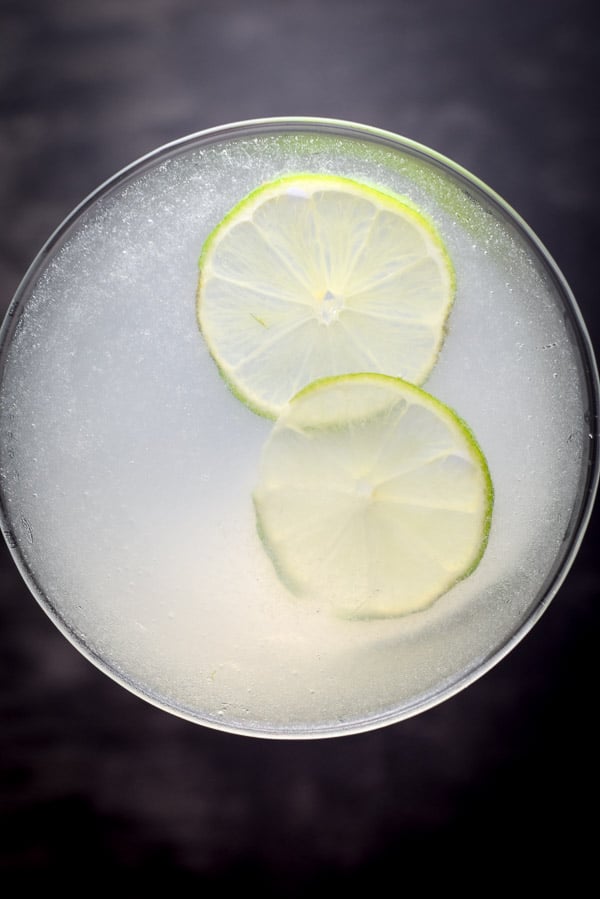 I hope you enjoyed this vodka gimlet recipe!
Please feel free to leave me a comment do you prefer you gimlet made with gin or vodka?
And as always, may all your dishes/drinks be delish!
If you've tried this vodka gimlet or any other recipe on the blog, I'd love the hear what you thought about it in the comments below.  I love hearing from you!  You can also FOLLOW ME on FACEBOOK, TWITTER, INSTAGRAM and PINTEREST to see more of my delicious food and delightful cocktails!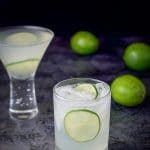 Vodka Gimlet recipe
Delicious take on the classic vodka gimlet recipe. No Rose's lime juice here
Keyword:
vodka cocktail, vodka gimlet
Ingredients
6

ounces

vodka

2

ounces

lime juice

freshly squeezed

1

ounce

simple syrup
Garnish
4

lime wheels

thinly sliced
Instructions
Fill cocktail shaker 1/2 way with ice and add vodka, lime juice and simple syrup

Cap shaker and shake for 30 seconds then strain into glasses

Float lime wheels

Sip

Smile

Enjoy
Recipe Notes
If it isn't sweet enough for you, add 1/2 ounce of simple syrup. But try these amounts first!
Also: You can serve this cocktail on the rocks or straight up like it is in this recipe. Your choice.
Nutrition Facts
Vodka Gimlet recipe
Amount Per Serving (1 cocktail)
Calories 241
% Daily Value*
Sodium 9mg 0%
Potassium 33mg 1%
Total Carbohydrates 12g 4%
* Percent Daily Values are based on a 2000 calorie diet.
This vodka gimlet cocktail recipe was first published in October of 2016.