This is my vodka dirty martini recipe!  It's perfect with a wonderful balance of vodka, vermouth and olive brine!!  It is a re-do recipe of one of my first posts.

Happy Birthday, Dishes Delish
Why did I bring back this classic vodka dirty martini recipe even though I've already blogged about it?
Because I'm celebrating the blog's one year anniversary.  The official date was August 15th and I wanted to do something special to commemorate the year.  I also wanted to show my readers how far I've come with my photography by linking to the original vodka martini post.
It's amazing how little I knew about editing photos.  When I wrote that post, for example, I didn't know how I could adjust (i.e., straighten) the angle of the photograph with the editing software.  I finally googled it.  I wish I had googled it sooner but my excuse is that I was working full time when I first started the blog and I didn't have the bandwidth.  Besides, doing something new can be daunting and overwhelming, even before you realize how many skills you don't yet have to do it!  I've come a long way, baby.
There is definitely a learning curve when you start a blog, especially today when bloggers, users, and tools have all become so sophisticated and so transparent.  If you are thinking of starting one, and I encourage you to give it a try if you're at all creative with writing or social sharing, just realize the learning curve is there and also know that you will get better with practice and experience.
Take a look at that old martini post, and you will see what I mean.
I look forward to seeing what new things I learn this year.  It's exciting, really.
Enough chitter chatter, let's do this!
On to the recipe.
The Ingredients for the vodka dirty martini recipe and the Mixing
Front and center is the olive brine.  I do use Dirty Sue's which in my opinion is superior to the other brines.  Next best is using the juice from your olive jar.  But under that scenario, you will see the juice recede a lot faster than the olives.  I, for one, do NOT like running out of olive brine.  Do you?
I thought not.
Back to the ingredients: we also have Grey Goose vodka and sweet vermouth.
That's it.
Let's get started.
I get my cocktail shaker and fill it halfway with ice.
I measure out 3.5 ounces of vodka.
Into the cocktail shaker it goes!!
Now, the sweet vermouth.  I don't like a lot of it.  As I stated in the original post, I usually put just a teensy bit in the martini glass, swish it around and dump the vermouth into the sink. Whatever sticks to the inside of the glass is what goes in the martini; no more.  But you could also put it in the shaker if you like.  I do so sometimes in the summer because I don't want the frosted martini glass that I take from the freezer to defrost.
😉
As you can see I put the teeniest bit into the spoon to prep for the main event: "The pour."
Notice I have two olives speared and waiting in the wings.
Cute Story
Cute story about one of the times I made a martini in the bar where I used to work.  A customer ordered his martini dry.
So I asked him how dry he wanted it.
He proceeded to instruct me through the steps.  When I reached for the bottle of vermouth, he told me to uncap it, tap it against the side of the shaker and then, recap it.  Haha!
So, "no-vermouth dry" was how dry he liked his martinis!  I laughed because he was really sweet about it.
Time for the olive brine.  I measure 1/2 an ounce.
I pour it into the shaker.
Cap it and shake it
Time to cap the shaker and shake the crap out of the vodka dirty martini recipe.
I race to the freezer and grab my frosted glass, hastily dribble the vermouth in, swirl it, dump it in the sink and race back to the table.  Yeehaw!  I am fast!
I strain the elixir of life into the martini glass and plop those waiting olives into the liquid.
Bottoms Up
I always have a little extra martini in my cocktail shaker, so I usually place it next to me and pour it in my glass as the I sip the contents down.  I like that the extra martini sits in the ice cube mixture and gets watered down a little, because we are talking 3.5 ounces of vodka, peeps.  Even I have limits.
Once the liquid is gone from the shaker, I sob a little but it doesn't stop me from putting the remaining ice cubes in my cocktail.
Now for the vertical view.
And the aerial view of the drink made from the vodka dirty martini recipe.  We must have that, mustn't we?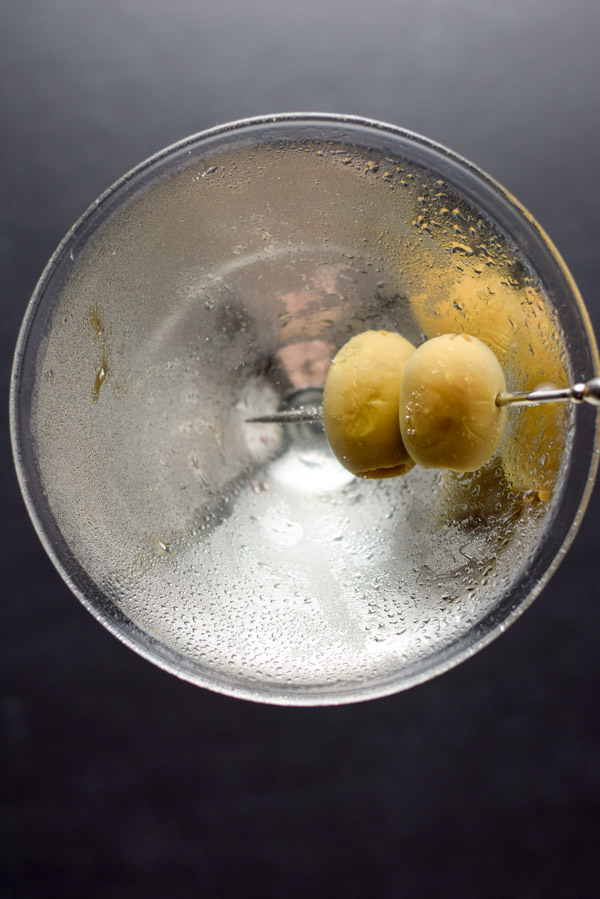 Doesn't this vodka dirty martini recipe look tasty and refreshing?  Doesn't it make you want to dive in and swim around?
I hope you enjoyed this recipe.
Feel free to Pin any photo to Pinterest, Yum the recipe to Yummly and leave me a martini lovin' comment.
And as always, may all your dishes/drinks be delish.
Vodka Dirty Martini Recipe
Perfectly balanced dirty martini for your drinking pleasure
Keyword:
dirty martini, vodka dirty martini, vodka martini
Ingredients
3.5

ounces

vodka

Grey Goose is a good choice

1/8

teaspoon

dry vermouth

to coat the inside of the glass

0.5

ounces

olive brine
Instructions
Fill your shaker 1/2 way with ice

Add vodka and brine

Grab your martini glass out of the freezer and quickly drip the vermouth in the glass

Swirl it around and dump vermouth in the sink

Cap shaker and shake vigorously for 10 shakes minimum

Pour into martini glass

Plop olives in glass being careful NOT to splash any martini out of the glass

Sip

Smile

Enjoy
Nutrition Facts
Vodka Dirty Martini Recipe
Amount Per Serving (5 ounces)
Calories 229
% Daily Value*
Sodium 412mg 17%
* Percent Daily Values are based on a 2000 calorie diet.