Named for the famous dessert, the Black Forest Cake shot is the perfect balance of chocolate, coffee, cherry and cream. Your guests will love you for serving it to them!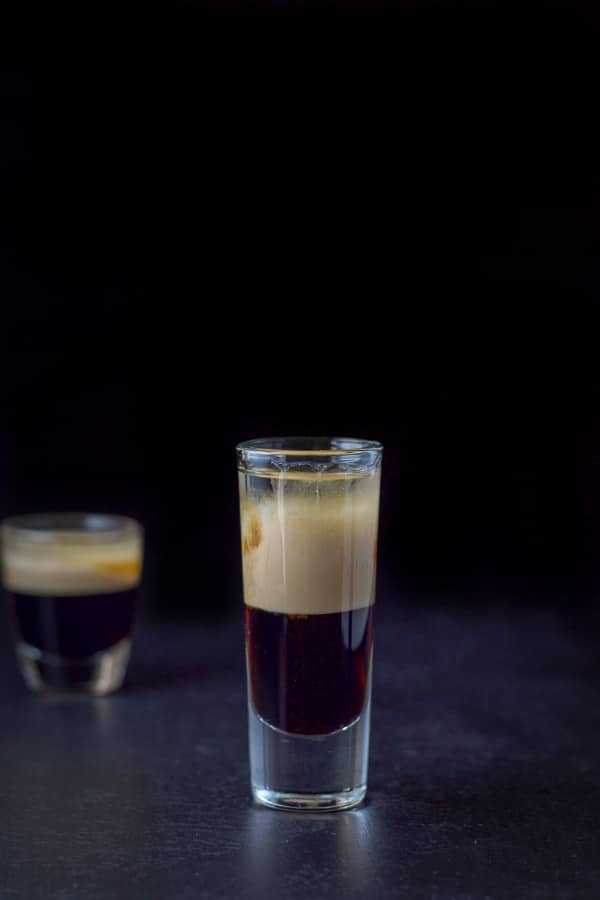 This is the third post in my 12 Shots of Christmas series. On the third day of Christmas, my true love gave to me: one Black Forest Cake shot, one Chocolate Raspberry Kiss shot and a shot named Peppermint Patty!
This recipe is for one shot. To make multiple shots, you can double or triple the recipe.
The interesting thing about this shot is that, despite the cherry brandy, it doesn't have a strong cherry flavor. It's nicely balanced and delicious.
I mention this in my other Christmas shot posts too: I love that even though you layer the spirits in the order of heaviest to lightest density, sometimes they still switch places with each other. (Maybe when they're actually very close in weight?)
For instance, in this Black Forest cake shot, the Baileys switches places with the cherry brandy. So why I just don't layer the cherry brandy after the Baileys?
First, because I love watching them switch places. It's like alchemy! But I have found the order I give here is the correct order in which to layer this delicious shot. It comes out more cleanly and more clearly. Leave me a comment if you have a different experience.
Tips for making the Black Forest Cake shot:
If you are going to layer this shot, either use a cocktail spoon or regular iced tea spoon – for the thin, tall shot glass, I have to use the iced tea spoon because the cocktail spoon is too wide to fit in the glass
Always place the spoon bowl side up in the glass, against the side
Using a pourer controls the pour, which is critical to layering any shot. But if you do use a pourer, just know that you will have to eyeball your quantities because in that case, they're coming straight out of the bottle, unmeasured
As with all layered shots, you need to place the heaviest liquor on the bottom and work your way up to the lightest
If you can use different shot glasses, do! I like showcasing my shots in as many different ways as I can
How to make and layer the Black Forest Cake shot
Step one
Get the shot glasses, a cocktail spoon or an iced coffee teaspoon.
Step two
Gather the ingredients – Kahlúa, cherry brandy and Baileys Irish cream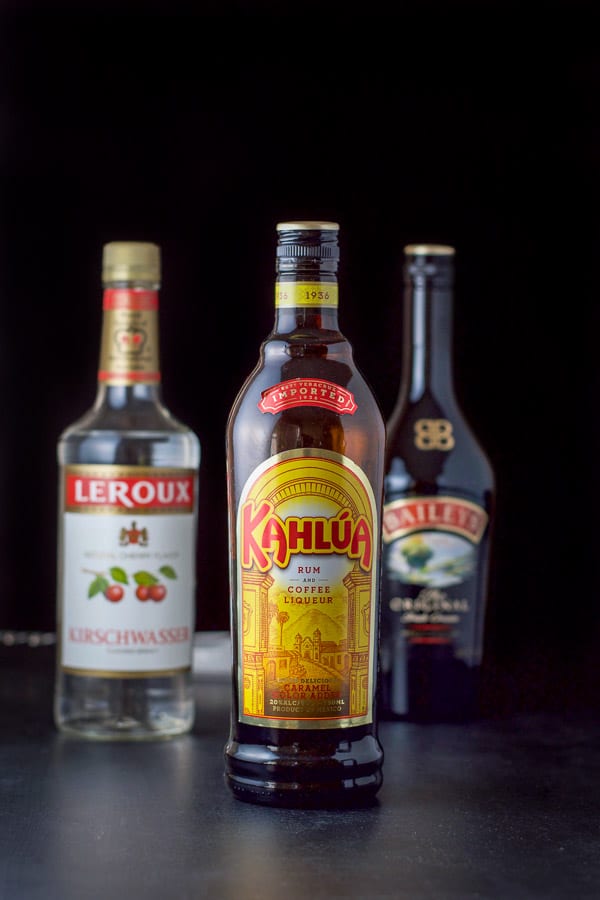 Step three
Pour one ounce of Kahlúa in the shot glasses.
Step four
Take the spoon you are using and place it bowl side up in the glass and against the side. Slowly pour (using a pourer) a little over 1/4 ounce of cherry brandy over the spoon.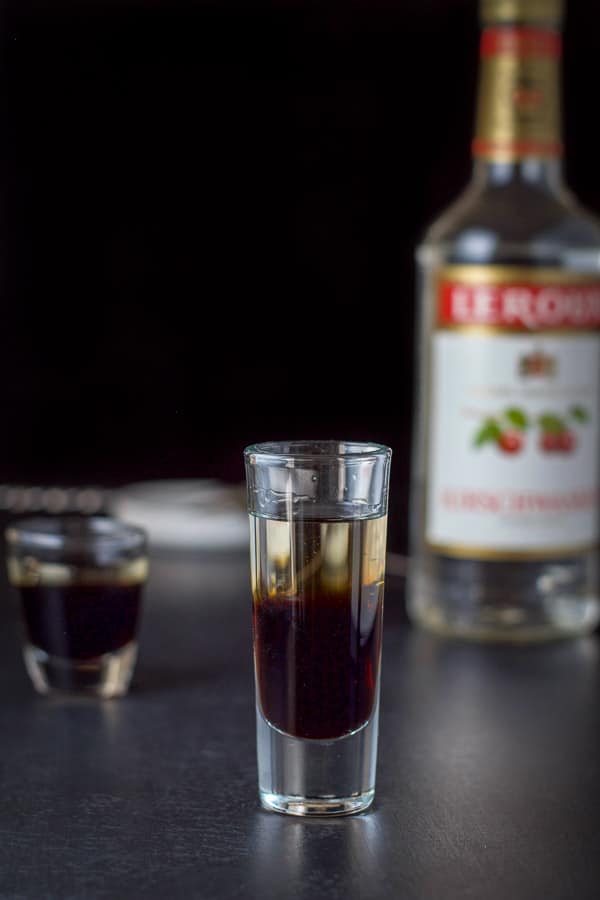 Step five
Place the spoon in the glass like before and slowly pour a little over 1/4 ounce of Baileys in the glass.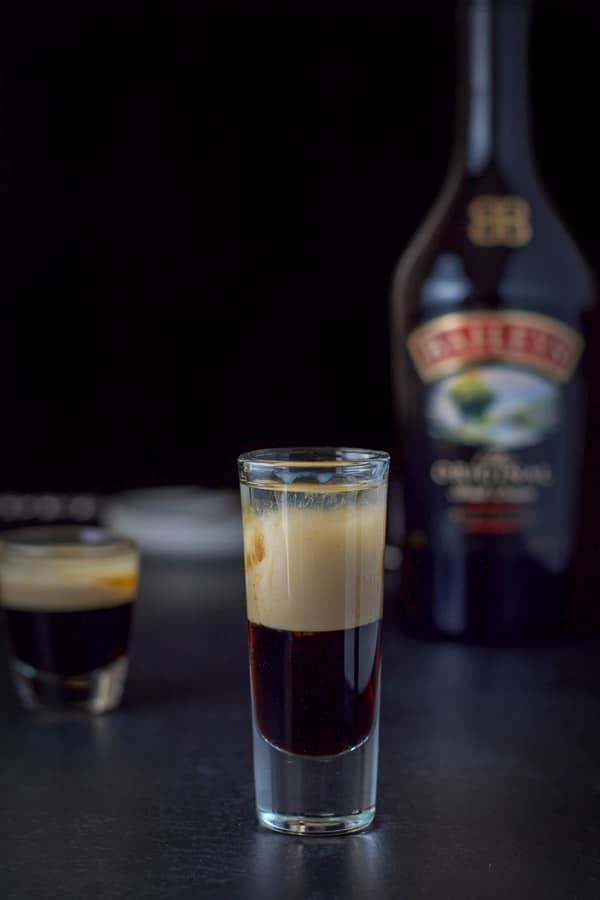 See how the Baileys and cherry brandy have switched places?
Let's look at just the Black Forest cake shot.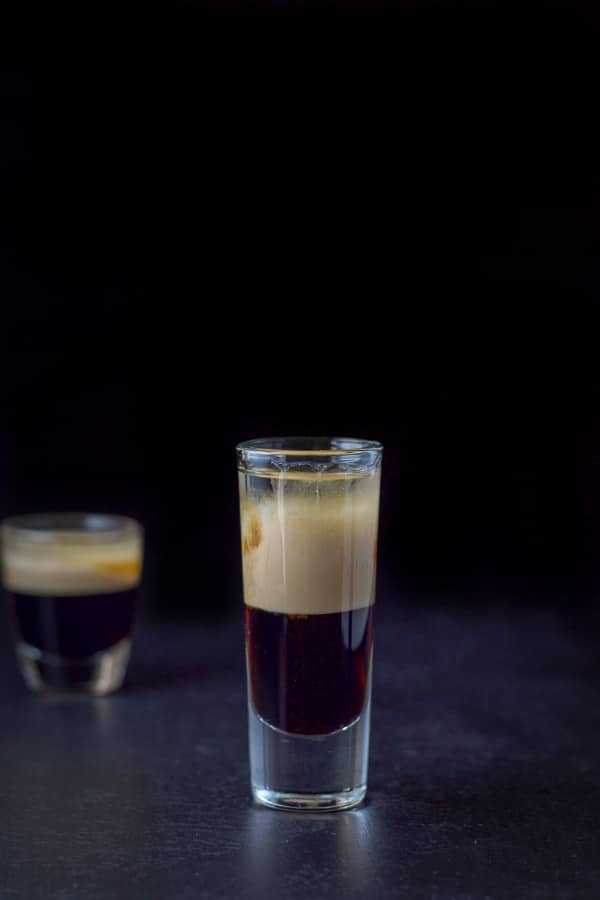 When the layers switched places, it makes for a fun and pretty effect.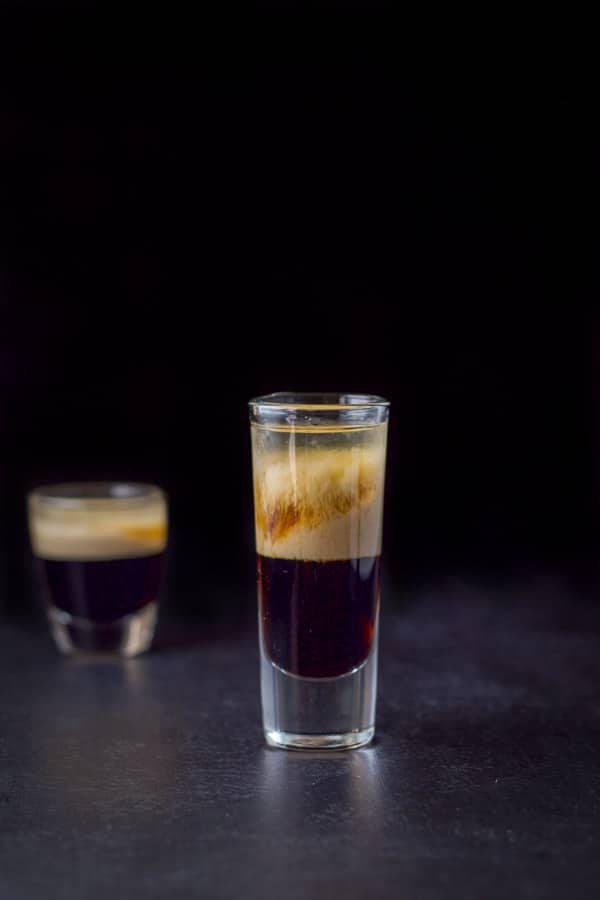 All that is left to do is to shoot the shots!
I hope you enjoyed this Black Forest cake shot recipe!
Other popular cocktails on Dishes Delish:
And as always, may all your dishes/drinks be delish!
If you've tried this Black Forest Cake Shot or any other recipe on the blog, I'd love the hear what you thought about it in the comments below. I love hearing from you! You can also FOLLOW ME on FACEBOOK, TWITTER, INSTAGRAM and PINTEREST to see more of my delicious food and delightful cocktails!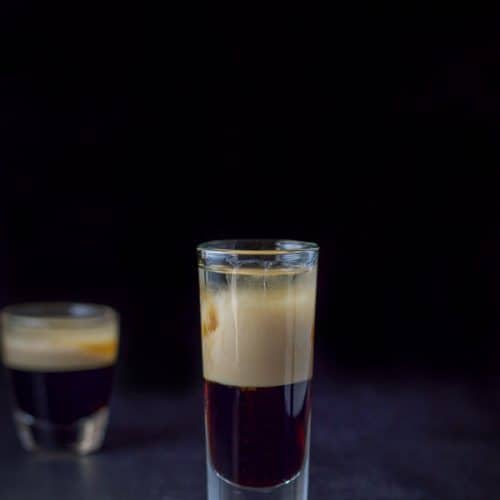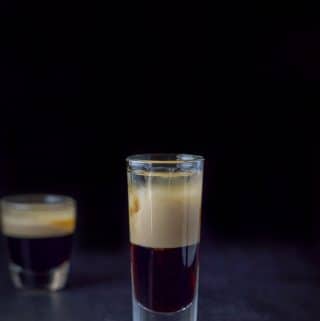 Black Forest Cake Shot
Reminiscent of the famous dessert, this Black Forest cake shot is a delicious and fun drink!
Print
Pin
Rate
Ingredients
1

ounce

Kahlúa

.25

ounce

cherry brandy

.25

ounce

Baileys Irish cream
Tools
Glassware
Instructions
Pour Kahlúa in the bottom half of each glass

Take cocktail spoon and place it in the glass bowl-side up, above the liquid and slowly pour the cherry brandy over the bowl into the glass

With the spoon in the same position above the liquid, slowly pour the Baileys over the bowl into the glass
Notes
The measurements are approximate - Kahlúa = 50%, cherry brandy = 25% and Baileys = 25%
Tips for making the Black Forest Cake shot:
If you are going to layer this shot, either use a cocktail spoon or regular iced coffee teaspoon - for the thin, tall shot glass, I have to use the iced coffee teaspoon because the cocktail spoon is too wide to fit in the glass
Always place the spoon bowl side up in the glass, against the side
Using a pourer controls the pour, which is critical to layering any shot. But if you do use a pourer, just know that you will have to eyeball your quantities because in that case, they're coming straight out of the bottle, unmeasured
As with all layered shots, you need to place the heaviest liquor on the bottom and work your way up to the lightest
If you can use different shot glasses, do! I always like showcasing the shots in different ways
Nutrition
Serving:
1
shot
|
Calories:
88
kcal
|
Carbohydrates:
8
g
|
Sodium:
1
mg
|
Sugar:
8
g