This Southern Comfort Manhattan recipe came to me from my Aunt Carol and Uncle Vic!  It's a tasty and delicious twist on the classic Manhattan cocktail!!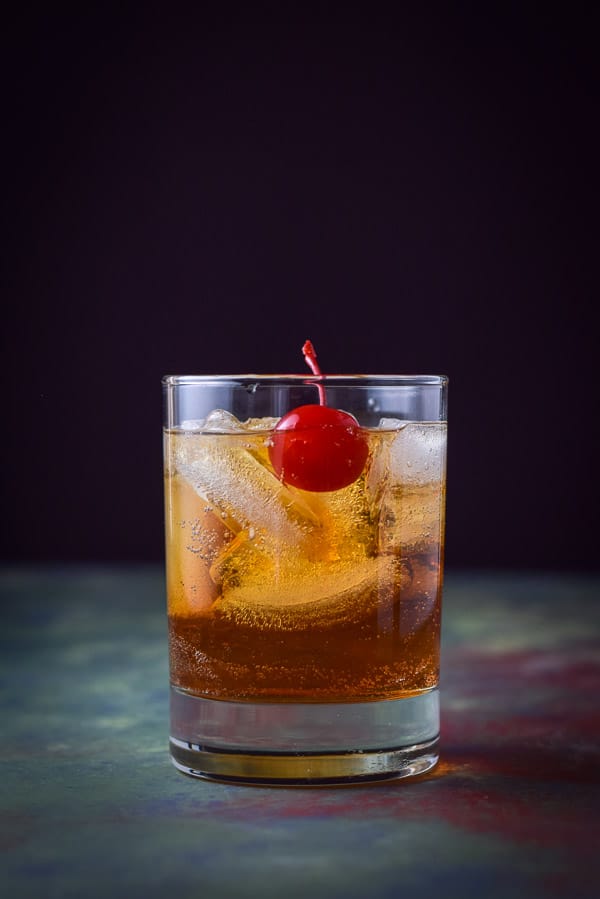 We love visiting family, don't you?  Every year Christopher's aunt and uncle come back from their home in Las Vegas to visit their kids, grand kids, great grand kids and friends and we usually take a trip to central Massachusetts to see them.
During our last visit, we discussed the blog and my cocktails.  They are dedicated readers of the blog and wanted to give me a recommendation.
I am always open to hearing about new drink recipes.  If you happen to know of one or two or three or . . . well, you get the drift, leave me a comment to tell me about them.
Back to the Southern Comfort Manhattan
So, last time we were together, Aunt Carol asked me if I had ever heard of this tasty Manhattan.
I hadn't and I was intrigued.  My mom used to drink classic Manhattans at dinner parties.  That was her "special occasion" cocktail.  I bet you she would have loved this variation.
I grilled Aunt Carol and Uncle Vic about the cocktail.
Did I write it down?  No.
Did I have Christopher call them to get the recipe again?
Sure did!
The thing I found so intriguing about the Southern Comfort Manhattan is that their version calls for both sweet and dry vermouth.  I'd never heard of that before.  Not in the Manhattan.
I was all in.
I wanted to taste this scrumptious combo.
But did I?
On to the recipe.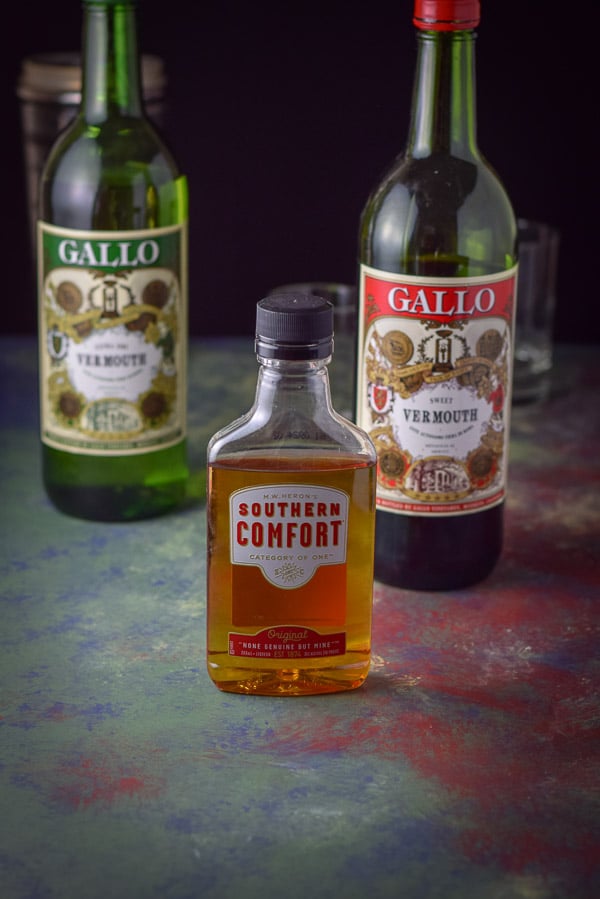 The Ingredients for the Southern Comfort Manhattan Recipe and the Mixing
Above we have Southern Comfort, dry vermouth and sweet vermouth.  That's it.
I grab my rocks glass, my measuring implement and my cocktail shaker which I filled halfway with ice.
Then I measure out 2 ounces of Southern Comfort and fish out a cherry for the garnish.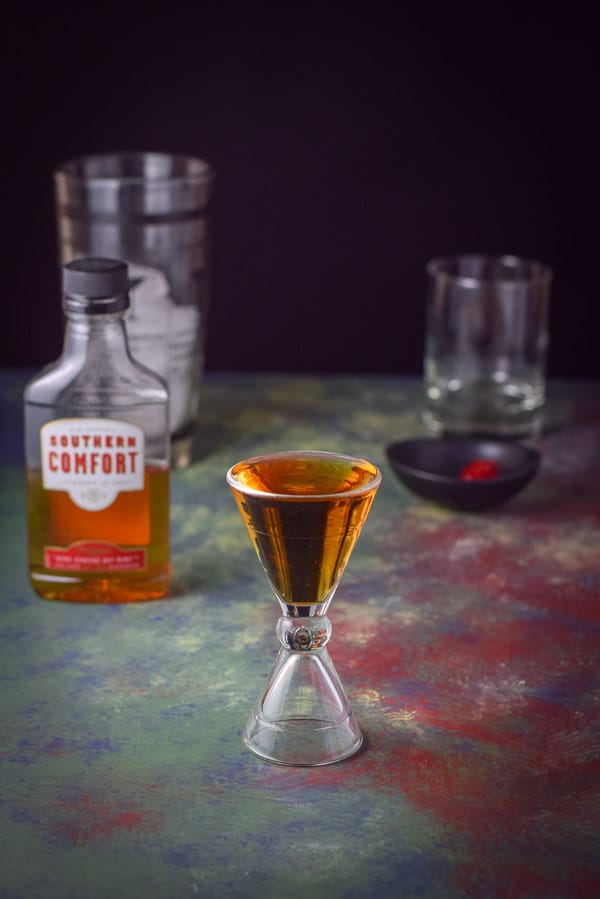 I pour it into the cocktail shaker.
Next up is the sweet vermouth of which I pour out 1 ounce.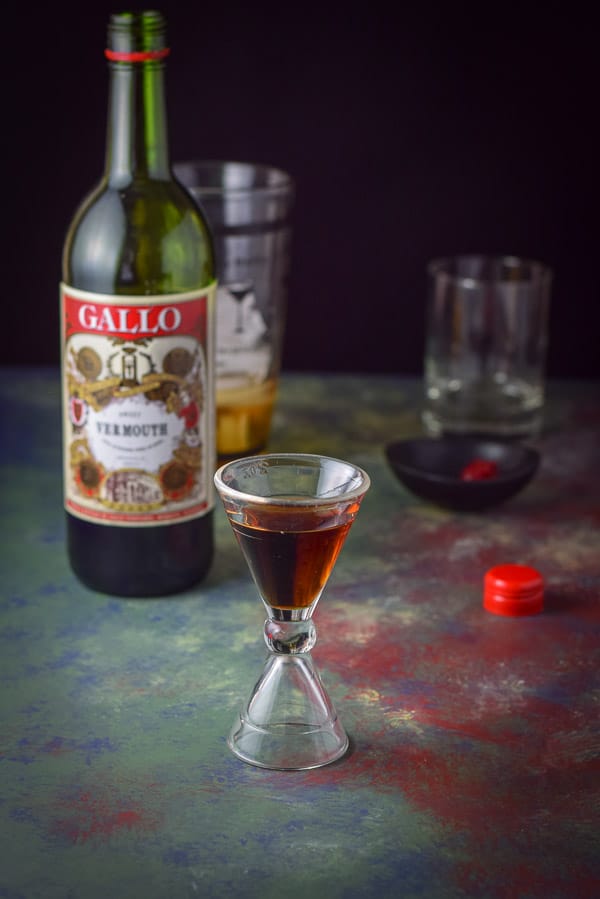 Into the shaker it goes!
Now for some dry vermouth!  We're almost there!  I measure out 1 ounce.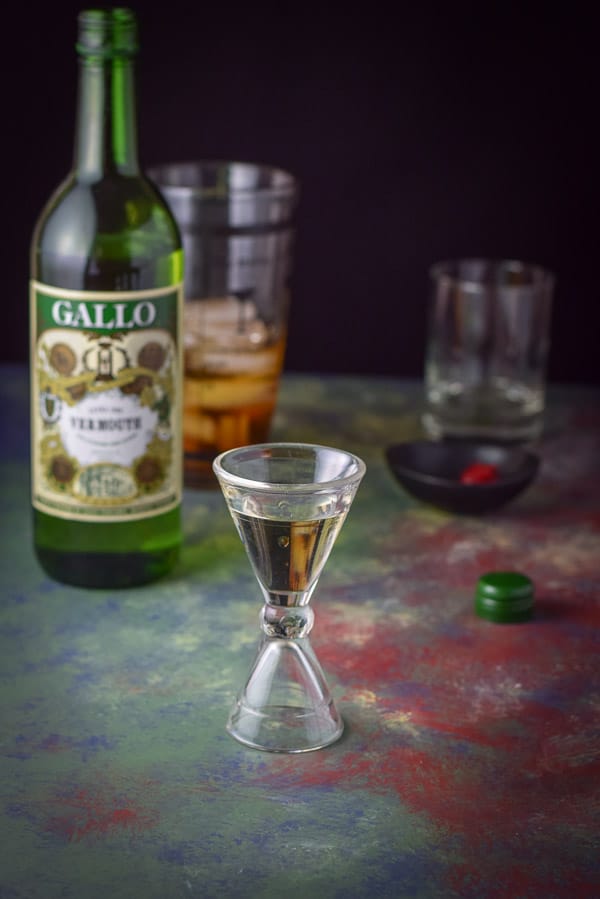 Dry vermouth says, "Cocktail shaker, here I come!"
I pour it in the shaker, cap it and shake it for a good 30 seconds!
I pour it into the waiting rocks glass and plop the cherry in!
Bottoms Up for the Southern Comfort Manhattan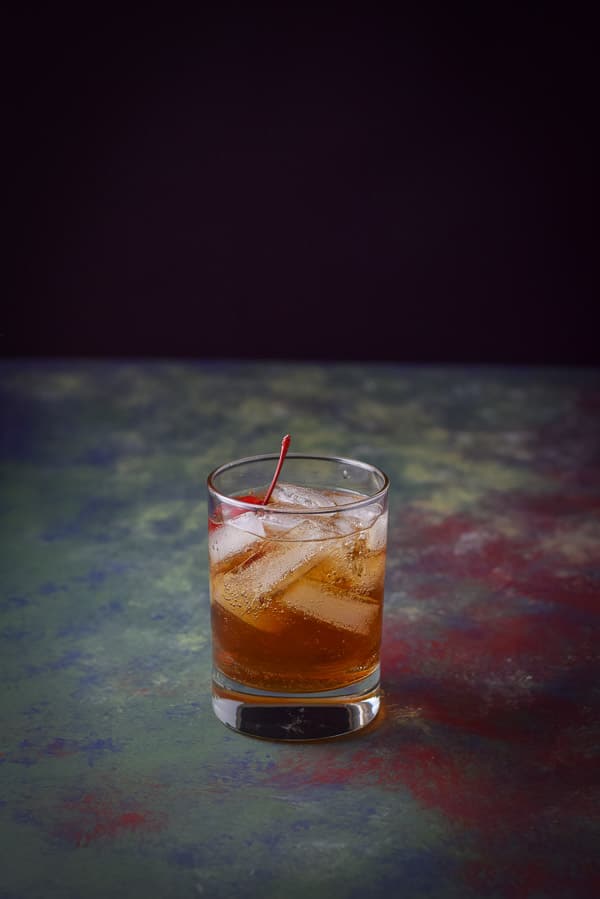 Too far away Lainey, get a little closer!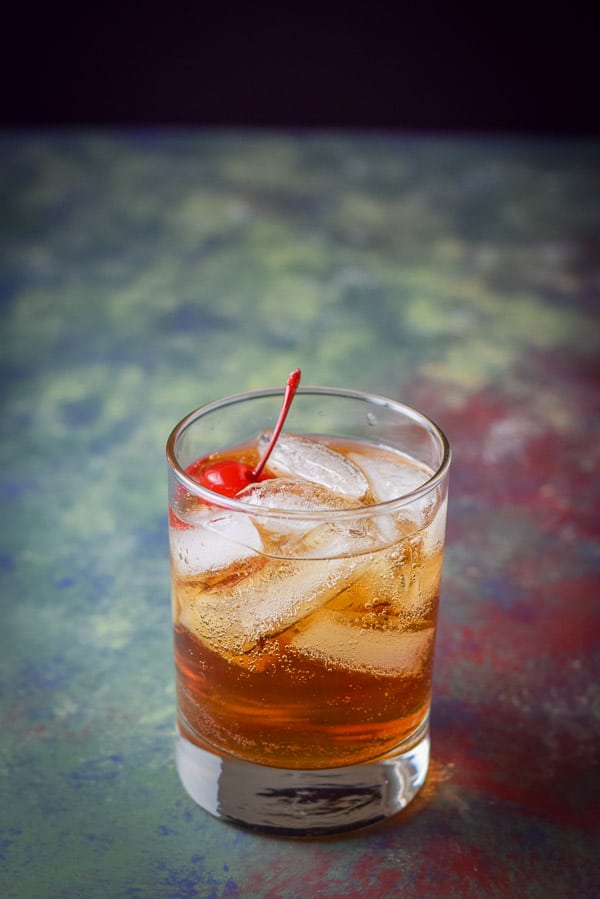 Yummy!  I couldn't wait to taste this Southern Comfort Manhattan!
But did I?
Of course I did!!  SLURP!
Aunt Carol and Uncle Vic were absolutely right!  It is delicious!
I hope you enjoyed this recipe.  Don't forget to tell me what your favorite cocktail is!! Oh, and look, there is a comment section where you can do that!  Oh, and don't forget to rate the recipe while you are at it.  Pretty please!!
And as always, may all your dishes/drinks be delish!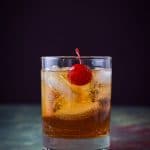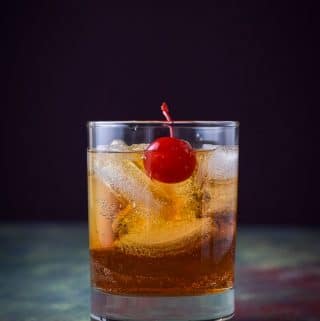 Carol & Vic's Southern Comfort Manhattan
This Southern Comfort Manhattan is delightfully balanced and so delicious!
Keyword:
Southern Comfort Manhattan
Ingredients
2

ounces

Southern Comfort

1

ounce

sweet vermouth

1

ounce

dry vermouth

1 - 2

cherries
Instructions
Make it!
Fill cocktail shaker halfway with ice

Add Southern comfort, sweet vermouth and dry vermouth

Cap shaker and shake at least 30 seconds

Pour contents into rocks glass and add cherry/ies

Sip

Sigh

Smile

Enjoy
Nutrition Facts
Carol & Vic's Southern Comfort Manhattan
Amount Per Serving (5 ounces)
Calories 180
% Daily Value*
Potassium 35mg 1%
Total Carbohydrates 9g 3%
* Percent Daily Values are based on a 2000 calorie diet.