This hot toddy is perfect for when you have a cold!  It's medicinal, peeps!  Medicinal!!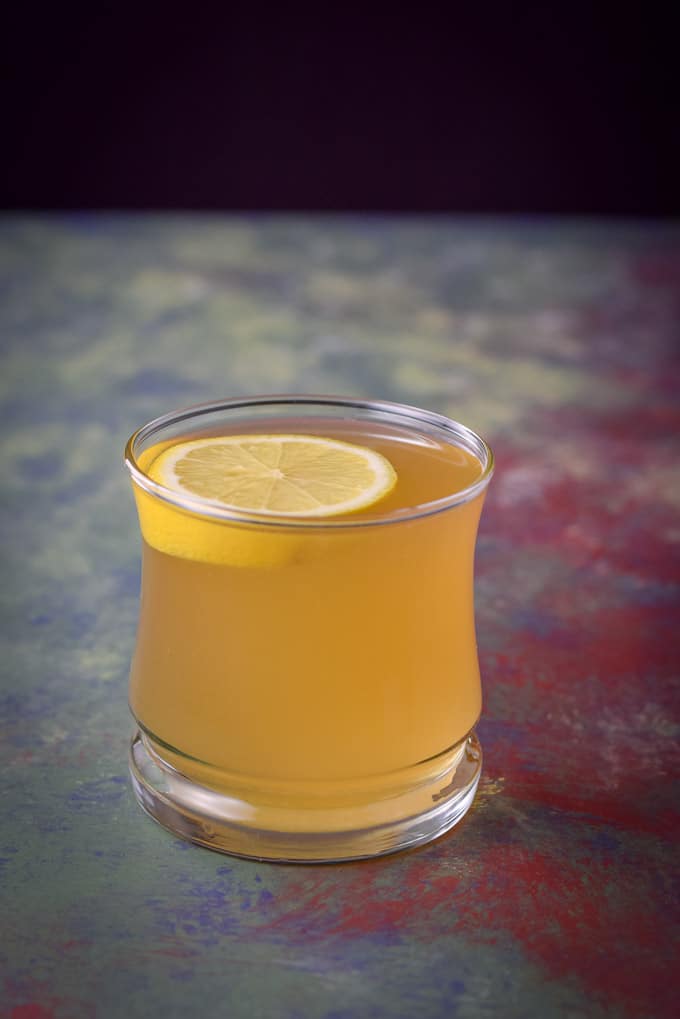 Hot toddy in your face.  Why would you need it in your face?  When you have a cold, silly!  Haven't you heard how medicinal this is?
Medicinal and delicious!
Every single one of these ingredients has some health benefit.  I link to more reading.
Bourbon – weight loss, prevents dementia, fights cancer, protects your heart, reduces internal clotting, controls diabetes, and boosts immune system.
Lemon juice – loaded with vitamins and minerals, antioxidant rich, cancer fighting properties, prevents diabetes, treats indigestion, treats fever, hair care, skin care, weight loss and soothes respiratory disorders, helps throat infections and controls blood pressure.
Honey – rich in vitamins and minerals, weight loss, boosts energy, has antioxidants, natural cough syrup, speeds wound healing and improves athletic performance
See how beneficial drinking a hot toddy is?  Doesn't it make you want to run to the liquor cabinet the next time you feel the sniffles coming on?
It does me!
Some people put tea in their hot toddy, but I never do.  Why?  Because, shhhhhhh, don't tell anyone, but I don't like tea.
I know, I know.  How can I not like tea?
Long story short:  my parents didn't have a lot of money so instead of always having milk at dinner, we were served tea. Hence, I don't like tea.
What about you, is there anything you had as a kid that you can't abide anymore? Please leave me a comment to let me know what it is, as I'm nosy.
There, I said it.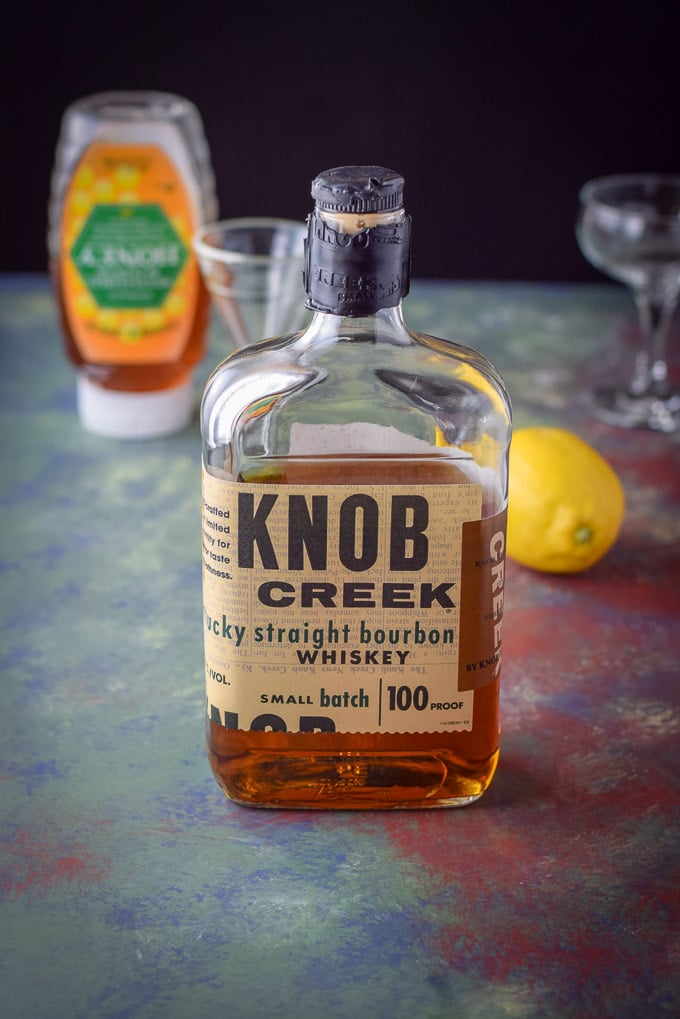 The Ingredients for the Hot Toddy and the Mixing
Above we have the star of the show, Bourbon and the back up singers, lemon and honey!
Let's get started, shall we?
First thing I do is put some water on to boil.
I measure out 2 ounces of bourbon.  In the photo below, you will see a coupe glass. SILLY, silly me.  The amount of liquid that will go inside this delicious hot toddy far exceeds the limit of the glass.  So, I grab a rocks glass instead and chuckle at myself for being so silly.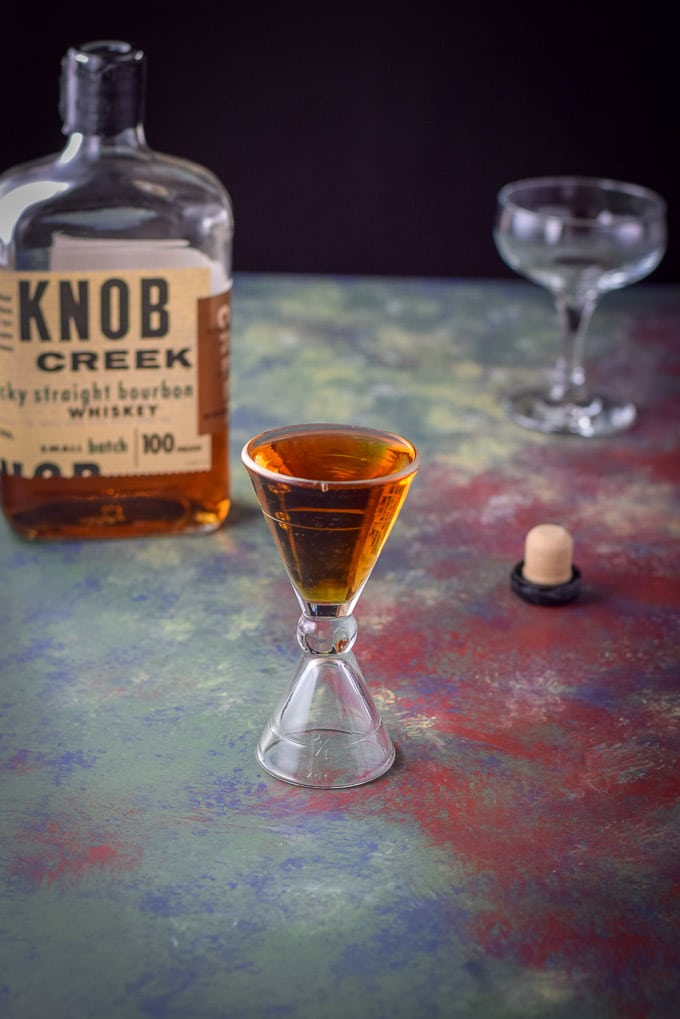 I pour the bourbon straight into the glass.
Squeezing is Fun
Next up is the lemon juice.  I cut my lemon in half and squeeze out 3/4 ounce of the glorious, delicious juice.  I also cut a lemon wheel!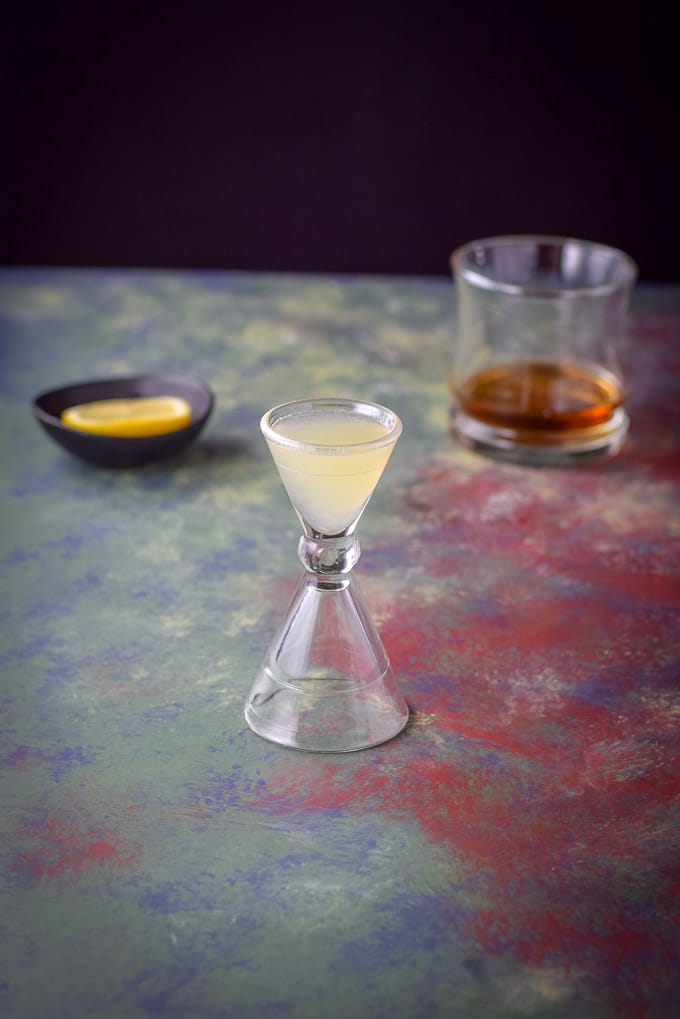 I pour the lemon juice into the glass to commingle with the bourbon.
Next up is the honey.  I squeeze out 1 tablespoon.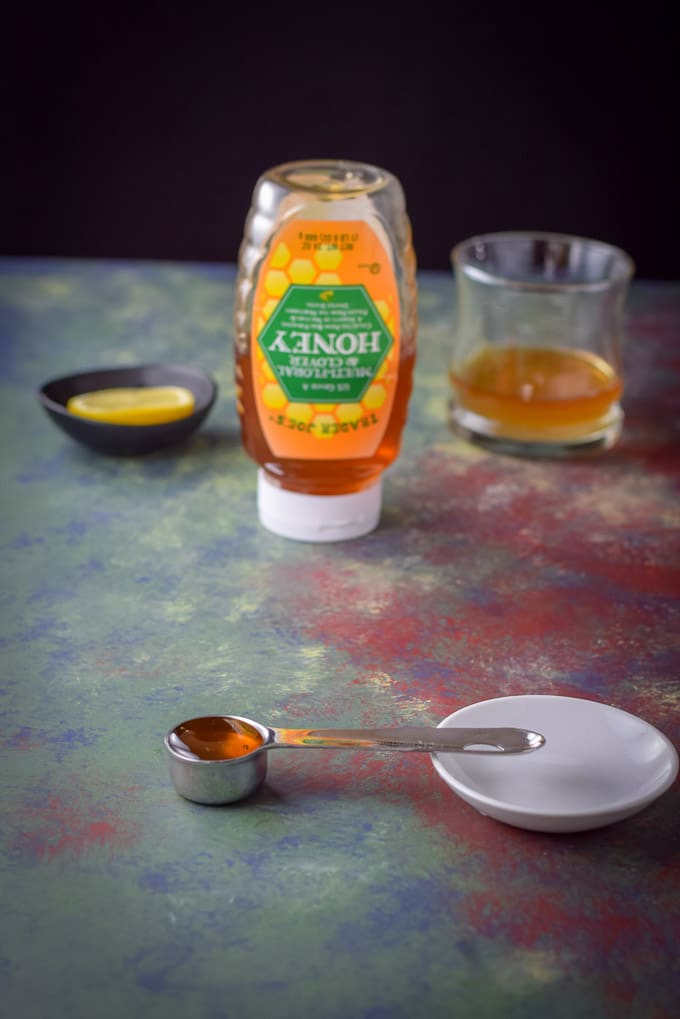 I place the tablespoon in the glass and get the now boiling water.  I measure out 1 cup.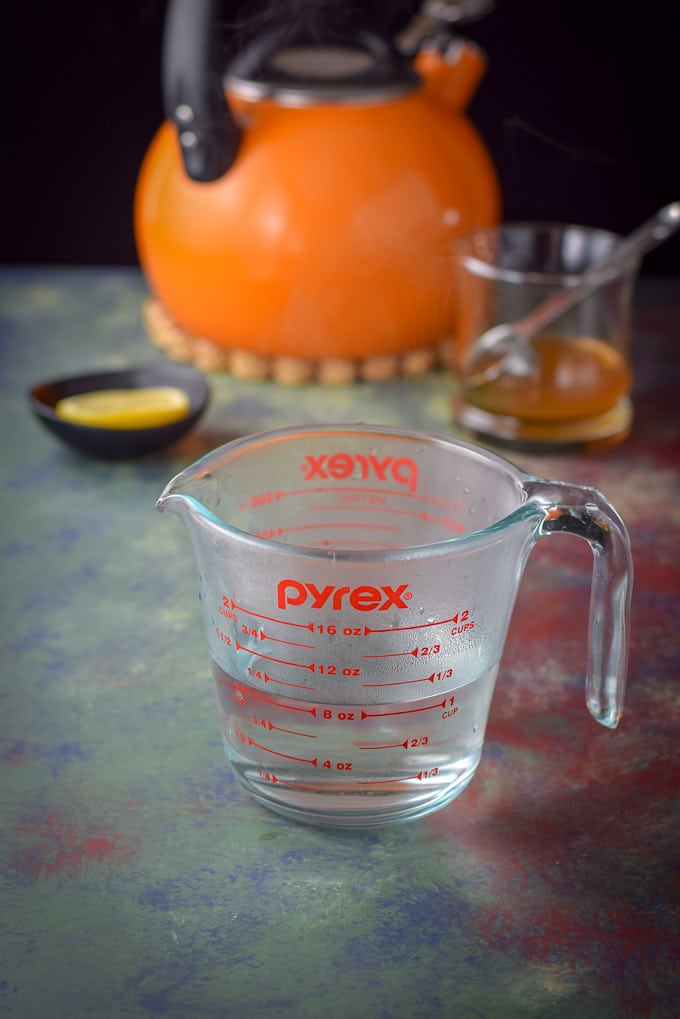 Stir the Hot Toddy!
I pour the water into the glass.  I use the tablespoon to stir all the ingredients of the hot toddy together.  I love how nicely the water melts the honey!
Last thing to do is plop the lemon wheel in the glass.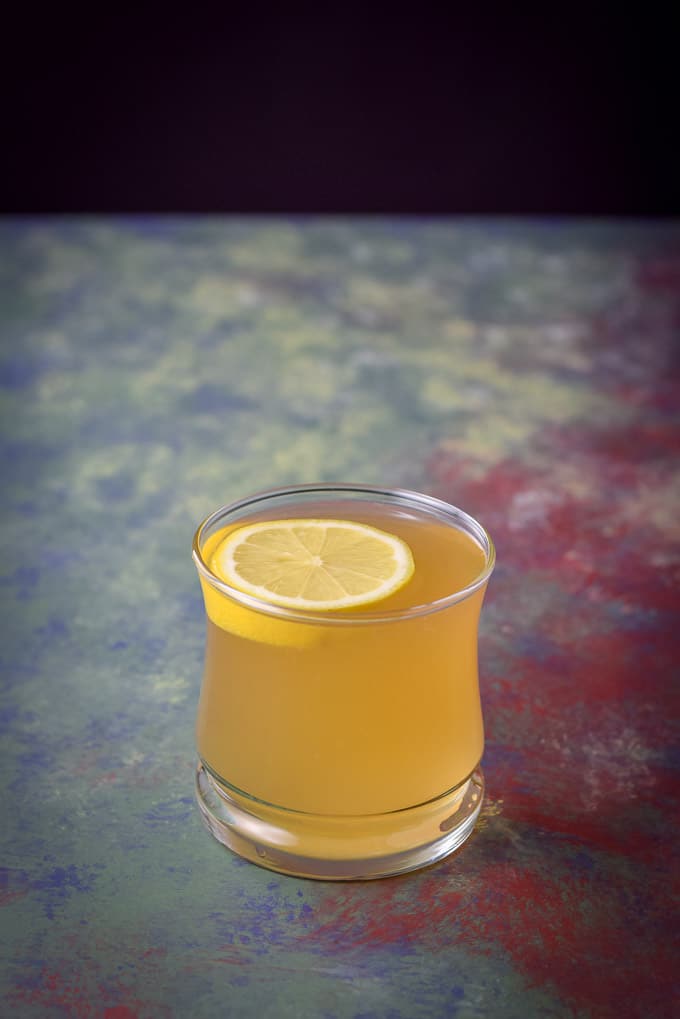 Let's see the vertical view!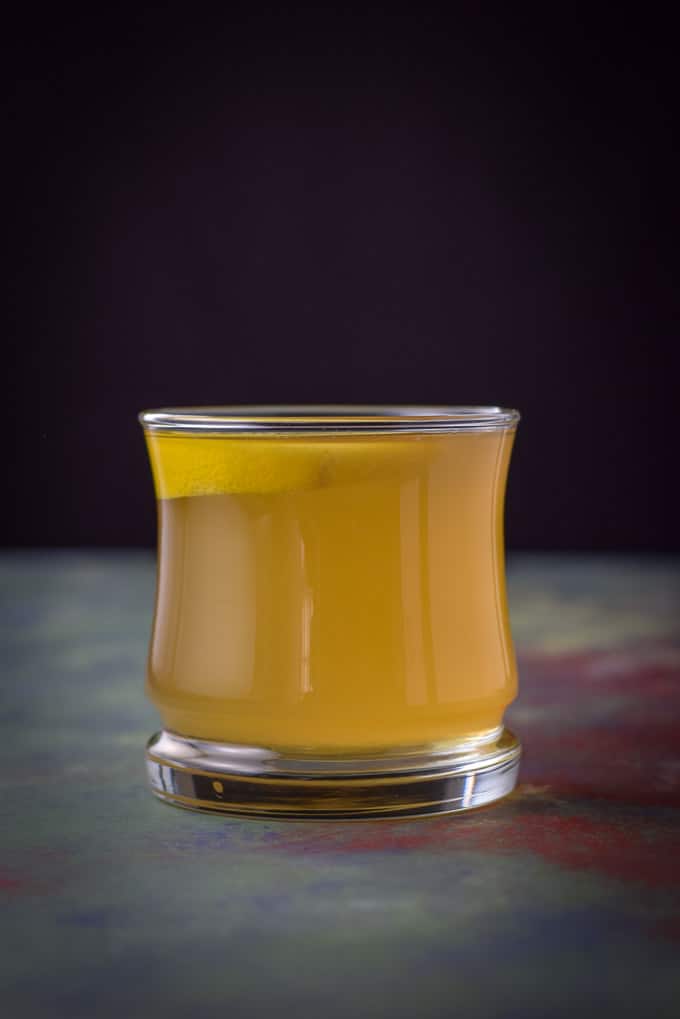 I cough a few times before I pick the glass up and sip the delicious hot toddy.  Do I have to cough?  No, but I'm getting into character.
I hope you enjoyed this recipe!  Just remember it when you have your next cold.  It really does make you feel better!
Please feel free to leave me a comment and a rating!  I love comments and ratings!  Also you can Pin any photo to Pinterest and Yum the recipe to Yummly!
And do some more sharing, like running outside and telling the mail carrier, your next door neighbor and some random person walking down the street!
And as always, may all your dishes/drinks be delish!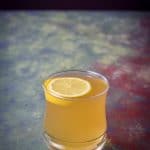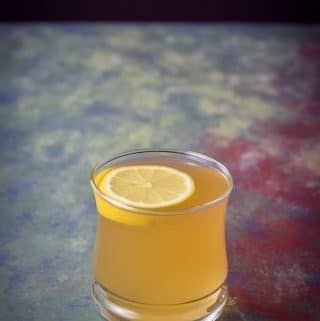 Hot Toddy | Perfect for Cold Season
This hot toddy is perfect to sip when you have a cold. It's even great to sip when you are feeling fit as a fiddle.
Ingredients
2

ounces

bourbon

3/4

ounce

fresh lemon juice

1

tablespoon

honey

1

cup

boiling water
Garnish and Glassware
Lemon wheel

any thickness

Large rocks glass at least 12 ounces
Instructions
Make It
Get your rocks glass

Add bourbon, lemon juice, honey and boiled water

Stir until combined and honey has melted

Plop lemon wheel in glass

Sip

Sigh

Feel better

Enjoy
Nutrition Facts
Hot Toddy | Perfect for Cold Season
Amount Per Serving (12 ounces)
Calories 199
% Daily Value*
Sodium 14mg 1%
Total Carbohydrates 18g 6%
* Percent Daily Values are based on a 2000 calorie diet.