This classic old fashioned cocktail recipe is so simple that you'll wonder why you haven't made it yourself!  Only three ingredients, not counting the fruit, and you are on your way to an old fashioned cocktail kind of day.  Or night! 😉
This Old Fashioned Cocktail Make me Feel Cool
Wow!  As a bartender, I have made my fair share Old Fashioned cocktail recipes over the years.  But I had never tasted one until a few years ago when we were with my brother- and sister-in-law.  There we sat; sipping away at this lovely cocktail. I have to admit, there is something about the classic drinks that makes one feel worldly.  Or at least, that's how they make me feel!
A while ago, we went to visit another of Christopher's sisters and while we were gathered at an old haunt of ours (read: a restaurant Christopher and I used to go when we were dating), our other brother-in-law was drinking one of these beauties!  He offered me a sip and I never say no to a free sip.
Ahhhh! I instantly felt cool and looked around the bar to see everyone nodding their heads and looking at me approvingly.  Okay, that last part might have been my fantasy, but that doesn't negate the cool feeling I had when I sipped this delicious drink.
And while the cocktail at this restaurant was acceptable, it wasn't the best Old Fashioned I've ever had.  I turned to Christopher and told him that I was soooo going to make an Old Fashioned cocktail recipe for the blog!  He smiled proudly at me.  Or maybe he was just checking out the reflection of his teeth in my glasses.  I will never know.
The Ingredients for the Classic Old Fashioned Cocktail and the Mixing
We have bourbon, glorious maraschino cherries, an orange, water, sugar, a glass and a muddler.
Let's get started.
I take an orange and slice a wheel out of it.  I'm going to muddle this slice in a glass, along with a maraschino cherry, some sugar and water.  I slice the round in half, but I will use both pieces.  It fits better in the glass this way!
I stick the orange slices in the rocks glass along with some water and sugar.  You can also use simple syrup if you prefer.
Now, we get out two of these fabulous maraschino cherries.  They are the Luxardo brand.  Which means they are deluxe and taste better than the bright red ones.
I plop them into the glass and muddle them together with the orange slices.  If you don't have a muddler, you can use the back of a wooden spoon!  But I love my muddler.
Look at all the bits and pieces of fruit on the sides of the glass.  Mmmm.
Let's look at an aerial view of the muddled fruit.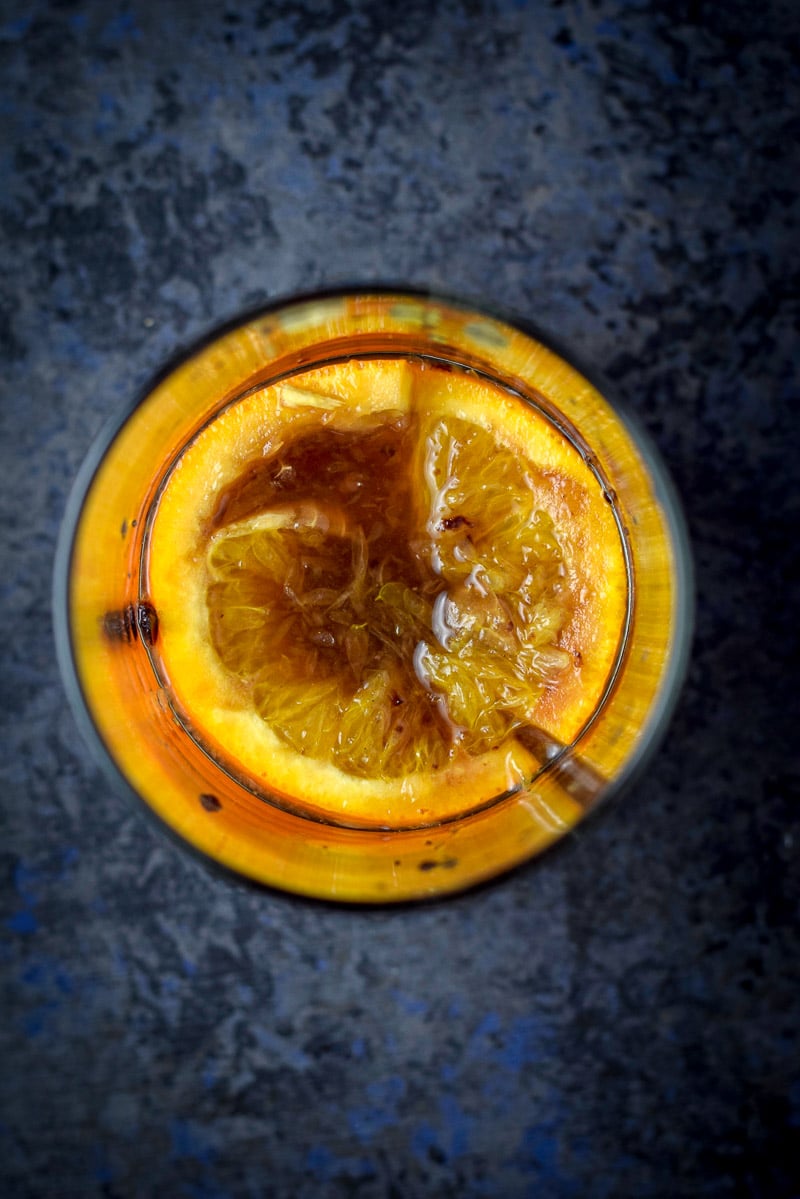 Time to measure out the bourbon.  I also grab my cocktail mixing spoon
.
I put a huge ice cube in the glass.  Such a fun ice cube.  Can ice cubes be fun?  Here's what I made it with.
I pour the bourbon directly over the ice and then take my cocktail mixing spoon and swirl all the ingredients around the glass.  I want the bourbon nice and cold and the ingredients to all meld together.
Bottom's Up
Here's an arial view of the classic old fashioned cocktail!
And the vertical view.
All that is left to do is sit on my couch and sip this classic old fashioned cocktail!
I hope you enjoyed this recipe.  Feel free to leave me a comment, what is your favorite classic cocktail?  If you do comment, don't forget to rate it too!  You can also Pin any photo to Pinterest and Yum the recipe to Yummly.
And as always, may all your dishes/drinks be delish!
Classic Old Fashioned Cocktail Recipe
This classic Old Fashioned drink is so easy and delicious. It will make you feel like you're on the Mad Men set!
Keyword:
classic old fashioned
Ingredients
1

orange wheel

cut in half

2

maraschino cherries

I used a deluxe brand like Luxardo, but regular will do

1

teaspoon

water

1

teaspoon

sugar

Ice

2

ounces

bourbon
Tools, Garnish and Glassware
Extra Maraschino cherries

Rocks or highball glass
Instructions
In a rocks or highball glass put your orange wheel, maraschino cherry, water and sugar

Take a muddler or the back of a spoon and smush the orange, cherry, water and sugar

Put some ice on top of the muddled fruit

Pour bourbon over ice

Take cocktail spoon and stir thoroughly

Sit somewhere comfortable

Raise glass to lips

Sip

See if anyone thinks you're as cool as you feel

Smile

Enjoy
Nutrition Facts
Classic Old Fashioned Cocktail Recipe
Amount Per Serving (1 drink)
Calories 171
* Percent Daily Values are based on a 2000 calorie diet.