I named this drink Nancy's indulgent delicious frozen mudslide cocktail because my sister used to love these concoctions!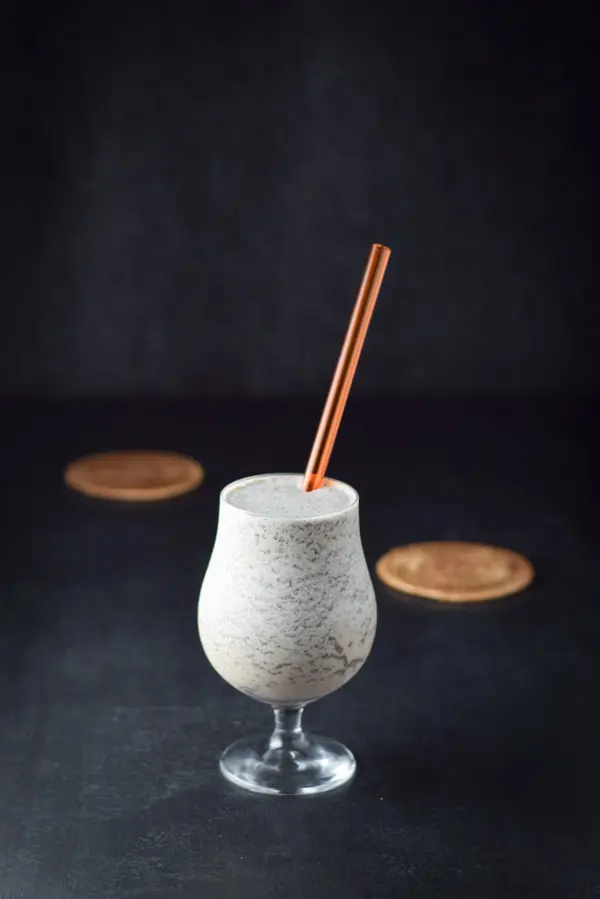 When Nancy and I used to go to a bar together, this was what she would order; the frozen mudslide. I didn't always order it, but when I did, I would latch my lips on the straw and not waste any time talking. I focused on sipping, swallowing and breathing. I would, however, take the time to nod at her as she said between sips, "This is so delicious."
We drank these delish cocktails like they were milkshakes.
I could only have one frozen mudslide because of how easily they go down. They are also addictive, boozy and caloric. So beware!
Nancy used to have more than one! She was carefree and bold.
On the sad side
I've talked before about my sister passing away and feel I must talk about her again to commemorate her in this post.
A little background: my folks had four children in a row, one born each year. I was fourth in line and the baby of the family until along came the usurper who took my place. My reign lasted four years. Then my little sister was born.
So, we four oldest kids are so close in age that we would say things like, "How old is Rita? Isn't she Nancy's age?"
Christopher laughs because in his family, if an outsider was within a few years of anyone's age, the sibs talking to each other would lump each other together and say, "That kid is our age." We never did that. We defined the ages more narrowly, because our own ages fell within such a narrow range. How narrow, you ask?
First, remember that each of us was born in consecutive years. Secondly, we were all born at the same time of year! My brother Bob was born in September, my sister Robyn was born in September, my sister Nancy was born in November and I came into this world 10 months later, also in September. Denise came along four years after me, in December. So yes, to this day we slice other people's ages rather finely and specify whether some is Nancy's or Robyn's or Bobby's age, etc.
Irish twins
The closeness of our birth dates made Nancy and I Irish twins. The definition of an Irish twin is "A pair of siblings born either less than 12 months apart, especially if born within the same calendar year or school year, or born one year apart."
Our closeness in age made Nancy and I pretty competitive with each other. I felt badly for her from a very young age because I felt she missed out on her babyhood and to some degree, her toddlerhood, since I was born so soon after her. Imagine being 10 months old and then here comes another baby to take to focus away from you.
I'm not sure why I felt badly for Nancy and not Bobby or Robyn because when I was born, they were only 3 and 2 – toddlers still themselves! Maybe it was because Nancy's life was fraught with challenges and she endured a lot of hardship. I do attribute many of her troubles to her being a middle child and my being so close to her in age. It's as though she never had the limelight all babies deserve to enjoy for a time.
In spite of this, Nancy was kind hearted and loving. Most people, when talking about her, would say that she had a big heart. She was fiercely loyal, very giving and she would do anything for you including taking off her shirt for you if you needed it.
Her physical Attributes
Nancy was also what we would call a bruiser; someone tough, strong and ready to fight if she saw the need. She was a substantial woman, tall and statuesque. But she was a girly girl, too. Her hair was always done up. She dressed nicely. She wore a full face of make up and donned lots of jewelry. None of the other girls in my family are like that, nor was my mother.
When I say that Nancy was a bruiser, here's an example. Even though we always had a contentious relationship, we loved each other. Let me make that clear. But we did use to fight and when she picked on me and it got physical, she used to beat me in the fight and I'm no slouch.
When I was 14, I finally figured out how to get her to stop.
Throw Lainey like a javelin
One time, I didn't fight back. I let her pick me up and fling me to the floor. Over and over. I didn't say anything, just landed in a heap and waited for her to pick me up again. She eventually tired and after that episode, we never got physical again.
Did you notice I said "pick me up?" I was always a little chunky and I am 5′ 7″ but she had no problem lifting me and throwing me. Strong!
Fast forward many years
Nancy found out she had breast cancer in 2000 and fought the good fight for 3 years, before she succumbed at the age of 41 to the disease. She left a husband and 2 young children.
Nancy was loved by everyone and had a strong personality but a great thing about her was that she would listen to you when you had something to tell her even if she didn't like what you were saying.
I miss her every day.
This drink post is for you Nancy!
The end. (For now.)
How to make the frozen mudslide cocktail
Here's what is in this delish drink: Baileys Irish cream, Kahlúa, vodka, some heavy cream and ice cream.
First off, I grab my blender container.
I measure out 1 1/2 ounces of vodka.
I pour it into the blender container.
Time for the Kahlúa. I measure out 1 1/2 ounces.
I pour it into the container to meet the vodka.
Baileys Irish cream, you are up next. I measure out 1 1/2 ounces.
Into the blender it goes.
Now, for 2 ounces of heavy cream. You could use any type of cream but since this is already caloric, go for the gusto.
Into the blender it goes.
Now for the fun part. You could use 2 scoops of vanilla ice cream OR you could use two chocolate covered ice cream bars (I used yogurt bars).
I wanted the chocolate coating the yogurt to make little flecks in the cocktail, because, why not?
🙂
I take my knife and cut the yogurt bars away from the wooden sticks. I plop them in the blender container.
Time to add 5 ice cubes and attach the blender top to the container.
I pulse it all until it is nice and thick.
Bottoms up
I pour the concoction into a tulip glass since it looks so lovely.
See those lovely flecks?
All that is left is to pick up the glass, put the straw in my mouth and sip, swallow, breathe and repeat until I make it all gone!
Cheers again, Nancy! This one is for you!
I hope you enjoyed this recipe!
Please feel free to leave me a comment, Pin any photo to Pinterest and Yum the recipe to Yummly.
And as always, may all your dishes/drinks be delish!
Frozen Mudslide Cocktail
This super indulgent frozen mudslide is a fun and delicious cocktail!
Print
Pin
Rate
Ingredients
1 1/2

ounces

vodka

1 1/2

ounces

Kahlúa

1 1/2

ounces

Baileys Irish cream

2

ounces

heavy cream

2

chocolate covered vanilla ice cream

or yogurt bars

5

ice cubes
Instructions
Get your blender container and add the vodka, Kahlúa, Baileys Irish cream and heavy cream

Cut the ice cream bars into the blender

Add the ice, cap the blender and pulse until nice and thick

Pour into a tulip glass

Plop a straw in the drink

Sip

Breathe

Swallow

Repeat

Smile

Enjoy
Nutrition
Serving:
12
ounces
|
Calories:
678
kcal
|
Carbohydrates:
32
g
|
Protein:
2
g
|
Fat:
26
g
|
Saturated Fat:
16
g
|
Cholesterol:
78
mg
|
Sodium:
30
mg
|
Potassium:
42
mg
|
Sugar:
28
g
|
Vitamin A:
835
IU
|
Calcium:
37
mg
Get new recipes in your inbox!
Click here! to sign up for our newsletter