A potent, liquid version of the popular candy, this Chocolate Raspberry Kiss shot is a short and sweet burst of flavor to kiss the lips of your true holiday love!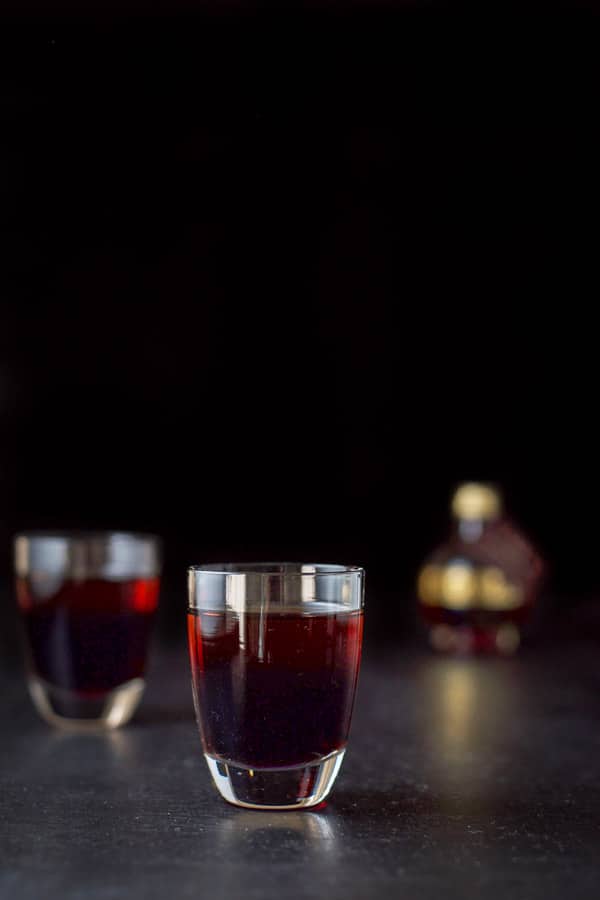 This is the second post in my 12 Shots of Christmas series. On the second day of Christmas, my true love gave to me: one Chocolate Raspberry Kiss shot and a shot named Peppermint Patty!
What is fun and interesting to me is that one of the most popular liqueurs involved in so many different shots is Kahlúa. Why? Because it is a delicious concoction of rum and coffee liqueur. Many people think that not only does it taste of coffee, but it tastes like chocolate too. I'm one of them!
This recipe is for one shot. To make multiple shots, you can double or triple the recipe.
Tips on making the chocolate raspberry kiss shot:
If you are going to layer this shot, either use a cocktail spoon or regular iced coffee teaspoon – for the thin, tall shot glass, I have to use the iced coffee teaspoon because the cocktail spoon is too wide to fit in the glass
Always place the spoon bowl side up in the glass, against the side
Using a pourer controls the pour, which is critical to layering any shot. But if you do use a pourer, just know that you will have to eyeball your quantities because in that case, they're coming straight out of the bottle, unmeasured
I feel that each batch of Chambord is different. I know it's not supposed to be, but sometimes I get a reddish color, sometimes a vibrant maroon and sometimes a brownish color. I first thought the color differences were because the liquor was old, but that isn't the reason. Just know that it's fine whether the Chambord looks reddish, brown or maroon. 🙂
How to make the Chocolate Raspberry kiss shot
Grab a shot glass and a cocktail spoon.
Step one
Gather the ingredients: Kahlúa and Chambord.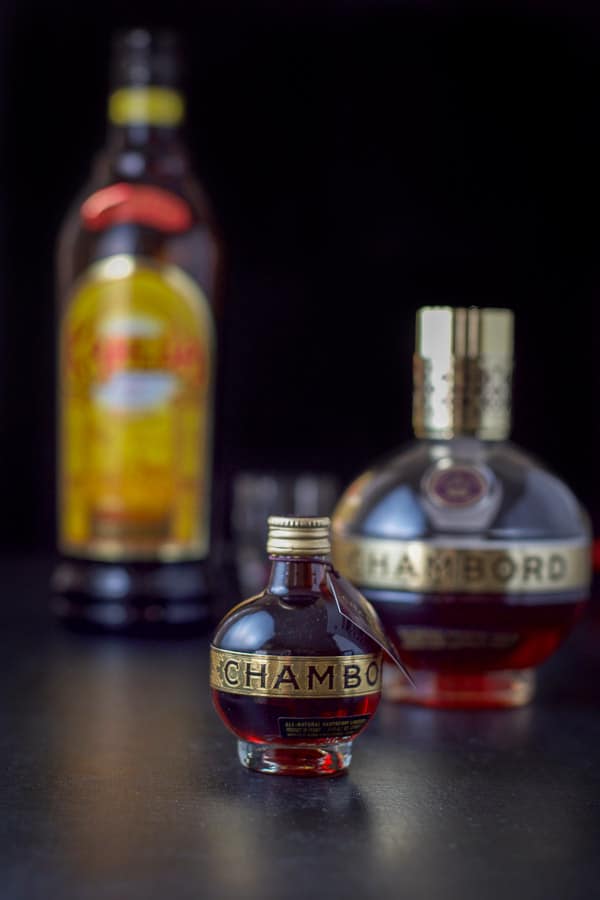 Isn't the small bottle of Chambord so adorable? I love these little nips!
Step two
Pour Kahlúa halfway up the shot glasses.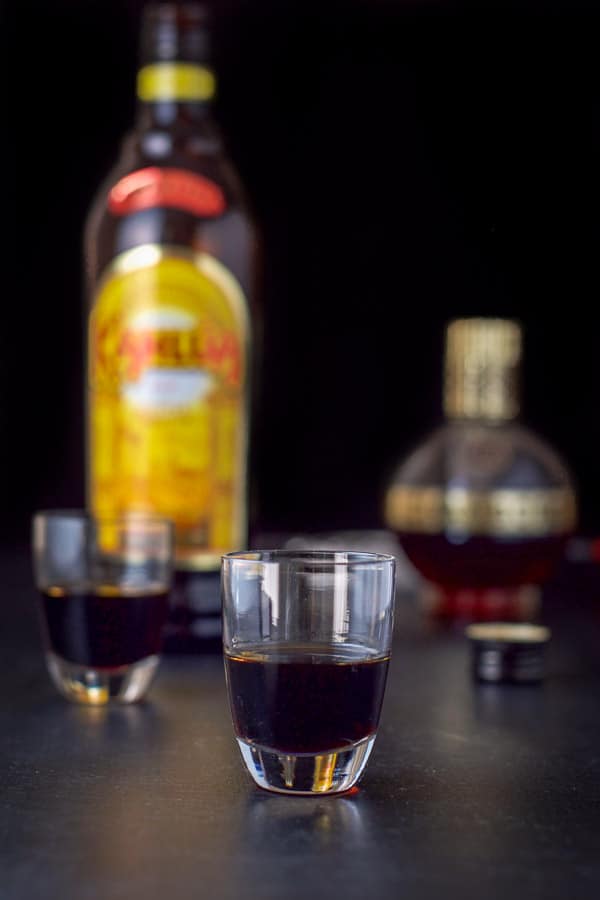 Step three
Place the spoon bowl side up in and against the side of the glass. Slowly pour the Chambord over the bowl of the spoon into the glass.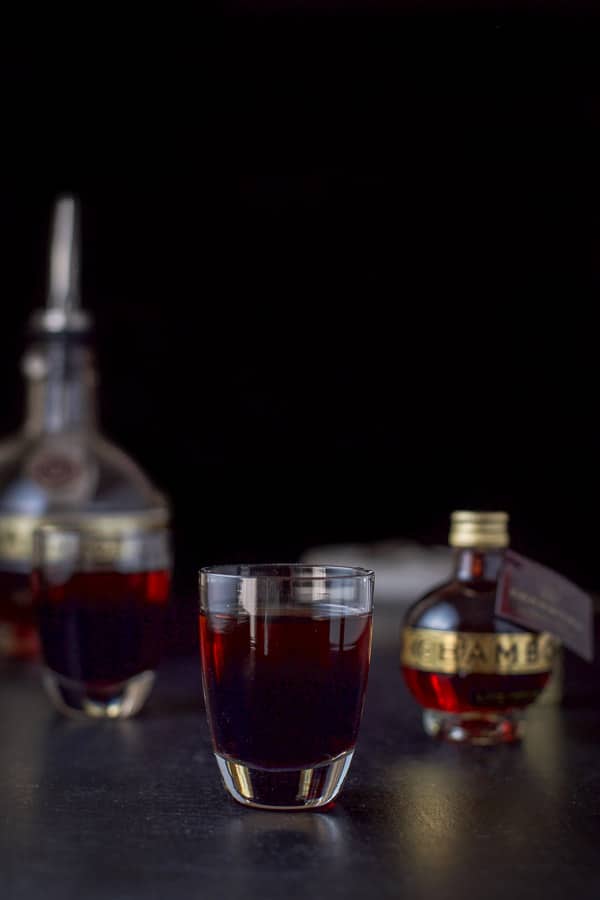 One of the things I most adore about layered drinks is the beauty. Look at the gradation of colors. A deep brown to a pretty reddish color.
Let's look at the vertical view of the cocktail without one of the bottles in the background.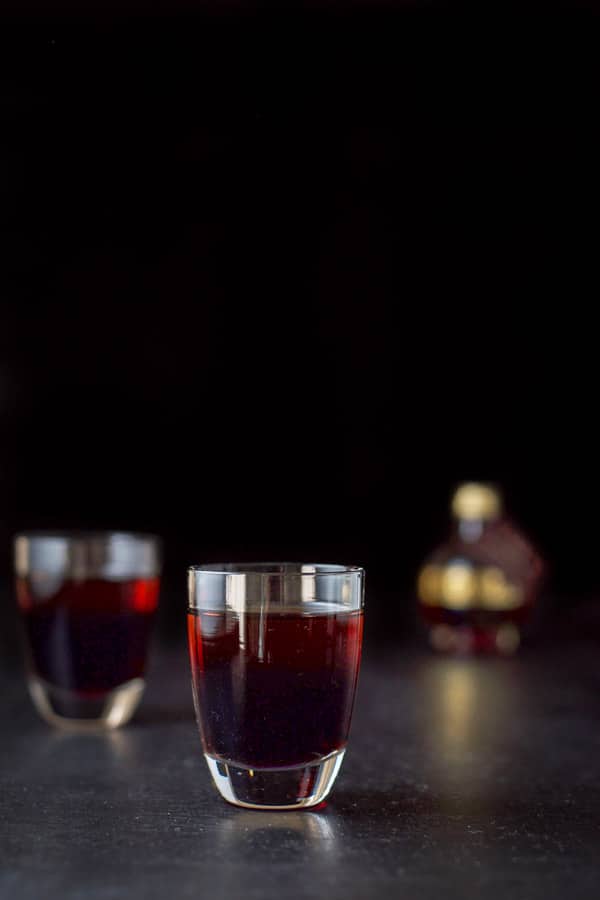 All that is left is to pick up the glass and shoot it!
Yum.
I hope you enjoyed this chocolate raspberry shot recipe! It is so yummy!
And as always, may your dishes/drinks be delish!
Other popular berry cocktails on Dishes Delish:
If you've tried this Chocolate Raspberry Kiss Shot or any other recipe on the blog, I'd love the hear what you thought about it in the comments below. I love hearing from you! You can also FOLLOW ME on FACEBOOK, TWITTER, INSTAGRAM and PINTEREST to see more of my delicious food and delightful cocktails!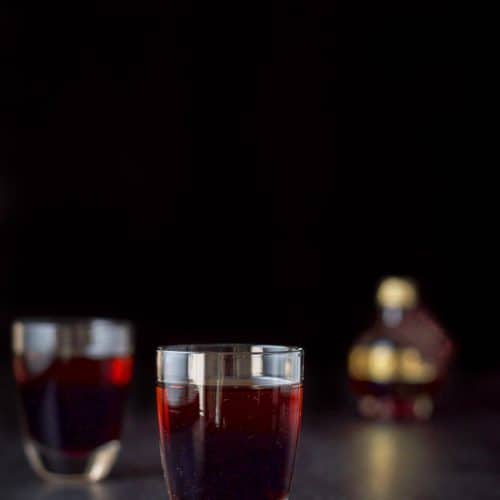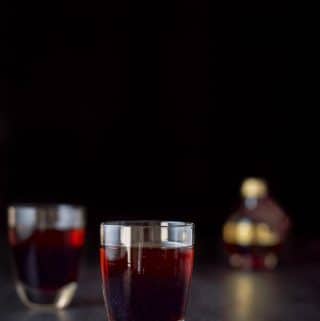 Chocolate Raspberry Shot
This shot has only two ingredients but be careful, you'll want to kiss whoever is near you when you drink it. 🙂
Print
Pin
Rate
Ingredients
3/4

ounce

Kahlúa

3/4

ounce

Chambord
Instructions
Use cocktail spoon and pour Chambord over bowl of the spoon
Notes
These measurements are approximate. It's okay to pour by eye!
Tips on making the chocolate raspberry kiss shot:
If you are going to layer this shot, either use a cocktail spoon or regular iced coffee teaspoon - for the thin, tall shot glass, I have to use the iced coffee teaspoon because the cocktail spoon is too wide to fit in the glass
Always place the spoon bowl side up in the glass, against the side
Using a pourer controls the pour, which is critical to layering any shot. But if you do use a pourer, just know that you will have to eyeball your quantities because in that case, they're coming straight out of the bottle, unmeasured
I feel that each batch of Chambord is different. I know it's not supposed to be, but sometimes I get a reddish color, sometimes a vibrant maroon color and sometimes a brownish color. I first thought the color difference was because it was old, but that isn't the reason. Just know that it's fine whether the Chambord reddish, brown or maroon. 🙂
Nutrition
Serving:
1
shot
|
Calories:
138
kcal
|
Carbohydrates:
16
g
|
Sodium:
3
mg
|
Sugar:
16
g