This is my no churn rocky road ice cream recipe!  You will be shocked, SHOCKED I tell you, by how simple and delicious it is!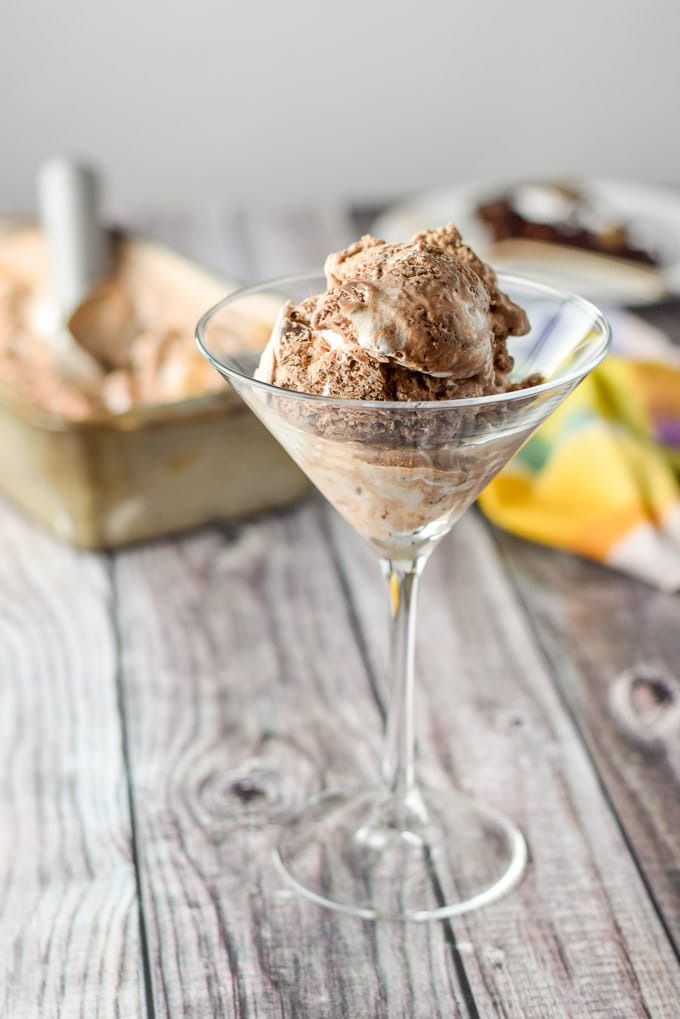 You're probably wondering why I'm posting an ice cream recipe in the winter.  Well, because I love ice cream.  And in case you haven't noticed, I have a tendency to go against the "rules".
Years ago, I had a knitting blog.  If only I had started a food blog instead of that knitting blog, I'd be lightyears ahead.  (That's assuming I continued – the knitting blog went by the wayside.)  BUT, I mention the knitting blog because back then, New Englanders ate the most ice cream in the US.  Now, CA has taken the lead.
How DARE they?  Oops, I mean, how nice for them.  So the posting of this recipe is to encourage everyone, including myself to not limit the eating of ice cream to the Summer. We need this year round peeps.  Don't you agree?
Hence, what is your favorite ice cream?  Because I have two:  this rocky road and mint chocolate chip!
Funny Ice Cream Story
Christopher has a funny relationship with our nephew, Nicholas, my sister Robyn's youngest son. Especially years ago, they would act like they hated each other, much to the amusement of the rest of us.
Once upon a time, a crew of us went to get ice cream cones at a famous stand near Robyn's house. When Christopher had finished his cone, he went up to Nicholas and, horsing around, made a show of shoving him backwards.
No stranger to drama, Nicholas went with it and stumbled backwards, flinging his not-quite-finished ice cream cone off to his side and onto the lawn.  That was Christopher's first surprise.
Next…
Next, Nicholas charged Christopher and in one swift movement, put one hand on his chest, one hand on his thigh and hoisted him straight over his head!  Robyn's boys are amateur wrestlers so they know how to lift someone and whirl them around.
The thing that was so funny was Christopher's screaming like a little girl as he was being twirled in the air.
We all roared with laughter because Christopher is 6 feet tall and Nicholas is around 5′ 8″.  However, the way Nicholas just extended his arms and pressed Christopher overhead, twirling him all the way, was priceless.
Today it's a favorite family memory.
On to the No Churn Rocky Road Ice Cream Recipe
We have heavy cream and sweetened condensed milk.  That's it!  The fluff and chocolate chips are add ins.
I take out my stand mixer, insert the whisk attachment and pour in the cream, condensed milk and cocoa powder. I turn the mixer on and whisk until the liquid gets nice and thick.  It will form stiff peaks.  (This means that the peaks will stand alone for a few seconds.)  Also, I add some chocolate chips and lightly fold them in.
Finally, I grab my bread pan and start pouring the whipped cream in it.
I use my spatula and scrape out all that rocky road ice cream goodness.
I take a big spoon and scoop three dollops of fluff on top of the ice cream.
Furthermore, I take a knife and swirl the marshmallow all through it.
I pour some walnuts on top.
Finally, I pop the pan full of no churn rocky road ice cream into the freezer.  It needs at least two hours to freeze properly, but I recommend four if you have the time.  I usually make mine in the morning, so it has all day to freeze.
My sister Robyn was over for dinner the night I made this, so I asked her be my hand model.  Christopher was otherwise busy (read: washing the dishes after dinner).
I ask her to scoop up some of this glorious ice cream.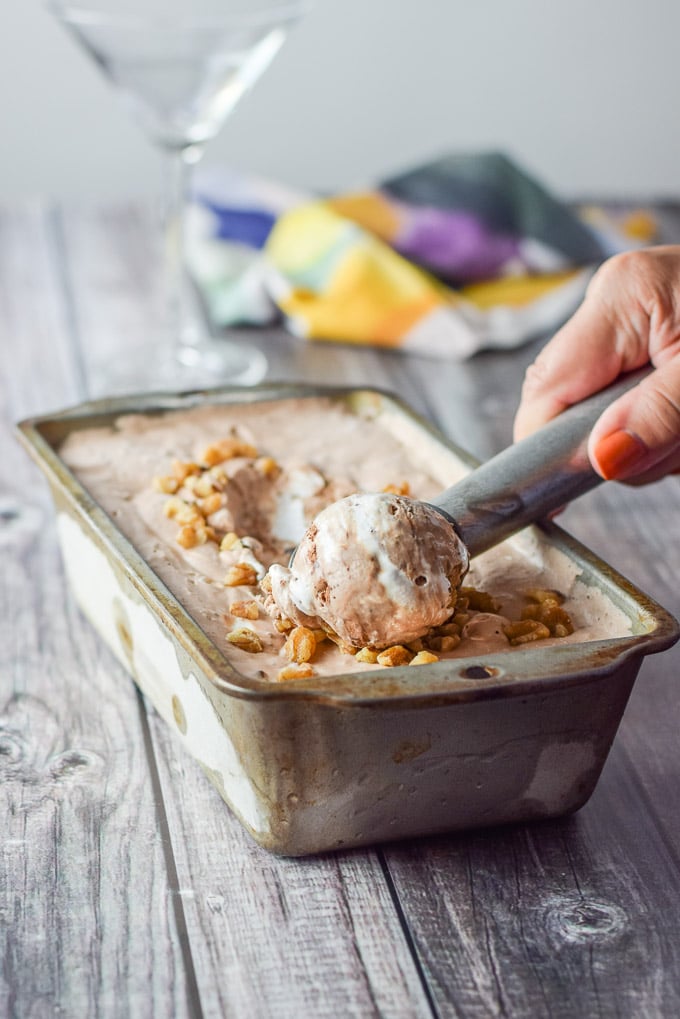 She puts the rocky road ice cream into a martini glass!  Because, why not?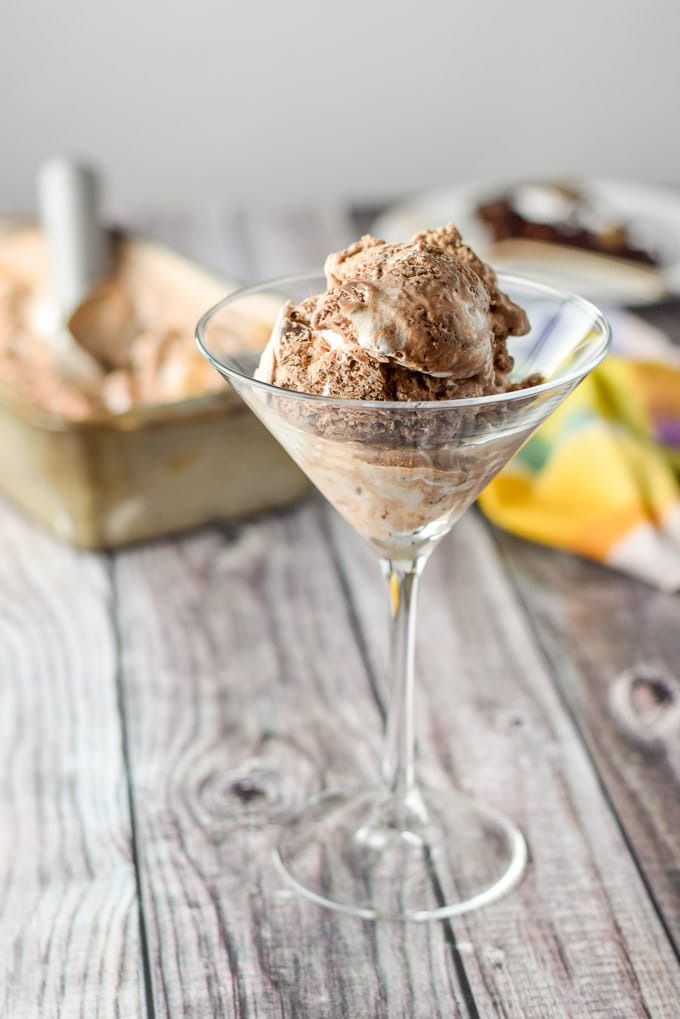 Resuming…
Yahoo!  It is so delish!  The brown triangle in the background is a piece of chocolate, marshmallow and pistachio cake.
So, I hope you enjoyed this recipe!  It's the perfect dessert for dinner parties because making it is so easy on the host!!
Most noteworthy, let me know what ice cream is your favorite because I'd love to know. Please feel free to Pin any photo to Pinterest and Yum the recipe to Yummly.
And as always, may all your dishes be delish!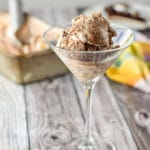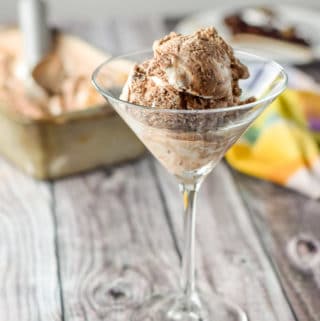 No Churn Rocky Road Ice Cream
This rocky road ice cream is so delicious and easy that you will squeal in glee. So will your guests!
Keyword:
rocky road ice cream
Ingredients
Ice Cream Ingredients
2

cups

heavy cream

cold

14

ounces

sweetened condensed milk

1 can

2

tablespoons

cocoa powder
Add Ins
6

tablespoons

marshmallow fluff

3/4

cup

chocolate chips

1/4

cup

walnuts

chopped or any nut
Instructions
In your stand mixer, add cream, condensed milk and cocoa powder.  Insert whisk attachment and turn on mixer to medium until ingredients becomes thick and forms stiff peaks

Fold in chocolate chips, don't stir too much

Pour batter into bread pan

Dollop 3 big tablespoons of fluff on the cream mixture.  Use a fork and swirl the fluff through the ice cream

Sprinkle walnuts on top of ice cream

Put in freezer for at least 2 hours, but 4 are better

Scoop ice cream in dish

Eat

Smile

Enjoy
Recipe Notes
I'm not factoring the time it takes to rest in your freezer.
Nutrition Facts
No Churn Rocky Road Ice Cream
Amount Per Serving (2 Scoops)
Calories 653
Calories from Fat 387
% Daily Value*
Total Fat 43g 66%
Cholesterol 134mg 45%
Sodium 129mg 5%
Potassium 351mg 10%
Total Carbohydrates 60g 20%
Protein 9g 18%
* Percent Daily Values are based on a 2000 calorie diet.