This is my perfect dark chocolate peanut butter cups recipe. They are so good, you are going to have to hide them so you don't eat them all.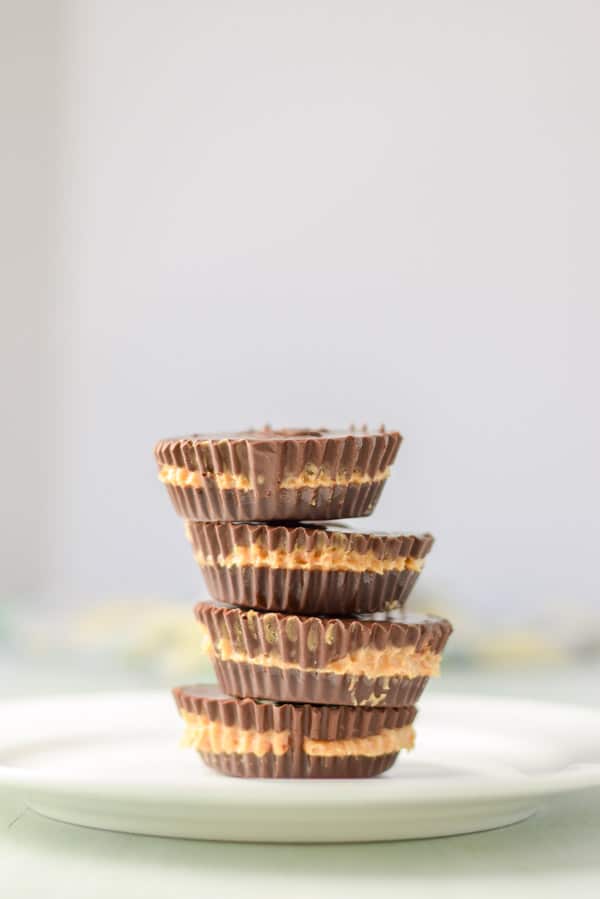 These are perfect dark chocolate peanut butter cups.  I have loved peanut butter cups since I was a small girl.  The only thing I found 'lacking' from the delish treats I consumed was my beloved dark chocolate. You see, peanut butter cups were all made with milk chocolate back then, and although I like milk chocolate, I love dark chocolate.
L – O – V- E  ❤️ !!
If given the choice, I would choose dark chocolate every time.
So, naturally, when I make peanut butter cups, I always make them with dark chocolate.
Random question: Have you ever tried to eat the peanut butter part out of the cup without breaking the sides?
I have.  Why did I do this?  I have no clue, but for some reason, it pleased me greatly when I was successful.
One other chocolate cups:  Marshmallow caramel
On to the Perfect Dark Chocolate Peanut Butter Cups recipe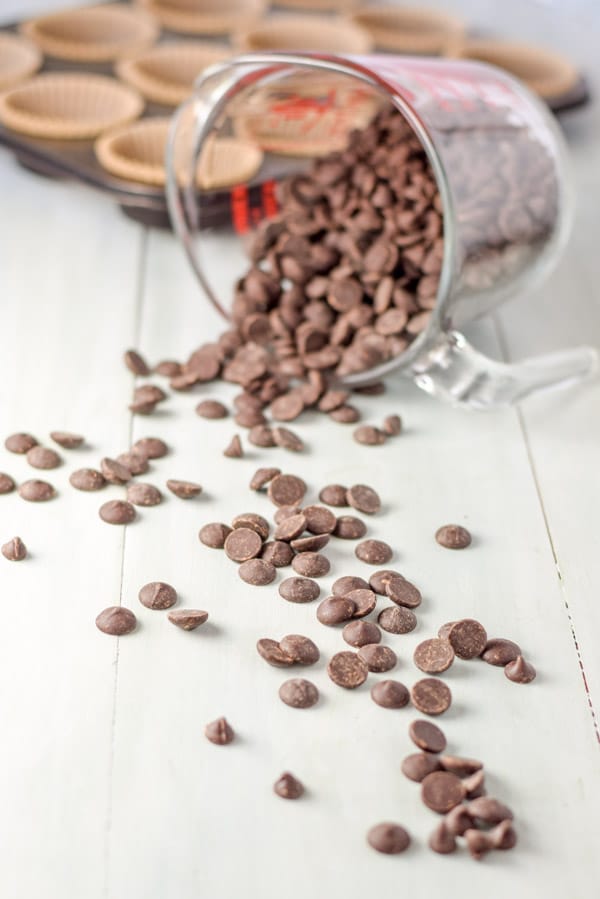 First up are the chocolate chips.  I gather both my Ghirardelli  60 percent cocoa and bittersweet chocolate chips.
I pour a few inches of water in a saucepan and set the heat to medium.  When the water is nearly boiling, I lower the heat.  I dump 12 ounces of the chocolate chips in a glass bowl and set it on the saucepan, stirring occasionally while it melts over the hot water.
This is my impromptu double boiler set-up.
Next, I take the parchment paper cups and line the muffin pan.
The first batch of chocolate is melted so it is time to spoon a little in each of the paper cups.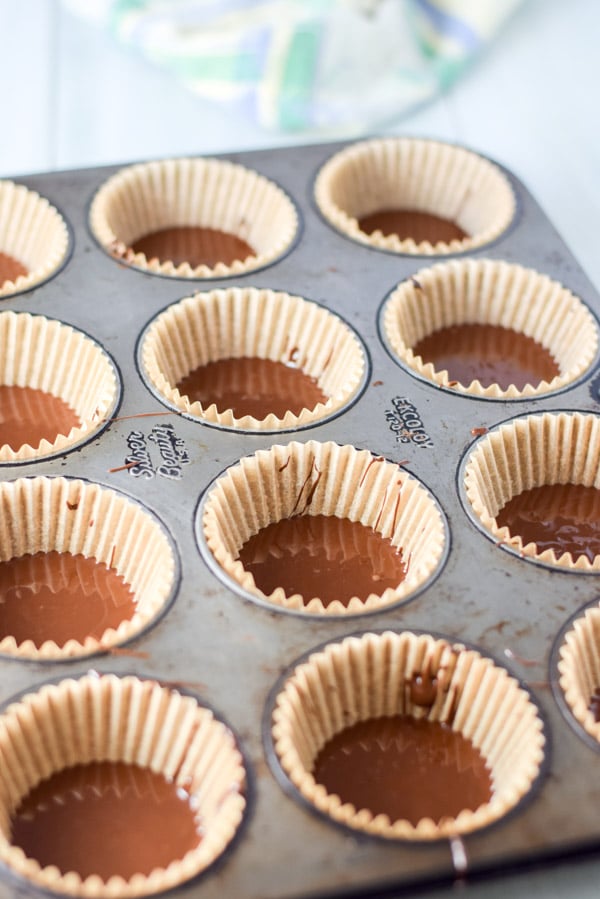 First Layer Done
Yay.  We are getting closer.
Now, I place the muffin pan into the freezer for 10 minutes for the chocolate to set.
As I'm waiting, I gather the peanut butter, some butter and confectioner's sugar.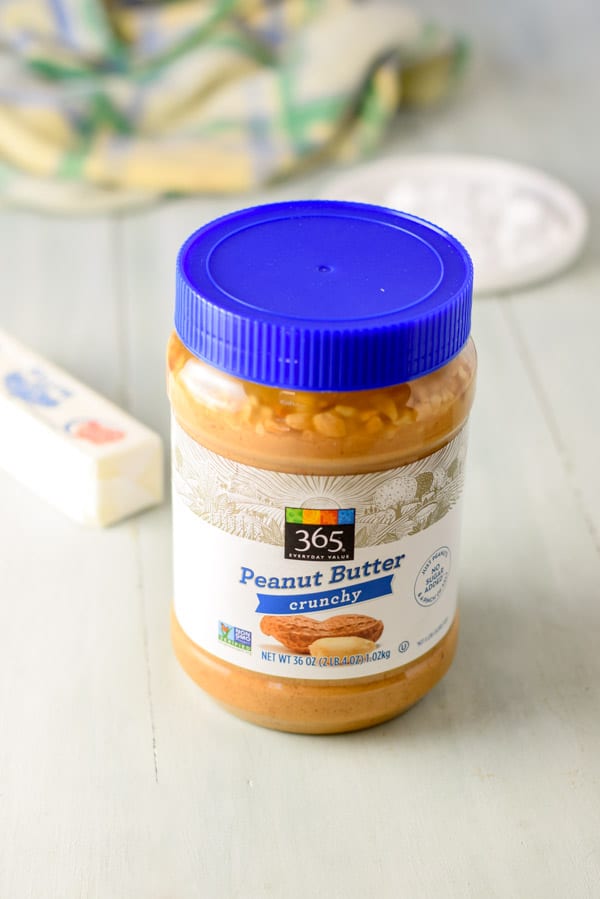 I place 1/2 cup of peanut butter, 1/4 cup of the sugar and 2 tablespoons of room temperature butter in a metal bowl.  I use my rubber spatula to mix these ingredients up.
I pull the muffin pan out of the freezer and spoon the peanut butter on top of the chocolate.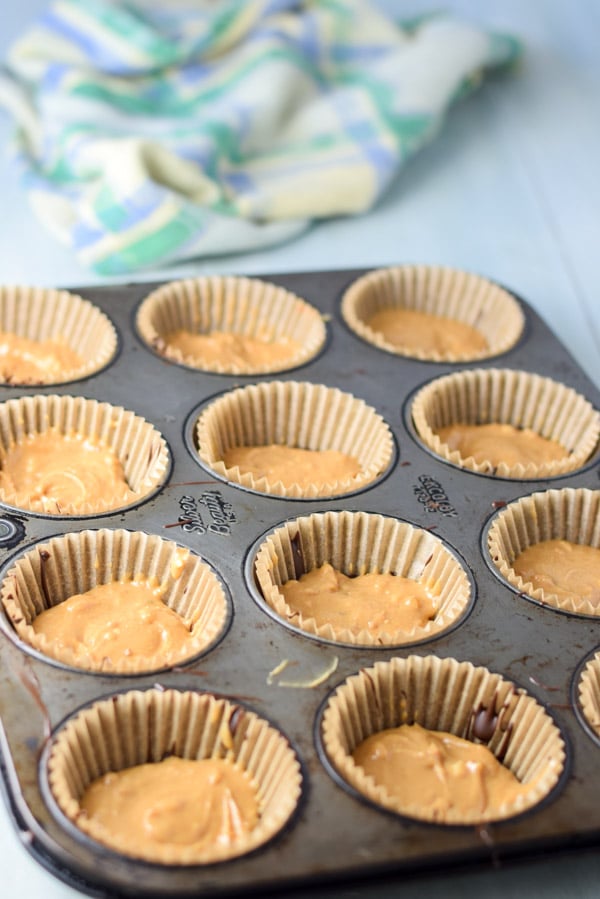 Back into the freezer they go for 10 minutes, so the peanut butter can set.
Second Layer Done
I add the rest of the chocolate in the glass bowl and set it once again over the heated water.  I stir occasionally so the chocolate melts.
Once it has melted, I pull the muffin pan out of the freezer and spoon the chocolate over the peanut butter layer.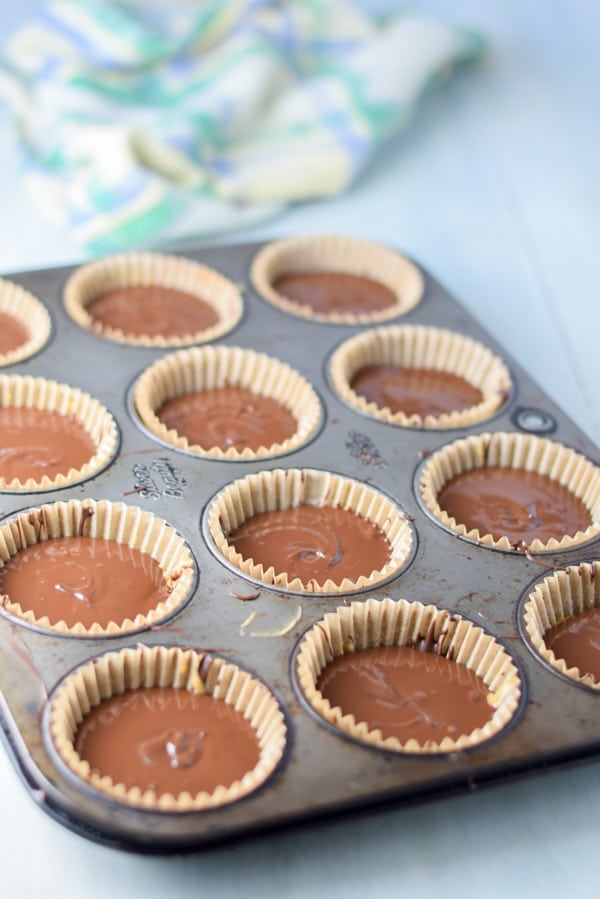 Third Layer Done
I bet you can guess what's next!
Yup, you are right: I place the tin back in the freezer for an additional 10 minutes.
Ding a ling!  Time to take the muffin pan out of the freezer again.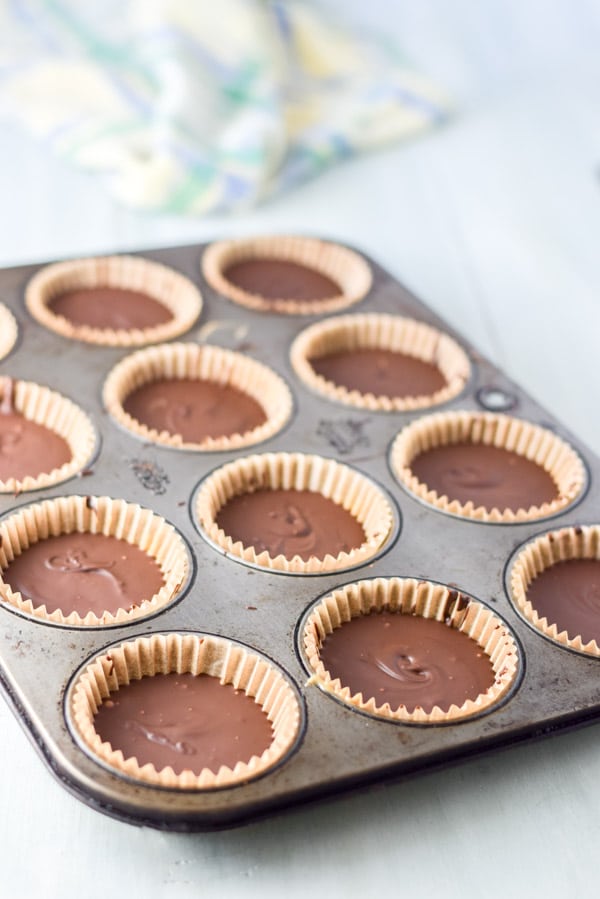 See, they are all set.
Time to eat them
You can either refrigerate them until you are ready to serve them or you can keep them frozen and parcel them out one by one.  The one thing you can't do is keep them on the counter.  At least, not during the summer time as they will melt!  Quickly.
I like to wrap my perfect dark chocolate peanut butter cups individually and freeze them, because if they are in the refrigerator, I would want to eat one each time I opened the fridge.  So, in the freezer, they are out of sight, out of mind.
Oh, heck, who am I kidding, I know they are there, I just have better control of myself when they are frozen.
Here are some peanut butter cups stacked.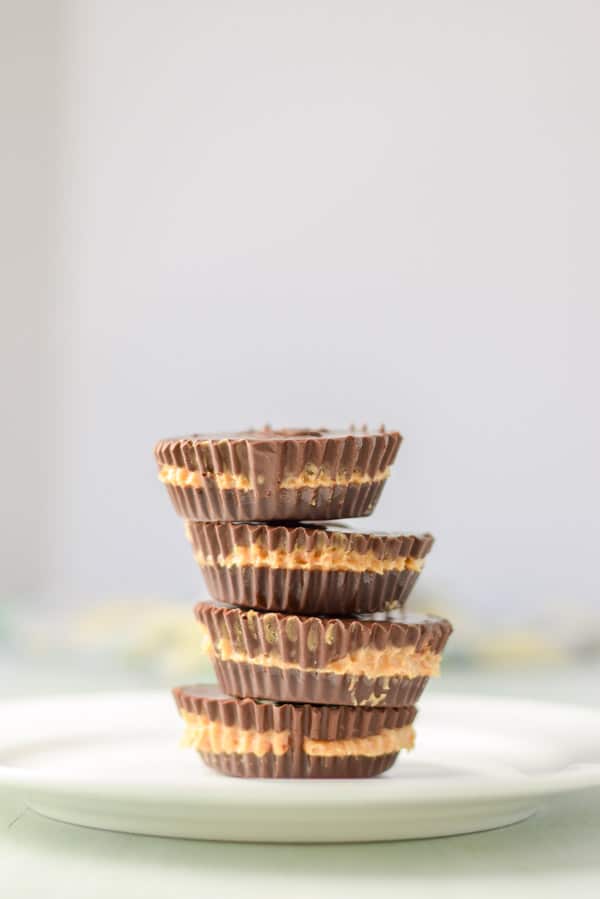 And now to cut into one.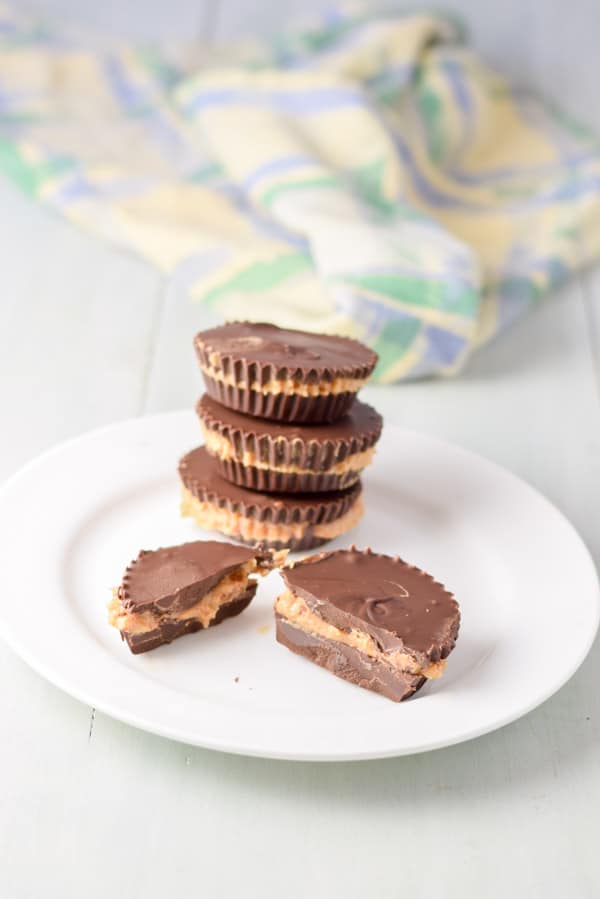 YUM.
Christopher and I enjoyed eating these (he's not a big candy eater, so I consider that a compliment).  But don't worry, we still have a few left in the freezer.
We aren't piggies.
Mostly.
I hope you enjoyed this recipe.
Please feel free to Pin any photo to Pinterest, Yum the recipe to Yummly or leave me a comment!
And as always, may all your dishes be delish!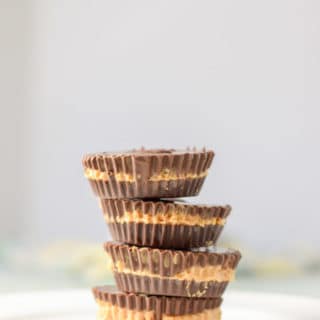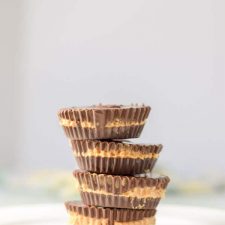 Perfect Dark Chocolate Peanut Butter Cups
These delicious dark chocolate peanut butter cups are best hidden away in the freezer so you won't eat them all! Just a warning.
Print
Pin
Rate
Servings:
12
peanut butter cups
Ingredients
12

ounces

bittersweet chocolate chips

60% cocoa Ghirardelli chips

12

ounces

bittersweet chocolate chips

1/2

cup

peanut butter

1/4

cup

confectioner's sugar

2

tablespoons

butter

room temperature
Instructions
Mix the two chocolate chips together, divide them in half

Over a double burner melt 1/2 of the chocolate chips

Line a muffin tin with parchment paper cups

Spoon melted chocolate in the cups, place in the freezer for 10 minutes

Place peanut butter, confectioner's sugar and butter in a bowl and mix with a spatula

Take muffin pan out of freezer and spoon peanut butter on top of chocolate layer

Place back in the freezer for 10 minutes

Melt the other half of the chocolate over the double boiler and spoon melted chocolate on top of the set peanut butter

Place back in the freezer for 10 minutes

Take out and unwrap each peanut butter cup

Serve immediately or place in refrigerator until ready to serve

I cut mine with a knife before I eat them because they are hard from the freezer

Chomp

Swallow

Smile

Enjoy
Notes
These melt easy, keep them in the fridge or freezer
Nutrition
Serving:
1
cup
|
Calories:
395
kcal
|
Carbohydrates:
36
g
|
Protein:
7
g
|
Fat:
25
g
|
Saturated Fat:
18
g
|
Cholesterol:
5
mg
|
Sodium:
126
mg
|
Potassium:
428
mg
|
Fiber:
2
g
|
Sugar:
22
g
|
Vitamin A:
60
IU
|
Vitamin C:
0.2
mg
|
Calcium:
176
mg
|
Iron:
0.9
mg