This is my chocolate covered easy peanut butter balls recipe. Perfect for the Easter season. Or for any season. Just eat them. You will love them.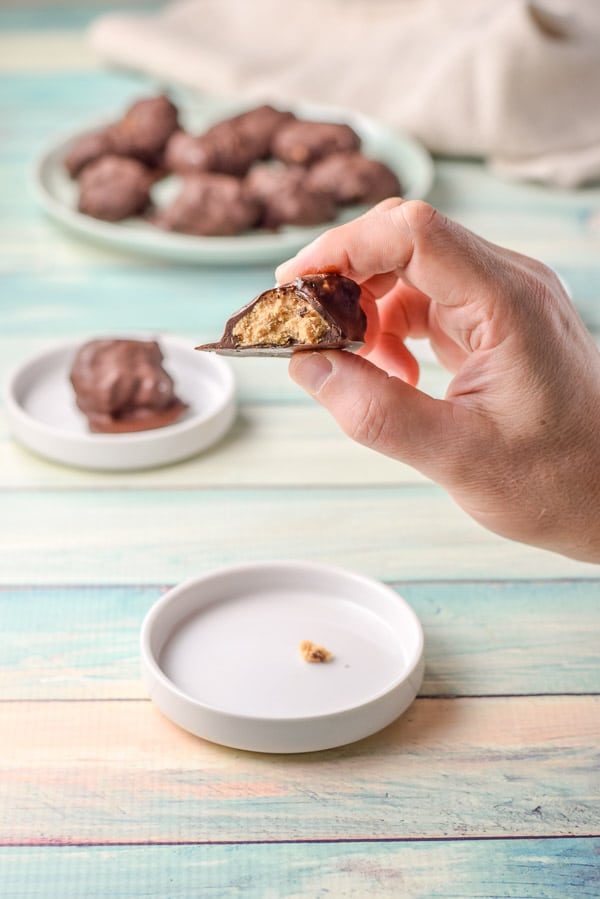 One of the things I love about the Easter season is the peanut butter eggs. I know that they are just glorified peanut butter cups, but there is something about the shape that makes them different and oh-so-fun to eat!
I always mold these chocolate covered easy peanut butter balls in the shape you see in the photo. And I can't be bothered trying to replicate the shape of the peanut butter eggs they sell in the store. I figure there is no need. They are just going to be scarfed down by everyone and nobody cares about the shape.
Egg-y memory
One of the Easter treats I used to LOVE growing up was Cadbury eggs. I loved them so much that my mom used to buy me a bunch. I had a ritual. I'd place the eggs in the freezer and when I was ready to eat one, I'd unwrap it, bite off the top, take my pinky finger, stick it in the egg, scoop out the filling and stick my finger in my mouth. Because the filling was frozen, it would take a while to get all of it out of the chocolate shell and into my greedy mouth.
Then I'd bite into the chocolate shell and savor the stickiness.
So, one Cadbury egg would last me at least fifteen minutes.
Fast forward to an older me. I think I was in my late 30's and I bought a Cadbury egg for old time's sake and after eating it the way I just described, I realized it was just too darned sweet.
Inconceivable.
I never, never, never thought I would think that of this candy.
But then again, I never would have thought I'd be drinking bourbon cocktails, would I? It just goes to show you that your tastes do change.
Here are some of my other recipes that feature nut butter:
This post may contain affiliate links, which means I get a small commission, at no additional cost to you, if you click the link and buy something. You can read my disclosure here.
How to make easy peanut butter balls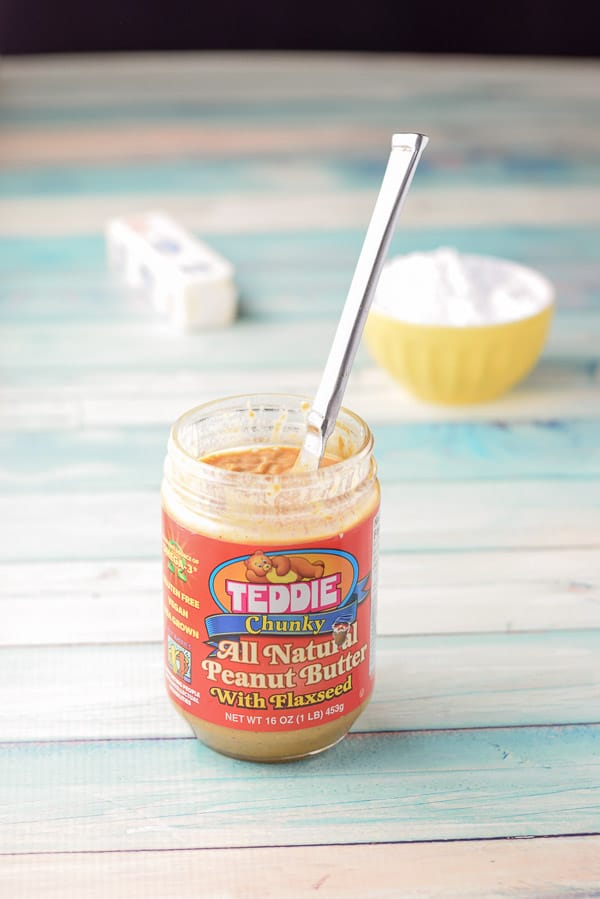 Here are the ingredients for these delicious easy peanut butter balls: peanut butter, confectioner's sugar and butter.
I drag out my stand mixer and add 1/2 stick of room temperature butter, 1 cup of peanut butter and 1 cup of confectioner's sugar. I turn the mixer on and blend until creamy.
Now, since I don't use double the sugar like most of the recipes I've seen on the web, it makes for a wetter batter. I'm assuming that more sugar in the batter would make it stiffer.
But you know what they say about ass-uming.
😉
This recipe makes for light and fluffy peanut butter balls.
Because it's wet, I can't use my hands to shape the batter very well. Instead, I use a serving spoon and a tablespoon to form the peanut butter balls.
I cover my jelly roll pan with parchment paper and place each 'ball' on the paper.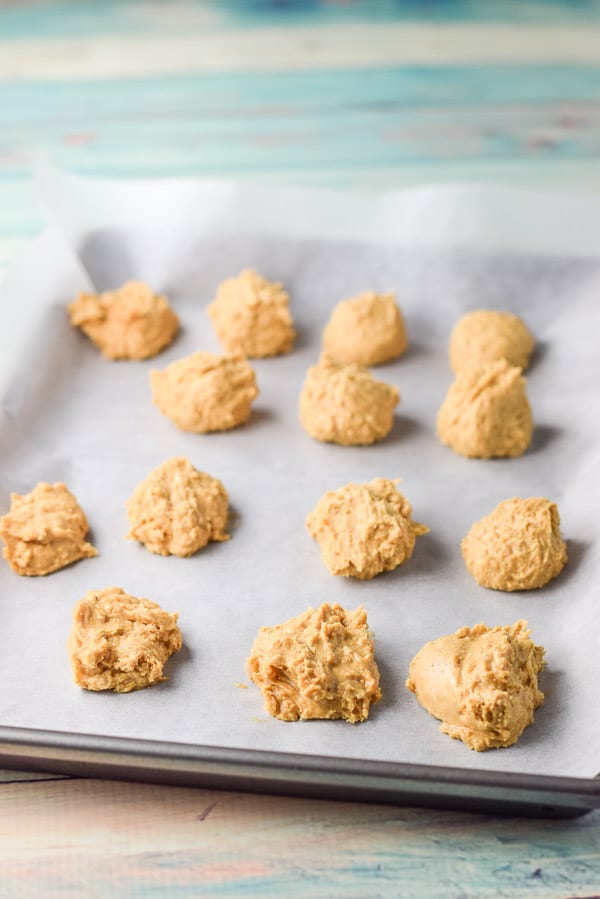 Time to stick the pan in the freezer for a half hour.
Right before the half hour is up, I get the chocolate chips and butter.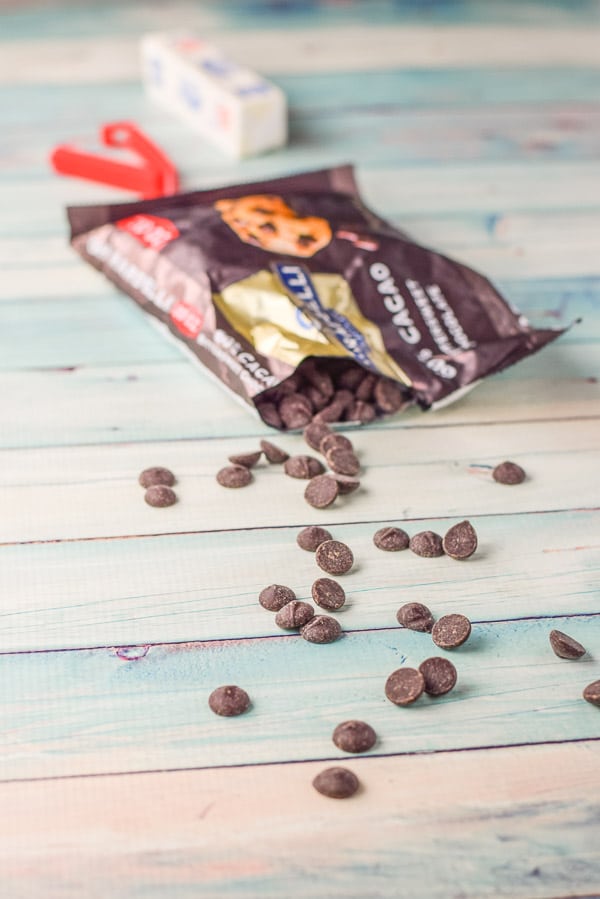 Melt that chocolate
I put a few inches of water in a medium sauce pan and place a glass bowl on the pan. I turn the heat on medium and let it come to a simmer. And I also place 1/2 cup chocolate chips in the bowl along with 1 tablespoon of butter.
Next, I stand there and stir around the chocolate as it melts. I shut off the heat under the chocolate and pull the peanut butter balls out of the freezer. Then I take a few balls and place them in the chocolate. I also take a fork and roll the balls around in the chocolate until they are covered and place each ball back on the jelly roll pan.
I continue rolling the balls in chocolate until all they are all covered.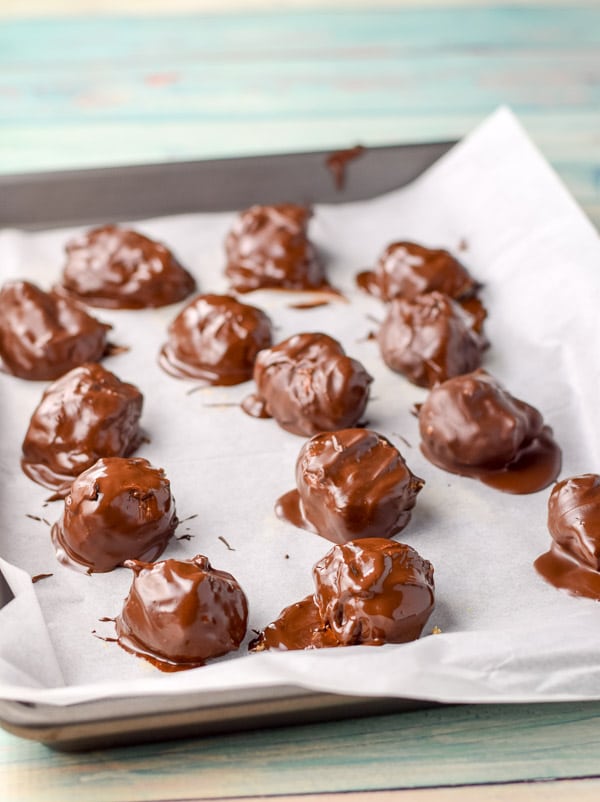 Freezer time
I place the pan back into the freezer for a half hour.
Yay. Time to eat a few. But first, let's plate them all.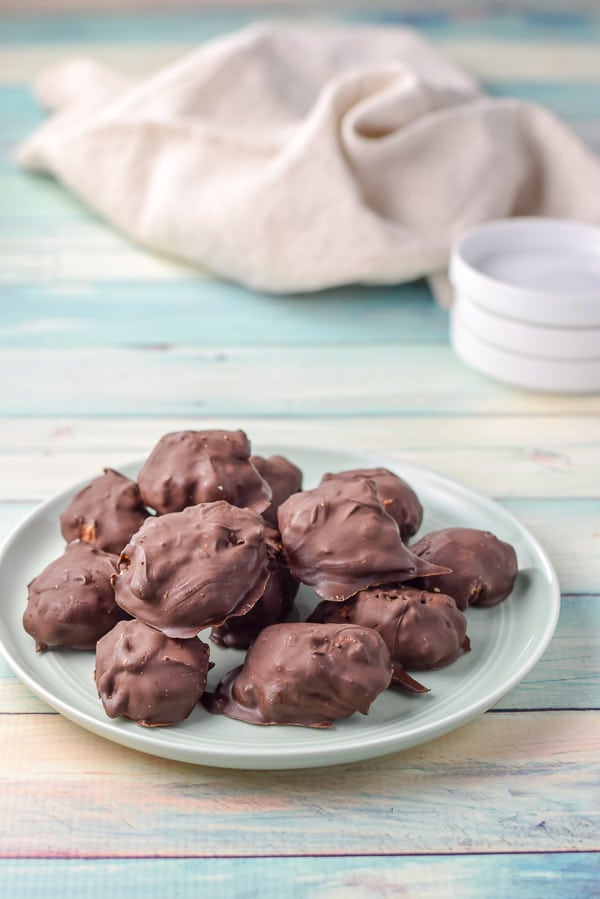 Wait! I need to put a few on some little plates. But I like how the bigger plate looks with fewer chocolate covered easy peanut butter balls on it.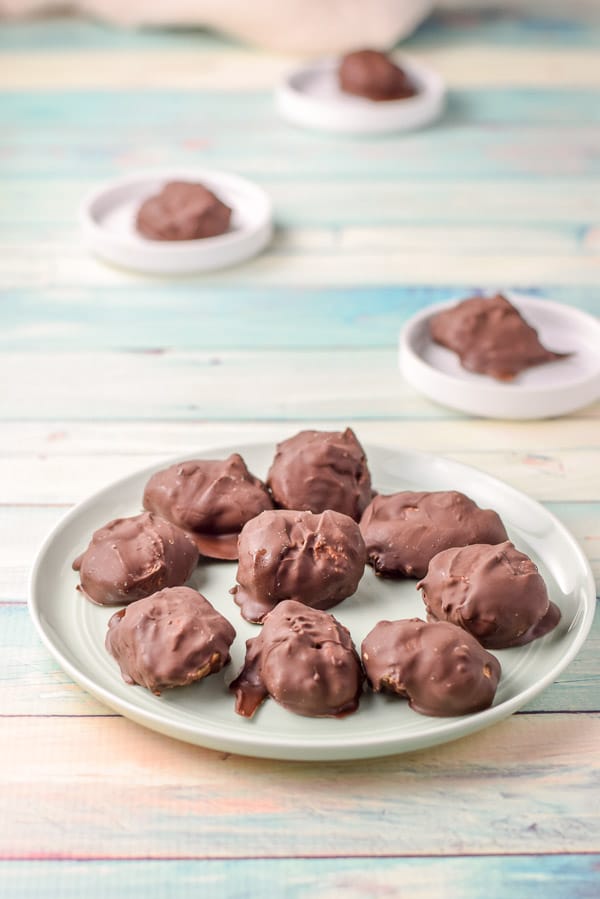 Okay, enough gawking. Let us look at the small plates of easy peanut butter balls.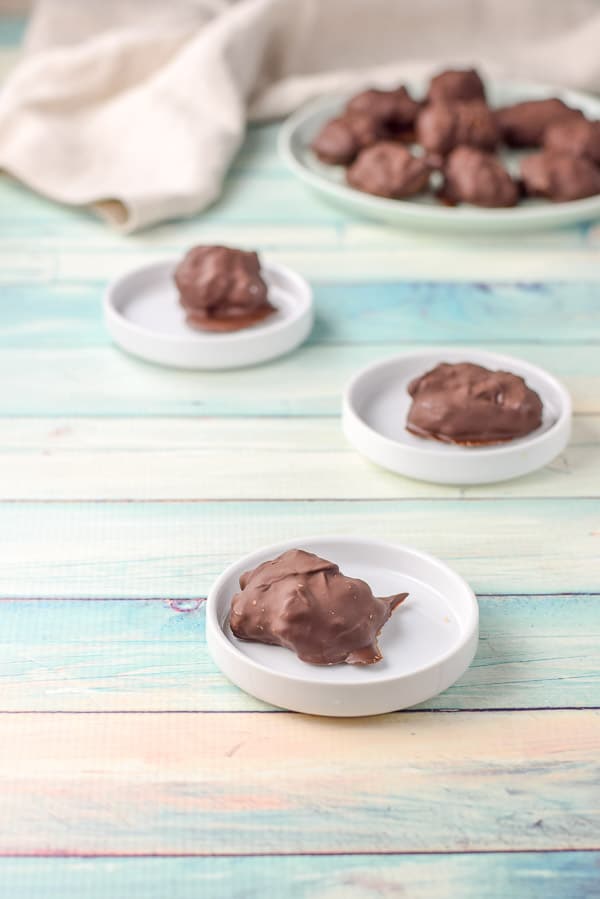 Time to have my lovely assistant bite into this delicious treat.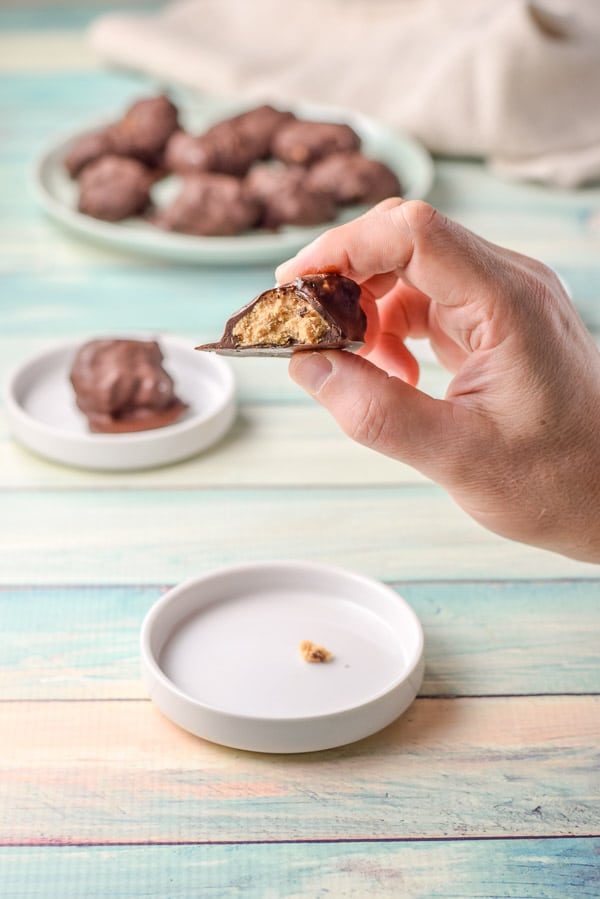 Oh my. These are so fluffy and totally delicious!
I hope you enjoyed this easy peanut butter balls recipe.
Please feel free to leave me a comment. What was your favorite Easter candy treat?
And as always, may all your dishes be delish!
If you've tried this easy peanut butter balls or any other recipe on the blog, I'd love the hear what you thought about it in the comments below. I love hearing from you! You can also FOLLOW ME on FACEBOOK, TWITTER, INSTAGRAM and PINTEREST to see more of my delicious food and delightful cocktails!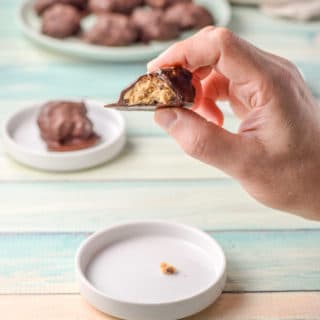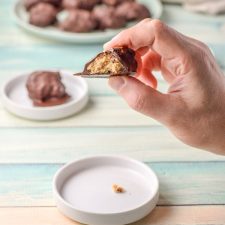 Chocolate Covered Easy Peanut Butter Balls
These chocolate covered peanut butter balls are slightly sweet but so delicious!
Print
Pin
Rate
Ingredients
1

cup

peanut butter

crunchy, natural

4

tablespoons

butter

room temperature

1

cup

confectioner's sugar
Coating
1/2

cup

bittersweet chocolate chips

I used 62% cocoa chips

1

tablespoon

butter
Instructions
Place peanut butter, butter and sugar in a mixer. Mix until combined and creamy

Cover a medium jelly roll pan with parchment paper and form each ball using either your hands or some tablespoons

Place pan in the freezer for half hour

Before the half hour is up, melt the chocolate, either in the microwave or in a double boiler

Place each ball in the melted chocolate and use a fork to roll the balls around until they are completely covered

Place each chocolate covered peanut ball back on the pan and place the pan in the freezer for a half hour

Plate a few peanut butter balls on a plate

Bite

Eat

Smile

Enjoy
Notes
I counted the hour that you have to freeze the peanut butter balls
Nutrition
Serving:
1
ball
|
Calories:
247
kcal
|
Carbohydrates:
18
g
|
Protein:
6
g
|
Fat:
17
g
|
Saturated Fat:
7
g
|
Cholesterol:
12
mg
|
Sodium:
148
mg
|
Potassium:
187
mg
|
Fiber:
1
g
|
Sugar:
14
g
|
Vitamin A:
145
IU
|
Calcium:
33
mg
|
Iron:
0.5
mg