These almond butter granola bars are perfectly chewy and have just the right amount of sweetness to satisfy your sweet tooth without overdoing it!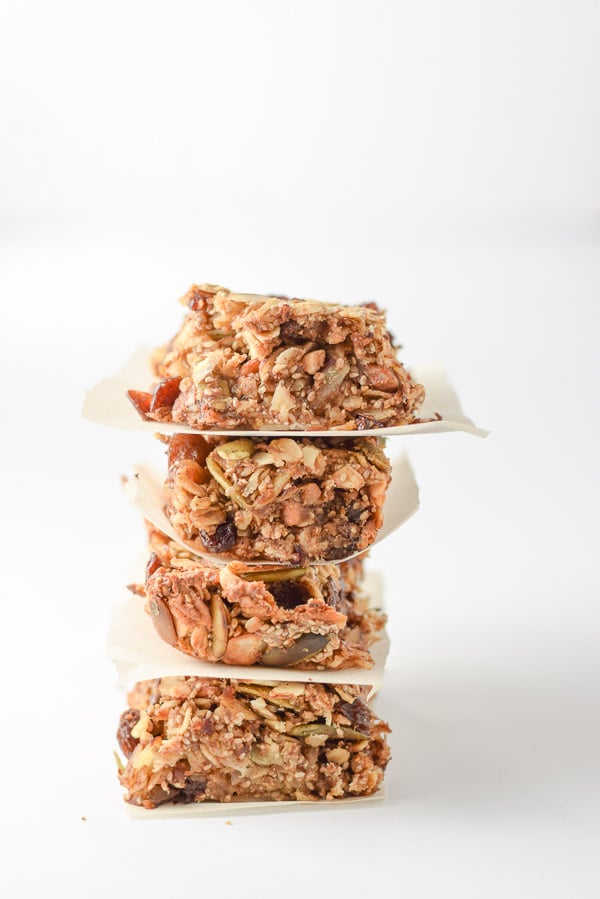 As you may have noticed, I love granola and everything associated with it. That includes bars. I am constantly figuring out new and fun ways to eat granola.
This is my latest rendition. I used equal parts of dates and figs.
I love this mixture because the granola bars come out so chewy. I will eat granola bars that are crunchy because I hardly ever turn up my nose at anything that is, well, food. But I prefer my granola bars chewy.
Which do you prefer? Chewy or crunchy? Let me know by leaving me a comment.
How to make Almond Butter Granola Bars
I preheat the oven to 325 degrees Fahrenheit.
Here are some of the ingredients: Figs, dates, raisins, chia seeds and maple syrup.
Soak the Fruit
First up, I cut up the figs and dates into little pieces. I plop them in my stainless steel mixing bowl. I add 1/4 cup of chia seeds, 1/4 cup maple syrup and 3/4 cup hot water.
I let the date mixture sit for 15 minutes.
While it is sitting, I gather some almond butter, oats, almonds, slivered almonds, pumpkin seeds and chocolate chips.
Yes. The dates and figs have rested and hydrated so I add all the other ingredients in the bowl to meet them.
Stirrity, stir, Stir
I stir it all up and place the granola mixture into in a greased medium baking dish. I pack it down.
It's sooooo NUTTY! Yahoo!
I pop it in the oven and bake it for 35 minutes.
Ding-a-lingy! ⏲
You must let it cool thoroughly before cutting. Remember, it may be gooey, but that is a good thing. Gooey means chewy!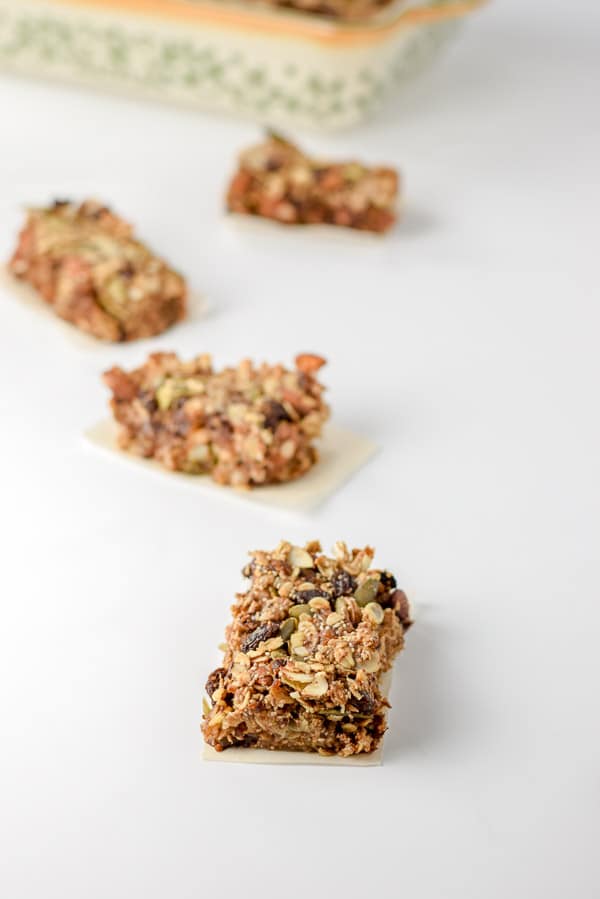 All cut up and ready to eat.
Although, I don't eat them now.
I want to. Yes, I want to so much, that I drool just thinking of it.
So what I do is: cut pieces of parchment paper, stick a bar on each piece, wrap them in plastic wrap and freeze them. Because out of sight, out of mind.
Mostly.
Okay, okay, not really.
Let's see another view.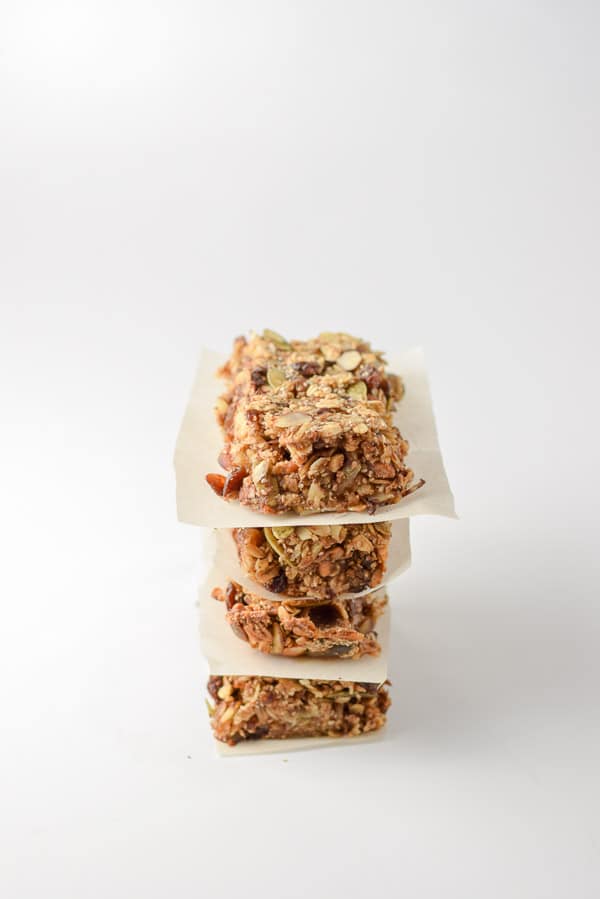 And now for the leaning tower of granola bars.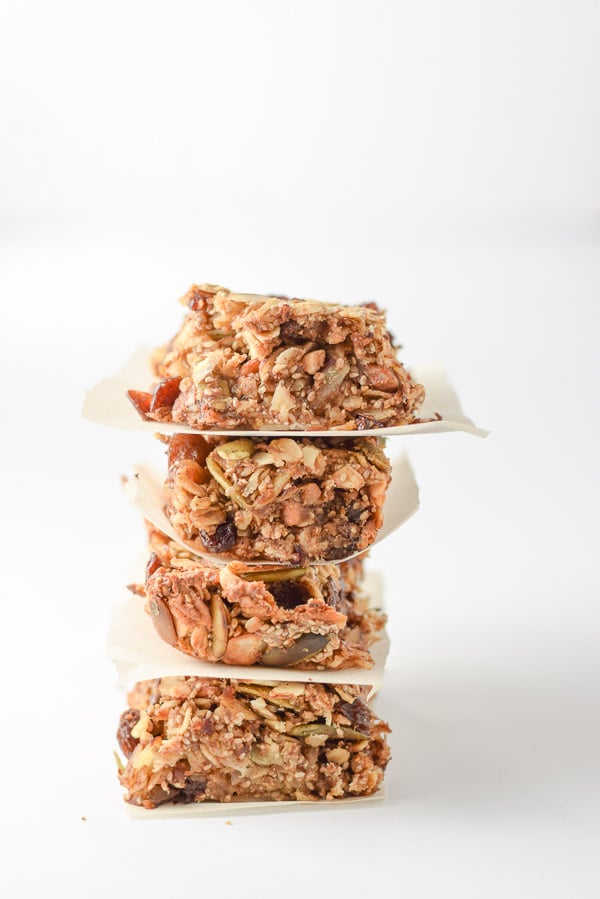 I hope you enjoyed this recipe!
And as always, may all your dishes be delish!
If you've tried these granola bars I'd love the hear what you thought about it in the comments below. I love hearing from you! You can also FOLLOW ME on FACEBOOK, TWITTER, INSTAGRAM and PINTEREST to see more of my delicious food and delightful cocktails!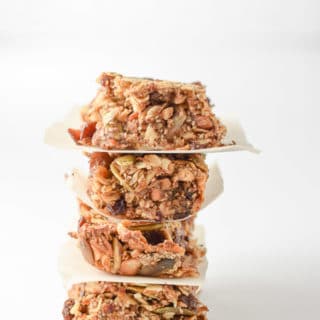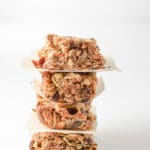 Almond Butter Granola Bars
Super chewy and delicious granola bars
Keyword:
almond butter granola bars
Ingredients
5

dates

5 - 6, chopped

5

figs

5 - 6, chopped

1/4

cup

chia seeds

1/4

cup

maple syrup

3/4

cups

hot water

1 1/2

cups

rolled oats

3/4

cups

raw almonds

1/2

cup

slivered almonds

1/2

cup

raw pumpkin seeds

2/3

cups

raisins

1/2

cup

almond butter

1/2

teaspoon

salt

1/2

cup

chocolate chips
Instructions
In a large stainless steel bowl, add chopped dates, figs, chia seeds, maple syrup and hot water

Let sit for 15 minutes

Preheat oven to 325 degrees F

Add oats, almonds, slivered almonds, pumpkin seeds, almond butter, raisins, salt and chocolate chips

Stir with rubber spatula

Grease baking dish

Press the date mixture into the baking dish and bake for 35 minutes

Let it cool completely before cutting it into whatever size squares you prefer

Eat one

Swoon

You may want to freeze the rest, they defrost quickly and you won't be tempted to eat the whole pan

Smile

Enjoy
Nutrition Facts
Almond Butter Granola Bars
Amount Per Serving (1 bar)
Calories 314
Calories from Fat 153
% Daily Value*
Total Fat 17g 26%
Cholesterol 1mg 0%
Sodium 11mg 0%
Potassium 394mg 11%
Total Carbohydrates 35g 12%
Protein 8g 16%
* Percent Daily Values are based on a 2000 calorie diet.