These healthy s'mores granola bars recipe is so delicious, you'll want more than one!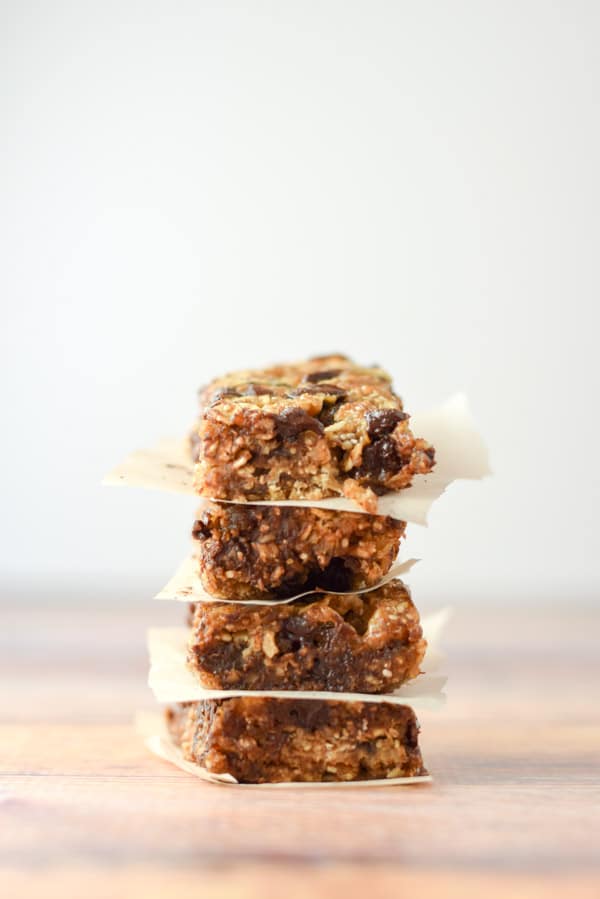 Man, oh man, oh man!  I have been making these lovely healthy s'mores granola bars for a while and I swear each time I make them they get better and better.
They have all the ingredients that are in typical s'mores, but you don't need a fire and you don't need to toast anything.  All you need is an oven. I make all types of granola bars but this one is my 'go-to' bar!  And if you make them, you will find out why.  🙂
Flashback
One summer, Christopher, myself, my sister Robyn and her partner Drew rented a cottage together on a pond in Vermont.  My folks used to own a cottage on this same pond and as visiting the area holds a lot of memories for our family, we wanted to find a big enough place to house all of us, including Robyn's kids.  And we did.
Every night we would convene out in the yard at the fire pit.  We'd all sit there facing the water to chat and laugh. And sometimes, we would make s'mores.
That's when I found out that 3 out of the 5 of my sister's offspring don't particularly like s'mores.
SAY WHAT?
How could these beings be related to me?
Incidentally, the 3 deluded relatives are males.  Hmmm.  I wonder if women just tend to like chocolate more than men. I did some research and it appears to be true.  It's probably the fluctuation of hormones women endure.
Anyway, the females of my family did our duty and consumed everyone's share of s'mores on that vacation. This next part has nothing to do with s'mores.
When we were sitting around that old campfire, I would often have knitting in my lap.  I was knitting a mohair throw at the time and someone said something like, "Could you get me a beer?" and being the silly person I am, I jumped up and ran toward the camp to get the beer.
All the kids (and by kids, I mean adults in their 20s) started yelling and at first I thought they were just being loud.  Then I finally stopped and looked.  What I didn't know was that the mohair stuck to my clothes and I had dragged some of the yarn into the fire! Oopsie.  I lost a few feet of the yarn but sometimes one must make sacrifices for the laugh.
It's all about the laugh.
To me.
Another granola bar recipe: Almond nutty granola Almond nutty granola bar
On to the Healthy S'mores Granola Bars recipe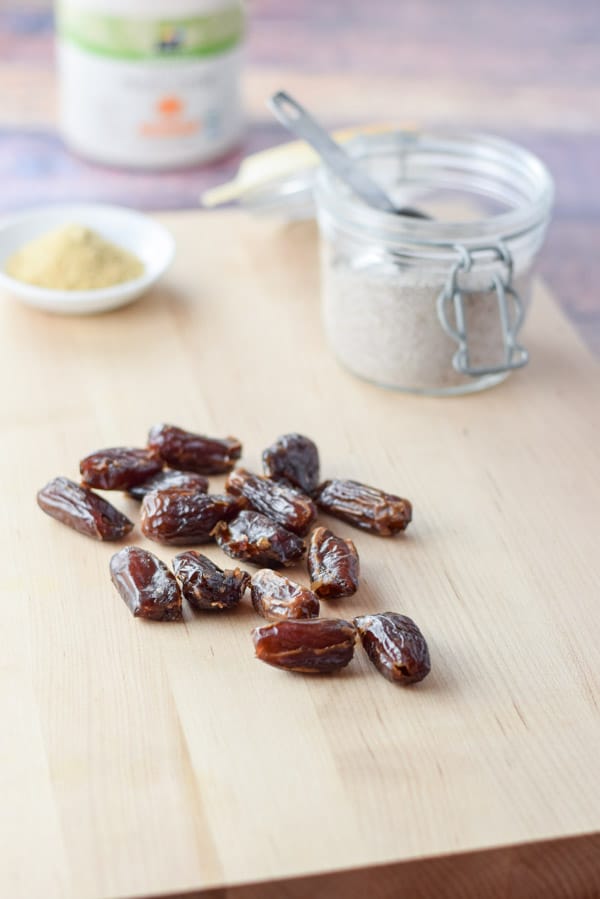 I get out some dates, chia seeds, flax meal and maple syrup.
Chop those Dates
I chop 14 dates into little pieces and place them in a medium mixing bowl.
I measure out the chia seeds, flax meal, maple syrup and throw it all in the bowl with the dates.  I heat up some water and add it to the date mixture.  I stir it around and let it sit and soak for 15 minutes.
Silly me, I didn't take a photo of what it will look like after soaking.  I think it was because I was so excited to eat the s'mores granola bars that I got rambunctious and added all the other ingredients to the bowl before I remembered about the photo. ?
I preheat the oven to 325 degrees Fahrenheit.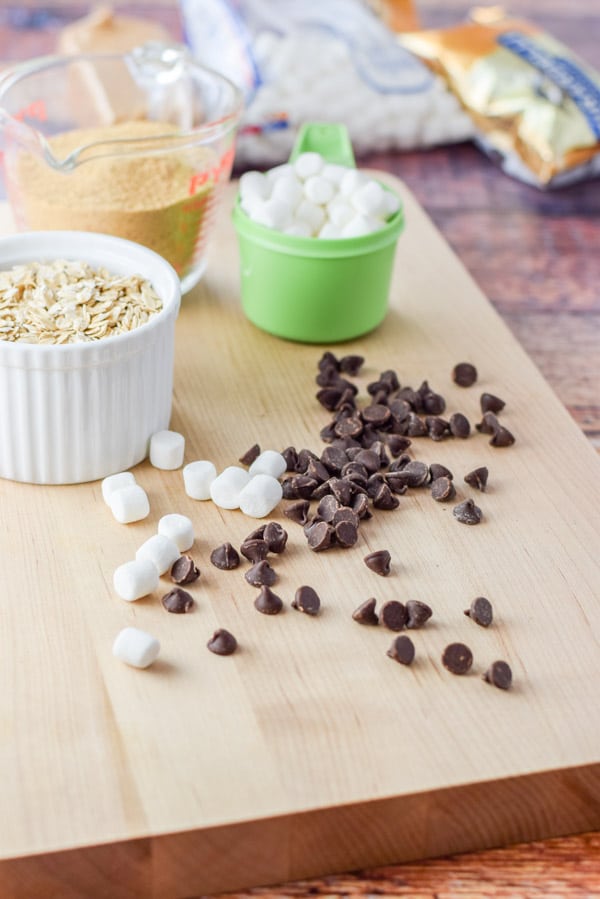 Gimme some Chocolate Chips and Mini marshmallows
While I'm waiting on the dates to soak, I gather the old fashioned oats, graham crackers, chocolate chips, mini marshmallows and salt.
I open up a package (one sleeve) of graham crackers and break it up into the bowl of a food processor.  I pulse it until it is all crumbs.
I add the oats, graham cracker crumbs and salt in the bowl with the dates.  I did clear some of the ingredients off the date mixture so you can sort of see what it looks like.
See it in the top of the photo below?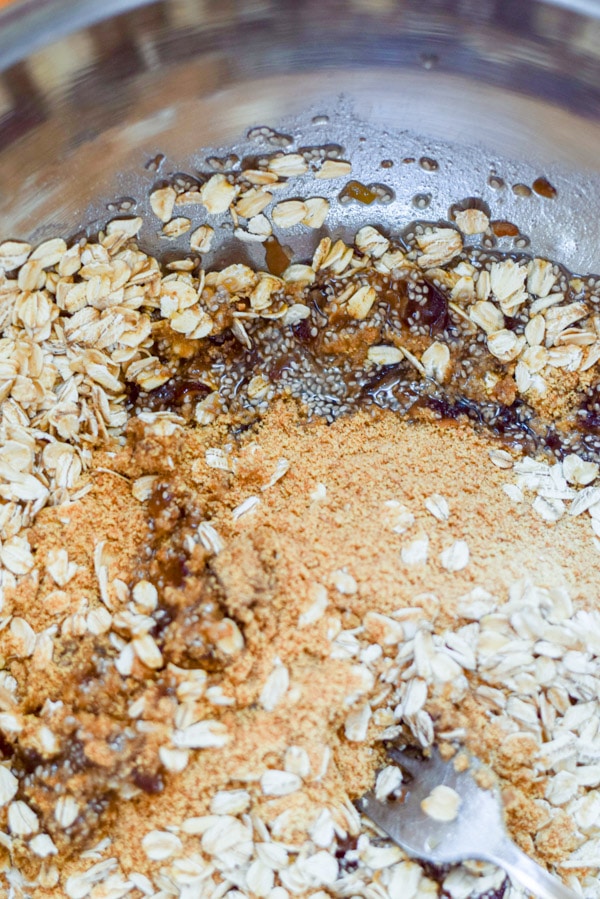 Ah well, I tried.
I take my rubber spatula and mix everything together until it is almost combined.  Now, I add the chocolate chips and marshmallows and mix again until it is completely combined.
I grease a baking dish and scrape the mixture into it.  I take my hands and press down to make it evenly compacted.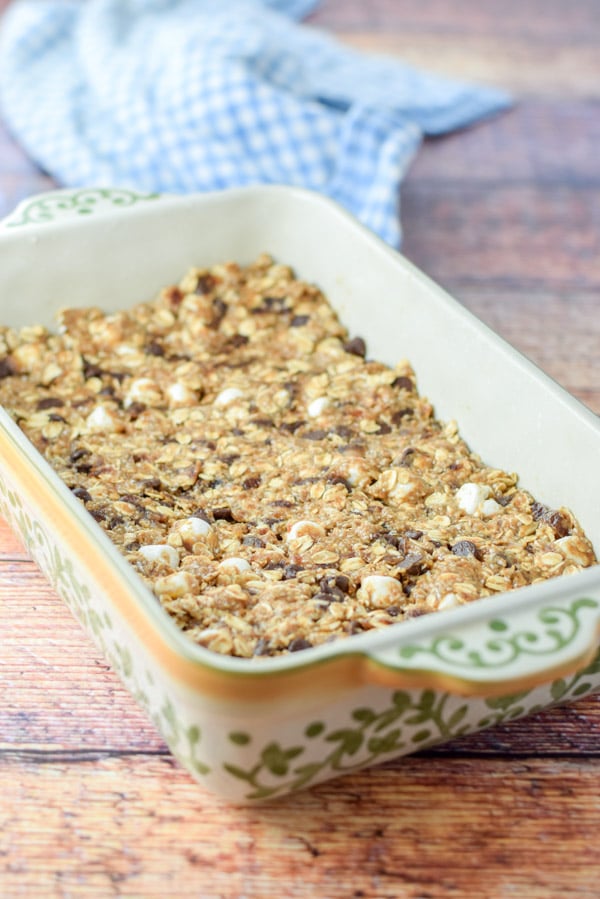 Oven Time
I place the dish in the oven and bake it for 25 minutes.
DING ⏲
It should be nice and bubbly.  I never test it, I always just take it out at 25 minutes.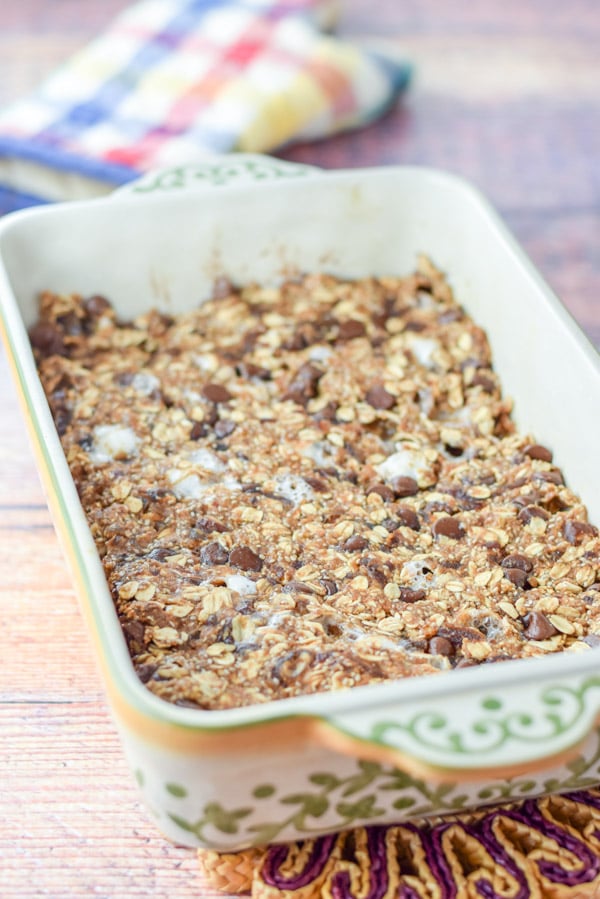 I let it totally cool before I cut into it.  You will want to run a knife down the sides to loosen them.
I usually cut it into 12 bars.
Unless I'm bringing these healthy s'mores granola bars to someone's house for a gathering, I wrap them individually with plastic wrap and stick them in the freezer.
Out of sight, out of mind.  Right?
Right?
RIGHT?
Wrong.
But I do have self control.  Mostly.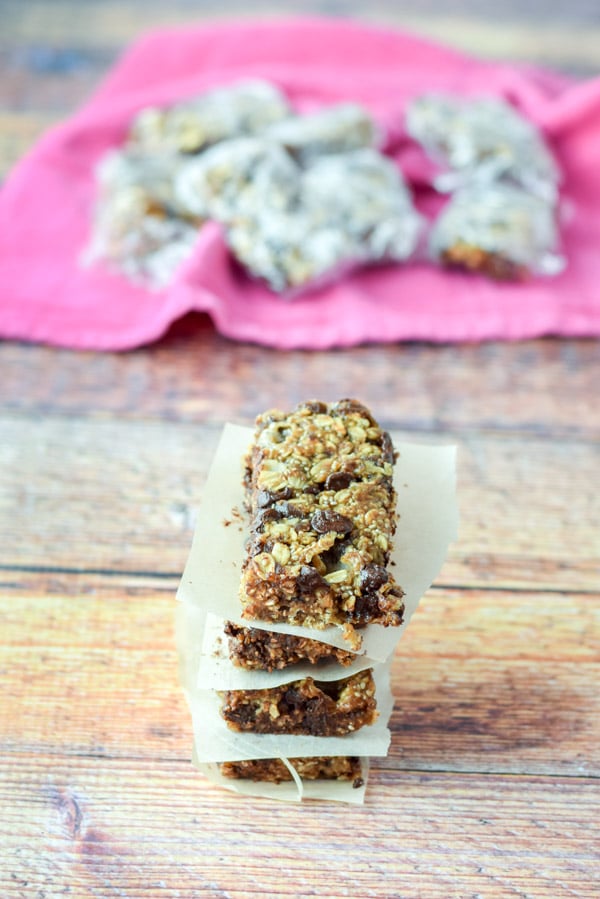 Wrap them Up
You can see the ones I wrapped in the back.  But I haven't wrapped the front ones, oh no I haven't.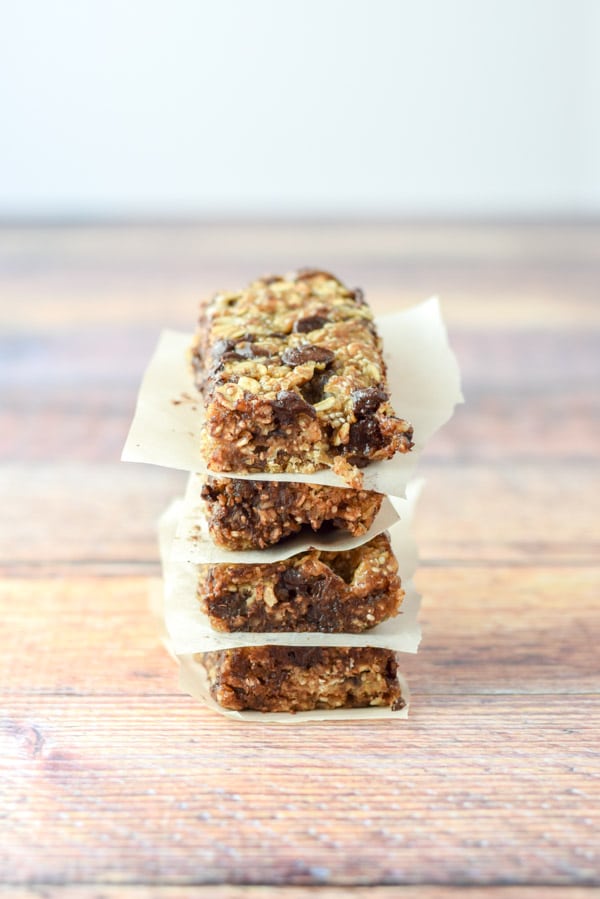 These are chewy and delicious.  You won't mistake them for the real thing, but they taste really good!  The dates are simply lovely in these bars.  It's my go-to ingredient when I make chewy granola bars.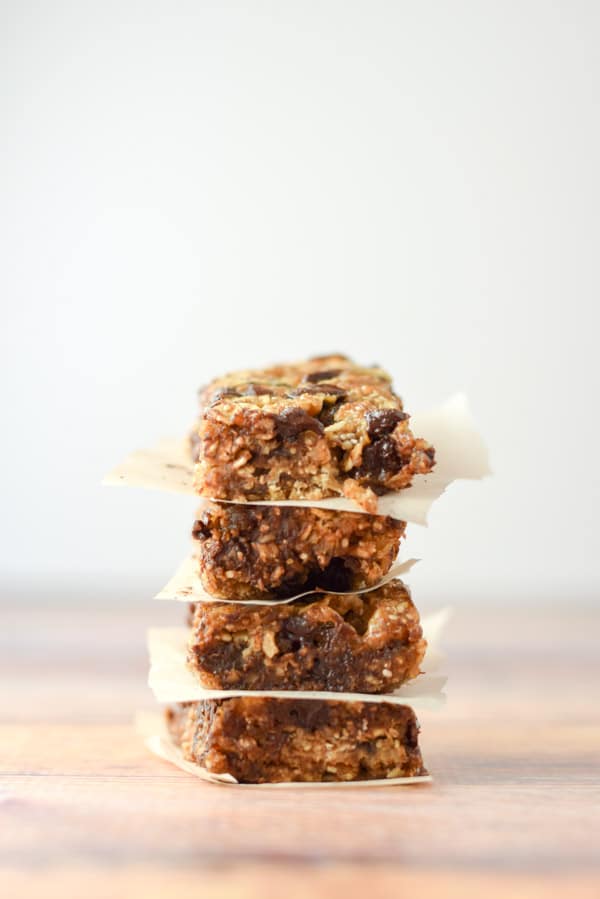 I hope you enjoyed this recipe as much as my family loves to eat them!
Feel free to Pin any photo to Pinterest, Yum the recipe to Yummly and leave me a comment.
And as always, may all your dishes be delish!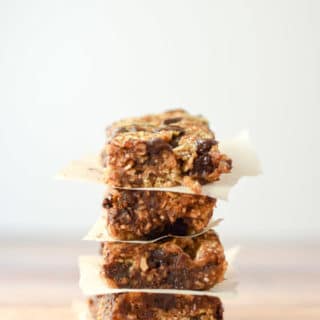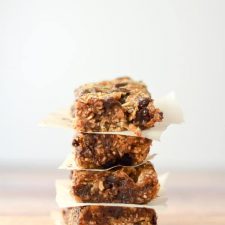 Healthy S'mores Granola Bars
These chewy granola bars are easy to make and so delicious to eat!
Print
Pin
Rate
Ingredients
14

dates

chopped into little pieces

1/4

cup

chia seeds

2

tablespoons

flax meal

1/4

cup

maple syrup

3/4

cup

hot water

1

cup

old fashioned oats

12

graham crackers

processed into crumbs - about 1 cup

1/4

teaspoon

salt

3/4

cup

chocolate chips

3/4

cup

mini marshmallows
Instructions
Place the chopped dates, chia seeds, flax meal, maple syrup and water in a medium sized mixing bowl. Set aside and let sit for 15 minutes

Preheat oven to 325 F

Once the dates have rested, add the oats, graham cracker crumbs and salt and mix until almost incorporated

Add chocolate chips and marshmallows and mix until completely combined

Grease a medium baking dish and press the date mixture into it, making sure it is spread evenly. I use my hands to pack it down

Place in oven and bake for 25 minutes

Remove and let it rest on a wire rack until the bars are completely cooled

Run a sharp knife around the sides to loosen them

Cut the bars into 12 pieces or more if you desire

Eat one right off

Wrap the rest in plastic and place them in the freezer

Resist eating them all

Smile because you were successful

Enjoy
Notes
This makes 12 bars depending on how you cut them.
Nutrition
Serving:
1
granola bar
|
Calories:
215
kcal
|
Carbohydrates:
37
g
|
Protein:
3
g
|
Fat:
6
g
|
Saturated Fat:
2
g
|
Cholesterol:
1
mg
|
Sodium:
153
mg
|
Potassium:
141
mg
|
Fiber:
3
g
|
Sugar:
21
g
|
Vitamin A:
25
IU
|
Calcium:
63
mg
|
Iron:
1.4
mg