Lemon curd bars, PEEPS!  Lemon CURD bars!  Do you hear me?  These lemon curd bars are so good, even the chocolate lovers will be leaping with glee! 
Leap in the Air for Lemon Curd Bars
Okay, it's no surprise that I made lemon curd.  Here's the recipe.  Lemon reminds me of my grandmother!  Holy moly, she made the best lemon desserts.  Seriously.  I could cry thinking of her lemon meringue pies, her lemon bread and other lemon delicacies I can't quite put into words.
Lemon is a friend!
Yes, I've talked about almost going off lemons in this post, but now lemons are friends. Have you seen the Finding Nemo movie?  "Fish are friends, not food".  What a great movie!
Anyway, when I was growing up, I used to love all kinds of bars.  Date bars, raspberry bars, lemon bars, etc.  There is something about the oat/flour/butter mixture that gets my heart singing!
🙂
Christopher and I are old school.  When someone gives us food in a container, I return the container with something yummy in it.  My landlady gave us a delicious beef stew last week and it was scrumptious!!
I, in turn, was trying to figure out what I should make to put in her container.  And since I had lemon curd in the fridge, I ended up thinking of this lemon curd bar recipe.  I lined her clean container with a piece of parchment paper.  I'm so thoughtful, aren't I?  I didn't want to get the container dirty.
So, I place a mere two bars on the parchment paper because our landlords are always complaining that my food is going to make them gain weight.
I also gave them a jar of nutty granola, which I know they love.
Reciprocation
So, yesterday, the doorbell rings and it's my landlady holding a jar of something.  I open the door and say, "You didn't have to do that."  And she said, "You're not supposed to give a container back without something in it."
I said, "This could become endless."
She laughed and went back inside.
Guess what the jar had in it?
Black licorice.  Mmmmmm.
I'm prattling on.
On to the Lemon Curd Bar recipe
First I preheat the oven to 400 degrees Fahrenheit and grease an 8 x 8 pan generously.
I gather brown sugar, flour, room temperature butter, oats and baking soda.
Next, I drag out my stand mixer and place 6 tablespoons of butter and 1/2 cup brown sugar in it.  I turn the mixer on medium and cream the two ingredients together.
Time to add 1 cup flour, 3/4 cup rolled oats, 1/4 teaspoon baking soda and 1/2 teaspoon of salt. I turn the mixer on again and mix away until everything is incorporated.  It will be a stiff dough.
I take 3/4 of the dough and press it in the greased pan.  Also, I grab my jar of lemon curd.
I spread about 1 cup of the lemon curd on the dough layer.  Be generous.  You will thank me.
Now, I take the rest of the dough and pull apart chunks of it and squish each piece between my fingers before plopping it on top of the lemon curd.
Time to pop the pan into the oven.  I bake it for 20 – 25 minutes.
Lemon Curd Bars are Done
I let the lemon bars cool 10 minutes before I cut them into, well, bars.
Time to serve one.
Doesn't that look good?  I like the crispy little edges.  When I'm left to my own devices, I eat that part first.
Let's take a bite.
Soooooo good.
I hope you enjoyed this lemon curd bars recipe!
Please feel free to leave me a lemon lovin' comment.
And as always, may all your dishes be delish.
If you've tried this lemon curd bars or any other recipe on the blog, I'd love the hear what you thought about it in the comments below.  I love hearing from you!  You can also FOLLOW ME on FACEBOOK, TWITTER, INSTAGRAM and PINTEREST  to see more of my delicious food and delightful cocktails!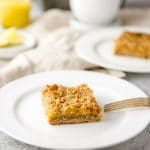 Lemon Curd Bars
These lemon curd bars are delicious and easy to make! My family loves them.
Ingredients
6

tablespoons

butter

room temperature

1/2

cup

brown sugar

1

cup

spelt flour

or any flour

1/4

teaspoon

baking soda

1/2

teaspoon

salt

3/4

cup

oats

rolled

1

cup

lemon curd
Instructions
Preheat oven to 400 F

Grease pan

In a mixer, add butter and sugar. Mix on medium until incorporated

Add flour, baking soda, salt and rolled oats and turn the mixer on medium. Mix until incorporated. It will be sort of stiff

Divide the dough - 3/4 and 1/4

Press 3/4 of the dough in the bottom of the pan

Spread lemon curd over that layer

Take balls of the remaining dough in your hands and flatten each piece and drop it on top of the lemon curd layer

Bake for 20 - 25 minutes. Mine took 20 minutes

Let cool for 10 minutes before cutting them into bars

Plate a bar

Eat a bar

Smile at the rest of the bars

Enjoy
Recipe Notes
Tips for Making this Lemony treat:
Make your own lemon curd as it is so easy.  I would not recommend using canned lemon filling.
Make sure you grease your pan liberally.
The lemon curd more often than not gets crispy around the sides.  Don't worry about it.  They are yummy taste treats.
Make sure to have your butter at room temperature before placing it in your mixer.
Nutrition Facts
Lemon Curd Bars
Amount Per Serving (1 bar)
Calories 276
Calories from Fat 90
% Daily Value*
Total Fat 10g 15%
Cholesterol 20mg 7%
Sodium 305mg 13%
Potassium 40mg 1%
Total Carbohydrates 41g 14%
Protein 3g 6%
* Percent Daily Values are based on a 2000 calorie diet.