This is my not your average cherry sauce recipe!  Why is it not average?  Because it has only a tad of added sugar.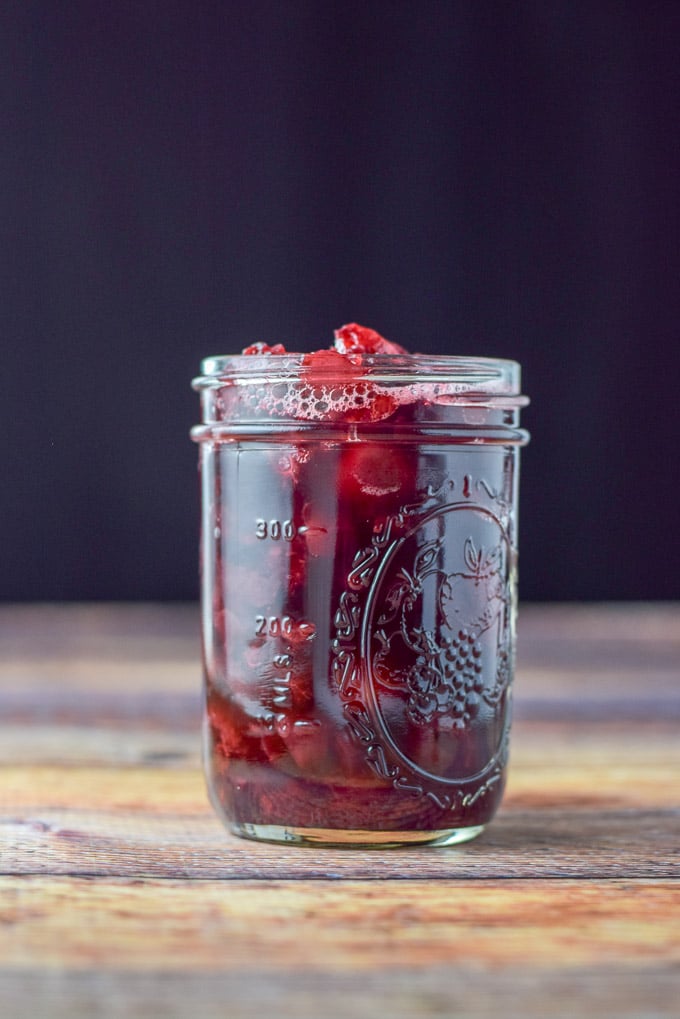 As we all know, because I've been pounding it into everyone's heads by saying it over and over, I love cherries.  Love.  I wish I could eat them year round.
"But you would get sick of them," you say.
You are a cray cray person for even uttering those words to me. Because I don't think it's possible for me to get sick of cherries.
But I would love to test that theory by eating them year round. And I know I could come out the other end still loving cherries.
Grapes
I'm going to switch tactics now and talk about something I usually don't talk about.  Grapes.  Why bring up grapes?
Well, I have a story.  Don't I always?
When I was a wee girl, I think I was around 10 years old, a bunch of us climbed a chain link fence to get to a neighbor's vine of concord grapes.
Which, by the way, is my favorite variety of grape.
Well, there I was, leaning over the top of the fence reaching for those plump concord grapes, when my feet slipped out of the fence.  I frantically grabbed the top of the chain links to save myself from a nasty fall when the top of the fence pierced my belly.
Glurg.
It pierced my skin only a little, but it hurt like heck and the little hole filled with blood.
I had to tell my folks that we were liberating the neighbor's grapes.  Luckily, I only got in trouble a little bit.  I think my folks may have thought that the hole in my belly was punishment enough.
The bummer was, I only got one handful of grapes into my mouth before my . . . ahem, accident.
How to make Cherry Sauce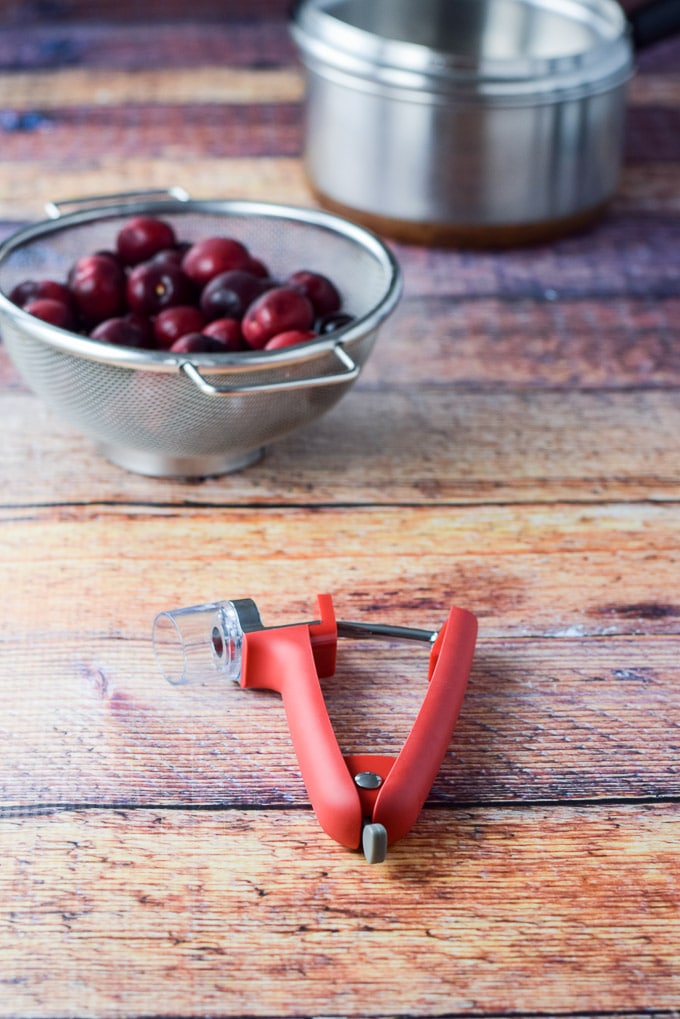 Front in center is my new favorite gadget!  I love it so much I could kiss it!
That is the cherry pitter that I bought!!  (Remember I told you I was going to buy one in my Bourbon Soaked Cherries post?)
In the background are some cherries and the pan I'm going to use.
Let's get Started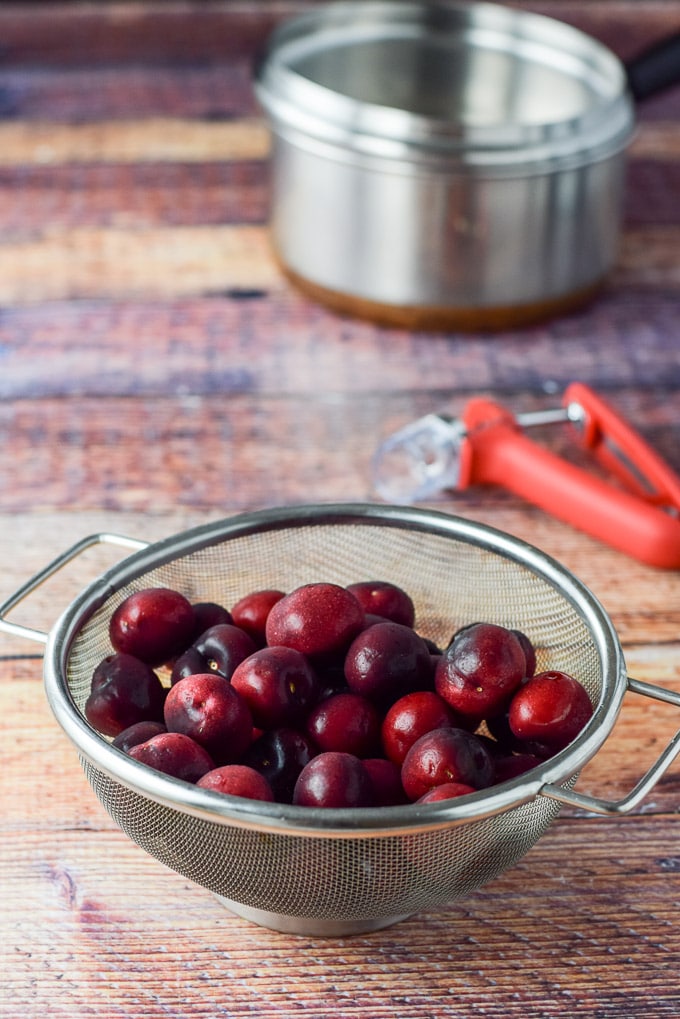 Wash the Red Orbs
I wash 4 cups of Bing cherries and take the pits out.  I place them all in the pan with 1/4 cup of water and 1 heaping teaspoon of sugar.  That's it.  So little sugar!  That's my secret.
I prefer my sauces to be not on the sweet side.  Because I believe the natural sugar in the fruit is enough.
So, I turn the heat to medium under the saucepan and once it starts to boil, I set the timer for 10 minutes.
Now, I take one of my other favorite gadgets, the pastry cutter and smush the cooked cherries.  I leave some whole just because I like it that way, but you can smush it all if you like.
I scoop the cherry sauce into a jar and let it cool on the counter.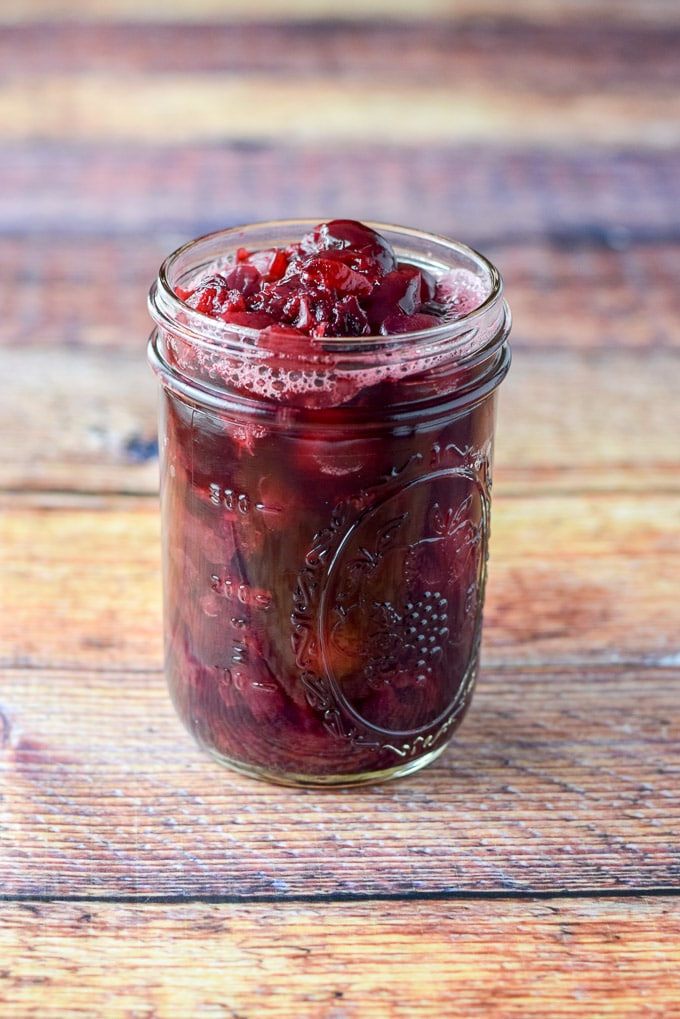 Now, for the vertical shot of the cherry sauce!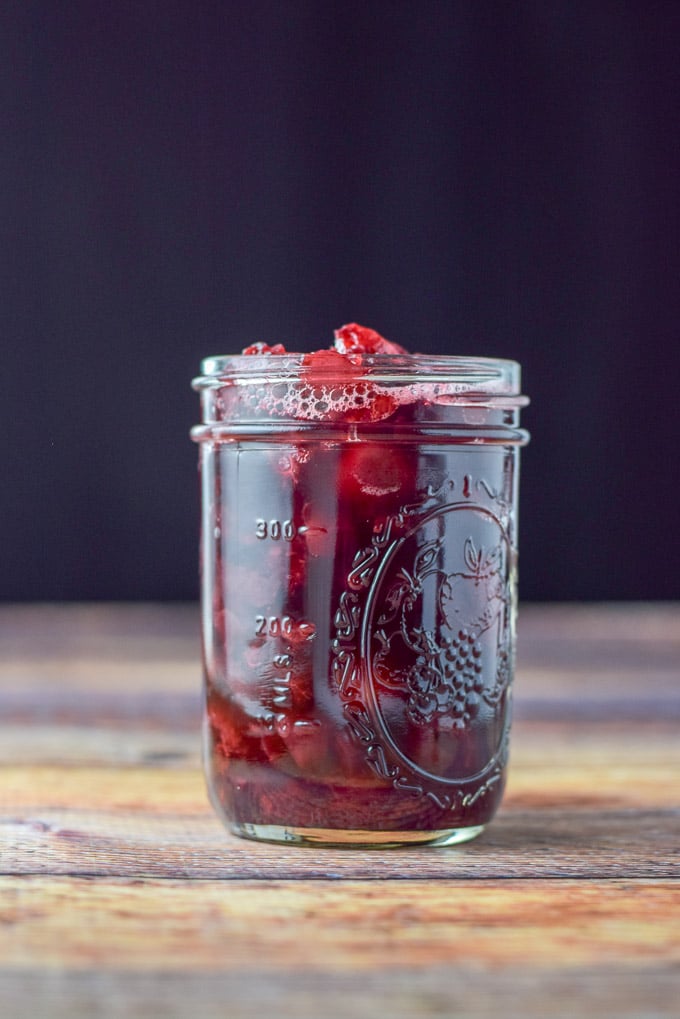 I hope you enjoyed this cherry sauce recipe.  It is so good dribbled over cheesecake or ice cream!!
And as always, may all your dishes be delish!
If you've tried this cherry sauce or any other recipe on the blog, I'd love the hear what you thought about it in the comments below.  I love hearing from you!  You can also FOLLOW ME on FACEBOOK, TWITTER, INSTAGRAM and PINTEREST  to see more of my delicious food and delightful cocktails!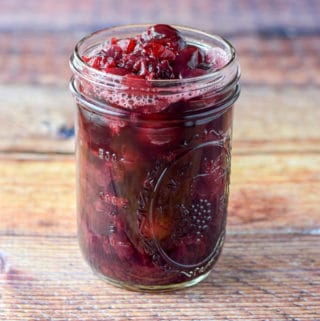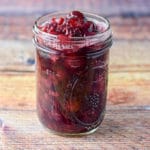 Not Your Average Cherry Sauce
This Cherry sauce is perfect on cheesecake! Or ice cream.
Ingredients
4

cups

bing cherries

washed, pitted and de-stemmed

1/4

cup

water

1

teaspoon

sugar

heaping
Instructions
Place pitted cherries, water and sugar in a medium saucepan and heat it on medium

Once it comes to a boil, cook it for 10 minutes

Take a masher and mash most of the cherries into a sauce.  I leave some whole

Pour into a jar and let cool on your counter for 2 hours.  Or you can eat it warm

Spoon on some cheesecake

Eat cheesecake

Smile

Enjoy
Nutrition Facts
Not Your Average Cherry Sauce
Amount Per Serving (3 tablespoons)
Calories 11
% Daily Value*
Potassium 38mg1%
Carbohydrates 2g1%
Vitamin A 10IU0%
Vitamin C 1.2mg1%
Calcium 2mg0%
Iron 0.1mg1%
* Percent Daily Values are based on a 2000 calorie diet.