I love anything made with Bing cherries!  So I especially love this Bing cherry cosmo cocktail recipe!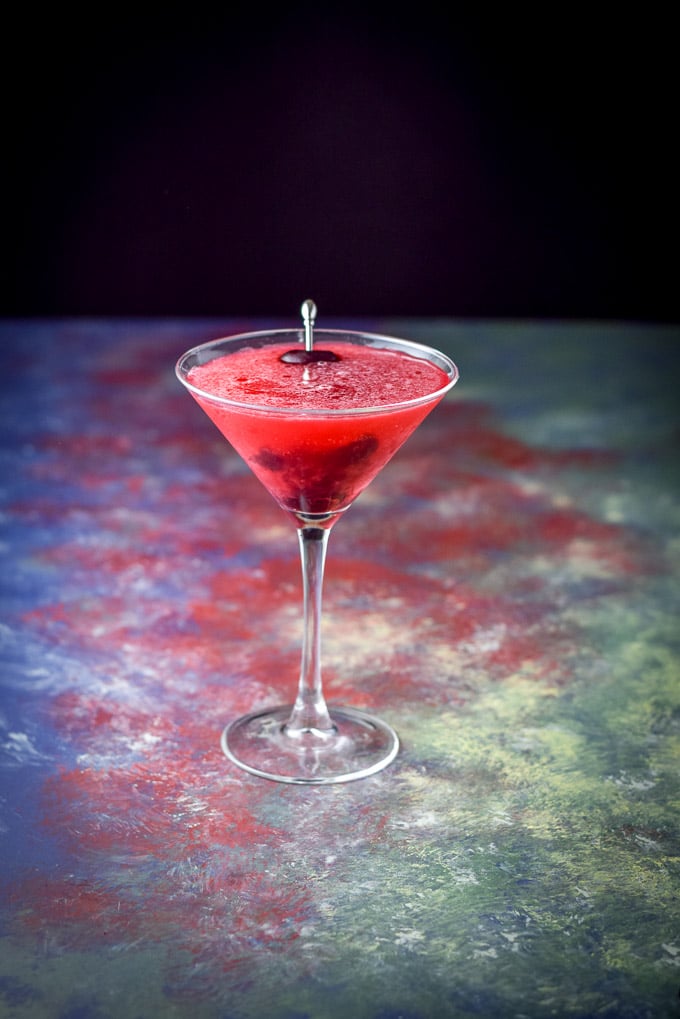 Bing cherries were my mom's favorite fruit.  I remember watching my mom's eyes light up when cherry season rolled around.
Back then, cherries used to come in paper bags.  My mom Claire would sit on her recliner in our parlor.  She'd have an empty bowl beside her and I'd watch as she rolled down that paper bag.  She would dip her hand in the bag and continuously pop a cherry in her mouth.
Of course, my mom would share her Bing cherries, but she'd get the lion's share.
When cherry season rolls around, I eat MORE than my lion's share.  You know why? Because I can.
I'm a grown up.  I can do whatever I want.  As long as it's legal.
I love being a grown up.  Because that means I'm able to drink this delicious Bing cherry cosmo cocktail!!
Here are other cosmo recipes I make:
On to the recipe.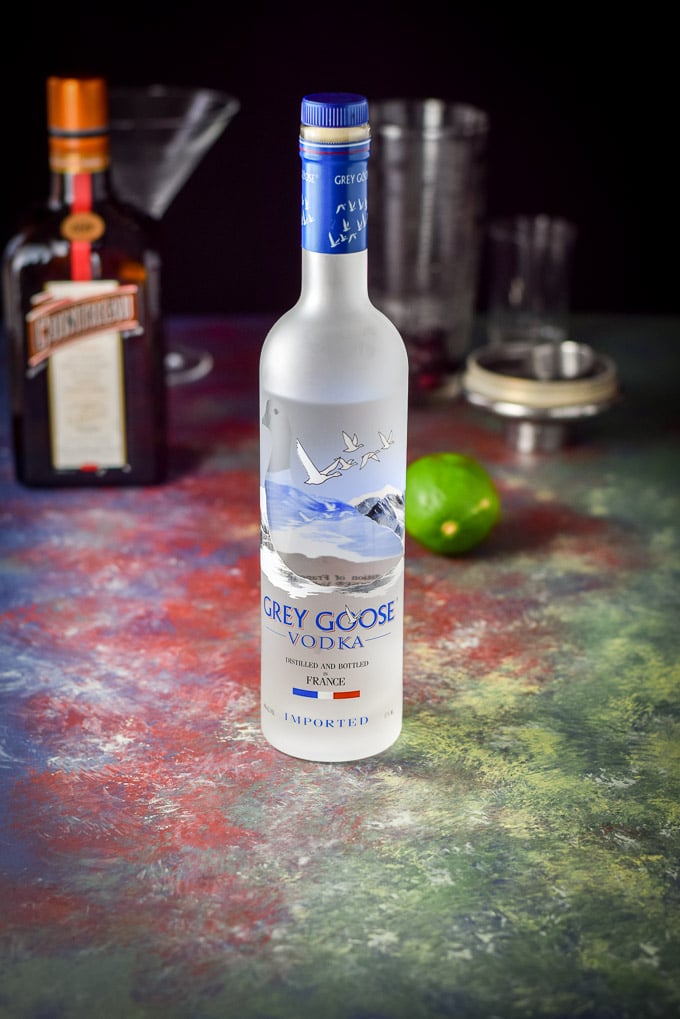 The ingredients for the Bing Cherry Cosmo Cocktail and the Mixing
Above we have vodka, Cointreau, a lime and five cherries squirreled away in the cocktail shaker.
Let's get started.
I take my muddler and muddle the heck out of 5 pitted cherries.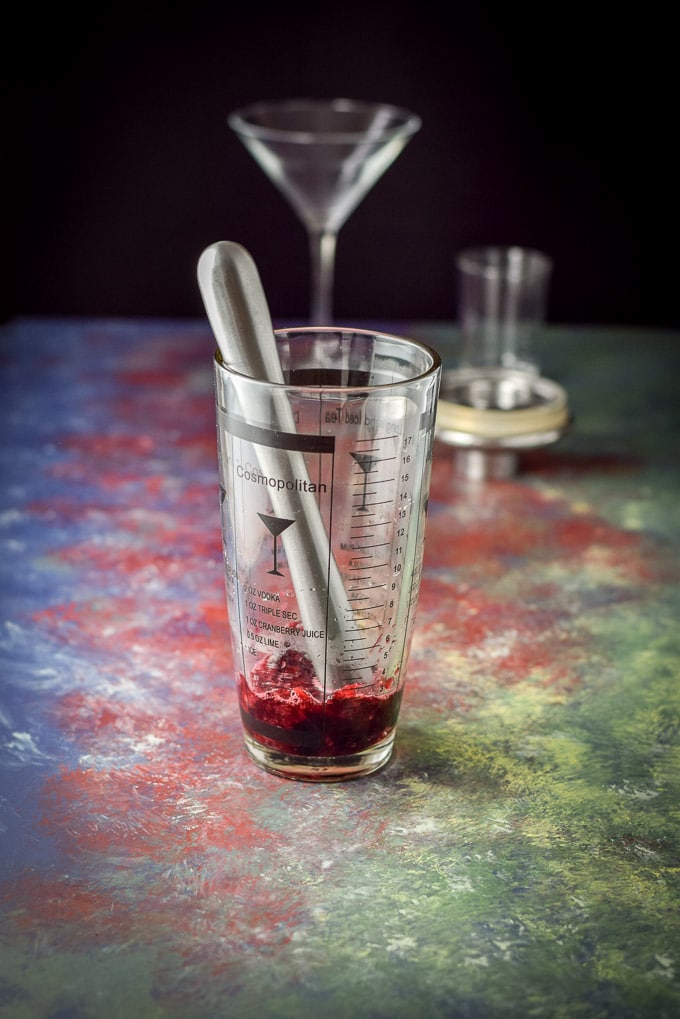 I fill that shaker half way with ice.
Now, for the vodka.
I measure out 2 ounces of Grey Goose.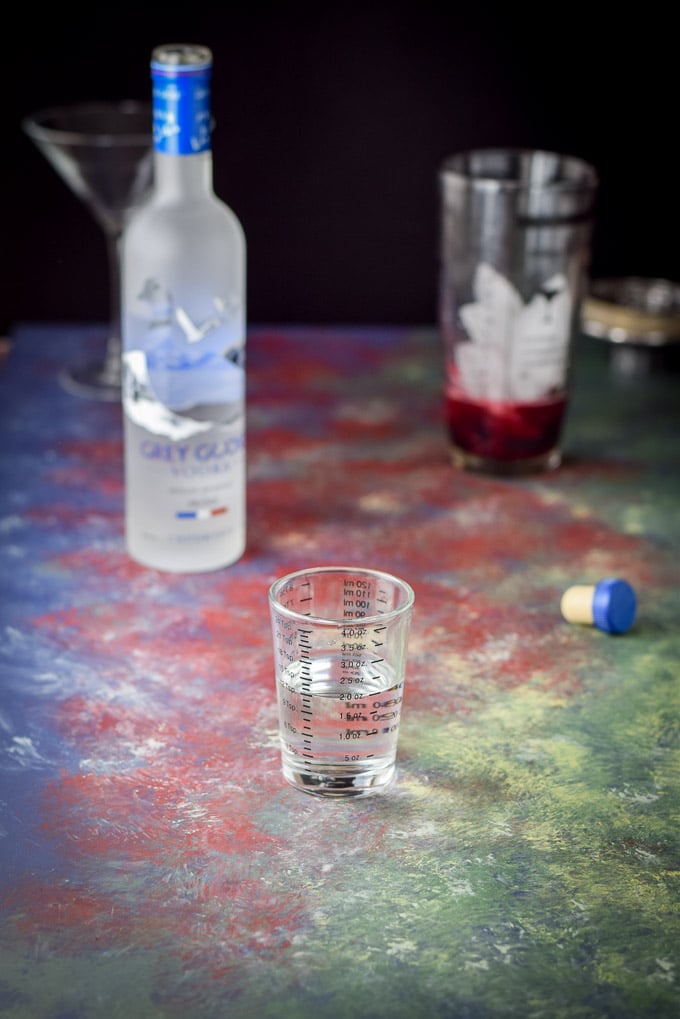 I pour the vodka into the shaker.
Time for the Cointreau.  I measure out 1 ounce of that delicious orange liqueur.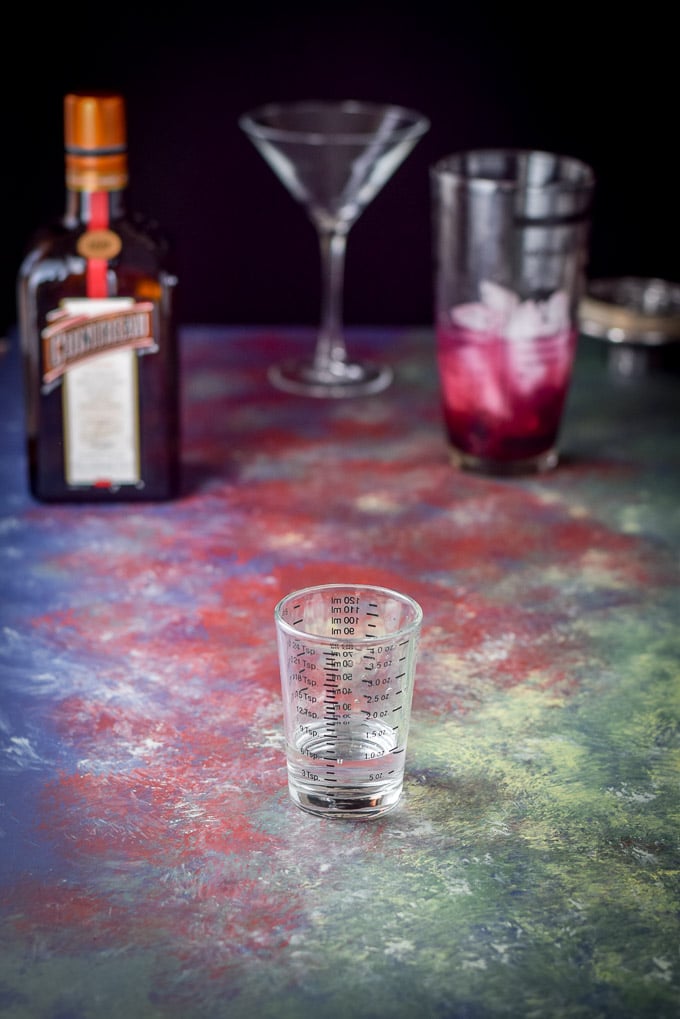 Into the shaker it goes!
Now for the lime juice.  I squeeze out 1 ounce of the glorious greenish liquid.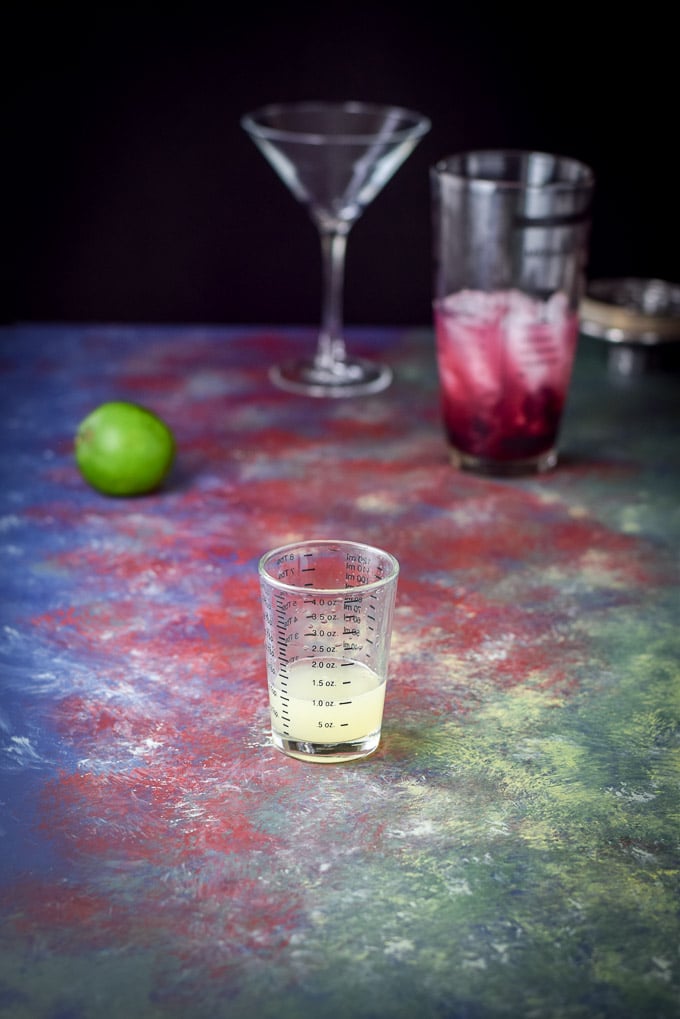 I pour it into the shaker.
Time to cap that bad boy and shake the crap out of it.  Crap = shake at least 20 times.
😉
I grab my martini glass and spear 3 cherries on my martini pick.  I strain the liquid into the glass and fish out some crushed cherries.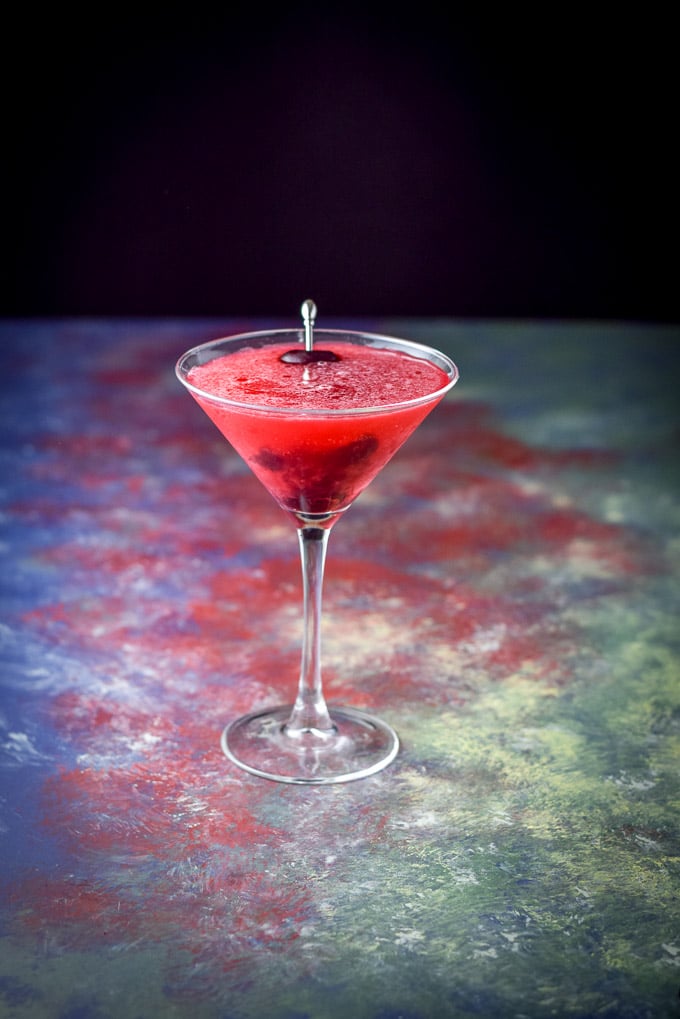 Now, let's look at the vertical view.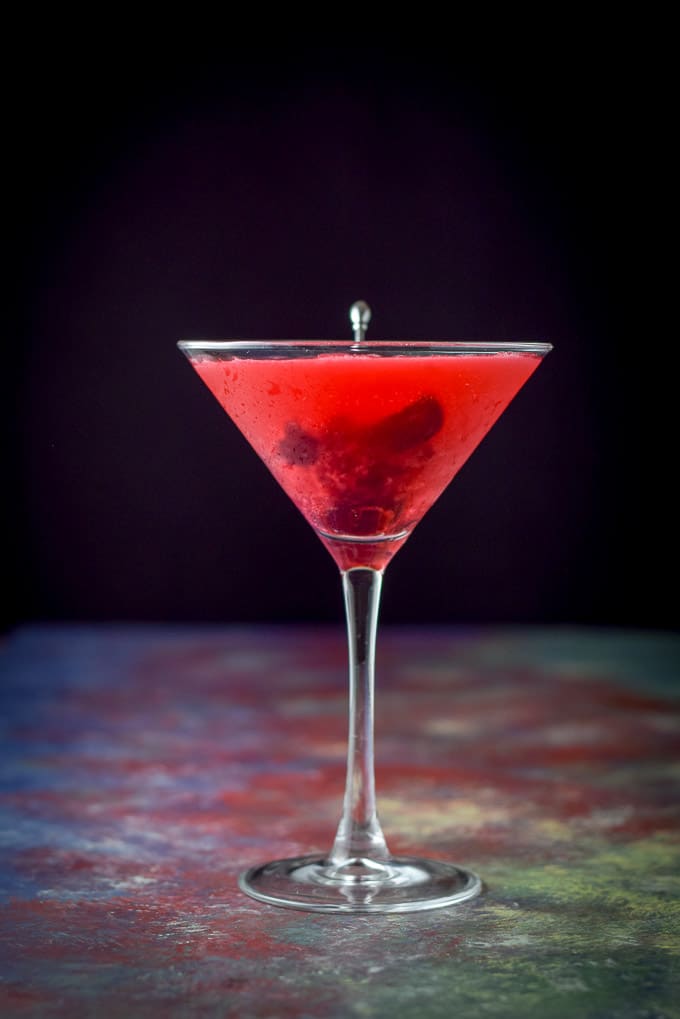 It is so delicious!
I hope you enjoyed this cherry cosmo recipe.
Please feel free to Pin any photo to Pinterest, Yum the recipe to Yummly and leave me a comment.  I dare you!
And as always, may all your dishes/drinks be delish!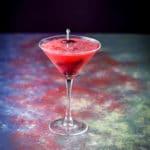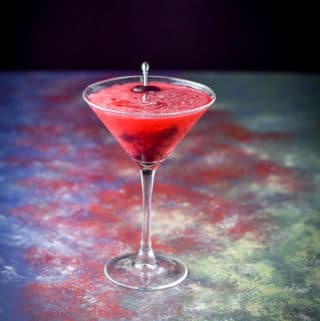 Bing Cherry Cosmo Cocktail
This Bing cherry cosmo cocktail is so delicious it will be hard to just have one.
Ingredients
5

Bing cherries

pitted

2

ounces

vodka

I used Grey Goose

1

ounce

Cointreau

or triple sec

1

ounce

lime juice

(usually one lime)
Tools, Garnish and Glassware
3 pitted cherries and a pick
Instructions
What To Do
Place cherries in cocktail shaker and muddle them until they squished and the juices are expressed

Fill shaker halfway with ice

Add vodka, Cointreau and lime juice

Cap shaker and shake at least 20 times

Strain liquid into martini glass and fish out some pieces of cherries

Place the garnish into the glass

Sip

Smile

Enjoy
Recipe Notes
I don't sweeten the drink because cherries are sweet.
Nutrition Facts
Bing Cherry Cosmo Cocktail
Amount Per Serving (6 ounces)
Calories 250
% Daily Value*
Sodium 3mg 0%
Potassium 88mg 3%
Total Carbohydrates 17g 6%
* Percent Daily Values are based on a 2000 calorie diet.