Christopher and I love my sausage sub recipe with onion and pepper so much that when I told him we were having them for supper, I swear I heard him weep.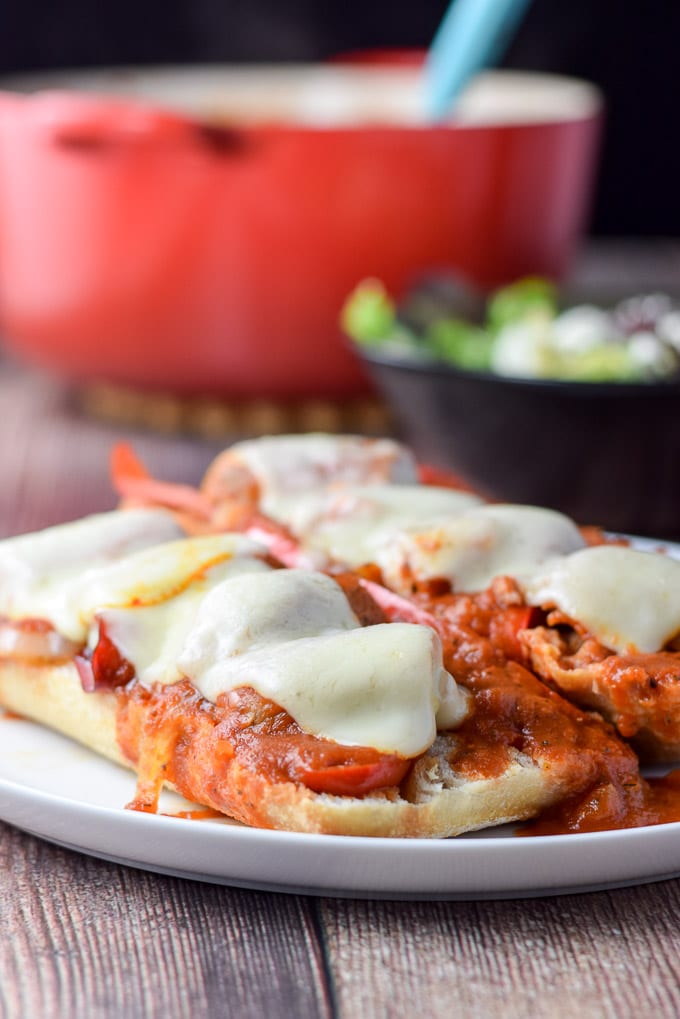 When I was growing up, my family used to have sausages, onions and peppers a lot.  My mom would cut the sausages into one inch chunks and fry them in an electric fry pan with the sliced veggies.
Mmmmmm.
But I didn't want to make it this way.  At least not yet because I wanted to cook my sausages in gravy instead of frying them like my mom did.
In any case, Christopher and I love slow cooked sausages in smooth gravy.  Who doesn't?
So, I thought, let's make a sausage sub with onion and pepper out of these delicious sausages and veggies!!
Interestingly, I figured out recently that I prefer to eat 'messy' subs with a fork and knife instead of picking them up.  But why am I surprised that I've engineered it this way? Perhaps because I didn't realize how ingrained my distaste is for having dirty hands.
I've been very vocal about not liking to get my hands greasy or dirty. I will do it if I must, but if I can get away without sullying my hands, I will!
How Many Napkins?
You would probably laugh yourself silly if you saw me eat a sub like this sausage sub with my hands. Because I pick it up, take a bite and put the sub back down.  Then I pick up a napkin and wipe my hands. Repeat a million times or until the sub is gone.
The answer to how many napkins is going to be a secret because I don't want you to think I'm strange.
Or at least, stranger than you already do.
😉
How to make the Sausage Sub with Onion and Pepper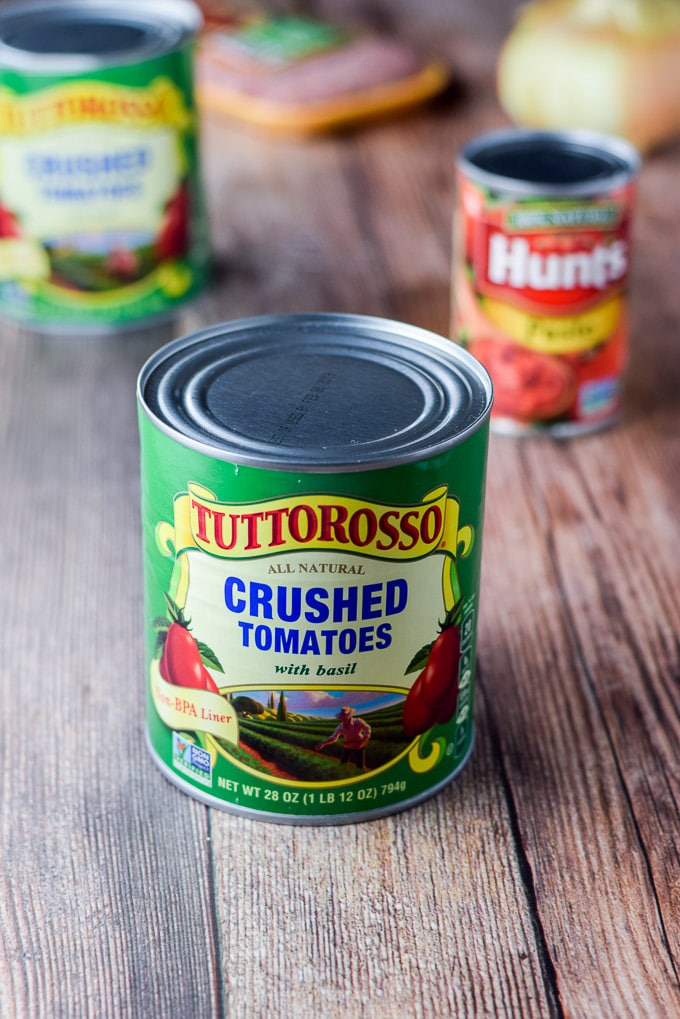 As is the case with my meatball sub recipe, although this method takes longer than if I were to fry the meat and veggies, it is well worth the extra time.
Why?  Because the sausages come out so soft, juicy and succulent!
Pictured above we have crushed tomatoes, tomato paste, sausages and an onion.
So, I get my dutch oven and heat it on medium. Then I mince the onion and once the pan heats up, I add 2 tablespoons olive oil. Next, I add the onion and sauté it for 5 minutes. I also add 2 teaspoons garlic paste (the equivalent to 2 cloves of minced garlic), 1 tablespoon dried basil, 2 teaspoons dried oregano, 1 teaspoon salt and 1/8 teaspoon pepper.
I continue to sauté the onion/herb mix for another 2 minutes.
In the meantime, I open the cans of crushed tomatoes and tomato paste and add all three cans to the pan. I also add 2 (paste) cans of water to the tomatoes.
Lastly, I stir the gravy around and add a bay leaf.
Sausages Jump into the Pan
To begin with, I open the two packages of sausages and place them in the gravy! Then I lower the heat to a simmer and let it all cook for 6 hours. By the way, I usually start the gravy in the morning and it is ready by supper time.
I know, I know. That's a long time. But as I said, this recipe is worth it.
And right before the sausages and gravy are ready, I start preparing the vegetables.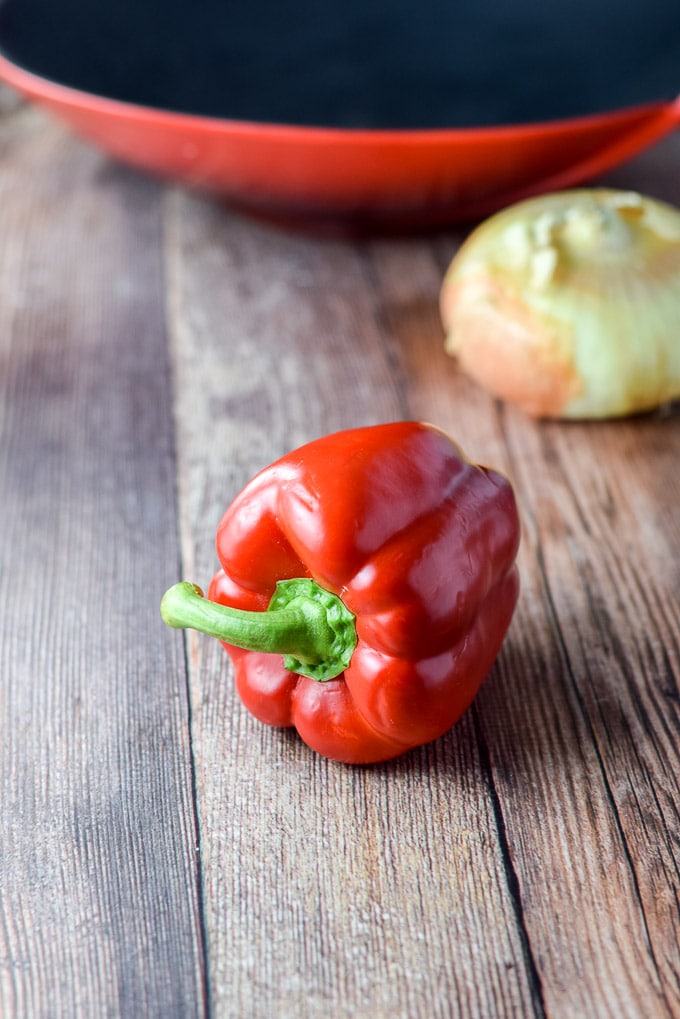 Veggie time!!
I slice the onion in thin rings and the pepper in slices.
Then I heat my wok on medium and add 2 tablespoons olive oil.
In go the veggies. At this point, it takes approximately 10 minutes to sauté the onion and pepper to perfection.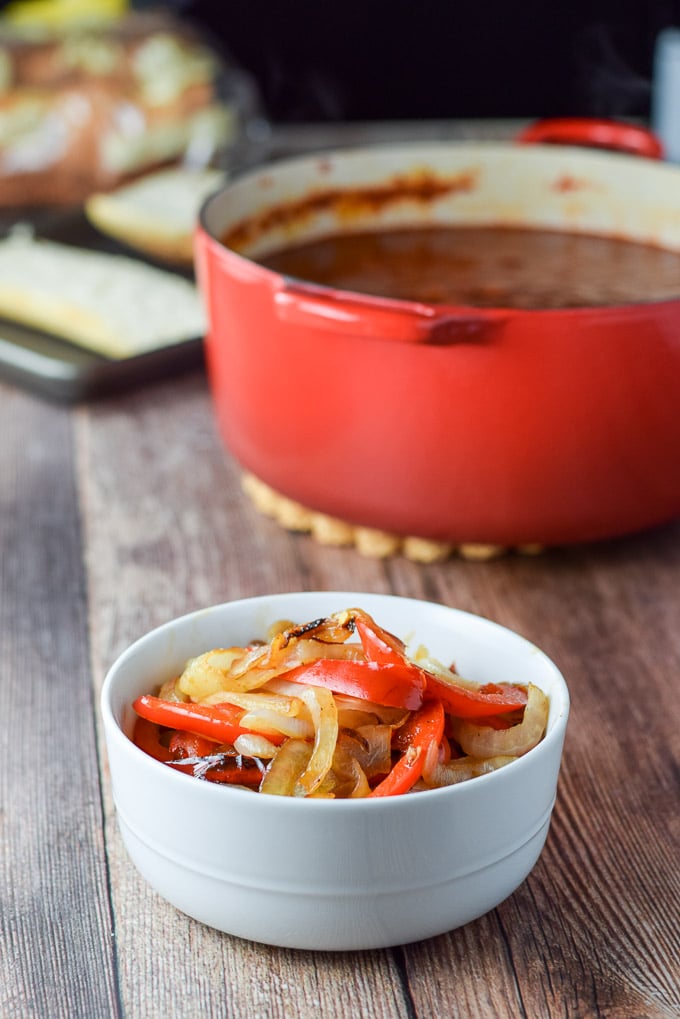 Let's look at the gravy with the sausages in it.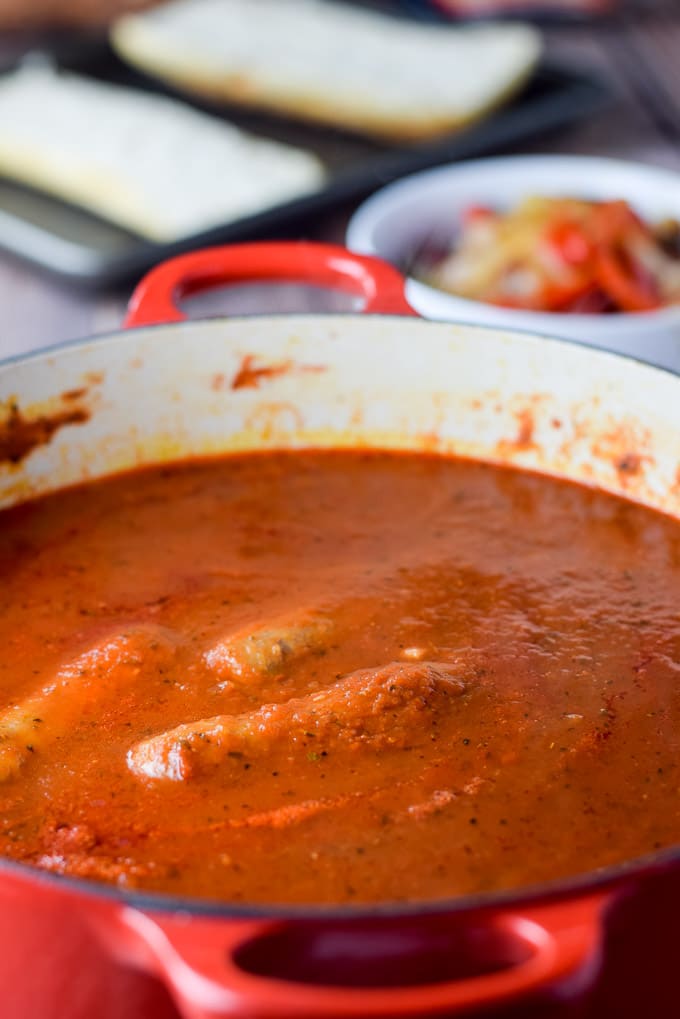 But doesn't it look flavorful?
I turn my oven on to broil.
I also get my rolls and cut one in half. Finally, I spoon some onion and pepper on the bread.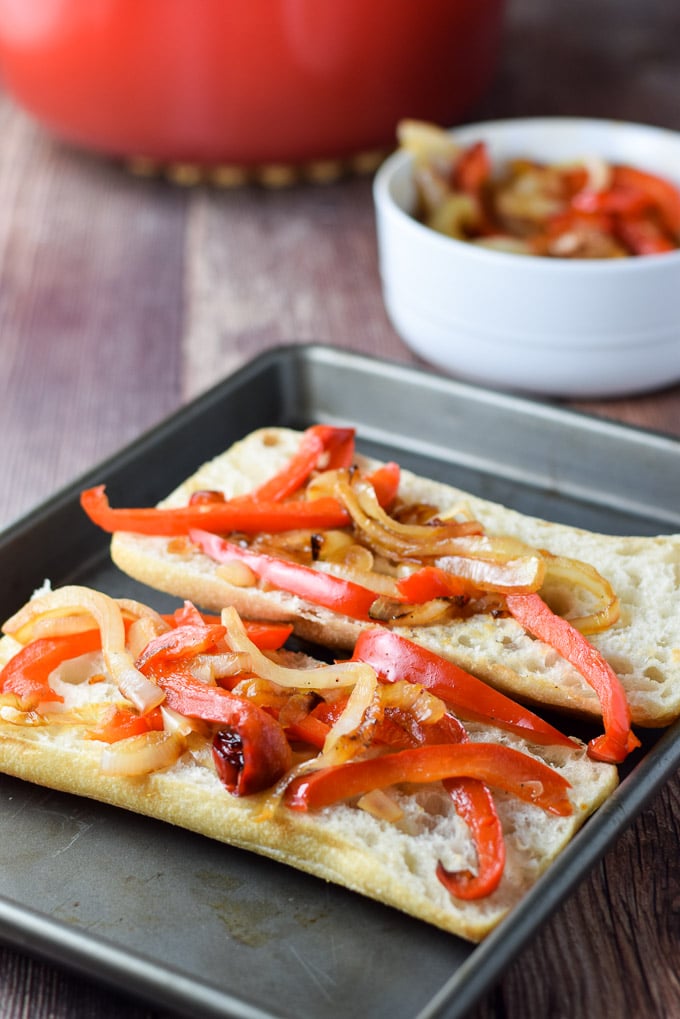 At this point, I cut two sausages in slices and place them on top of the vegetables. One sausage on each slice of bread.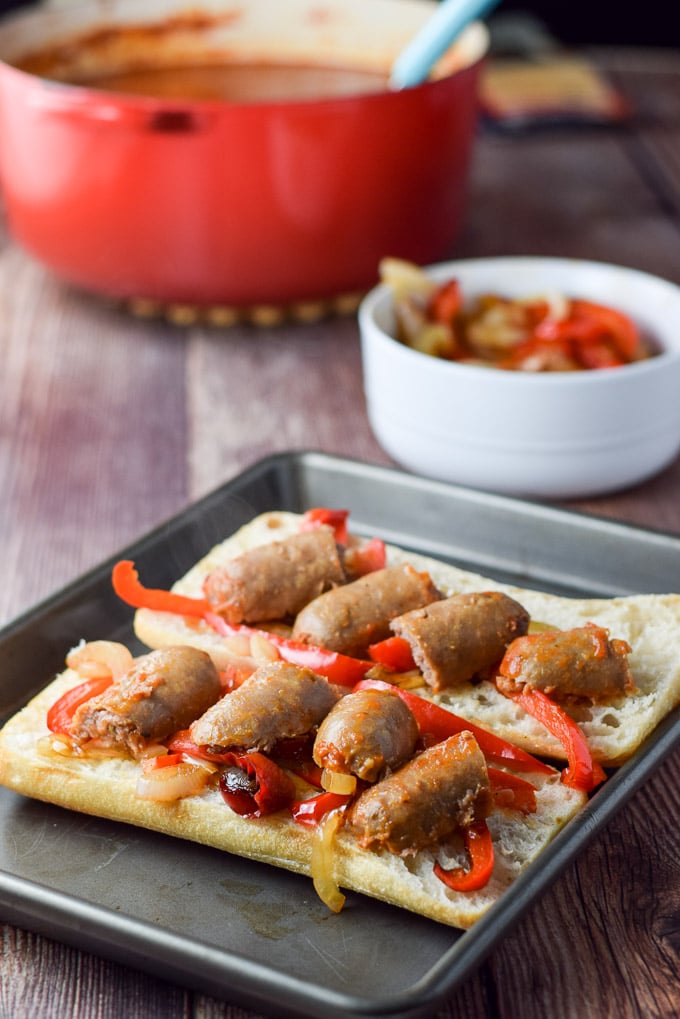 Now for the gravy! But be generous as you pour it on the sausage sub!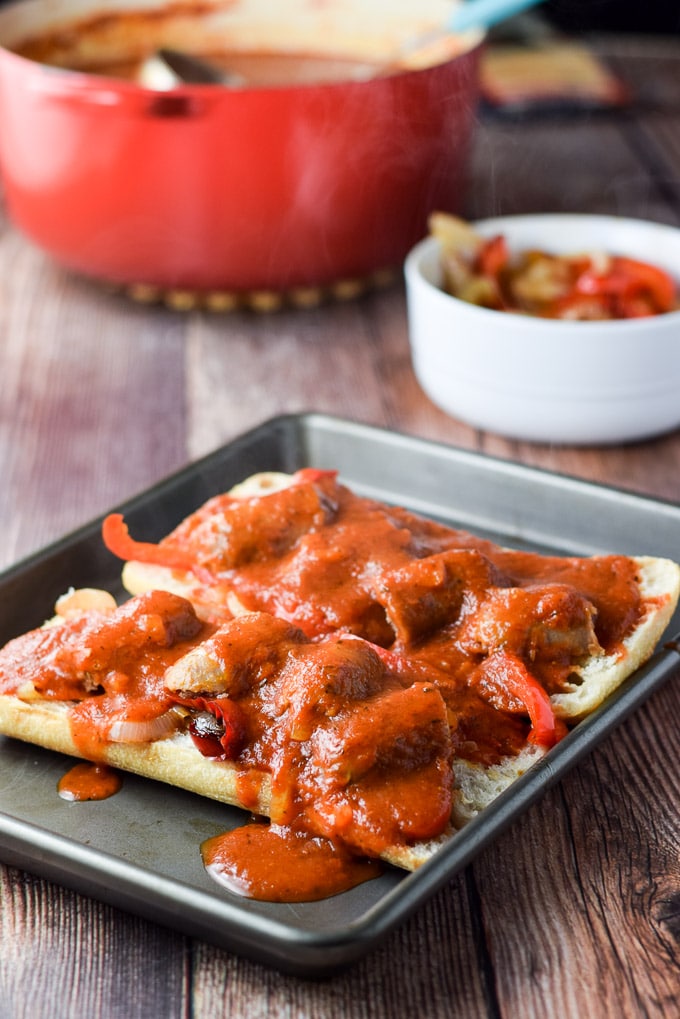 I also add a slice of muenster cheese to each sausage sub setup.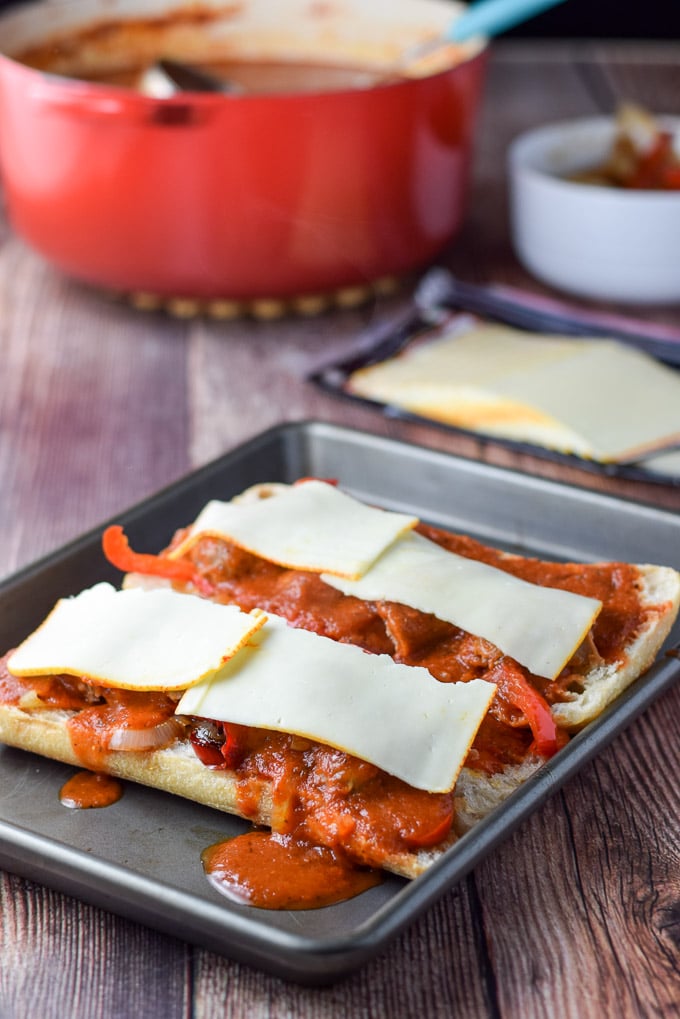 Time to stick the sausage sub in the broiler. I stand there and watch them so the subs don't burn. It takes about one minute.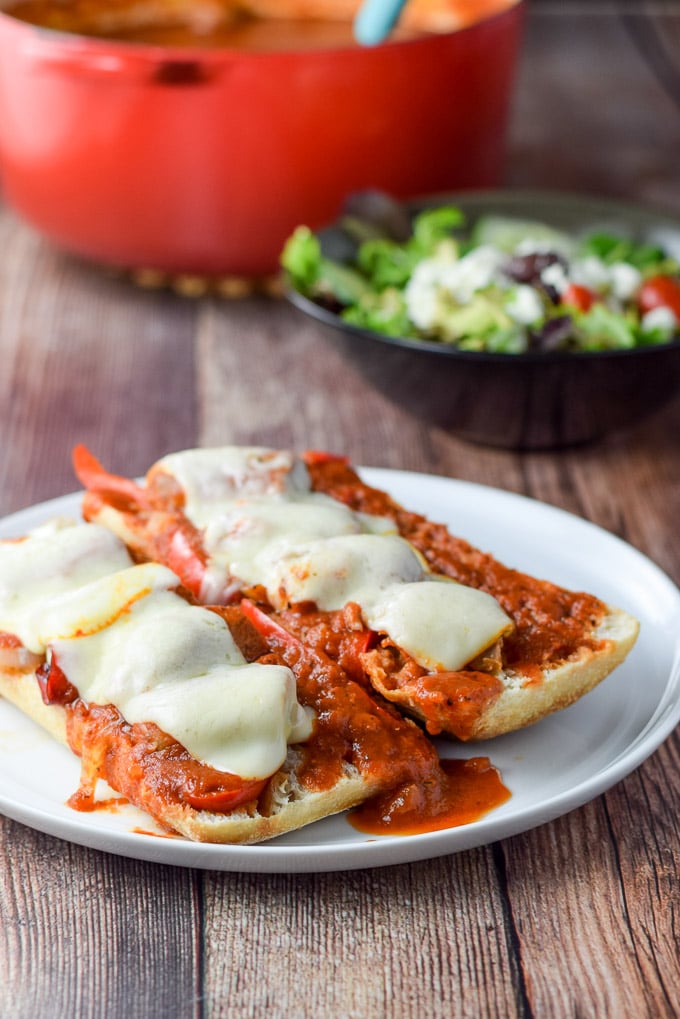 Finally, it's time to eat!! And they are SO DELISH!
I hope you enjoyed this sausage sub recipe!
Please leave me a sausage loving comment just because you want to!
And as always, may all your dishes be delish!
If you've tried this sausage sub or any other recipe on the blog, I'd love the hear what you thought about it in the comments below.  I love hearing from you!  You can also FOLLOW ME on FACEBOOK, TWITTER, INSTAGRAM and PINTEREST  to see more of my delicious food and delightful cocktails!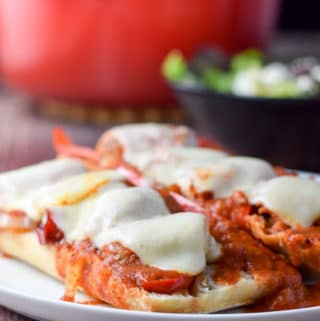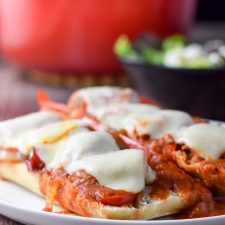 Sausage Sub with Onion and Pepper
Juicy and delicious, this sausage, onion pepper sub hits the spot!!
Print
Pin
Rate
Cook Time:
6
hours
10
minutes
Total Time:
6
hours
20
minutes
Ingredients
Veggie
2

tablespoons

olive oil

1

large onion

minced

2

teaspoons

garlic paste

or 2 cloves garlic, minced

1

tablespoon

dried basil

2

teaspoons

dried oregano

1

teaspoon

salt

1/8

teaspoon

pepper
Gravy
56

ounces

crushed tomatoes

2 cans

12

ounces

tomato paste

12

ounces

water

use tomato paste can

1

bay leaf
Meat
22

sweet Italian sausages
Veggies
2

tablespoons

olive oil

1

onion

cut into thin rounds

1

bell pepper

cut into slices
Extras
2

Crusty rolls

1

slice

Munster cheese
Instructions
Heat Dutch oven on medium, add 2 tablespoons olive oil

Add onion and cook for 5 minutes, stirring every 20 seconds or so

Add garlic, basil, salt and pepper and cook for 2 more minutes

Add crushed tomatoes, tomato paste and two cans of water (use tomato paste can)

Add bay leaf

Bring to boil

Add sausages, making sure they are submerged and lower the heat to a simmer

Cook for 6 hours stirring every 30 minutes

Heat sauté pan or wok on medium and add 2 tablespoons olive oil

Add onion and pepper and sauté for 10 minutes

Turn oven to broil

Cut crusty roll in half

Spoon some cooked veggies on the roll, cut a sausage in pieces and add the meat on each half (one sausage each)

Spoon gravy on sausage

Place a piece of munster cheese on each slice of bread

Broil sub for 1 minute until cheese is melted

Plate

Cut into sub

Eat sub

Smile

Sigh

Enjoy
Notes
If you don't want it to take so long, you can always either bake your sausages on 375 for 20 minutes each side - so 40 minutes total.  I prefer my way. 🙂
Nutrition
Serving:
1
Sub
|
Calories:
365
kcal
|
Carbohydrates:
57
g
|
Protein:
12
g
|
Fat:
12
g
|
Saturated Fat:
2
g
|
Cholesterol:
2
mg
|
Sodium:
1472
mg
|
Potassium:
1534
mg
|
Fiber:
10
g
|
Sugar:
21
g
|
Vitamin A:
2065
IU
|
Vitamin C:
66.4
mg
|
Calcium:
188
mg
|
Iron:
7.7
mg