This is my No Bulls Near This Matador Cocktail recipe.  We don't want any bulls around because they will knock this delicious cocktail over and that would be a shame.  A darn shame.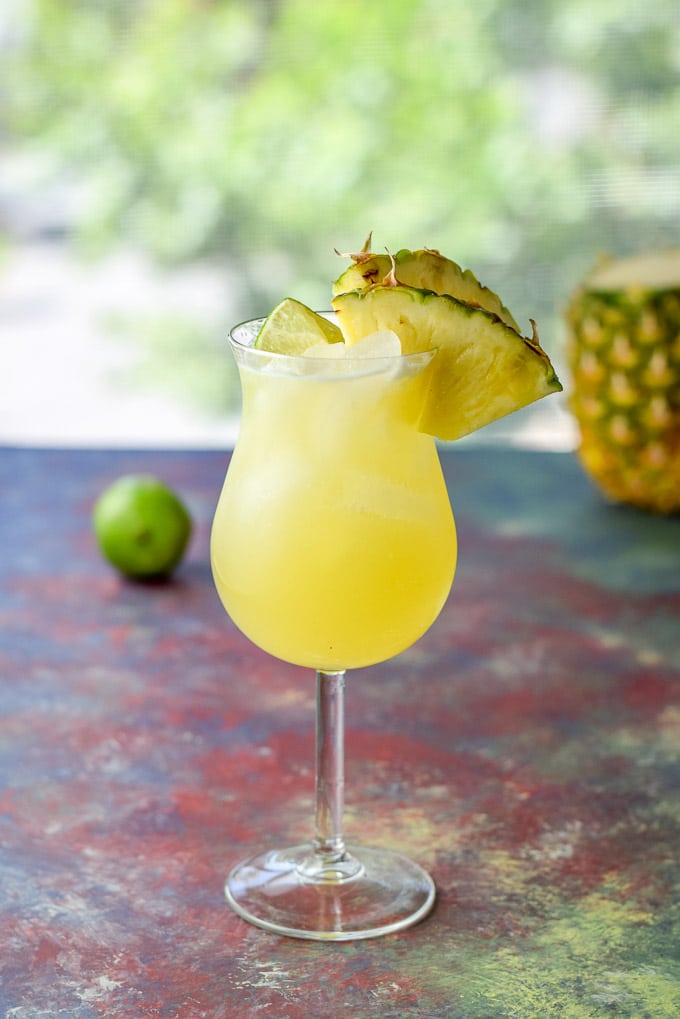 The Short and Sweet of It
This matador cocktail is really delicious and you should make it.
The end.
End of blog post, because that's all you need to know.
Okay, okay, I will write more because I'm enamored with this matador cocktail!!
That is why I named it the No Bulls Near This Matador Cocktail.  If a bull or many bulls came and knocked over this drink then it would be a crying shame that you didn't get to even take a sip of it.
Although, I can imagine myself on my knees, leaning over and lapping this cocktail up off the floor like a greedy dog, all the time waving my red cape to distract that darn bull from lapping it up beside me.
I'm a proud woman, but I'm not that proud.  Not when it comes to a delicious matador cocktail.
When you taste it, you will understand what I'm talking about.
I figured out a few years ago why I liked this matador cocktail so much.  Can you guess why I do?
Huh, can you?
Christopher yells from the piano bench: Because it's like a Margarita?
He is so smart, my Christopher!
Of course, we've been married almost 28 years so he knows me better than anyone.
On to the recipe.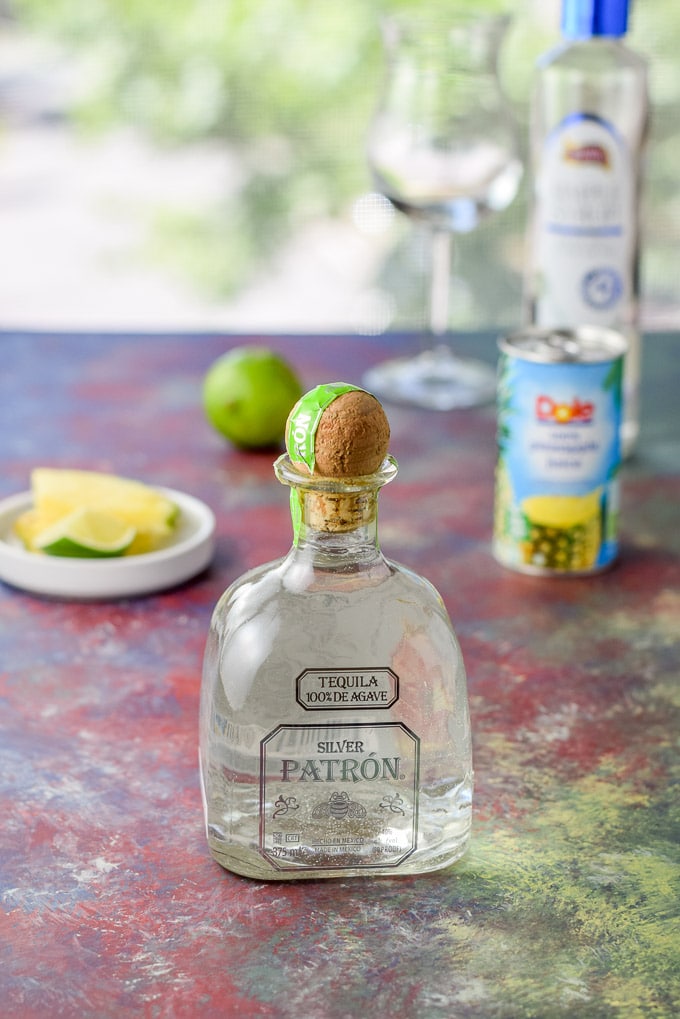 The Ingredients for the Matador Cocktail and the Mixing
We have some Patron Silver tequila, lime juice, simple syrup and pineapple juice.  The matador cocktail doesn't usually have simple syrup, but I find that it's missing that little bit of sweetness so I only add a tad.
Let's get started.
First thing I do is slice a ring off the pineapple, cut that ring in half and core it.  I cut one of those halves again and I make a little cut in the quarters so I can slide them onto the lip of the glass.  Then I set them aside as a garnish for this delicious drink.
I fill my cocktail shaker halfway with ice and add 2 ounces of tequila, 1 ounce lime juice, 1 teaspoon simple syrup and some pineapple juice.  I cap the shaker and shake it 20 times.
Time to pour the contents into the tulip glass.  I take my two pineapple quarters and stick them on the side of the glass.
Bottoms Up
Let's have a look.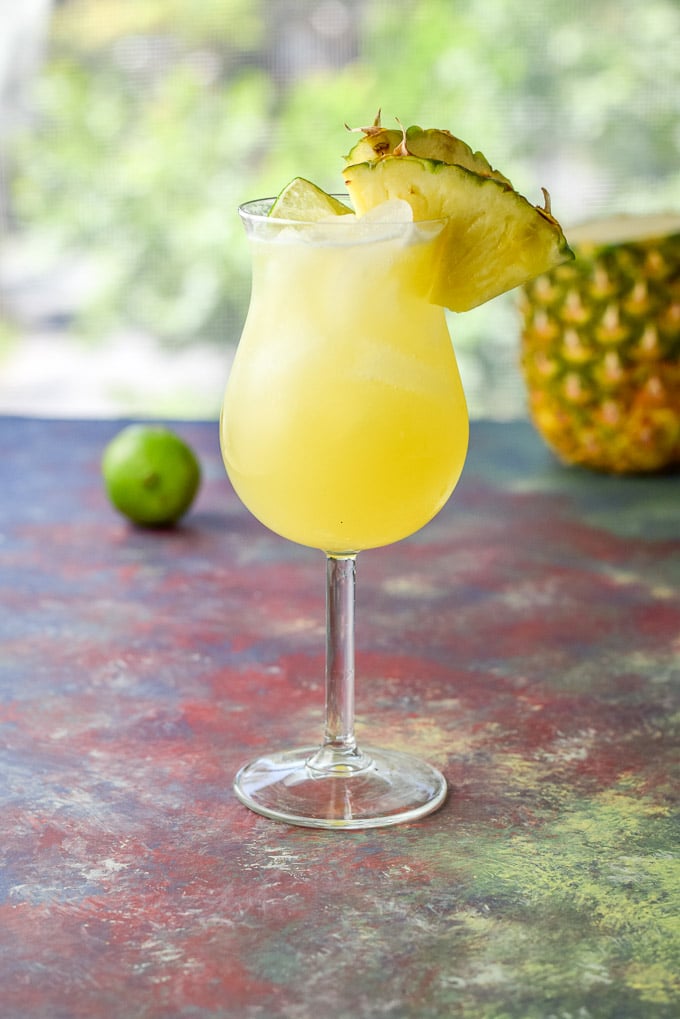 What about the vertical view?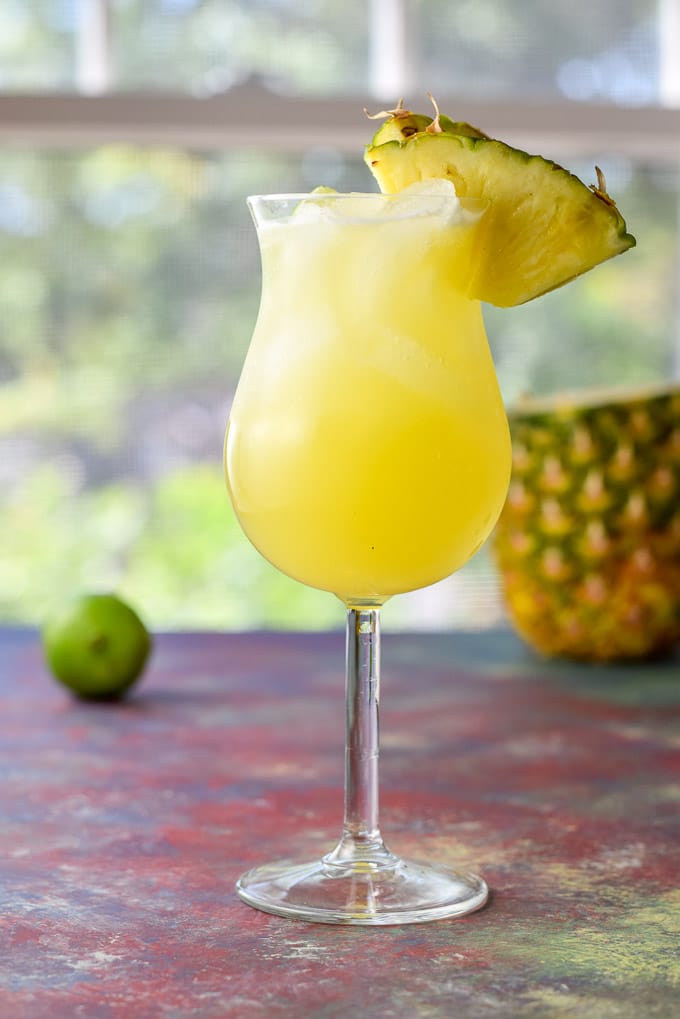 Doesn't this Matador cocktail look yummy?  It is super delicious!  Wait and see.
I hope you enjoyed this recipe!
Please feel free to leave me a comment to let me know what you think.  You can also Pin any photo to Pinterest and Yum the recipe to Yummly.  I totally appreciate it.
And as always, may all your dishes/drinks be delish!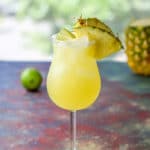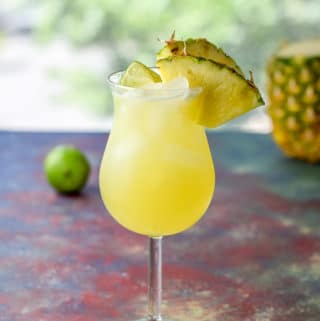 The Matador Cocktail
This matador cocktail is so delicious you are going to hug the glass when you make it.
Keyword:
matador cocktail
Ingredients
Here they are
2

ounces

tequila

I used Patron Silver

2

ounces

pineapple juice

1

ounce

lime juice

freshly squeezed

1

teaspoon

simple syrup
Tools, Garnish and Glassware
Half a round of fresh pineapple - sliced in half and cored.  Cut a slit in each so you can slip them on the glass
Tulip glass or margarita glass
Instructions
Let's Do It
Fill cocktail shaker halfway with ice

Add tequila, pineapple juice, lime juice and simple syrup

Cap shaker and shake 20 times

Pour into tulip glass and put each piece of pineapple on the side of the glass

Look around for bulls

Sip

Smile

Enjoy
Nutrition Facts
The Matador Cocktail
Amount Per Serving (8 ounces)
Calories 186
% Daily Value*
Sodium 6mg 0%
Potassium 73mg 2%
Total Carbohydrates 14g 5%
* Percent Daily Values are based on a 2000 calorie diet.