I love this lemon drop martini because it is slightly sour and oh so lemony, which makes it a refreshing and satisfying cocktail to have in your repertoire.

It is well known that I prefer my cocktails to have a higher ratio of sour to sweet; usually I'll mix a 2:1 ratio.   But for the lemon drop martini, I mix the lemon juice and simple syrup in almost equal measure.  That's because the lemon, on its own, is so tart and astringent.  The simple syrup and the Cointreau soften the lemon's tartness and strong flavor.
With a 3/4 to 1 ratio, the lemon in this lemon drop martini doesn't overpower the other ingredients.  In fact, the drink is well balanced and tart enough to be refreshing without making your lips pucker.
Helpful tips
Since lemon is a sour fruit, some people prefer an equal amount of simple syrup to lemon juice.  I prefer a ratio that is slightly more sour than sweet – so a .75 to 1 ratio of sweet to sour.  Try these proportions first and taste the result before you add more simple syrup if you ultimately want a sweeter taste
The way to pick a great lemon at the market is to first heft it in your hand.  The heavier lemons have more juice than the lighter ones.
When picking a lemon, smell it too.  The more lemon fragrance, the fresher the lemon
Try to gauge the thickness of the rind.  The thinner the rind, the more juice it will yield
Before juicing the lemon, roll it between your palm and a hard surface like a counter.  Doing this will help release the juice
This post may contain affiliate links, which means I get a small commission, at no additional cost to you, if you click the link and buy something. You can read my disclosure here.
How to make a lemon drop martini
Pre-step
Get 2 martini glasses.  Fill a cocktail shaker halfway with ice and pour the ingredients in the cocktail shaker once they are measured out.
Step one
Gather the ingredients – vodka, Cointreau, lemon and simple syrup.
Step two
Measure 4 ounces of vodka.  (I use Grey Goose.) (A)
Step three
Measure 1.5 ounces of Cointreau. (B)
Fresh Lemon Juice
Step four
Squeeze enough lemons to yield 2 ounces of lemon juice.  (Read tips above – I only had to use one lemon.) (C)
Step five
Measure 1.5 ounces of simple syrup and slice two thin lemon wheels from a fresh lemon. (D)
Step six
Cap shaker, shake for at least 20 seconds, then strain and divide the contents into the martini glasses.  Float a lemon wheel in each glass.
And a closer view of the lemon drop martini.
Let's look at the vertical view.
But let's bring the fun glass in front.
I hope you enjoyed this lemon drop martini recipe!
Other popular lemon recipes
And as always, may all your dishes/drinks be delish!
If you've tried this Lemon Drop Martini or any other recipe on the blog, I'd love the hear what you thought about it in the comments below.  I love hearing from you!  You can also FOLLOW ME on FACEBOOK, TWITTER, INSTAGRAM and PINTEREST  to see more of my delicious food and delightful cocktails!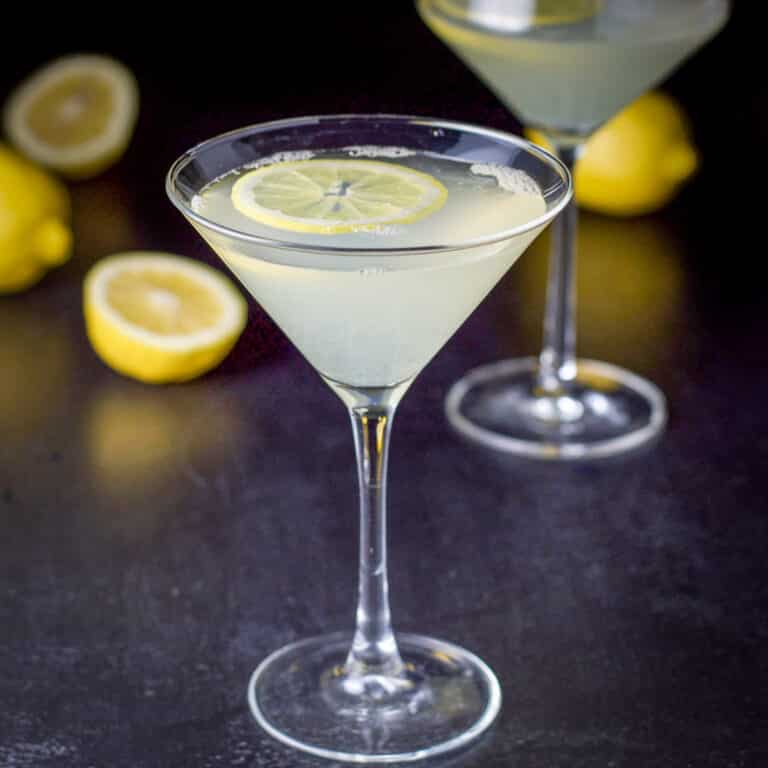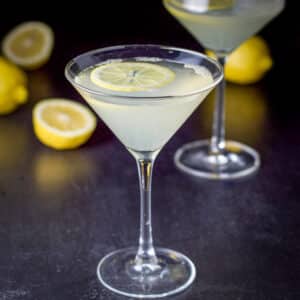 Lemon Drop Martini Cocktail
Deliciously balanced, this lemon drop martini is such a refreshing and satisfying cocktail!
Print
Pin
Rate
Ingredients
4

ounces

vodka

(I used Grey Goose)

1.5

ounce

Cointreau

(or triple sec)

2

ounces

lemon juice

(freshly squeezed)

1.5

ounces

simple syrup
Instructions
Fill cocktail shaker 1/2 way with ice

Add vodka, Cointreau, lemon juice and simple syrup

Cap shaker and shake for 20 seconds and strain the liquid equally between the martini glasses

Float lemon wheels in the cocktail

Sip

Smile

Enjoy
Notes
Tips for making this martini:
Since lemon is a sour fruit, some people prefer an equal amount of simple syrup to lemon juice.  I prefer a ratio that is slightly more sour than sweet - so a .75 to 1 ratio of sweet to sour.  Try these proportions first and taste the result before you add more simple syrup if you ultimately want a sweeter taste
The way to pick a great lemon at the market is to first heft it in your hand.  The heavier lemons have more juice than the lighter ones
When picking a lemon, smell it too.  The more lemon fragrance, the fresher the lemon
Try to gauge the thickness of the rind.  The thinner the rind, the more juice it will yield
Before juicing the lemon, roll it between your palm and a hard surface like a counter.  Doing this will help release the juice
Nutrition
Serving:
1
cocktail
|
Calories:
259
kcal
|
Carbohydrates:
24
g
|
Sodium:
14
mg
|
Potassium:
29
mg
|
Sugar:
23
g
|
Vitamin C:
11
mg
|
Iron:
0.8
mg