The best thing about this lemon curd margarita recipe is the flavor! It is not overly lemony but perfectly balanced and smoothly refreshing!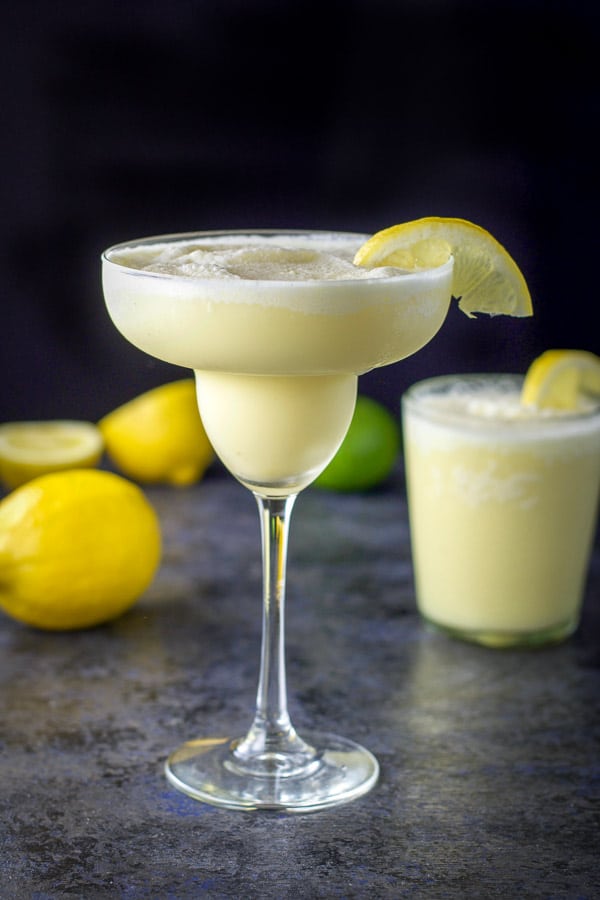 Lemon Curd, Nectar of the Gods
I made lemon curd recently and immediately had to plan what other recipes I was going to make using the glorious yellow stuff!  I made some lemon curd bars, as well as this delicious cocktail.
Do you need to use Premium Ingredients for this Lemon Curd margarita?
I would usually say yes, and to some degree, I still say yes, but when you make a flavored margarita like this lemon curd margarita, it's okay to be less particular with the ingredients because the fruit, lemon curd or other flavors masks the premium taste.
However, personally, I can still taste the difference, but that's because I've had a few margaritas in my life.
Yes, just a few.
OKAY, OKAY, I've had buckets and buckets of them.
This post was first published April of 2017.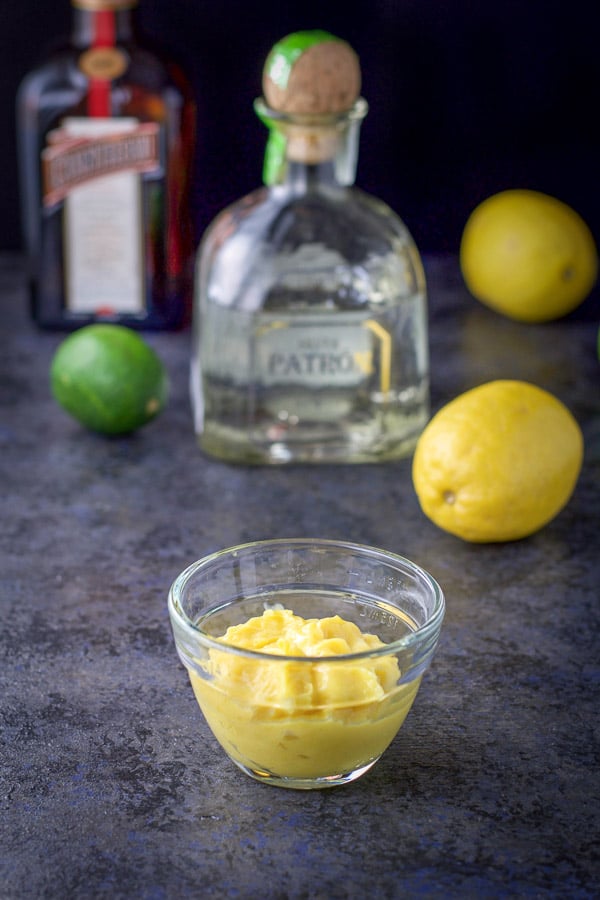 The Ingredients for the Lemon Curd Margarita and the Mixing
Front and center is the lemon curd, then tequila, Cointreau, lime juice and lemon juice.
Do you need to sweeten this Lemon Curd Margarita?
No. Lemon curd is sweet, so, in my opinion, it would be too sweet if you added simple syrup. Make it as is and if you think it needs more sweetener, add simple syrup.
Below is the collage of process shots for this lemon curd margarita.  After measuring out each ingredient, I add it to the blender. I start by adding the lemon curd.
Then I add:
Tequila
Cointreau
Lemon juice
Lime juice
Blender Differences
I take a long spoon and stir everything together, making sure the lemon curd has incorporated.  The reason I do this is because I'm using a ninja blender  where the blades are on the lid.  Sometimes the blades need help reaching the lemon curd.
If you use a regular blender, the ingredients will go in the bottom where the blades are, so you won't have to stir it.
I put in 1 1/2 cups or 2 cups of ice and turn the blender on high.
Pour the Lemon Curd Margarita
I pour the contents of the blender into the margarita glasses and place lemon slices on the side of each glass as garnish.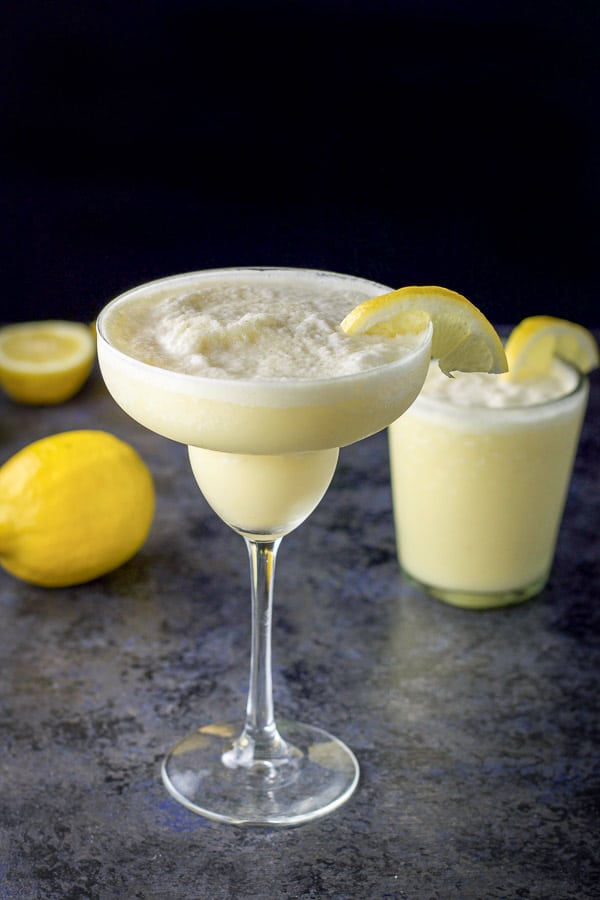 These lemon curd margaritas look so good.  Let's look at them from a different vantage point.
Vertical goodness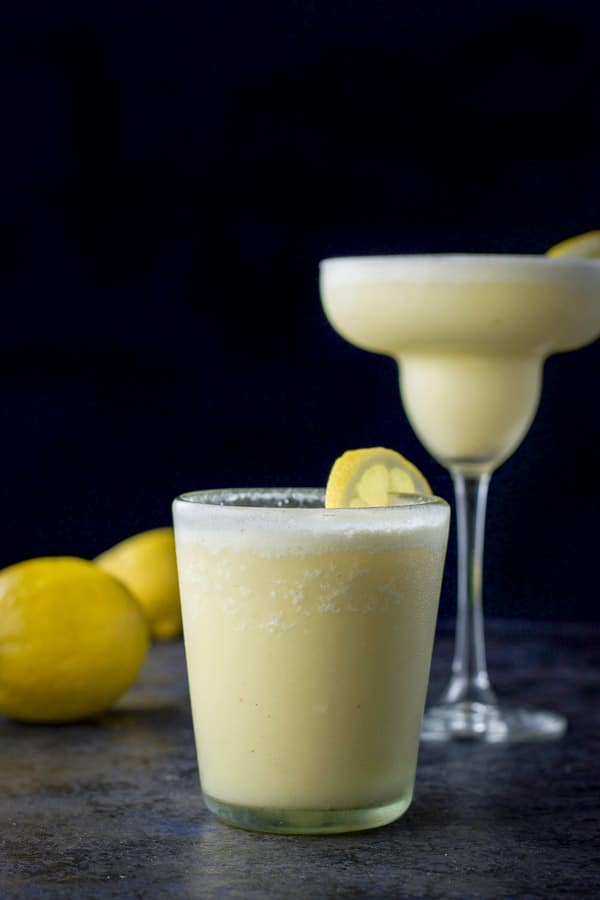 What about the aerial view?  Don't mind if I do.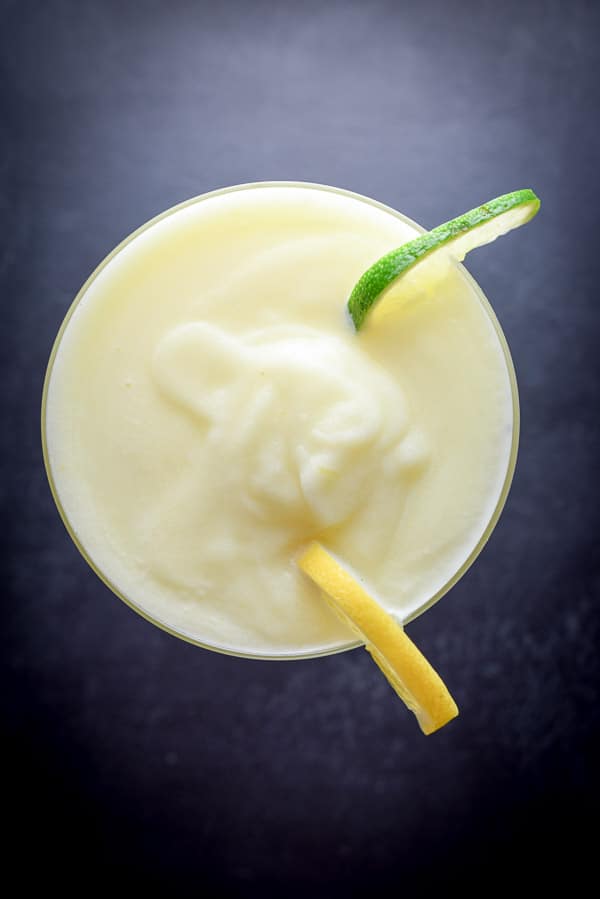 I could dive right into it!  Couldn't you?
I hope you enjoyed this lemon curd margarita recipe as much we do.
Please feel free to leave me a comment.  Do you use premium alcohol?  Do you notice a difference?  I'd love to know.
And as always, may all your dishes/drinks be delish!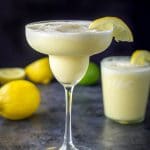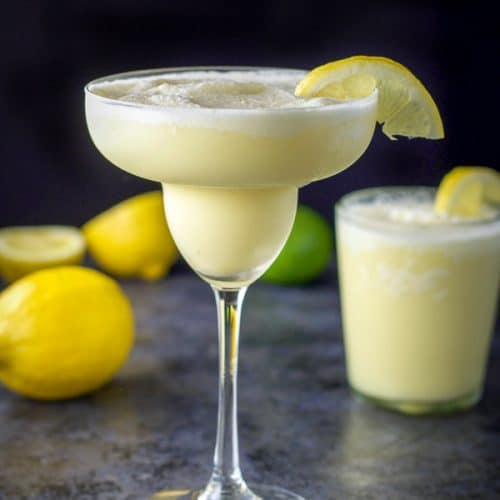 Lemon Curd Margarita Cocktail
This refreshing lemon curd margarita is a keeper!
Keyword:
lemon curd margarita, lemon margarita
Ingredients
6

tablespoons

lemon curd

heaping

4

ounces

tequila

I use Patron silver

2

ounce

Cointreau

or triple sec

2

ounce

lime juice

freshly squeezed

2

ounce

lemon juice

freshly squeezed

2

cups

ice
Glassware
double old fashioned glass

for variety
Instructions
In your blender, add lemon curd, tequila, Cointreau, lime juice, lemon juice (if you are using a blender like mine, stir the lemon curd until in incorporates. No need if you are using a regular blender)

Add ice

Blend until smooth

Pour into glass and place lemon on the rims of the glass

Sip

Smile

Enjoy
Nutrition Facts
Lemon Curd Margarita Cocktail
Amount Per Serving (1 cocktail)
Calories 398
Calories from Fat 45
% Daily Value*
Total Fat 5g 8%
Sodium 175mg 7%
Potassium 62mg 2%
Total Carbohydrates 47g 16%
Protein 1g 2%
* Percent Daily Values are based on a 2000 calorie diet.