This pretty pear and pomegranate salad recipe is festive and delicious!  Perfect for when you want to eat lighter and healthier!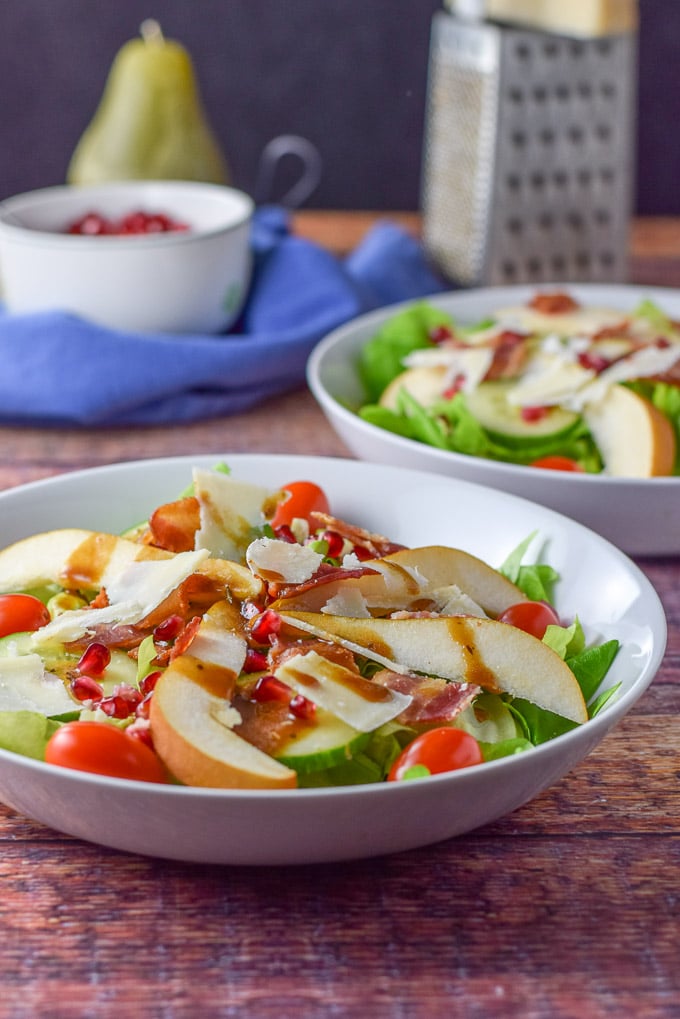 Want a fun, colorful salad to eat after the holidays?
Yes, I do too!
This pear and pomegranate salad is so tasty and satisfying that you could eat it as your main meal if you wanted to.  Christopher and I usually split one and combine it with a main dish.  Usually.
But sometimes, I want to have only salad for dinner. When that happens, I make sure Christopher gets a pear pomegranate salad of his own.  We can't have him dipping his errant fork into mine now, can we!
Don't get me wrong.  I'm willing to share.  But when the pretty pear pomegranate salad is my whole meal, then I feel like a mama bear defending her cubs.
Once you taste this salad, you will see why I would respond that way.  It's a nice combination of flavors that blend well, without being too sweet.
You could say it's perfect!
What makes it even more perfect is the bacon in it.
Don't you love bacon?  I do.
Speaking of bacon
Over the holidays, Christopher and I spent a night at his sister's in Western Massachusetts.  A bunch of us went to a breakfast place his family loves and where the quality of the food is excellent.  But I was surprised by the quantity of food they serve.
I got two eggs, bacon, home fries and homemade toast.  My plate could barely hold it all!  They heaped the plate with at least two cups of home fries and topped the whole thing off with seven pieces of bacon.
SEVEN!
Now, I love bacon, but who wants to eat seven pieces?  And what a waste of potatoes.  I thought, "Are they trying to justify charging almost ten dollars for this breakfast?"  I say, charge eight dollars, reduce the portion of potatoes and reduce the bacon to three or four slices.  That's plenty.
At least it is for me.  What about you?  Do you love bacon so much that you would have eaten all of the seven pieces?  Let me know in the comment section!
This is a no judgement space, so you can be honest.
On to the Pear and Pomegranate Salad Recipe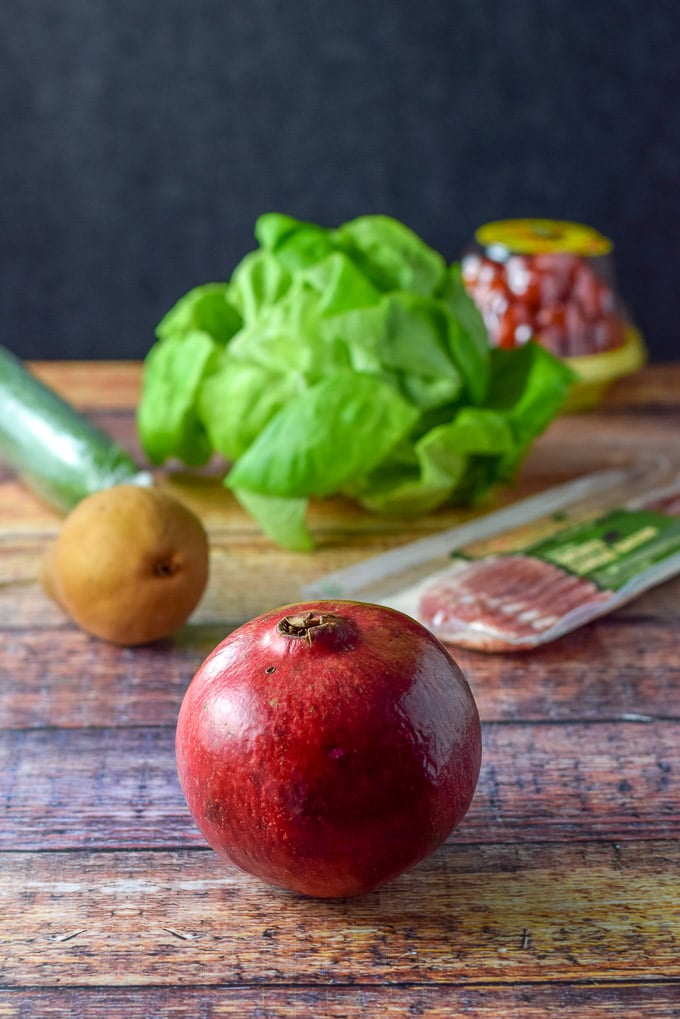 We have pomegranate, a pear, uncooked bacon, tomatoes, cucumber and Boston lettuce.
Let's get started.
The first thing I do is preheat the oven to 400 degrees Fahrenheit and line a jelly roll pan with foil.  I lay the bacon on the pan and once the oven reaches the correct temperature, I put the bacon in for 20 minutes.
Pomegranate Prospecting
While the bacon is baking, (say "bacon is baking" ten times fast for a real high) I remove all the pomegranate seeds.  Most make it to a bowl, some find their way into my mouth. Or is that the other way around!
Bacon is done.
I take a paper towel, pat it down and transfer it to a plate.
I also take the nub off of the Boston lettuce and rip the lettuce into bite size pieces.  I divide the lettuce between two shallow bowls.
See the cute nub behind the glorious plate of bacon?  Why do I love that nub so much?
Time for the cucumbers.  I use five slices per salad, but you can use as many as you like!
Time for the tomatoes!  Five per salad.
Great!  Now for the pears.  I slice up a pear and gently lay the slices on the salad.
I take the pomegranate seeds and sprinkle them on top of the pear and pomegranate salads.
I crumble up some bacon – I use 1 1/2 slices on each salad.   I bag the rest for later consumption!!
Almost done!
I shave a few pieces of fresh parmesan cheese and sprinkle them on the salads.
I dribble some balsamic dressing on the salads and we are good to go!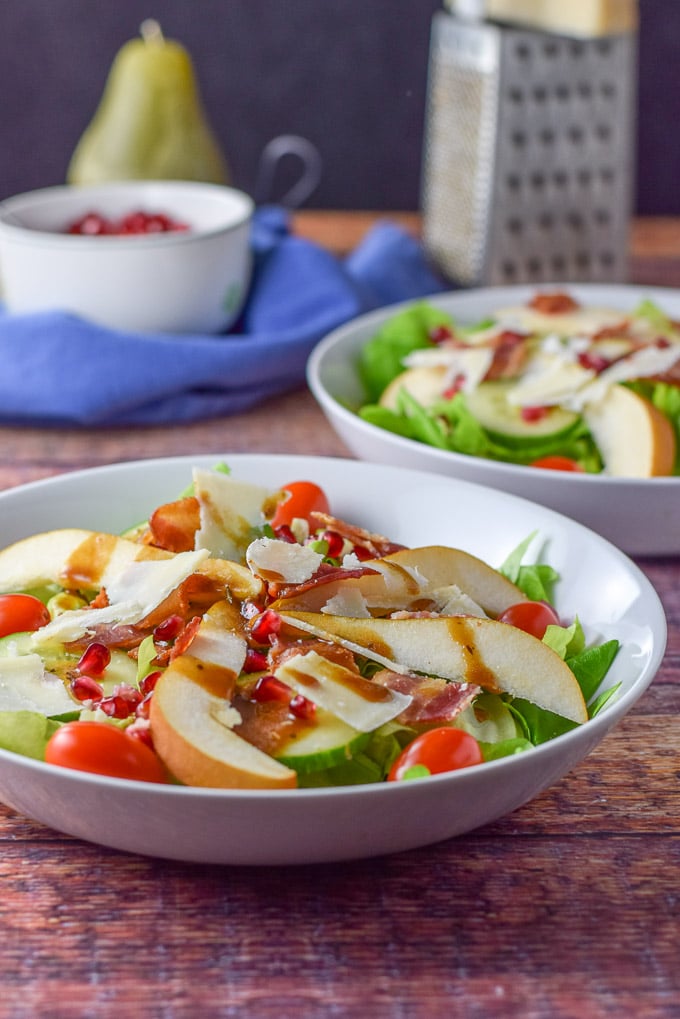 Delicious!  We enjoyed eating these pear and pomegranate salads and you will too!
Please feel free to leave me a comment, let me know what is your favorite salad?  I'd really like to know.  You can also Pin any photo to Pinterest and Yum the recipe to Yummly!  Or Facebook.  You can share there too.  Hmm.  Let's see… what about Stumbling it too?  😉
And as always, may all your dishes be delish!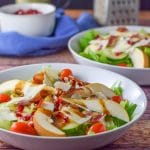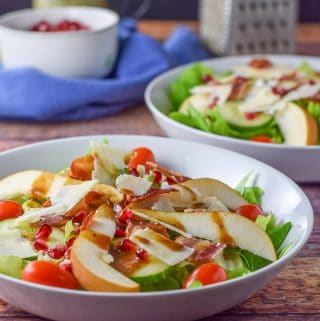 Pretty Pear and Pomegranate Salad
Easy, healthy and delicious!
Keyword:
pear and pomegranate salad
Ingredients
1

head Boston lettuce

(or any lettuce you like), torn into bite sized pieces

1

Cucumber

cut into slices

10

Tomatoes

1

Pear

sliced

2

tbsp

Pomegranate seeds

3

slices

cooked bacon

crumpled

2

tbsp

Parmesan cheese shavings

4

tablespoons

balsamic dressing
Instructions
Make it!
Preheat oven to 400 F

Line jelly roll pan with foil and lay bacon on pan

Bake for 20 minutes, pat dry and set aside

Place lettuce in two bowls

Add cucumbers, tomatoes, pear slices, pomegranate seeds, crumpled bacon and parmesan cheese

Dribble dressing on salad

Eat

Smile

Enjoy
Recipe Notes
I use a certain amount of the ingredients but you can use any amount.  Suit yourself.
Nutrition Facts
Pretty Pear and Pomegranate Salad
Amount Per Serving (2 cups)
Calories 216
Calories from Fat 189
% Daily Value*
Total Fat 21g 32%
Cholesterol 28mg 9%
Sodium 438mg 18%
Potassium 2059mg 59%
Total Carbohydrates 49g 16%
Protein 14g 28%
* Percent Daily Values are based on a 2000 calorie diet.