This whoopie pie cake is a fun variation on those cute little pies! All that chocolatey goodness sandwiching a delicious frosting!
Oh my word!  Whoopie pie cake!  Does it get any better?  I think not, peeps!
I took my mom's tried and true whoopie pie recipe and converted it into a cake.  Can you say, "Weehaw?"  I can!  And pretty loudly.
There are different fillings that you can use for whoopie pies, but I used the one my mom used to make.   I think it was originally my grandmother Clara's recipe.  It's cooked frosting, or as we know it in my family:  cake-pan cake frosting.  Now, that recipe. . . Woo!  I'll be blogging about that one in the coming year.
When I was growing up, I was obsessed with whoopie pies.   How could I not be?  They had my favorite things in them: chocolate and frosting.
"Um, me please" *Jumps up and down, waving hands* "I want one NOW!"
As I have little self control when it comes to these chocolatey babies, I felt like doing something different because one whoopie pie would become 2 and then 3, etc.  Realizing my dilemma, I figured – if it comes in a cake form, then I would eat one piece.  Just ONE in a sitting.  And if I made Christopher cut my portion and hid the whole darn thing away from my chocolate laser beam eyes, then I'd be golden.  I can be satisfied with one piece, as long as it isn't skimpy. Feeling me?  Ah-huh. I knew you would.
Suzy Q's
Do whoopie pies remind anyone else of the much loved Suzy Qs made by Hostess?  Man, oh man, I used to love those things.  I used to have a whole ceremony on how I would eat one.  I couldn't just open the package and stuff the chocolatey yumminess in my greedy mouth.  Oh, no!  I had to open it carefully, and then take my long pointer finger and swipe it along the cellophane to get every little bit of frosting.  I would pop that in my mouth, but what I used to do next would be embarrassing if it wasn't funny.
I used to pull apart the cake halves just like you would an Oreo cookie.  I would take my trembling finger and swipe the frosting off and plop it on the white board the Suzy Qs came on.  Then I'd eat the cake by itself in little nibbles, trying to make it last.
Next, I'd wipe the frosting off the board, along with any cake that was left, and take little licks, savoring it by itself.  I've even been known to lick the white board when I was done.  Oops, did I just say that out loud?  No, I wrote it!!
Good times had by me!
On to the Whoopie Pie Cake recipe
The first thing I do is make the frosting/filling.  I grab a sauce pan and on medium heat add milk and whisk in some flour.
Continue whisking over medium heat until the mixture gets very thick and comes away from the sides of the pan, as in the following photo.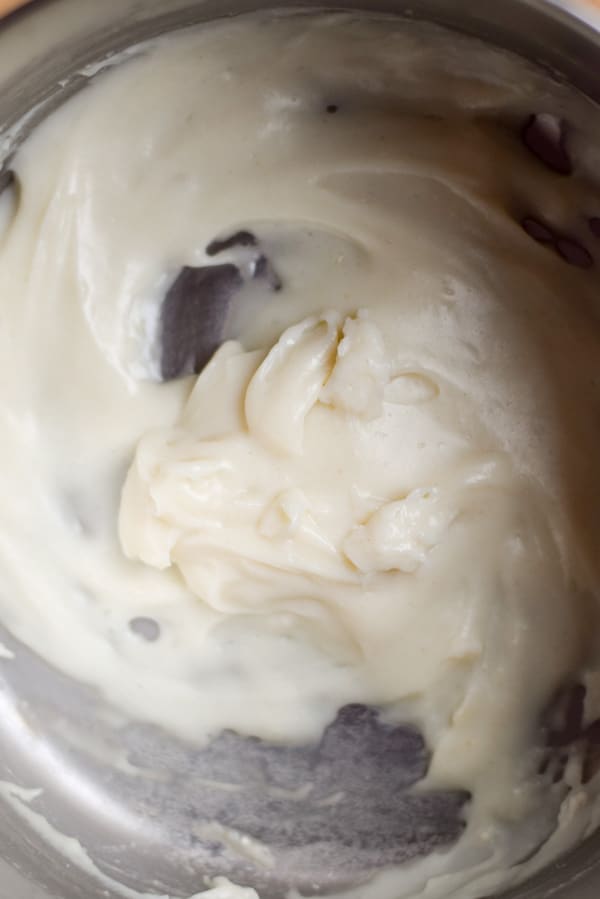 Time to pop it into the refrigerator so it cools down totally.  Once it is thoroughly chilled, I'll finish adding ingredients to make this tasty frosting, but I'm getting ahead of myself.
Preheat the oven to 350 degrees Fahrenheit.
I then begin putting together the cake part of this wonderful whoopie pie cake.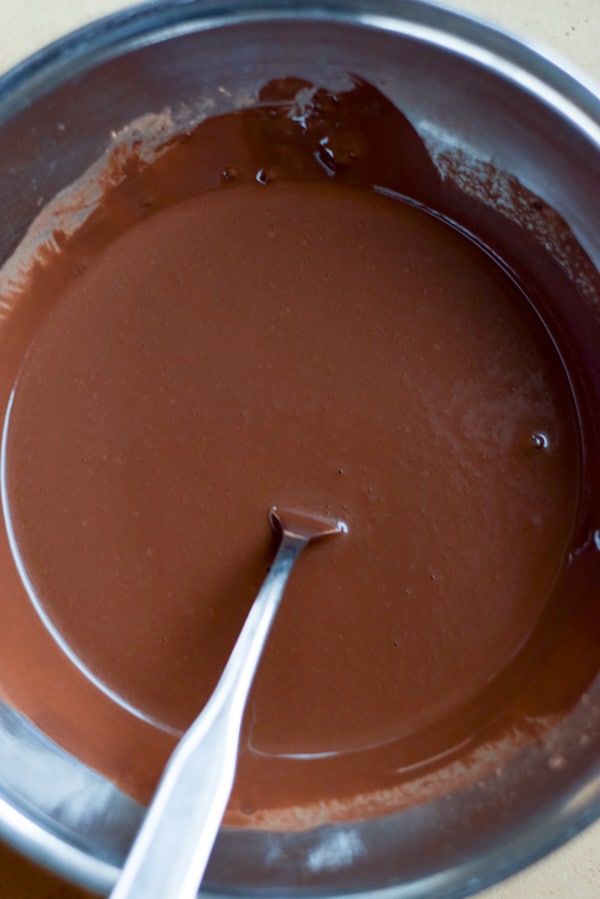 In a small bowl I combine cocoa and hot water and set it aside.
Next, I get my stand mixer and cream together some sugar and shortening.
It will look like the photo below.
I now add the eggs and some soured milk (vinegar added to milk).  I still use the mixer to incorporate it all together.
All mixed and ready for the dry ingredients.  As you can see it's a little watery. That is A-Okay!
Time for the flour, baking soda, baking powder and salt.
I mix them together on medium until incorporated. Then I fold the cocoa mixture into the batter.
I grease two 9 inch round cake pans.
Time to pour in the batter.  *Gloop, gloop, gloop*
I pop the whoopie pie cake batter filled pans in the oven and bake them for 25 minutes, after which I test the cakes to make sure they are done. If they're not, into the oven they go for a few minutes more.
Yay!  Time to take them out of the oven.
Drooling yet?
I am.
I let them cool for 10 minutes in the pan before I take them out and place them on a wire rack to fully cool.
Now, I take the pre-frosting out of the refrigerator and finish making that while I'm waiting for the whoopie pie cake to cool.
I transfer the cooled milk and flour mixture to my stand mixer.  It is going to be very firm, sort of how playdoh looks.  I add shortening, sugar and vanilla and beat it all on medium speed for at least 5 minutes.
Here is how the frosting will look when you finish beating it.
Full disclosure.  I didn't have enough time to frost the cake before the sun went down.  I frosted it the next day so I could take photos of the process. You'll see below why this matters…
I stored each round in its own cake container.  The base round, below, was fine because I didn't have to touch it.  Here I'm beginning to frost it.
And below, the bottom round fully frosted.
Now for the disclosure part.
Storing the cake overnight made it sticky. So when I transferred the top round of the whoopie pie cake to the frosted base round – gulp! – I left my hand print in it!
Of course, it was my hand print which made the cake more valuable, like autographed art, but still; how embarrassing, huh?   I consoled myself that since only Christopher and I were going to eat it and I would be covering it with confectioner's sugar anyway, what the heck?!  Even us bloggers make mistakes.
Notice that hand span.  If only I had learned to play piano.
Time for the sprinkling of the sugar!
Hand print almost obliterated!
All done and ready to cut!
What am I waiting for?  Time to cut the whoopie pie cake and plate it!
The powdered sugar melts into the cake, so you can re-apply as needed.
I hope you enjoyed this recipe.  Let me know if you make it by leaving me a comment or even if you don't make it, let me know what you think!  I love to read comments.
And as always, may all your dishes be delish (and handprint free).
Whoopie Pie Cake
Why just have whoopie pies when you can have whoopie pie cake! Deliciously moist and chocolatey.
Keyword:
chocolate cake, whoopie pie cake
Ingredients
Frosting
2 1/2

tablespoons

white flour

1/2

cup

milk

1/2

cup

butter

1/2

cup

sugar

1/2

teaspoon

vanilla
Cake
1/2

cup

cocoa powder

1/2

cup

hot water

1 1/2

cup

sugar

1/2

cup

butter

2

eggs

2

cups

milk

soured with 3 teaspoons vinegar

2 3/4

cups

flour

1

teaspoon

baking soda

1

teaspoon

baking powder

1/2

teaspoon

salt

3

tablespoons

Confectioner's sugar

for dusting
Instructions
Frosting
In heavy saucepan, on medium heat whisk 1/2 cup of milk with 2 1/2 tablespoons flour until it pulls away from the sides of the pan and thickens.

Place in refrigerator to cool fully.

Once cooled, transfer to a stand mixer

Add 1/2 cup shortening and 1/2 cup sugar and vanilla

Mix on medium high for 5 minutes minimum[br]
Cake
Preheat oven 350 degrees F

Grease 2, 9 inch cake rounds

In a small bowl combine cocoa and hot water, set aside

In stand mixer, cream shortening and sugar together until creamy

Add eggs, sour milk and mix together, it will be a little watery

Add flour, baking soda, baking powder and salt, mix until incorporated

Fold in cocoa mixture

Pour batter into prepared cake round pans

Bake for 25 minutes

Cool for 10 minutes before removing from pans

Remove from pans to wire rack and cool fully

Frost base cake round, using all of the frosting

Place other round on top of frosted one, without leaving a hand print 🙂

Sift confectioner's sugar on top of cake

Cut into slices

Plate

Eat

Smile

Enjoy
Nutrition Facts
Whoopie Pie Cake
Amount Per Serving (1 slice)
Calories 419
Calories from Fat 144
% Daily Value*
Fat 16g25%
Cholesterol 68mg23%
Sodium 357mg16%
Potassium 208mg6%
Carbohydrates 63g21%
Protein 6g12%
Vitamin A 615IU12%
Calcium 94mg9%
Iron 2.1mg12%
* Percent Daily Values are based on a 2000 calorie diet.