These are soft yummy chewy caramels all wrapped up and ready to be eaten.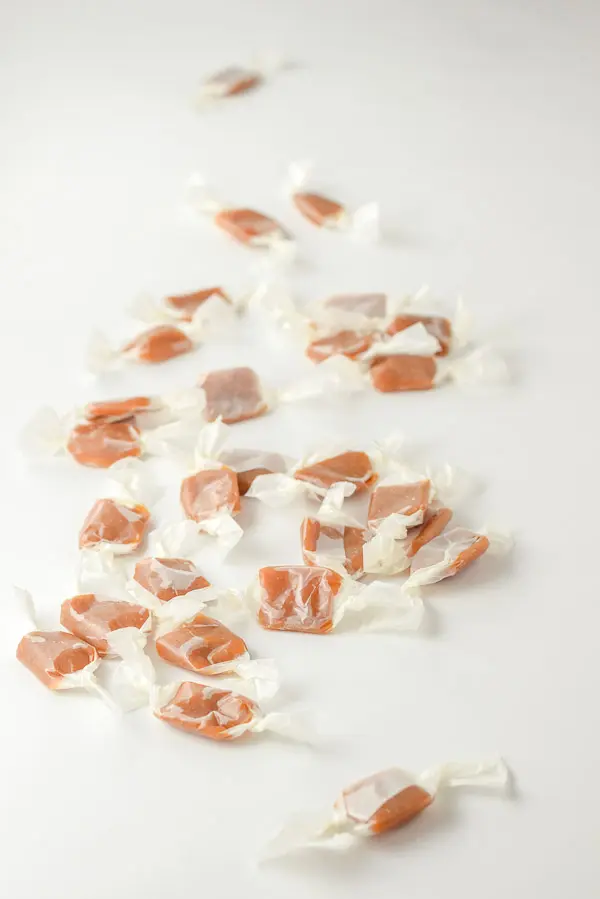 I made these delicious caramels because I was making another dessert that is super yummy. Should I tell you what that dessert was?
Okay, okay, stop hounding me! I made these for some dark chocolate caramel marshmallow cashew butter cups.
Say what?
Yes, you heard right. Big yum! I'm drooling just thinking about them.
These caramels are equally yummy.
I think of my grandmother Bena when I think of caramels because she loved to eat them. She didn't eat caramels often because she wore dentures and didn't like that the stickiness of the candy pulled on them.
Well, she would have loved these chewy caramels. Because even though they are titled chewy, they don't stick to your teeth and threaten to pull out fillings or dentures, as the case may be.
😉
I brought these soft yummy chewy caramels to our nephew's housewarming party and they were enjoyed by everyone.
Nothing is better than someone's putting your food creation in their mouth and all you hear from them is, "Mmmmmmmmmm."
Here's a recipe where I used these caramels.
This post may contain affiliate links, which means I get a small commission, at no additional cost to you, if you click the link and buy something. You can read my disclosure here.
How to make the soft chewy caramel recipe
Here are the ingredients: honey, sugar, butter, heavy cream and vanilla.  The only special kitchen tool you will need is a candy thermometer. Mine is the old fashioned kind, but they have digital ones now that I simply must try out at some point!
First thing I do is grab my saucepan and add 1/2 cup of white sugar and 1/4 cup of honey. I turn the heat on medium and melt the two ingredients.
I didn't want to take the pan off the stove, so I had to take the photo in the kitchen with the light on because of how dark it is in there. Notice how yellow the photo is. The next photo also was taken in the kitchen.
It's nice and melted and bubbly. It also has a nice caramel color.
While this is cooking, I take a small saucepan and put 1/2 cup cream in it and turn the heat on medium. After it has heated up a bit, I add 2 ounces of butter and 1 1/2 teaspoons of vanilla.
Once it is melted, I add the cream/butter mixture to the sugar mixture and stir them together.
I stick my candy thermometer in the pan and let the ingredients simmer until the thermometer reaches 235 degrees. I find that temperature makes the caramel soft and chewy. The concoction becomes a nice golden color.
Perfect.
I grab a jelly roll pan and line it with parchment paper.
Pour it on baby
Time to pour the caramel on the parchment.
See how thick it is?
I want to give Christopher a big shout out. He is so good at being my slave. Oops, I mean helping me with pour shots and hand shots.
Almost done pouring.
Notice the brown bits on the bottom of the pan? DO NOT scrape that into your chewy caramels. Let it stay in the pan. I know, I know, it's hard not to grab your trusty spatula, but don't do it.
Now, I let the caramel set for 2 hours.
Time goes by
I grab my knife and cut the caramels into one inch squares.
I used 12 of the squares for the caramel marshmallow cashew butter cups, and let Christopher wrapped the rest in small pieces of wax paper.
I let him. Let, because he wanted to do it. Isn't he great?
If you haven't made chewy caramels before, please do. You will see how easy it is!
I hope you enjoyed this recipe.
Feel free to Pin any photo to Pinterest, Yum the recipe to Yummly and leave me a caramel loving comment.
And as always, may all your dishes be delish!
Soft yummy Chewy Caramels
These caramels are fun to make and delicious to eat!
Print
Pin
Rate
Ingredients
1/4

cup

honey

1/2

cup

white sugar

1/2

cup

heavy cream

2

ounces

butter

1 1/2

teaspoon

vanilla
Instructions
In a medium saucepan, add the honey and sugar

Turn the heat on medium and let the two ingredients melt.

Lower the heat to a simmer and place your candy thermometer in the pan.

In a small saucepan, add the cream and heat it on medium

Add butter and vanilla and once the butter is melted pour the cream mixture in with the sugar and honey. Let the mixture come to 235 degrees. It will be thicker and a nice golden color

Take a jelly roll pan and line it with parchment paper. Pour the caramel on the parchment paper

Let cool for 2 hours and cut into 1 inch squares or whatever size you want

Try a piece

Smile

Enjoy
Nutrition
Serving:
2
caramels
|
Calories:
32
kcal
|
Carbohydrates:
3
g
|
Fat:
2
g
|
Saturated Fat:
1
g
|
Cholesterol:
6
mg
|
Sodium:
10
mg
|
Potassium:
2
mg
|
Sugar:
3
g
|
Vitamin A:
70
IU
|
Calcium:
2
mg
Get new recipes in your inbox!
Click here! to sign up for our newsletter