This blog has been compensated by the Bom Bom Brand. All opinions and words are mine alone. #DrinkBomBom #fullybaked #shakeyourbombom @bombombrands #Sponsored
This dark chocolate truffles recipe is so delicious!  The truffles are soft, rich and gooey with the addition of Bom Bom Fully Baked liqueur.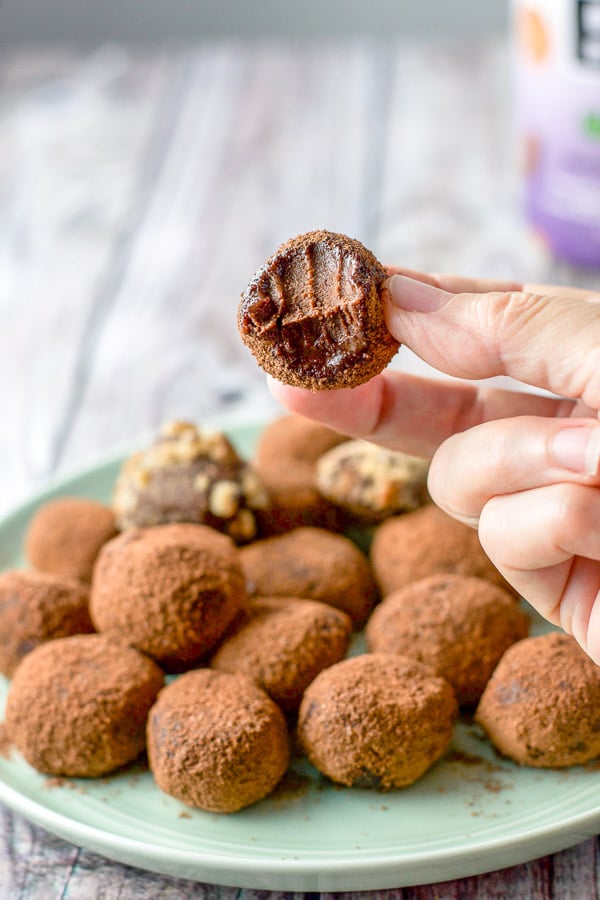 Things I love about these Dark Chocolate Truffles
They are soft and delicious
They can be frozen and consumed directly out of the freezer
They are rich in flavor and so chocolatey
They are rolled in cocoa which makes them even more chocolatey
They are easy to make
They only have four ingredients
They have booze in them
They are so satisfying that you can get away with eating just one
Things I love about Bom Bom
Let me talk about the delicious Bom Bom Brand of liqueurs!  (In case you missed it, I talk about Bom Bom in this post, too, so you can read even more about this awesome brand.)
A while back, the folks at Bom Bom reached out to me and asked if I would try a couple of their liqueurs. Being a woman who loves to try new products, I readily agreed!  I liked them so much that I made one of their famous recipes: the Bomtini cocktail
Talk about delicious!!!
This time around, they asked me to try their new vegan liqueur called 'Fully Baked'.  Of course, I agreed.
What makes this delicious Bom Bom Fully Baked liqueur vegan?
It is vegan because they made it with hemp milk!  And… it's not only vegan, it's also gluten free and all natural!
What are the Bom Bom Fully Baked liqueur's ingredients?
Here is what it says on the bottle: "Premium Caribbean rum with hemp seed, natural brownie, cookie and other natural flavors, and caramel color."
What does Bom Bom Fully Baked taste like?
If you like cookies – who doesn't like cookies?! – you will love the taste of Bom Bom Fully Baked.  It is also reminiscent of a delicious melted ice cream flavor.  Visit Bom Bom's website to read more about the company's journey and to peruse their delightful liqueurs and recipes!
How to Make Dark Chocolate Truffles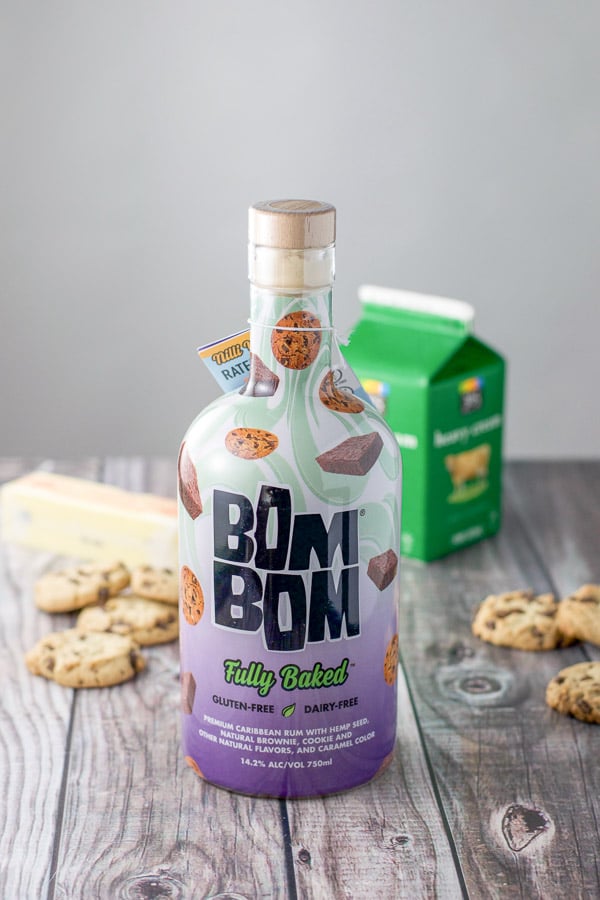 Front and center is the Bom Bom Fully Baked liqueur!  We also have butter, heavy cream and chocolate chip cookies.  (My original idea was to roll some of the dark chocolate truffles in cookie crumbs.  But after trying it with three of them, I decided I didn't like them that way.)
Measure out the Bom Bom Fully Baked liqueur, the heavy cream and chocolate chips.  Dump the chocolate chips in a small bowl.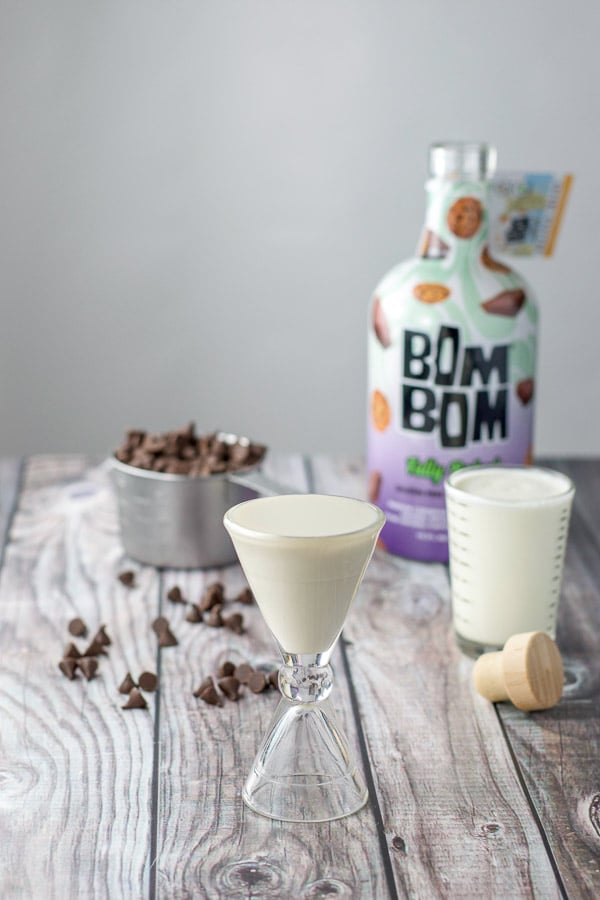 Take a medium saucepan and pour the liqueur and heavy cream into it.  Heat the two ingredients until they come to a slight boil.  Shut off the heat under the saucepan and pour the contents over the chocolate chips.  Add two tablespoons of butter and stir the ingredients together until the chocolate is melted.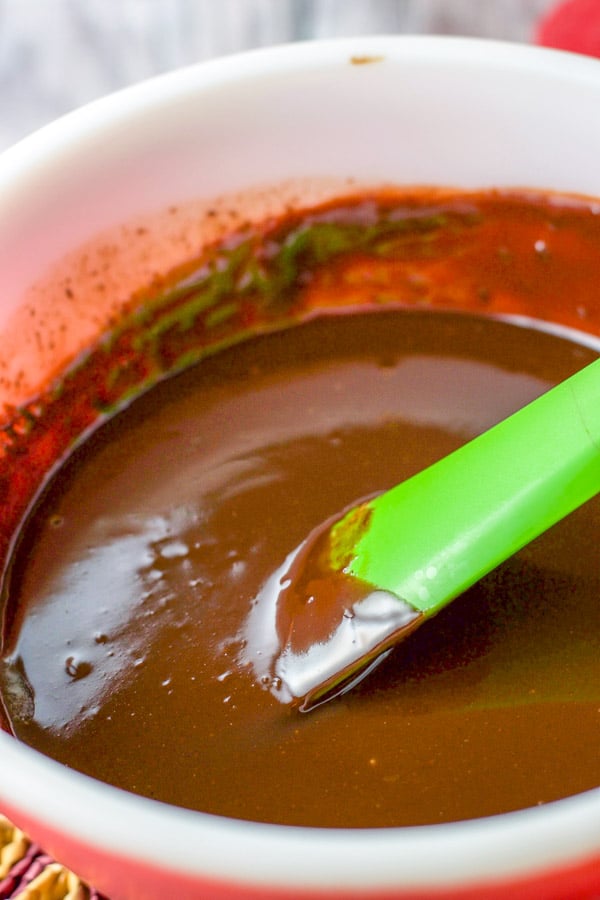 Refrigeration is Magical
Pop the bowl of chocolatey goodness into the refrigerator to help it harden.  It will take two long hours.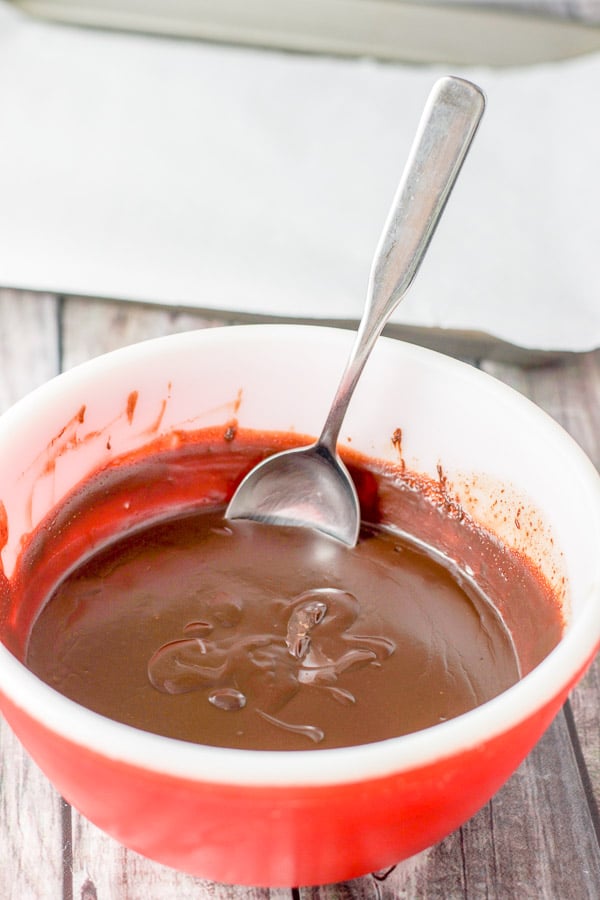 Tips for making dark chocolate truffles
Even though it has hardened in the fridge, the batter will still melt somewhat when you roll it into a ball between your palms.
You cannot store these dark chocolate truffles on the counter, they must be stored in the fridge.
You don't have to use your hands; you can use a small cookie scoop to shape the truffles.
No matter how many times I make truffles, my experience is always the same: they melt easily!  But what can you expect from fudgy and gooey?
Take a spoon and gather some batter.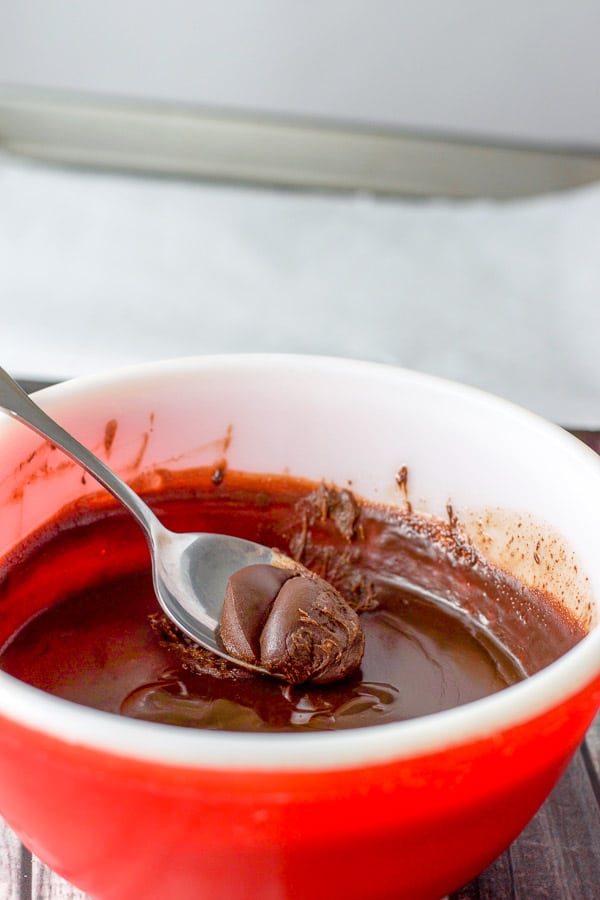 Put the dollop in your hand, roll it it into a ball, and place each ball on a parchment-covered jelly roll pan.  Continue until all the batter is gone.  Place the pan of truffles in the fridge.
After at least one half hour, place the cocoa powder in a shallow bowl and roll each of the balls into it.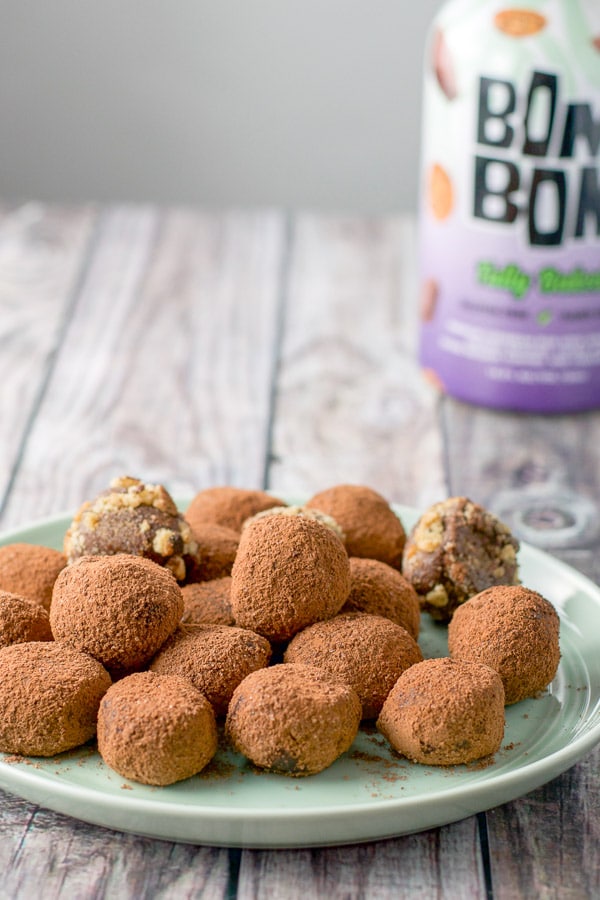 You can see that I rolled three of the dark chocolate truffles into the crushed chocolate chip cookies.  The rest went into the cocoa powder.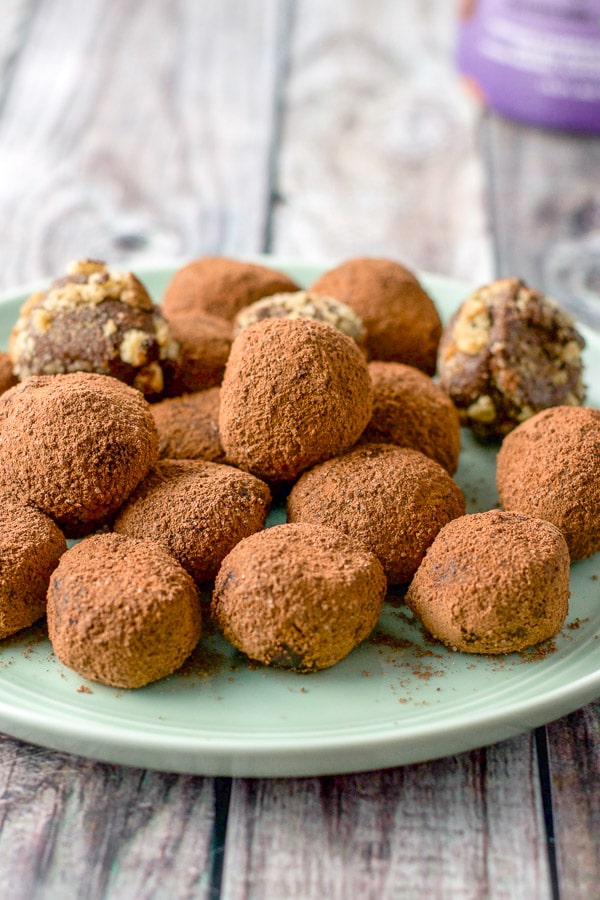 Now let's bite into one.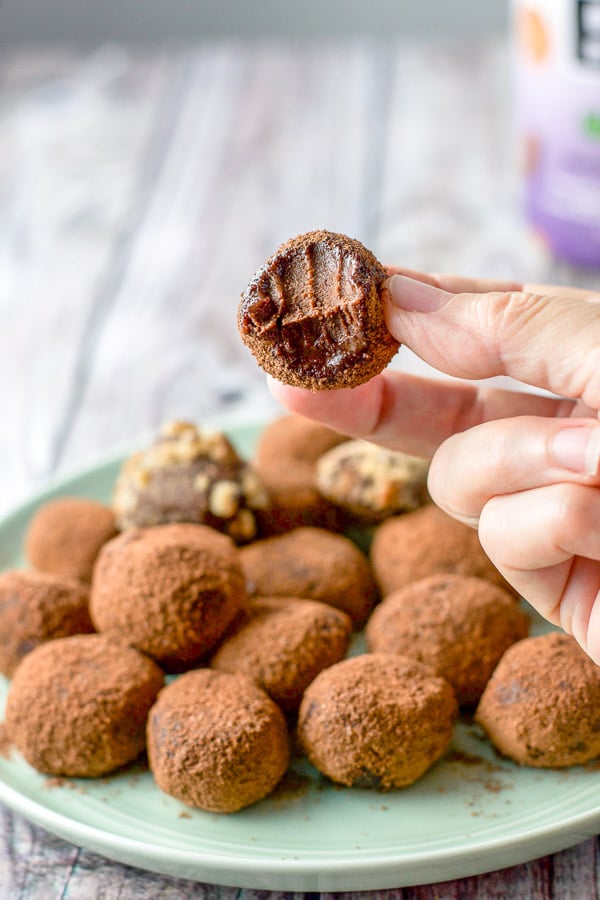 I hope you enjoyed this dark chocolate truffles recipe made with Bom Bom Fully Baked liqueur!  They are super satisfying.
What is your favorite liquor-based dessert recipe? Let me know in a comment below.
And as always, may all your dishes be delish!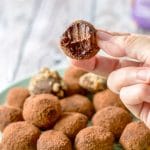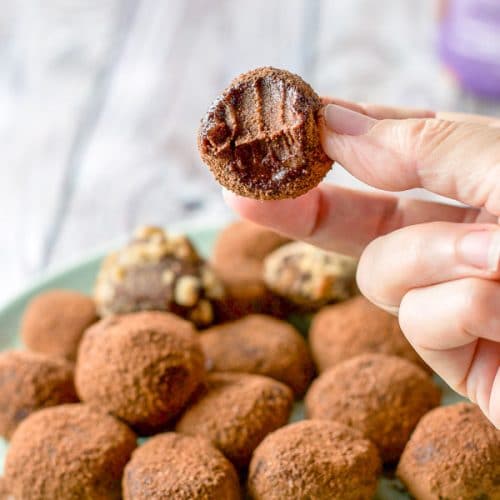 Dark Chocolate Truffles with Liqueur
These truffles are soft, fudgy and delicious!
Keyword:
dark chocolate truffles
Ingredients
4

ounces

heavy cream

1/4

cup

Bom Bom Fully Baked liqueur

1

cup

bittersweet chocolate chips

2

tablespoons

butter

room temperature
Addons
cocoa powder

to roll truffles in
Instructions
Add chocolate chips to a small bowl and set aside

Add heavy cream and liqueur in a medium saucepan and heat it up on medium/low until it comes to a slight boil

Add butter in with the chocolate chips and pour the cream mixture on the chocolate chip mixture. Use a spatula to mix everything together until it has all melted

Place bowl in refrigerator and let the batter harden for 2 hours

Either use a small cookie scoop to form the truffles or take some dark chocolate truffle batter in your hand and roll it into a ball. Place each ball on a parchment paper covered jelly roll pan

Place pan into the fridge and let harden again for 30 minutes

Place cocoa powder in shallow bowl and roll each ball into it
Recipe Notes
Tips to make these Dark Chocolate Truffles
Refrigerate for 2 hours before attempting to roll them into balls
They will melt a little if you roll them between your palms
Refrigerate them for 30 minutes after you've rolled them with your hands.  Don't roll them into the cocoa powder until after the 30 minutes.
Keep them refrigerated unless you are eating them
They won't last long
Nutrition Facts
Dark Chocolate Truffles with Liqueur
Amount Per Serving (1 serving)
Calories 97
Calories from Fat 63
% Daily Value*
Total Fat 7g 11%
Cholesterol 12mg 4%
Sodium 24mg 1%
Potassium 68mg 2%
Total Carbohydrates 6g 2%
Protein 1g 2%
* Percent Daily Values are based on a 2000 calorie diet.