This post is sponsored by Wallaby Organic Greek Yogurt and Kefir and all opinions are my own. #WallabyYogurt #SlowYo
This yogurt parfait features delicious layers of vanilla bean Wallaby Organic Aussie Style yogurt, flavorful fruit and crunchy granola.  It has a lovely taste and is such a treat to have at breakfast or for dessert.
When I discovered the opportunity to write a blog post about Wallaby Organic Yogurt, I was beyond thrilled.  I've been eating their yogurt for years!  The owners of Wallaby yogurt started their company way back in 1996 (you can read about their product and methods here) and I can safely say I've been eating it just about every day for more than 10 years.
That's how much I love it.  You will find it has a taste that is uniquely mellow among yogurts.
Here is a coupon for $1.00 off three 5.3 ounce tubs of Aussie Greek!
Wallaby organic yogurt rocks my world
Here are some of the reasons why:
It is organic and Christopher and I eat organic whenever possible
I've never tasted such a delicious yogurt and the vanilla bean Greek yogurt is so creamy that Christopher is borderline addicted to it.  Okay so am I.  In fact, I'm straddling the line, but I can stop any time I want to.  I just don't want to
You can tell just by tasting the Wallaby brand that they take a slower, more mindful approach making their delicious yogurt and kefir.  It's like love in a cup 🙂
Their process of slow culturing, which takes twice as long using an Australian-inspired organic recipe, leaves the yogurt tart free with a texture that feels almost whipped
Here is a photo of all the Wallaby Organic Aussie Style products I found at my local Whole Foods, a perfect place to buy them.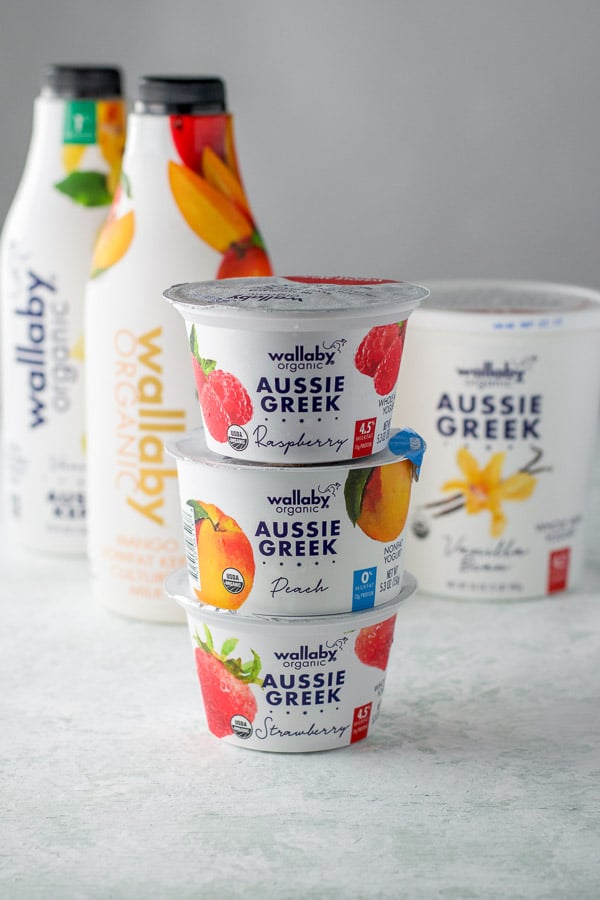 I got 3, 5.3 ounce tubs of the Wallaby Organic Aussie Greek yogurt in three different flavors.  The strawberry and raspberry (whole milk) are pre-mixed but the peach (nonfat) has a little side pocket of peachy goodness!  Drool.
As for their kefir…
Wallaby organic kefir
Over the years, I have tasted my fair share of kefirs, but when I noticed Wallaby had an organic Aussie style kefir (it comes in whole milk and lowfat flavors), I exclaimed out loud in the store, causing a few furtive glances to be directed my way.
For this post, I chose vanilla (which I've tasted before) and mango, which was new to me.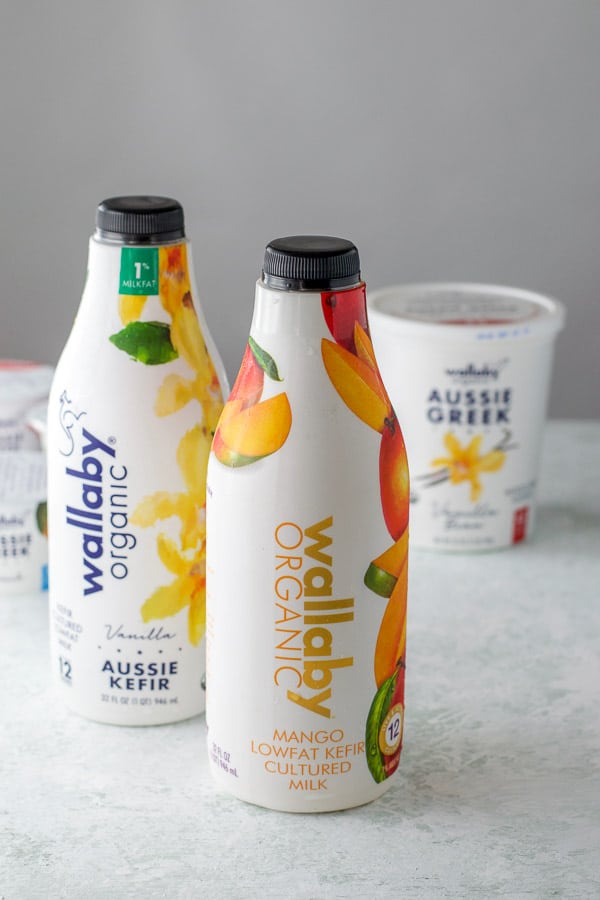 Oh.  My.  God.
I screeched for Christopher to come try the mango kefir.  But before he did, I needed a few pour shots.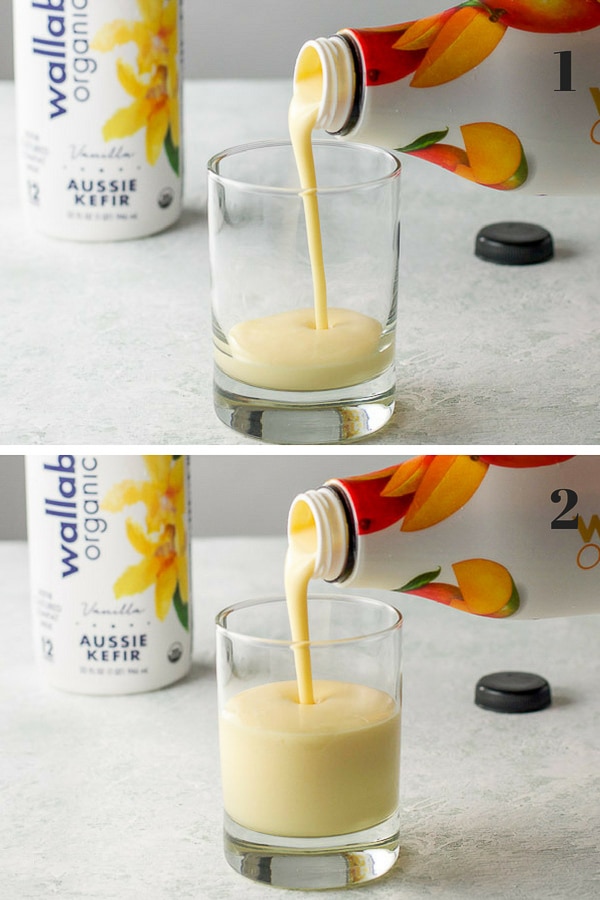 Look at how thick and rich that is!!  It's super creamy and mild, with none of that slight tang you typically taste in kefir.  Christopher loved it too! (The mango could be my new favorite, but don't tell vanilla.)
For this yogurt parfait recipe, I decided to use the vanilla bean Aussie Greek yogurt.
Helpful tips
Use organic fruit and granola whenever you can because there is a taste difference.
That said, always wash fruit thoroughly, even organic fruit
I find two layers of all the ingredients is a healthy amount, but you could do this parfait in three layers if you keep the layers thinner
Use a granola that won't be overpowering, such as vanilla chocolate chip (pictured)
Use a nice glass to house the yogurt parfait since we eat with our eyes as well as our mouths
You can use any combination of fruit but I like to use contrasting colors
Let's get started.
Step one
Gather the ingredients – strawberries, cherries, Wallaby Organic Aussie Style Greek vanilla bean yogurt and granola. (1)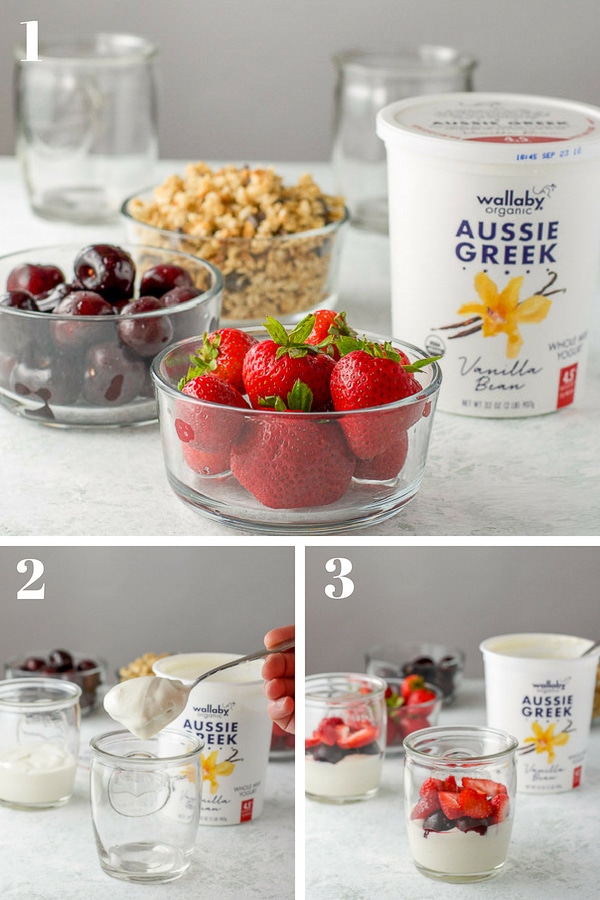 Step two
Dollop yogurt in the bottom of the glasses. (2)
Step three
Add the pitted and halved cherries on top of the yogurt and sliced strawberries on top of the cherries. (3)
Step four
Sprinkle granola on fruit. (1-below)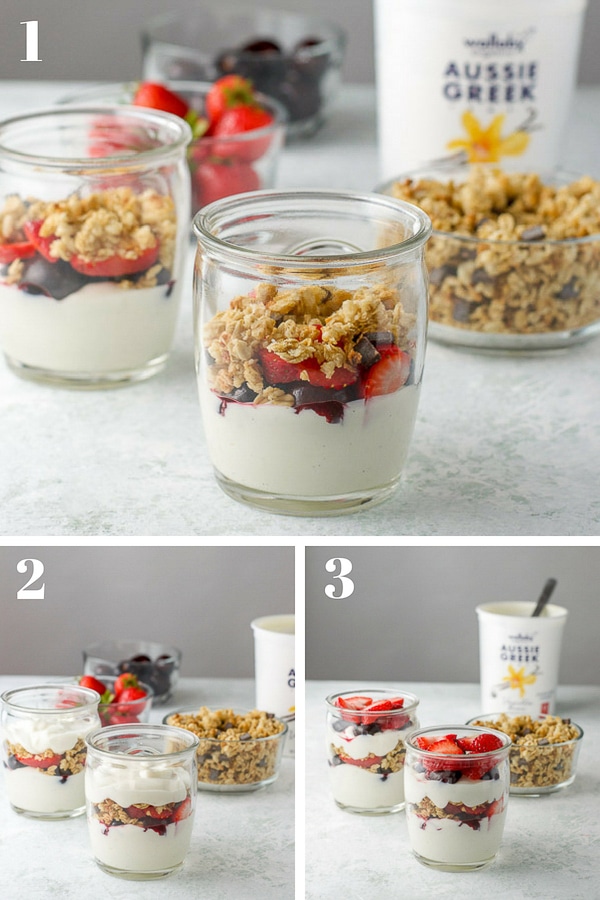 Step five
Layer of yogurt on granola. (2-above)
Step six
Add another fruit layer. (3-above)
All that is left to these yogurt parfaits is to sprinkle more granola on top.
I hope you enjoyed this yogurt parfait recipe!  Do yourself a flavor and try the Wallaby Organic Greek Yogurt and Kefir.  You won't be disappointed.  You'll be thanking me for introducing you to this awesome brand.  Here's a coupon to make your transition to this delightful yogurt easier!
And as always, may all your dishes be delish!
If you've tried this yogurt parfait or any other recipe on the blog, I'd love the hear what you thought about it in the comments below.  I love hearing from you!  You can also FOLLOW ME on FACEBOOK, TWITTER, INSTAGRAM and PINTEREST to see more of my delicious food and delightful cocktails!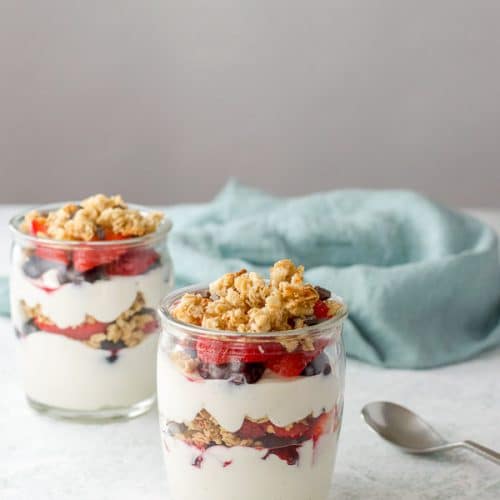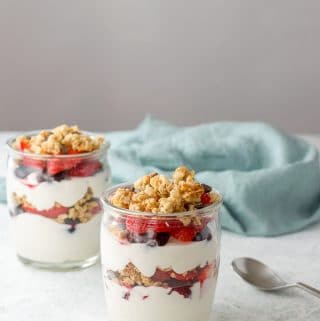 Yogurt Parfait
This yogurt parfait is easy to layer and delicious to eat and can be on the table in 5 minutes!
Print
Pin
Rate
Ingredients
2

cups

vanilla bean Greek Yogurt (Wallaby Organic Greek Yogurt)

(roughly) eyeball it in the glasses that you use. I would say a little under 1/2 cup per layer

12

cherries

fresh or frozen. Washed, pitted and cut in half

6

strawberries

fresh or frozen. Washed and sliced lenghthwise

3/4

cup

granola

(roughly) mild tasting like vanilla
Instructions
Layer cherries, strawberries and granola

Layer yogurt on the fruit/granola

Layer more cherries, strawberries and granola
Notes
When I make this, I don't measure out the ingredients, this is a rough measure.  I dollop the yogurt in the glass and eyeball how much I want.  I believe I used close to a cup of yogurt in each parfait.
Tips for making this yogurt parfait recipe:
Use organic fruit and granola whenever you can.  There is a taste difference
I find two layers of all the ingredients is a healthy amount, but you could do this parfait in three layers if you keep the layers thinner
Wash fruit thoroughly, even organic fruit
Use a granola that won't be overpowering, like a vanilla (chocolate chip) like I did
Use a nice glass to house the yogurt parfait since we eat with our eyes as well as our mouths
You can use any combination of fruit.  I like to have two contrasting colors of fruit
Nutrition
Serving:
1
serving
|
Calories:
413
kcal
|
Carbohydrates:
63
g
|
Protein:
25
g
|
Fat:
11
g
|
Saturated Fat:
1
g
|
Cholesterol:
7
mg
|
Sodium:
79
mg
|
Potassium:
612
mg
|
Fiber:
5
g
|
Sugar:
44
g
|
Vitamin A:
30
IU
|
Vitamin C:
25.1
mg
|
Calcium:
48
mg
|
Iron:
2.3
mg